3 days in Marseille – How to plan the perfect Marseille itinerary for your trip
If you are planning a trip to Marseille this is the article for you. We have just returned from 3 days in Marseille and honestly it was a great trip. That's not to say that we didn't have some reservations about visiting Marseille. It felt like everyone we spoke to seemed to think that Marseille was a bit rough, and unsafe in places. It's probably not something you want to hear when you have just booked flights and accommodation. Still we ploughed on and visited. And do you know what- we loved it.
This guide is for anyone who has booked a trip to Marseille, and wants to know what to do, where to stay, and much more. We also discuss safety in Marseille and give you tips on planning your own Marseille itinerary.
And if you are still trying to decide if Marseille is worth visiting here is a post to help you decide.
Disclaimer: This post contains affiliate links, so if you use these links to buy something we may earn a commission, at no cost to you. Thank you for your support.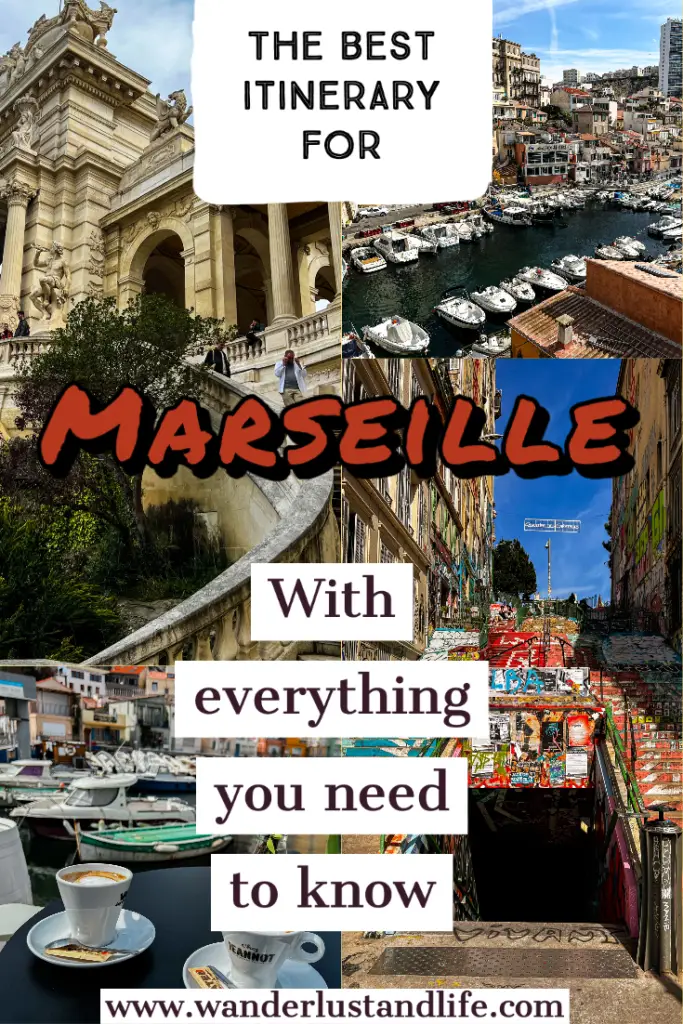 Marseille Itinerary Factsheet
Language Spoken: French and some English
Currency: Euros
Visit if you like: City breaks, walking around beautiful streets, and wine
Known as France's second city Marseille is the second most populated city in the country after Paris. It is located in the southern part of France, and is part of the French Riviera. Whilst it might not have the same glamour as other places along the Riviera like St Tropez or Cannes, it is still a popular tourist destination with a lot of history and culture.
Incidentally if you are wondering what the best things to do on the French Riviera are here are some tips.
Marseille is a port city, and has a long standing history of immigration and trade. In fact it was founded in around 600 BC which also makes it the oldest city in France.
The city has a reputation of being a bit rough around the edges, and this was visible during our 3 days in Marseille. That being said, we stuck to the tourist areas and never felt unsafe, mind you we did have our wits about us. It's fair to say that Marseille has changed a lot in the last few years, and in particular since 2013 when it became the European Capital of Culture. This has very much elevated the city into a popular tourist destination.
Getting to Marseille
There are a number of European and International Airlines that fly to Marseille, including many low cost carriers like RyanAir and EasyJet. We landed quite late at night and so we decided the easiest way to get into town would be to catch an Uber. We also were conscious about safety and not wanting to wander the streets at night looking for our hotel. It's about a 20 minute drive from the airport to the Old Port, and this cost us around €40.
Another option if you don't want to spend as much, or if you have landed in Marseille at a reasonable hour is to get the bus. There is a direct bus from Saint Charles train station that leaves every 10 minutes and costs about €10 per person. The ride takes around 30 minutes, but keep in mind you still need to make your way to your accommodation from here.
Is Marseille safe?
When researching for our 3 days in Marseille we read a lot of horror stories. There is a lot online saying how rough or unsafe Marseille is. Obviously this was something we were very conscious of when visiting.
We didn't really find safety to be an issue in Marseille, although we did take a number of precautions. For instance our flight got in very late so instead of using public transport we opted for a taxi instead. We also researched areas thoroughly and stayed in well lit crowded areas at night. Marseille can be a bit rough around the edges, but we were never harassed, and it felt the same as certain areas in Rome, or Paris for example. You do need to have your wits about you, but if you are sensible you should be ok.
Pickpocketing and petty theft is also rife in the city. Thankfully we were fine, but just keep your valuables secure, and don't walk around in flashy jewellery or clothing. Don't let stories of safety put you off visiting Marseille. Yes you will encounter people sleeping rough, and yes sometimes there were large groups of men gathered in places like the Old Port, but we never felt completely unsafe.
Where to stay during your 3 days in Marseille
Deciding where to stay in Marseille can be a little overwhelming, so here are our tips on the best neighbourhoods to stay in during your time in the city.
Vieux Port 
Vieux Port is perfect for first time visitors. Located right on the water it's perfect if you are feeling a little apprehensive about safety in Marseille. It's a huge tourist area, and there are a number of restaurants and bars in the area too. Accommodation here can be a little more expensive and though so do make sure you book early for the best deals.
La Canebière
Stretching from Old Port to the Saint-Vincent-de-Paul church is La Canebière. This is a good alternative to staying right in the Old Port, as it is close to all the action, and a little cheaper. Admittedly it's not the postcard perfect bit of Marseille that you might be hoping for. It's a very busy thoroughfare with many rough sleepers and people hanging out in larger crowds. That being said it is still a very touristy area with several shops and hotels. This is a great place to stay if you want to be near Old Port/Vieux Port but don't want to pay the big bucks.
La Corniche
One of the more scenic areas to stay is La Corniche. It's essentially a 5km seaside walk that connects fishing ports, grand houses, and lots of beaches. It's kind of your quintessential French Riviera style area. If you are desperate to be part of the hustle and bustle this isn't the best area, but if you want beaches, and a chilled out vibe this is for you. It's also not too far from Vieux Port.
Le Panier 
Le Panier is a really charming neighbourhood in Marseille, that is close to Vieux Port. It's a great place to wander around and explore the colourful back streets and alleyways. There isn't a massive hotel selection here, but it does have the InterContinental Marseille which is quite grand.
Notre Dame du Mont
Notre Dame du Mont is perfect is one of the more artier neighbourhoods in Marseille. You will be spoilt for choice when it comes to food and drink and it is a lot more lively than other parts of Marseille. It tends to attract a younger crowd so if you are keen to be close to the nightlife it is perfect.
Where we stayed during our 3 days in Marseille
We ended up staying at the Hôtel Mercure Marseille Canebière Vieux-Port. The hotel was less than 10 minutes walking to the Old Port, and also incredibly close to Cours Julien and Le Panier. The hotel itself is clean, and modern, and reception is open 24/7 which is handy because we had a very late checkin. The area directly outside the hotel can be a bit rough and ready at times, but we never felt unsafe. There are lots of tourists and people around and it felt less intimidating once we were used to it. Overall we would stay again if given the chance. And before you ask, this isn't sponsored we just liked the accommodation.
Things to do as part of your 3 day Marseille itinerary
Here are some of our top suggestions on the best things to add to your Marseille itinerary. As mentioned we only had 3 days in Marseille, so this is not an extensive list, but should hopefully give you a good starting point for your trip.
Vieux Port
Vieux Port or the Old Port of Marseille is a must visit spot on your 3 day Marseille itinerary. For starters it feels like the real hub of the city, with several cafes and restaurants, and even a fisherman's market in the mornings.
Once a hotbed for trade and immigration Vieux Port is now the beating heart of Marseille. This is where you can go to book boat tours, or hop on the Petit Train de Marseille.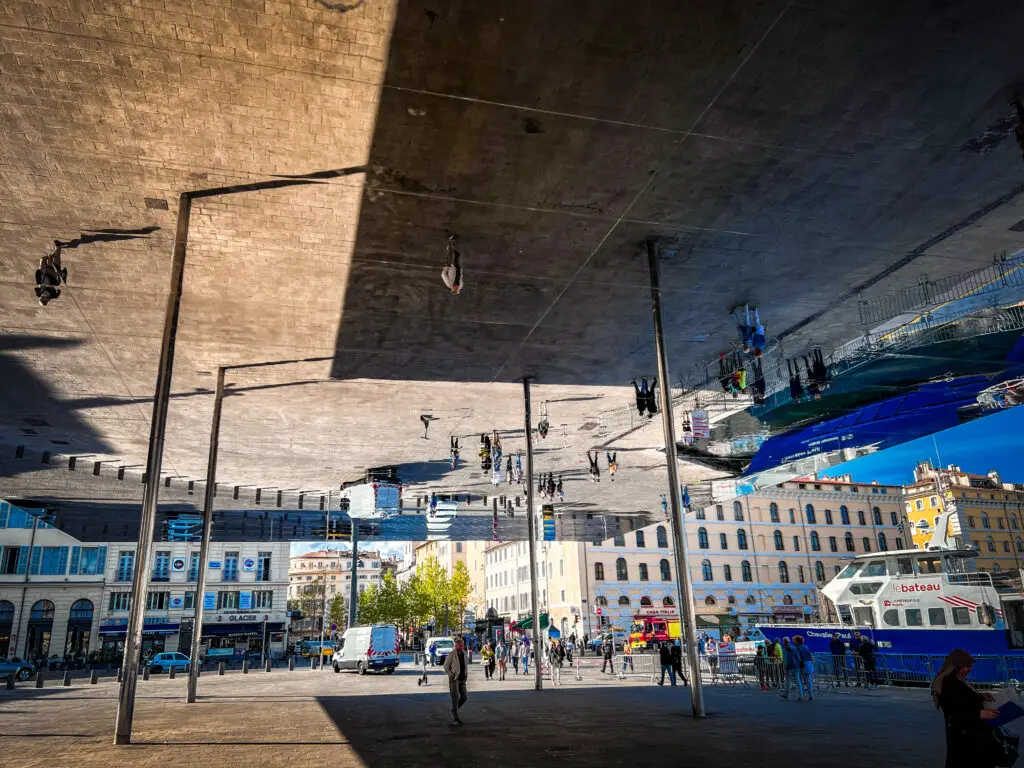 MuCEM
The MuCEM is a must when visiting Marseille. It is located near the Old Port area and is a museum dedicated to 21st Century civilisations and Mediterranean culture. The outside design is rather unusual and worth a visit even if you don't plan to go inside.
Petit train de Marseille
One of the more fun ways to get around Marseille is via the Petit train de Marseille. There are 3 separate routes that go through different parts of the city including one through Le Panier, and another to Notre-Dame-de-la-Garde.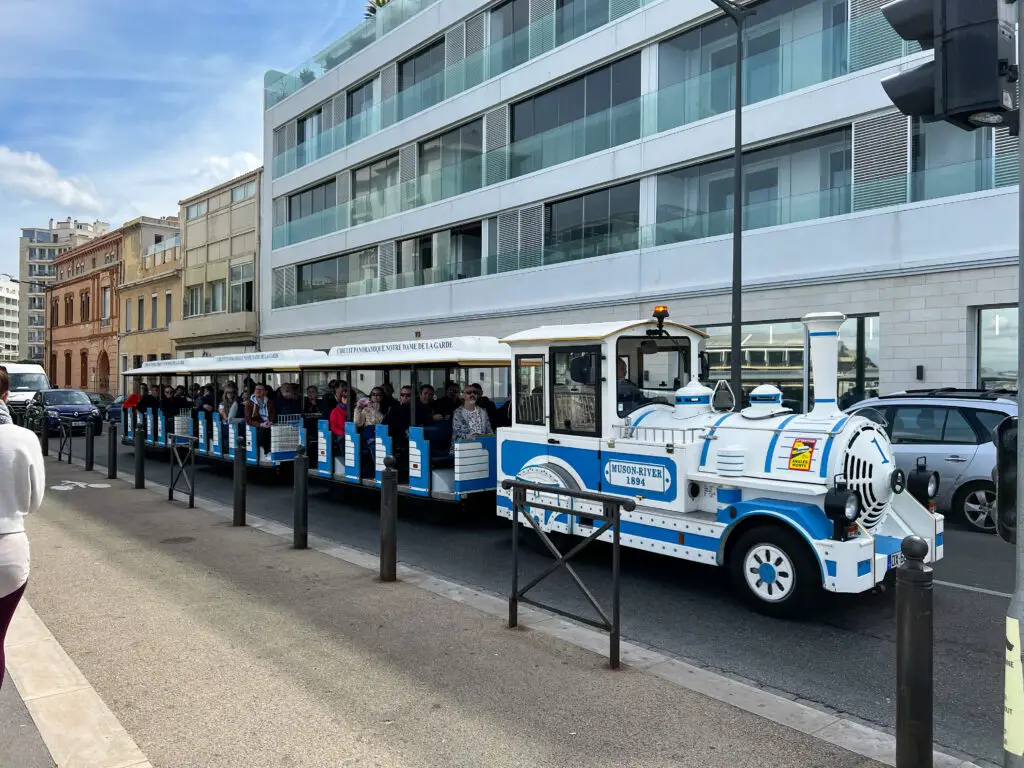 Cathédrale de la Major
If you are looking for a break from the hustle and bustle of the Old Port area of Marseille then we recommend a visit to the Cathédrale de la Major. Built in the 19th Century it is one of the newer cathedrals built in Europe. Entry is free so do try and visit during your 3 days in Marseille.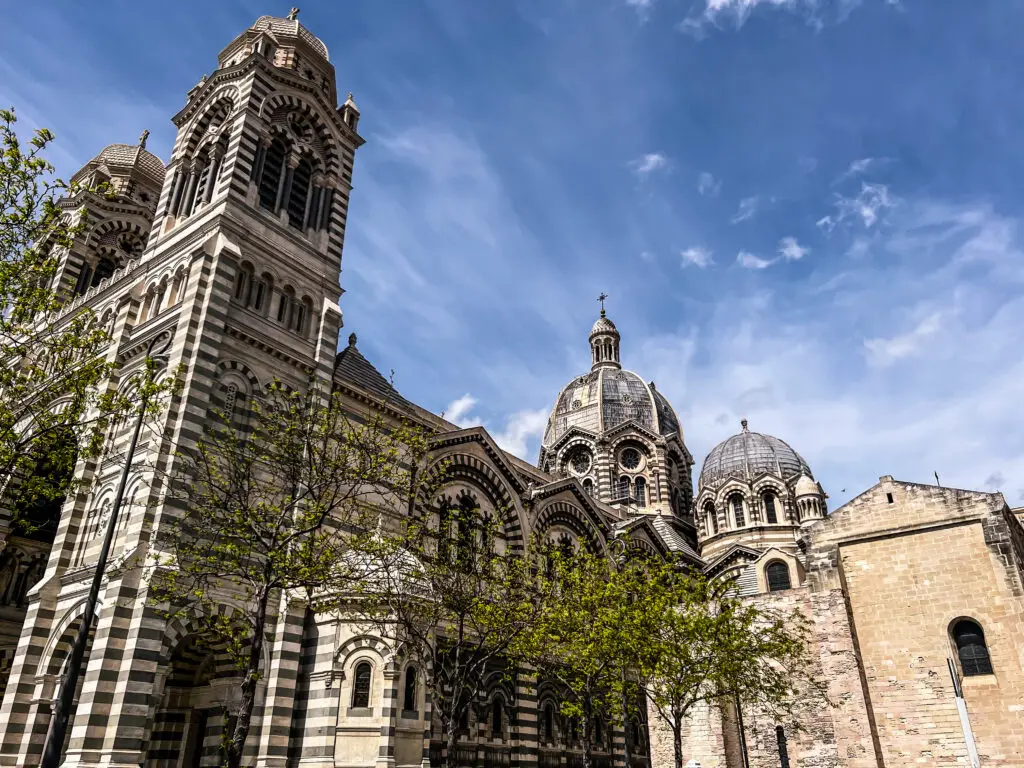 La Corniche
The walk along La Corniche was one of our highlights during our 3 days in Marseille. You will pass many gorgeous beaches, fishing ports, and mansions, all the while gazing out at the Mediterranean. There are some top restaurants along the way too. The full walk is about 3km but you can shorten it, although make sure you visit Vallon des Auffes which we will go into a bit more detail about next.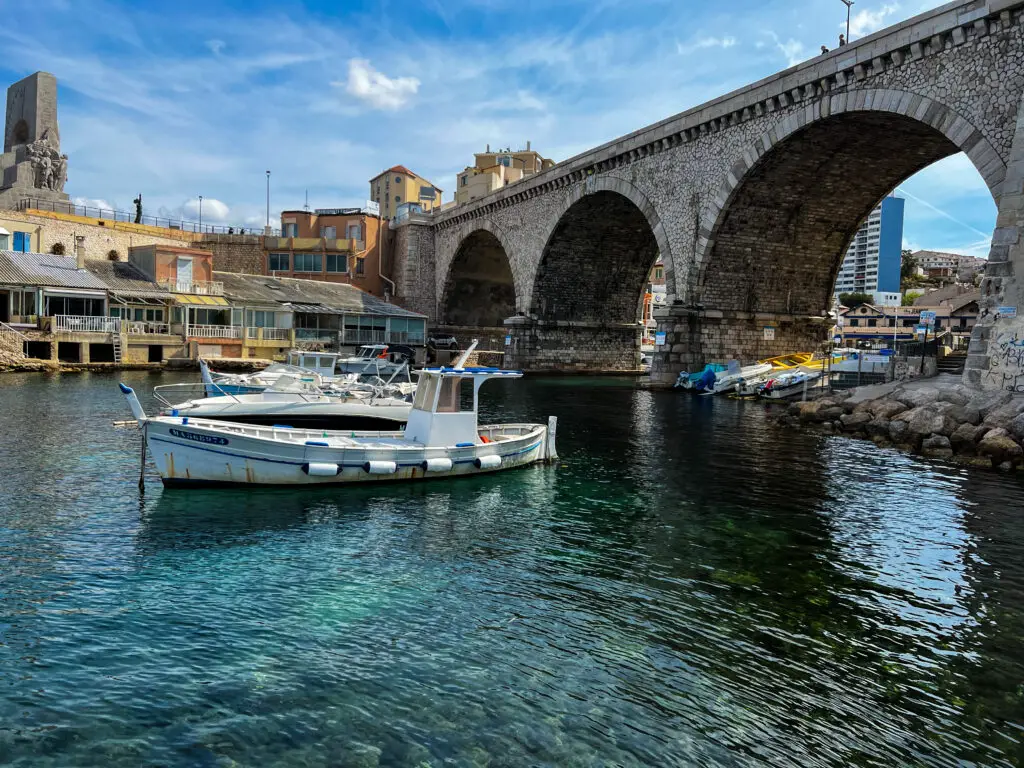 Vallon des Auffes
One of the true hidden gems in Marseille is Vallon des Auffes. It's one of the most beautiful bits of Marseille, hidden along La Corniche. It's a traditional fishing area with a few restaurants and cafes and a lovely vibe. This is a must for your Marseille itinerary.
Le Panier
Le Panier is another absolute must on any Marseille itinerary. It is the oldest district in Marseille with colourful graffiti filled streets and alleyways. It's perfect for exploring and nipping into the quirky shops and cafes in the area. You could spend hours in Le Panier just walking around getting lost in the streets. It's also a great area for tasty food and wine.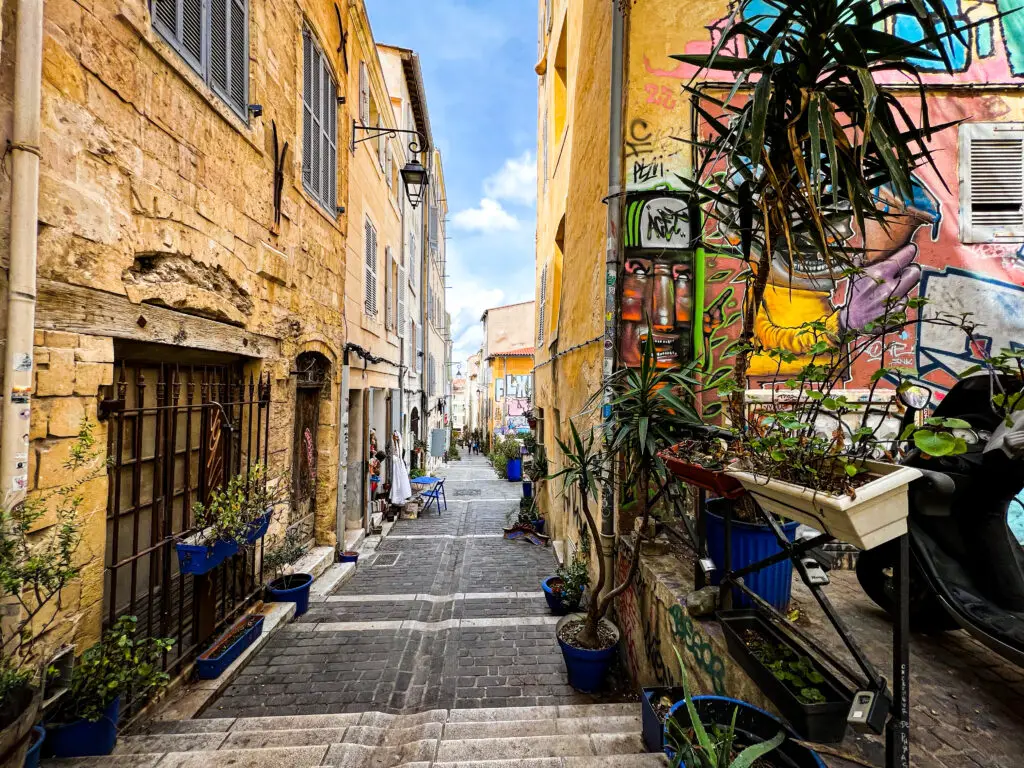 Cours Julien
Cours Julien also affectionately referred to as the 'hipster district' is the largest district in France devoted to street art. It's a very lively place especially in the evening, and perfect for those who want a fun night out in Marseille. In the day it's bohemian vibe with a number of arty shops including vintage and second clothes stores. There are some very cool streets to wander around and get lost in.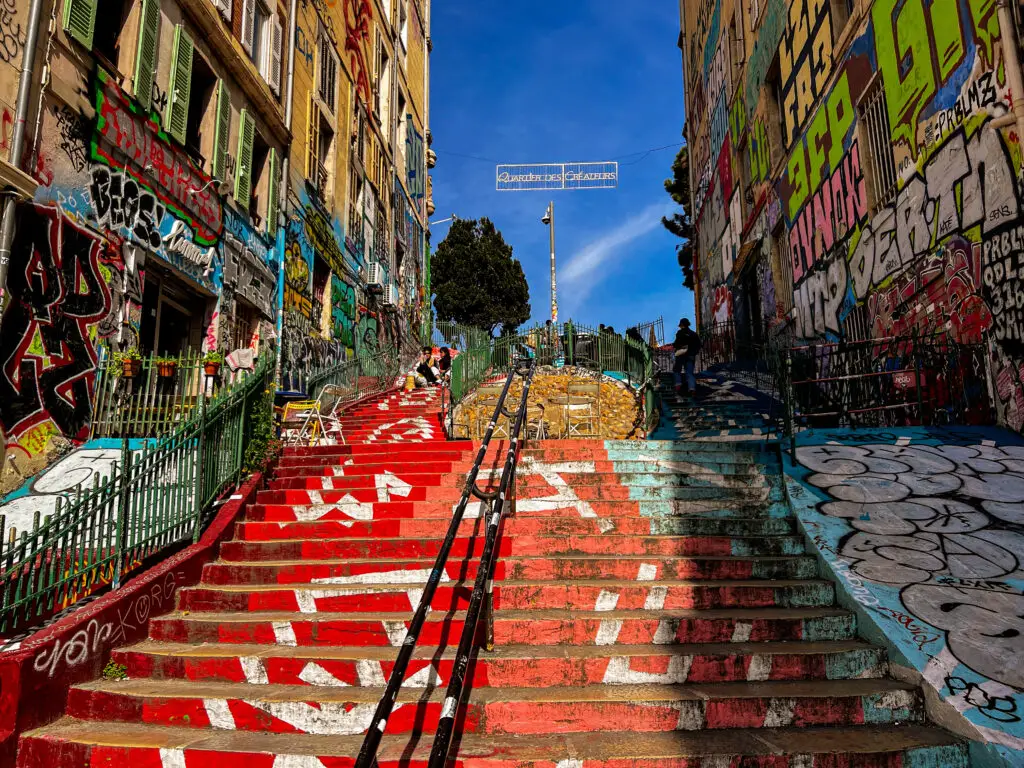 Basilique Notre-Dame de la Garde
Located on a hill overlooking Marseille is the symbol of the city, the Basilique Notre-Dame de la Garde. It's an important historical religious site and despite appearances it's not actually a cathedral but a basilica. It's visible from most parts of Marseille, so it will come as no surprise that it's a very steep climb to the top. Alternatively you can do what we did and get the 60 bus from Vieux Port which drops you straight outside.
Entry into the basilica is free and it really is incredible inside. Our highlight though had to be the incredible views from outside. You get 360 degree views of Marseille and a trek to the top of the hill is worth it for the scenery alone.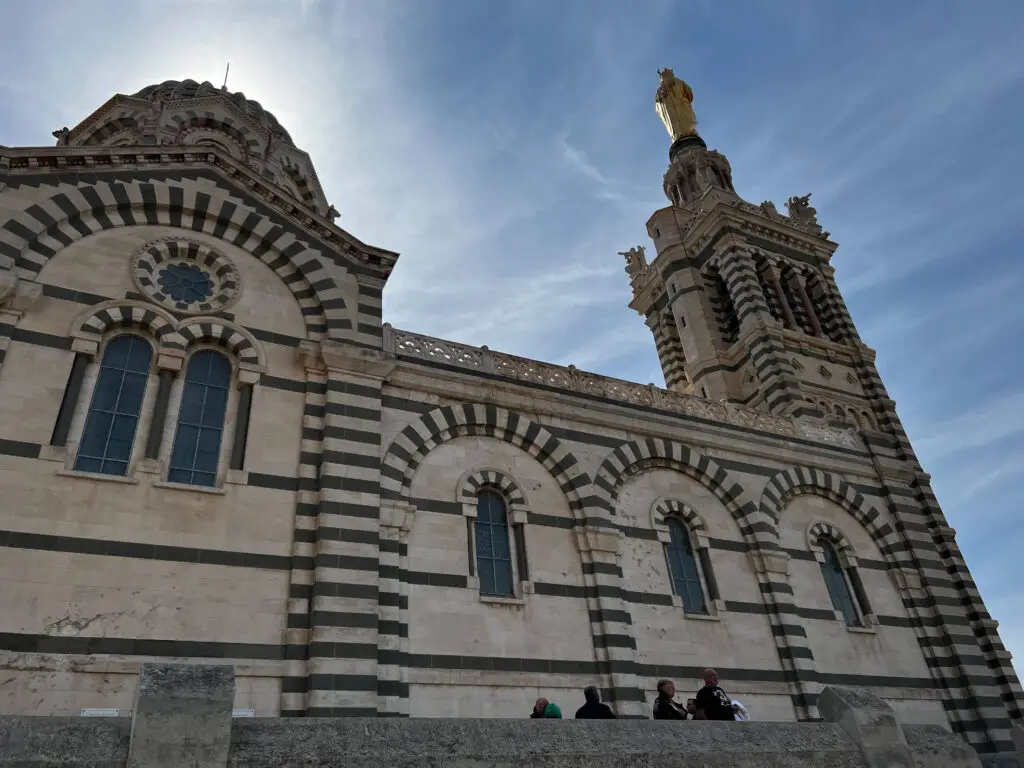 Palais Longchamp
Built to bring water into the city the Palais Longchamp is a grand piece of architecture that you have to add to your Marseille itinerary. In 1835 a cholera outbreak hit Marseille due to a shortage of water. The Palais was the result of 10 years of work, and designed to stage the arrival of water into the city.
Behind the fountains you will find a large park and if you look out you will see the remains of the one time city zoo. To the left of the fountain you will find the Museum of Fine Arts, which founded in 1801 is the oldest museum in Marseille. To the right on the opposite side is the Natural History Museum.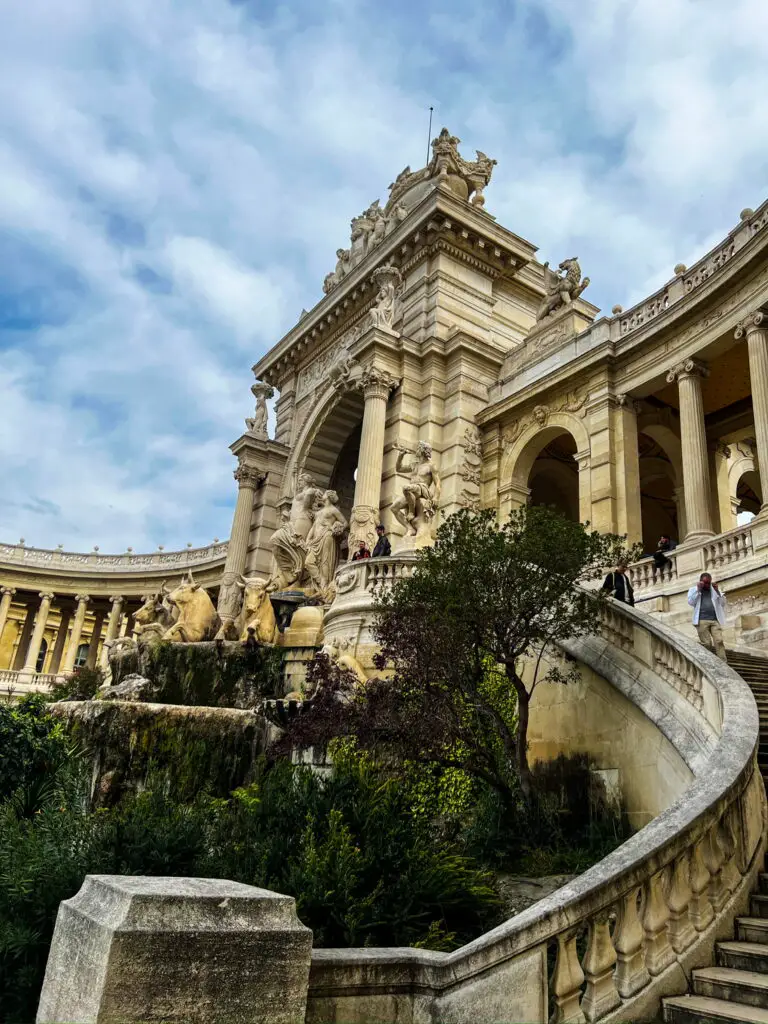 Château d'If
One of the most visited attractions in Marseille is Château d'If. Originally it was built to protect Marseille, but it has served other purposes such as becoming a prison in 1540. These days though it's a tourist hotspot, partly because of it's link to the famous book The Count of Monte Cristo. Part of the book is set here when protagonist Edmond Dantès is imprisoned at Château d'If.
Getting to the island is relatively easy. You just need to book one of the boat tours that depart from Vieux Port. The crossing takes around 20 minutes and the views are honestly just spectacular. One thing to be mindful of though is that the boats will not depart if the seas are rough. For 2 of our 3 days in Marseille boats wouldn't run. Thankfully on our last day we managed to get across to the island.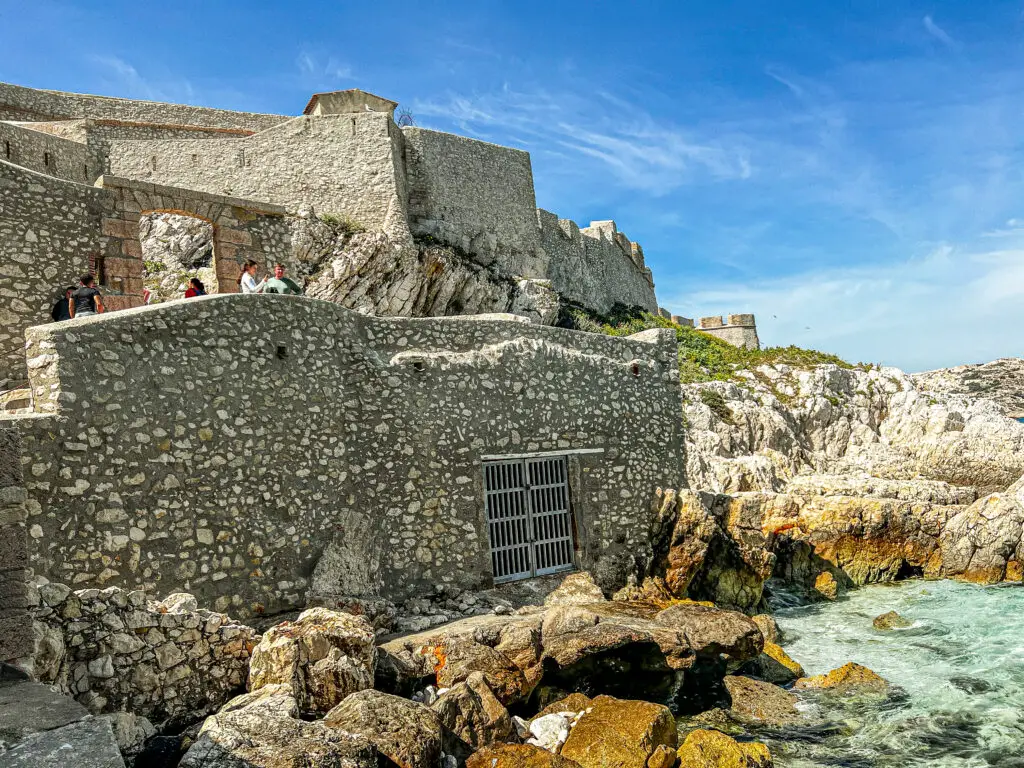 L'Estaque
For beautiful beaches and scenery head to L'Estaque. Located on the western side of Marseille, this is a popular beach and picnic spot with locals. You should also visit the nearby village if you are feeling peckish. It's also a great place to find Chichis Frégis which is a donut like dish popular in the area.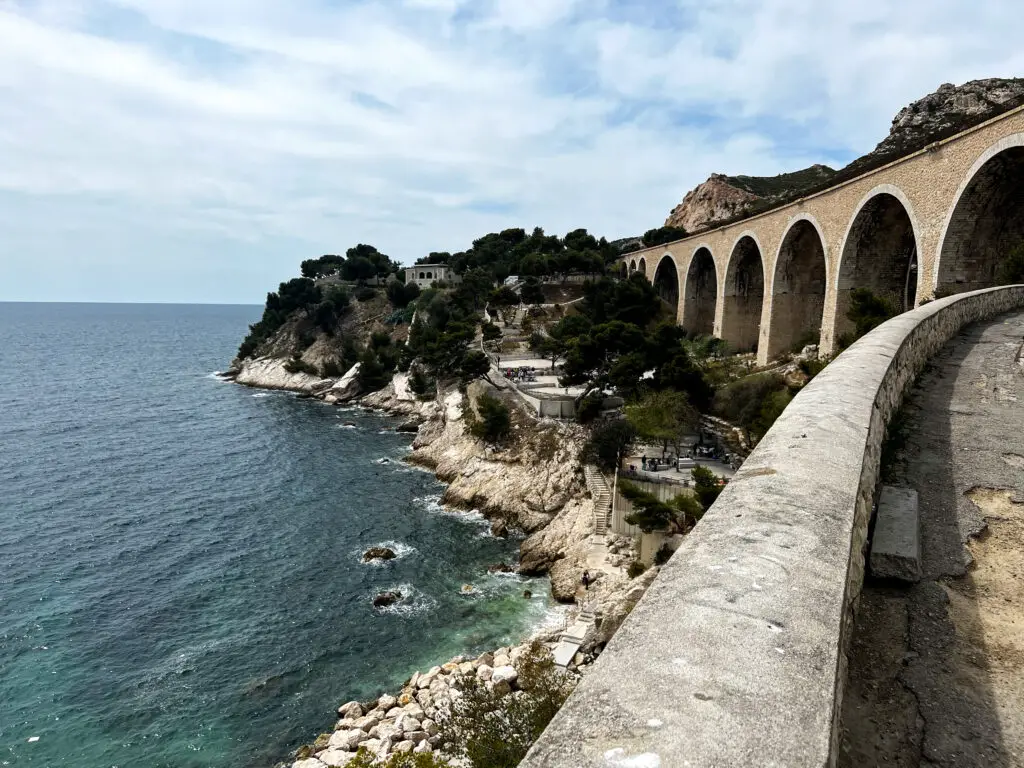 Plages du Prado
If you happen to find yourself on the south side of Marseille and in need of some beach time we recommend Plages du Prado. It's a seaside park which was artificially developed in the late 1970's It's the perfect place to go with kids, or if you fancy some cocktails by the water.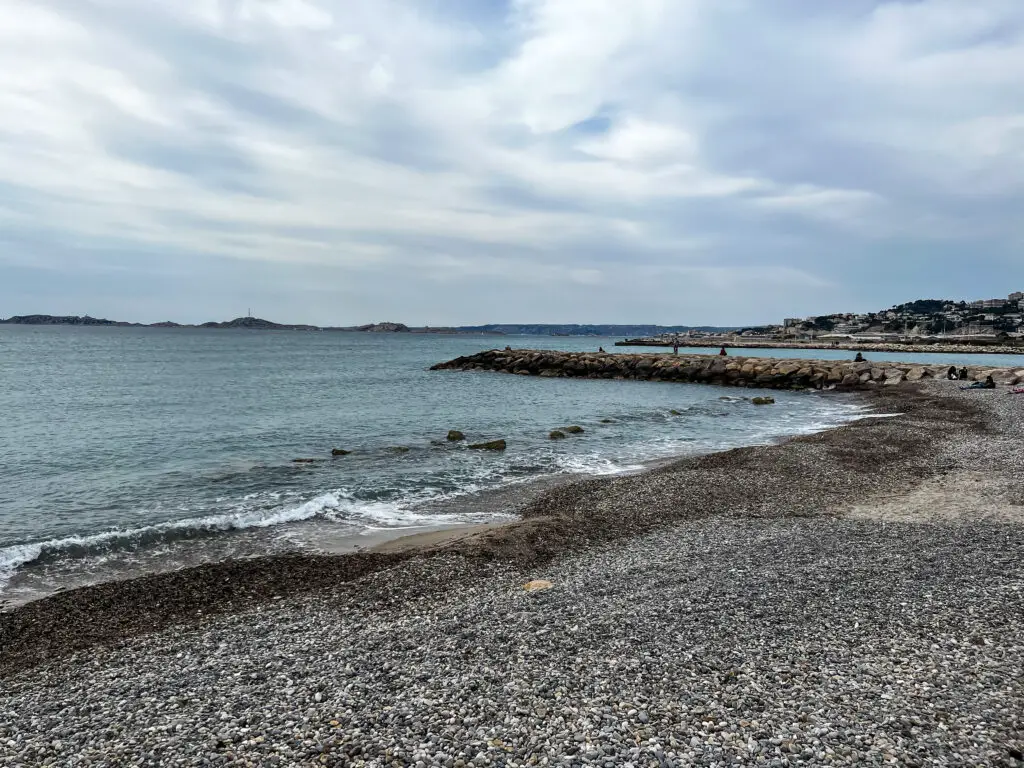 Sample 3 day Marseille itinerary
Here is a sample 3 day Marseille itinerary to help you make the most of your time in the city.
Marseille itinerary Day 1
Begin your 3 days in Marseille at a local bakery and grab some pastries to start your day right! Afterwards head to Plages du Prado and enjoy some time at the beach.
Then make your way to La Corniche and have lunch in the Vallon des Auffes area. Walk back to Vieux Port and enjoy the views. Explore Vieux Port and hop on a bus to Basilique Notre-Dame de la Garde. Spend some time here admiring the views. When you are done spend the afternoon exploring the area and make sure you visit Cours Julien towards the end of the day for some excellent food and drinks.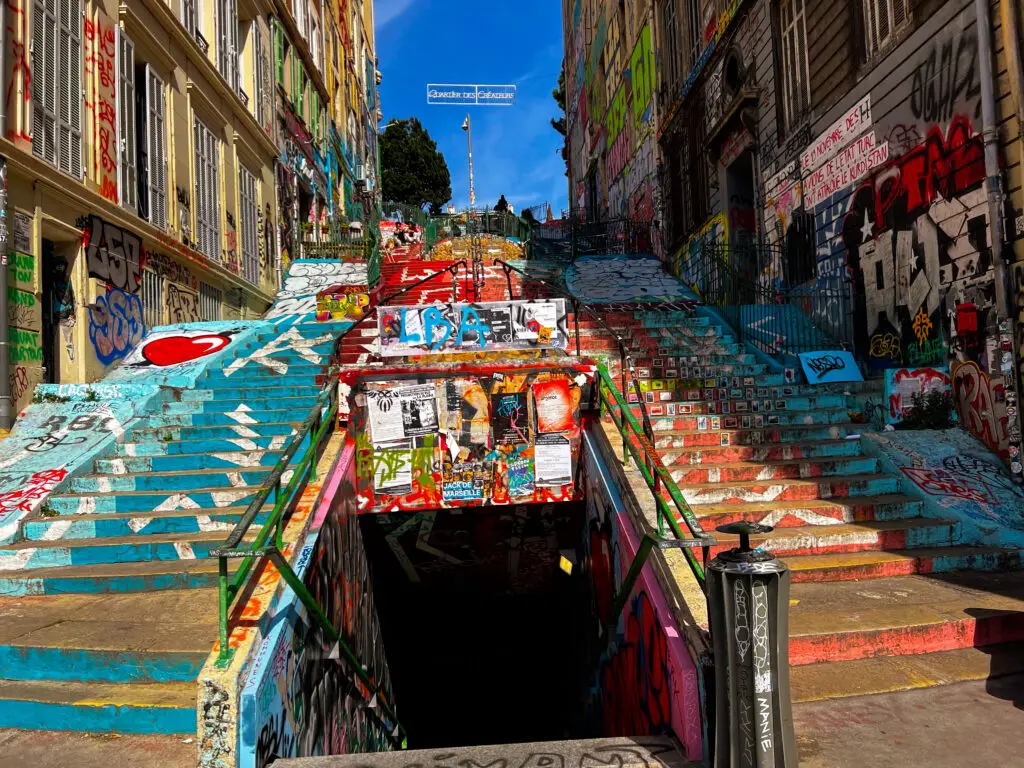 Marseille itinerary Day 2
After breakfast arrange a boat tour to Château d'If and spend the morning exploring. Get the boat back to Vieux Port and head to the MuCEM and spend a few hours learning about Mediterranean culture. Afterwards visit Cathédrale de la Major and enjoy dinner and drinks around the Vieux Port area.
Marseille itinerary Day 3
Start the day with a visit to Palais Longchamp. Grab some breakfast at one of the cafes in the area. Once at Palais Longchamp explore the gardens and if you have time you can visit one of the museums.
Alternatively if you prefer something a little more secluded and beachy head to L'Estaque. Enjoy the beaches and explore the village and make sure you try the chichis fregis.
In the afternoon head back to Vieux Port and spend the evening wandering the streets of Le Panier. Grab some dinner and drinks in the charming neighbourhood.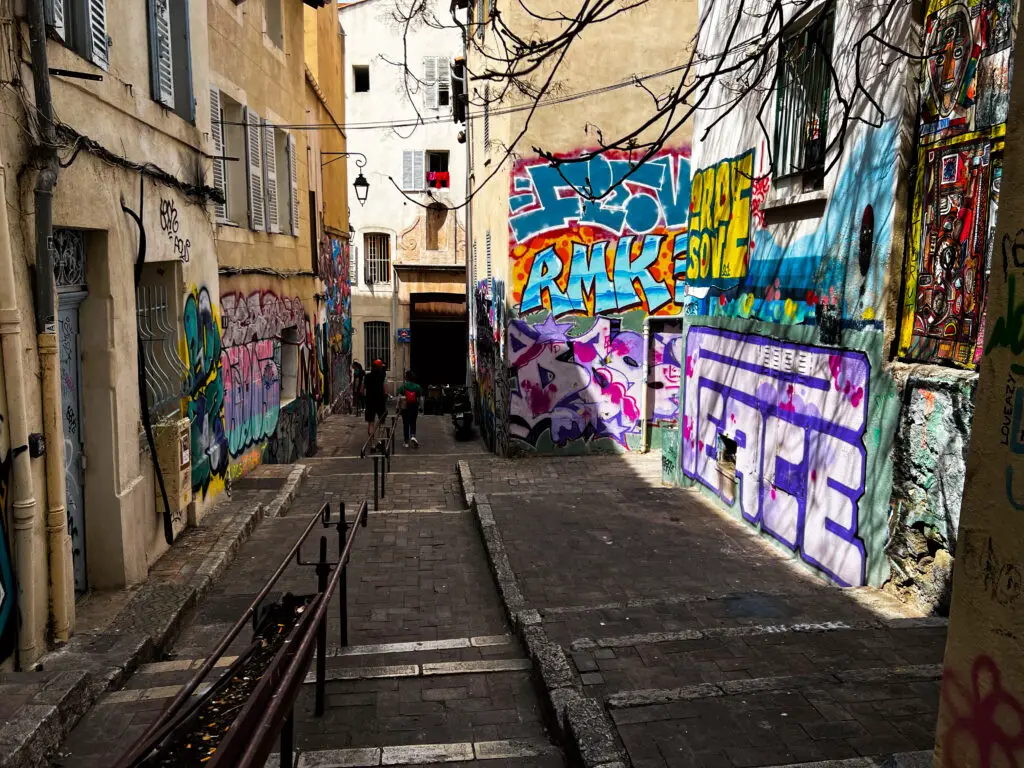 Romantic things to add to your 3 day Marseille itinerary
If you are lucky enough to be spending 3 days in Marseille with your significant other, here are some suggestions for the most romantic things to do.
Stroll around La Corniche
As mentioned above La Corniche is a must for your 3 day Marseille itinerary. It's such a scenic part of the city to walk around and enjoy the beachside scenery. Make sure you stop in Vallon des Auffes which is by far one of the most beautiful spots along the way.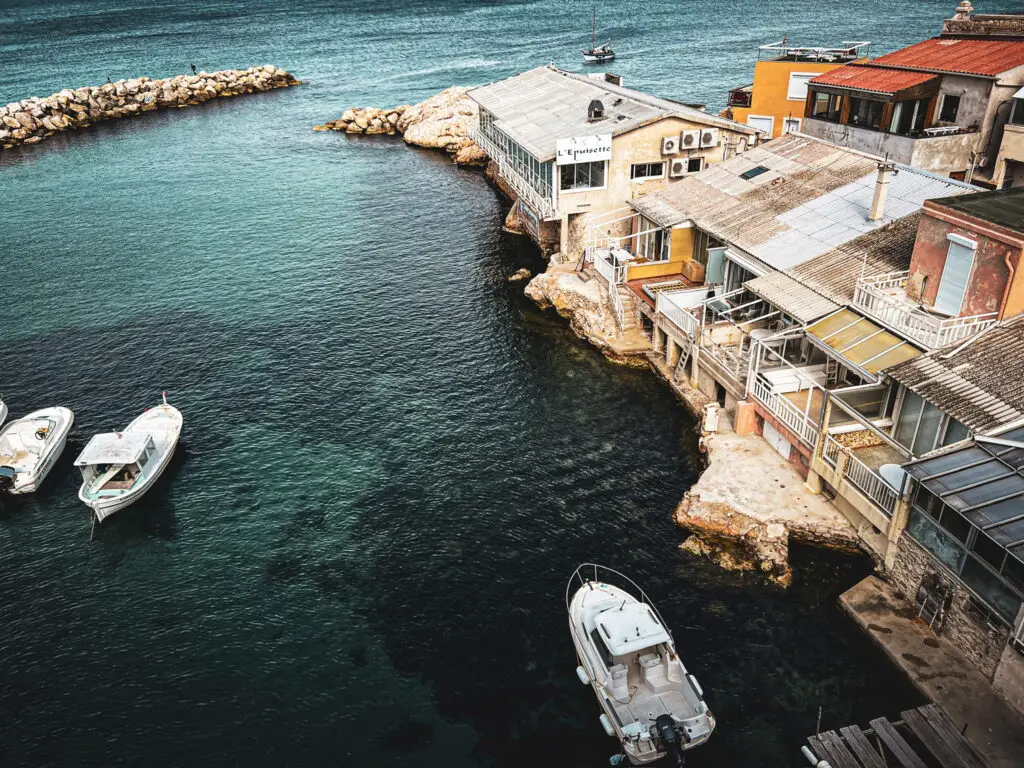 Explore Le Panier
Another romantic area to explore is Le Panier. The scenic alleyways and back streets make for a romantic setting. Stop along the way and sample some pastries and grab a coffee. It's bliss.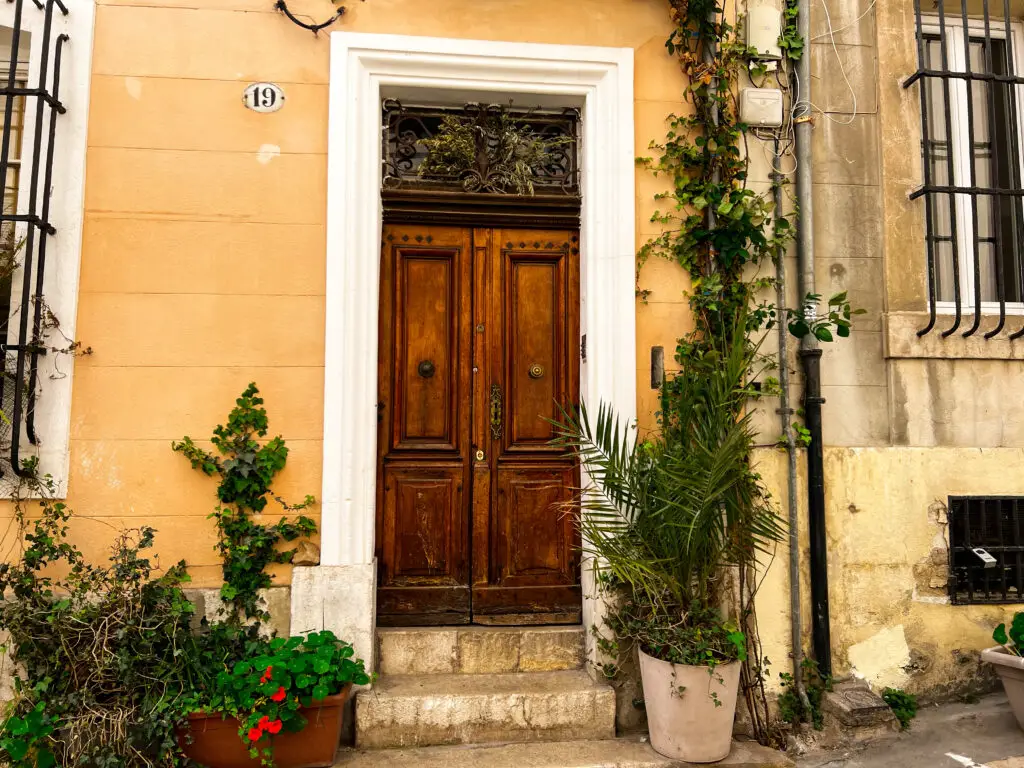 Do a sunset cruise
I always think sunset cruises are great for a bit of romance. There are several cruise options you can book some with dinner and drinks too.
Eating and drinking during your 3 days in Marseille
Food and drink was a huge part of our time in Marseille. It turned out to be a foodies dream for us, with so many incredible restaurants and bars to explore. This is by no means an extensive list but here are some of the bars and restaurants we went to and our thoughts on each.
Restaurants to try during your 3 days in Marseille
Here are some of the places that we ended up eating during our 3 days in Marseille, and what to expect if you do too.
Cup of Tea
This is a very cute book themed cafe. They do excellent tea and coffee, as well as some pretty impressive cakes. It's located in Le Panier so it's perfect for a cup of tea or coffee in the midst of your exploring.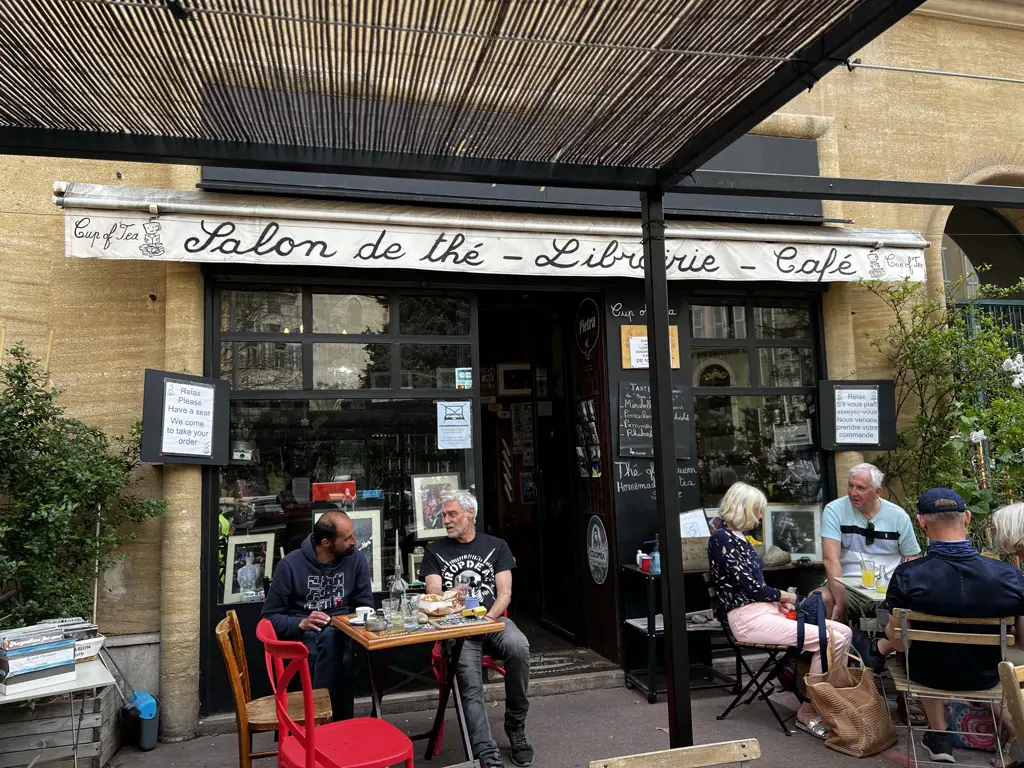 Bistrot L'Horloge
Located in Vieux Port Bistrot L'Horloge is a great spot for dinner. They do traditional French style foods like steak and fries or coated Camembert. It is a little touristy but the food is decent, and the atmosphere is also pretty good.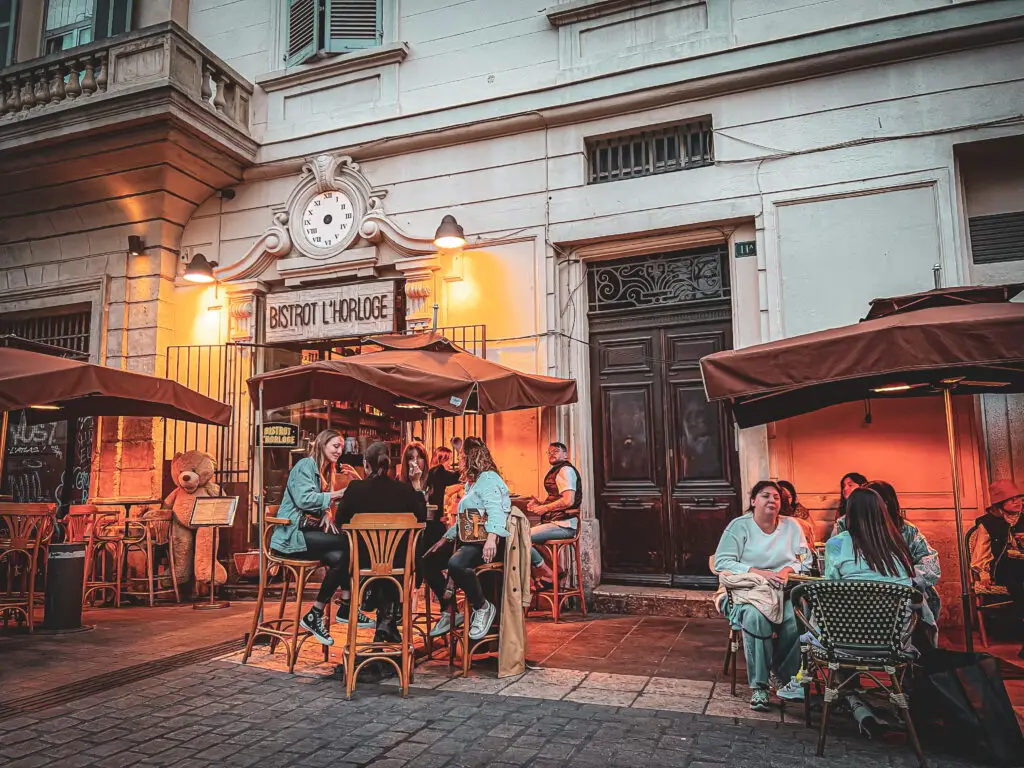 Le Panier Marseillais
Le Panier Marseillais is a cute cafe style restaurant in Le Panier. It's perfect for lunch and there is a lovely courtyard to sit in and soak up the sunshine. The menu is in French so it kind of feels a bit more authentic as well.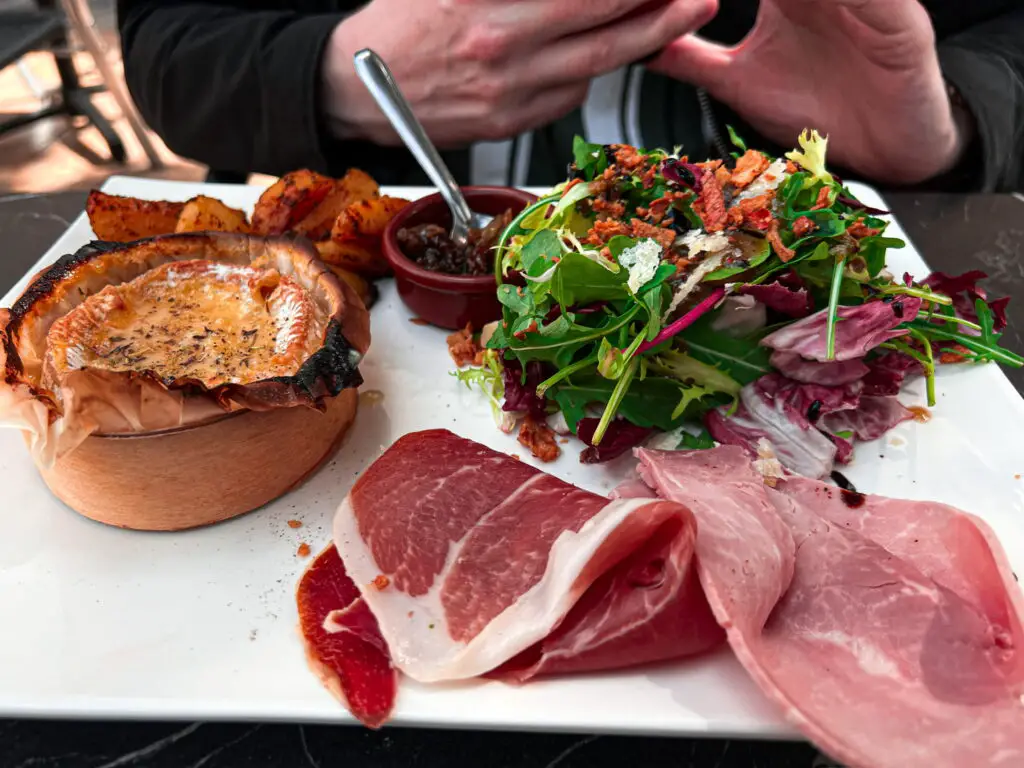 Au Coeur du Panier
Another gem located in Le Panier is Au Coeur du Panier. They do seafood, simple fish and meat dishes and local specialties. The menu isn't large so they focus on a few key items. The atmosphere here is also amazing with outdoor and indoor seating.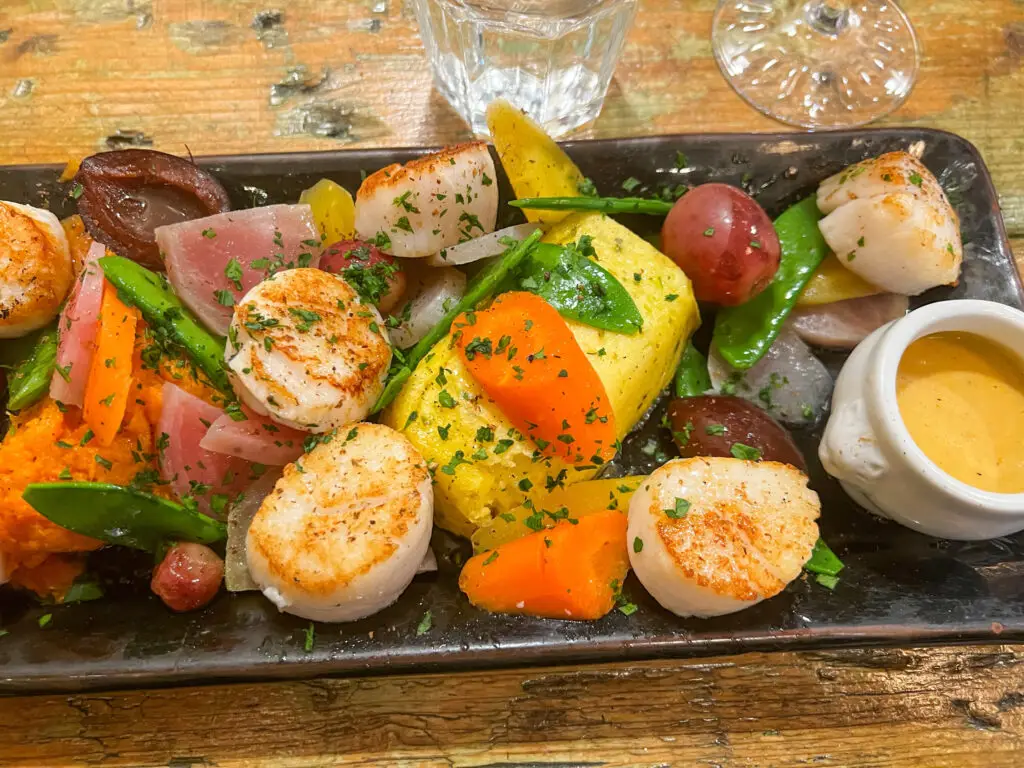 Eclectique
If you are near Palais Longchamp and looking for some brunch or simply some coffee we recommend taking a walk to Eclectique. It's a lovely cafe serving decent food and drink with outdoor seating.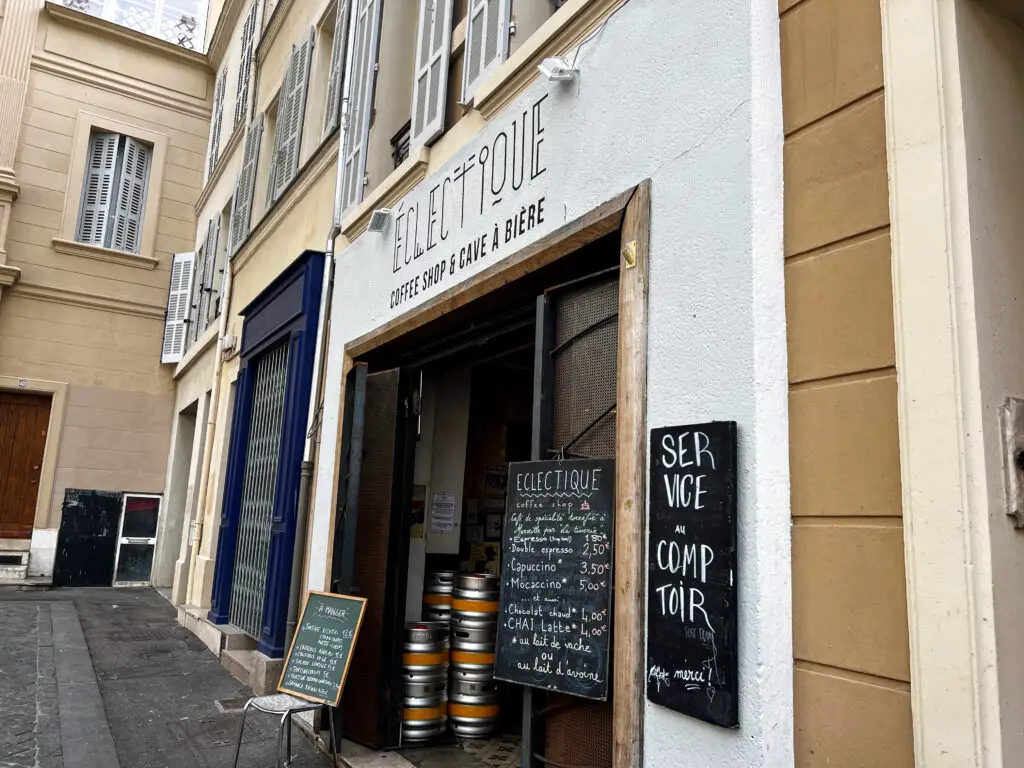 L'Imprévu
For some really good French and Italian food head to L'Imprévu. It's located in Le Panier, and probably one of our most memorable meals in Marseille. The staff are really friendly and again there is a large outdoor seating area. It's perfect if you fancy a light lunch or some cheese and wine.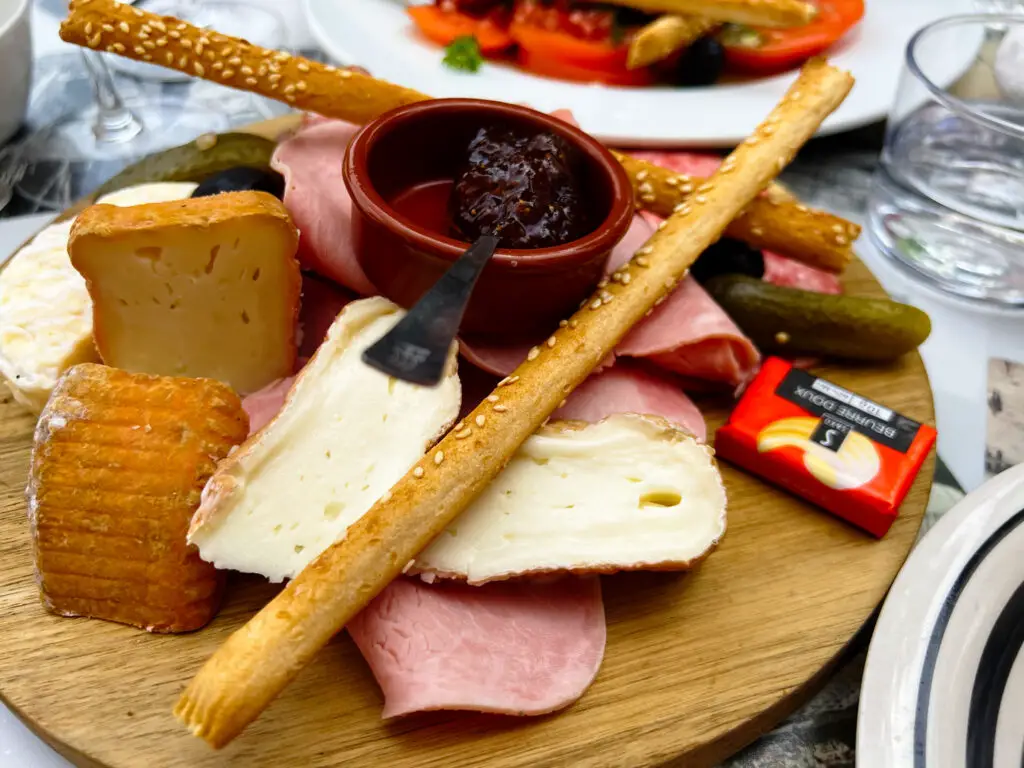 La Bazarette Epicerie fine
This is another excellent lunch place in Le Panier. They do light bites and tapas style food, as well as some great coffee and even better cakes. The inside is really quirky and there is also some outdoor seating too.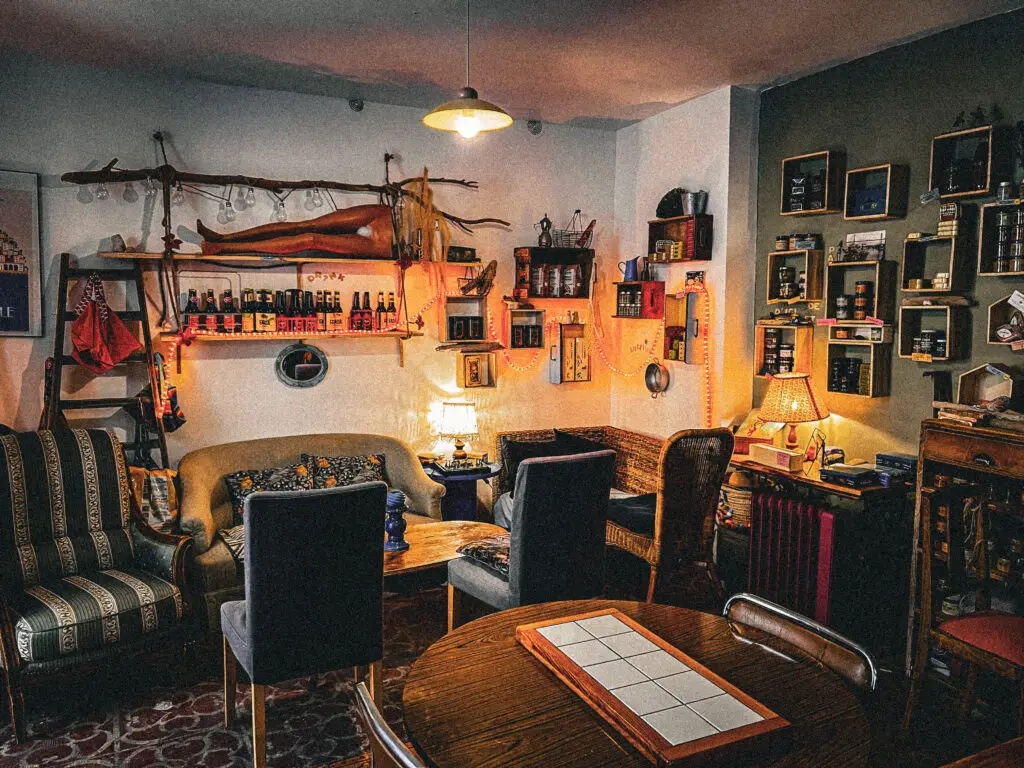 Viaghji Di Fonfon
Located in Vallon des Auffes this is an excellent choice for a light bite and tapas. The views from here are really beautiful and if you get there early morning grab some coffee and enjoy the scenery.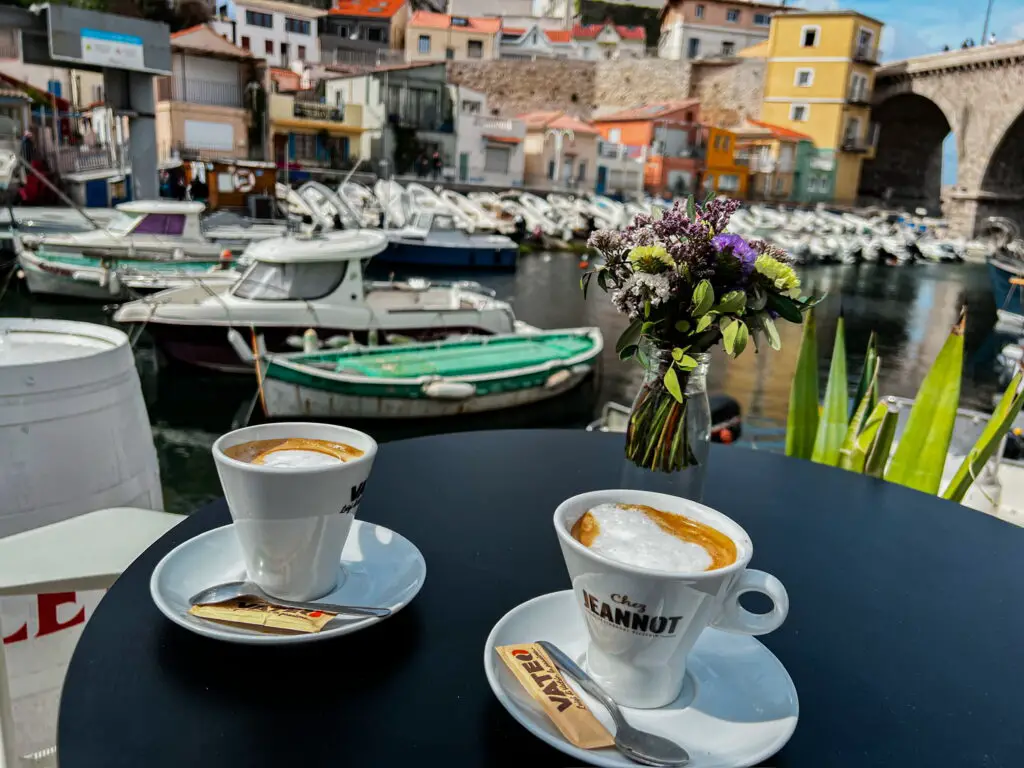 If you want to try Navettes, which is a biscuit that Marseille is famous for we recommend Les Navettes des Accoules. It's located in Le Panier and they do a whole variety of sweet treats including Navettes and Macarons.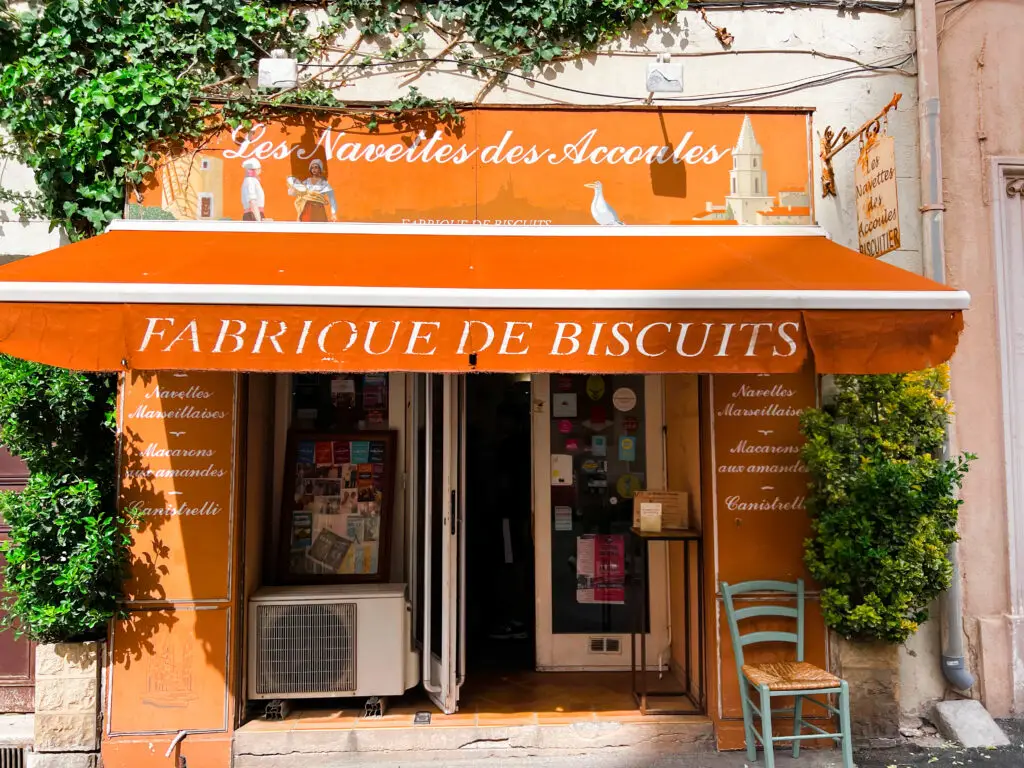 Bars to try during your 3 days in Marseille
When it comes to bars in Marseille there is certainly no shortage, although they might be slightly different to what you expect in the US or UK. A lot of bars tend to have outdoor seating so you aren't really there to experience the ambience of the bar itself more the outdoor lifestyle. A lot of bars also serve food, and will prioritise those ordering a meal when busy.
Soifferie
This is a great bar down a leafy street in Cours Julien. It's a very chilled laid back atmosphere here and seems to attract a younger crowd.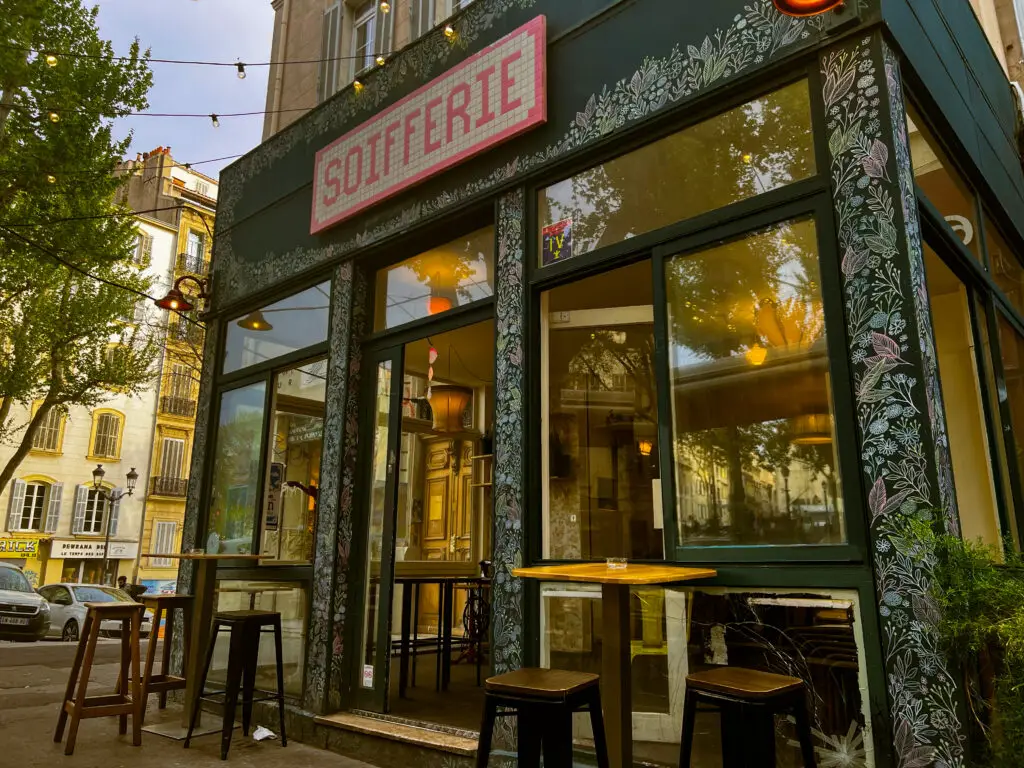 Le Champ De Mars
Le Champ De Mars is a cute bar down a back street in Cours Julien. They serve a range of drinks, and they even have their own resident cat. It's also a good place to go to try Pastis. We spent a good few hours sitting outside watching the world go by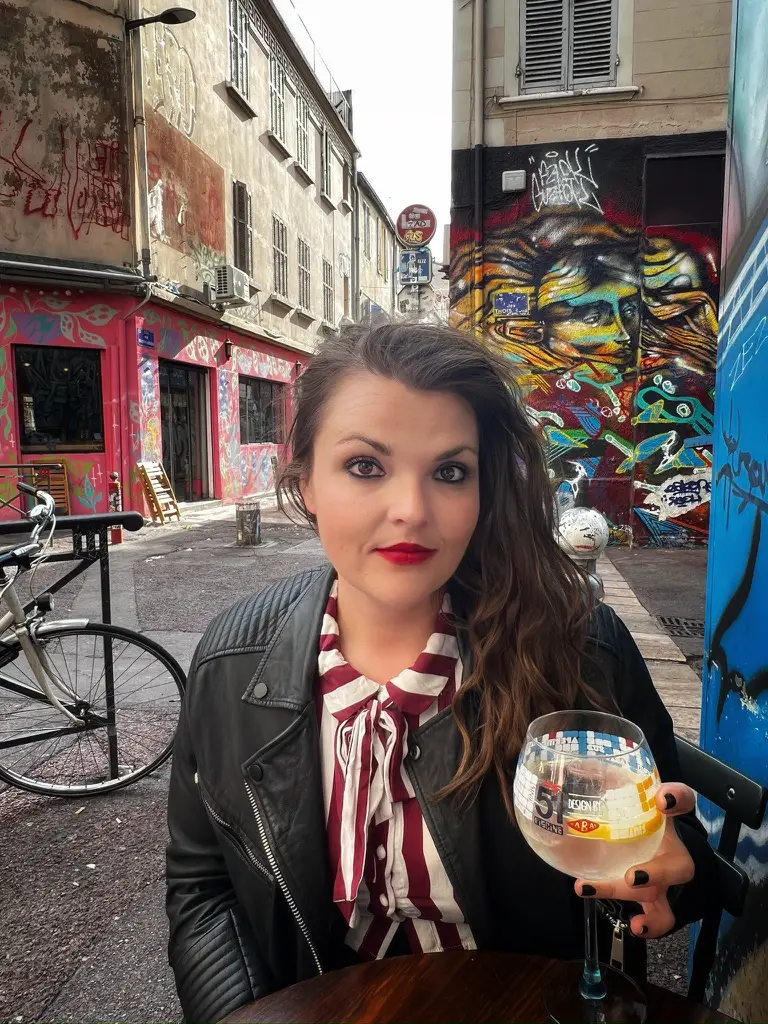 Il Caffe
Il Caffe was a cute little spot we discovered in a large square in Cours Julien. They do coffee, soft drinks, beers, wine, and some aperitif style cocktails. The courtyard setting is really nice on a sunny day. There are actually a lot of these kind of bars in the area so have a good explore!
Carry Nation
Carry Nation is a secret cocktail bar in Marseille. To get in you do need to book beforehand. Once you book you are given a code for the front door. There aren't a lot of cocktail lounges in Marseille (or at least in our experience) so if you do like your cocktails make sure you book in.
L'unic
This is a very chilled out bar located in Vieux Port. It's pretty close to Bistrot L'Horloge so it's great for having a few after dinner drinks. We recommend getting outdoor seating if you can as it is also an impressive place to people watch.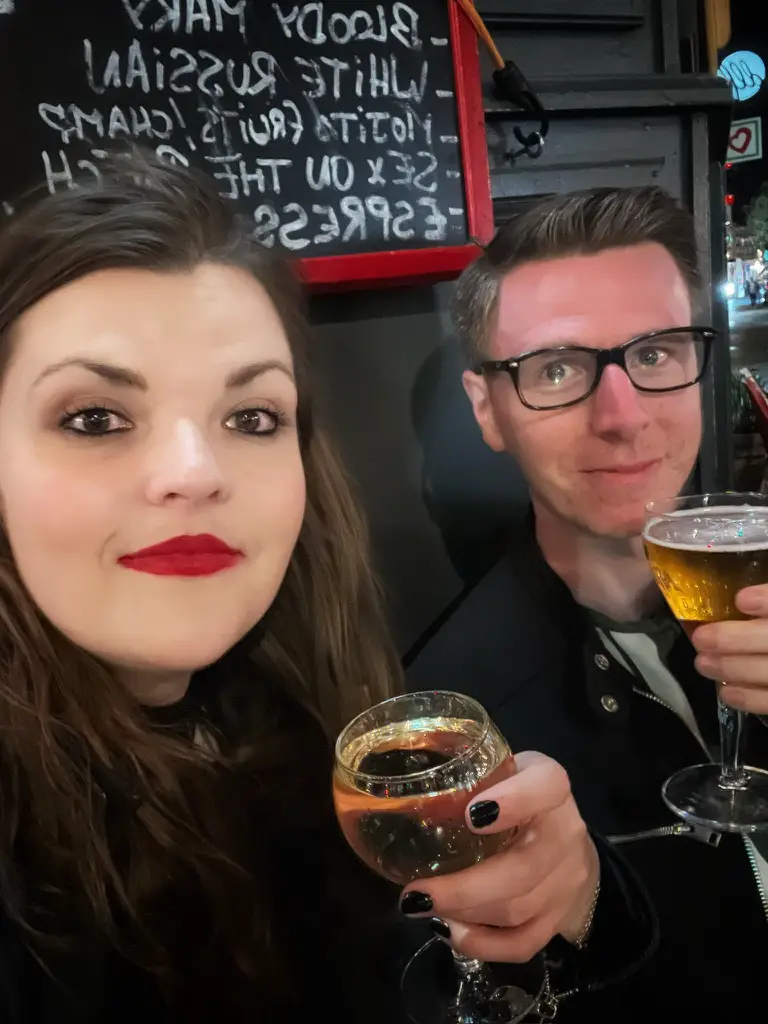 Cours Julien
Ok I know that Cours Julien isn't just one bar but we wanted to add it as we tried a few different bars here. In the main square you will find several outdoor bars where you can sit and enjoy the sunshine and order drinks.
Bar the Capian
We love a good cocktail when travelling so decided to try Bar the Capian for a round of drinks. It's actually part of the Intercontinental Hotel so you need to make your way up the hotel's grand driveway first. There is a beautiful outdoor terrace with views of Basilique Notre-Dame de la Garde. The drinks are a bit pricey here but worth it if you are wanting to branch out from wine and beer.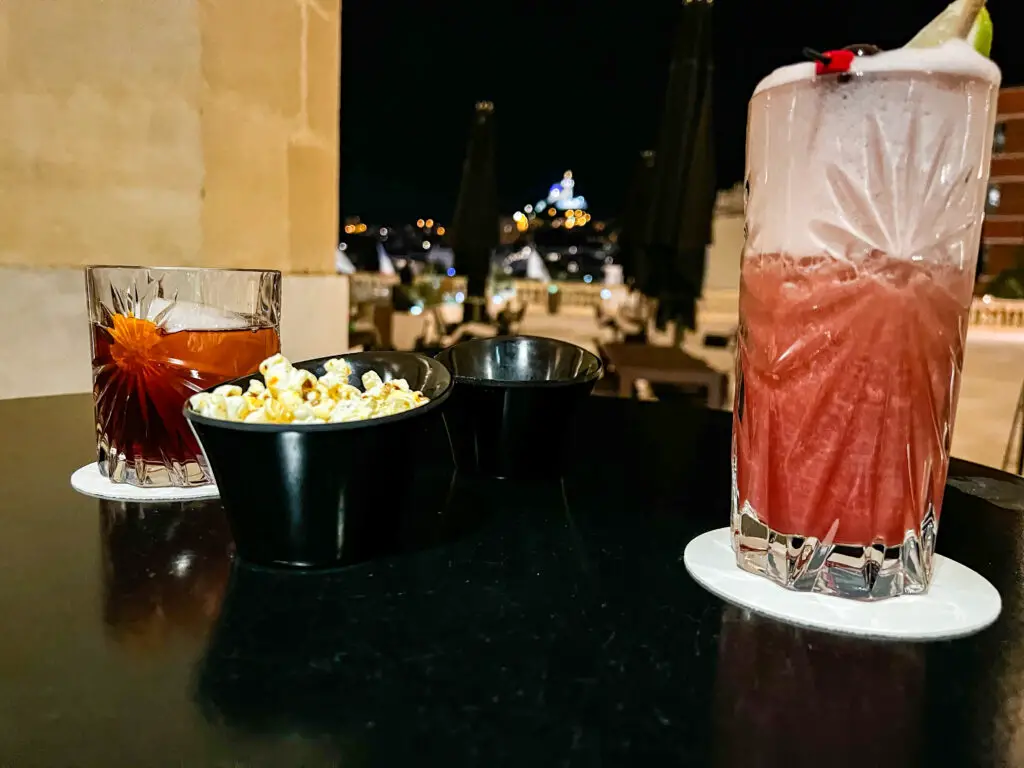 Must eat food as part of your Marseille itinerary
When you are visiting a new place it's always great to try some local cuisine. Here are some of the must haves during your 3 days in Marseille.
Navettes are a popular cookie/biscuit found in Marseille. They are small and boat shaped and you can find them at most bakeries in the city. They are sweet with a subtle hint of orange blossom – so pretty much perfect with some coffee.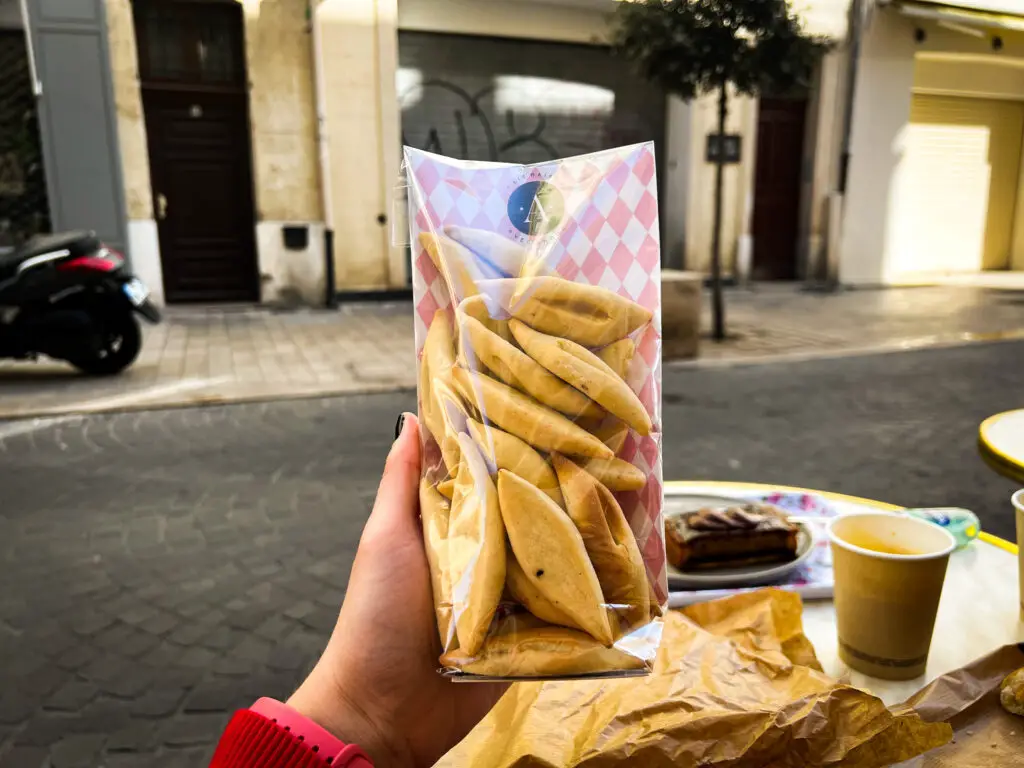 Pastry
I kind of feel that a trip to France is not complete without indulging in some pastry and coffee. We ended up going to a local bakery or boulangerie as it is known in French for breakfast each day in Marseille. Pastry just tastes better in France – what can I say!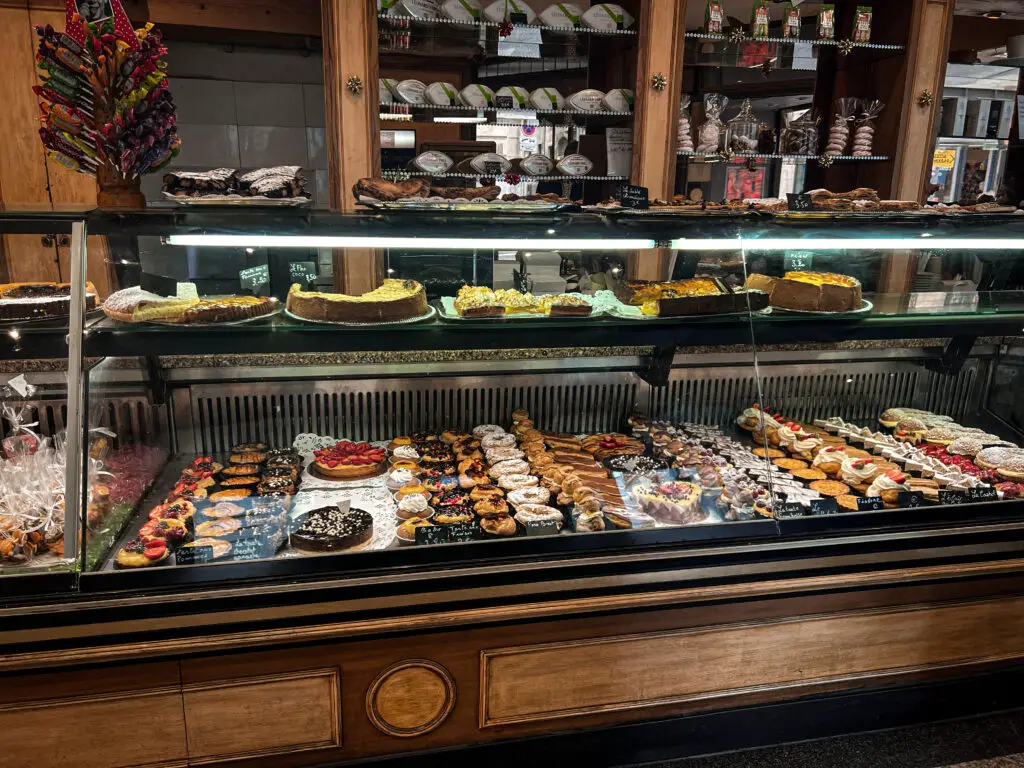 Bouillabaisse
If you want to try traditional food that originated in Marseille then Bouillabaisse is a must. It's a kind of fish stew/soup with lots of garlic and herbs. If you are going to try it avoid the tourist traps and do your research. Anything less than €60 isn't authentic and therefore not worth your time. If you like fish this is a must for your Marseille itinerary.
Madeleines
Madeleines aren't specifically from Marseille – more the northern part of France but the country as a whole seriously adore these spongey sweet treats.
Aioli Provençal
Aioli Provençal is a traditional dish in Marseille. It's usually fish and vegetables accompanied by a very strong garlicky sauce. It's delicious but definitely not first date food! This is another dish that you should add to your Marseille itinerary as you won't find it anywhere else in the world.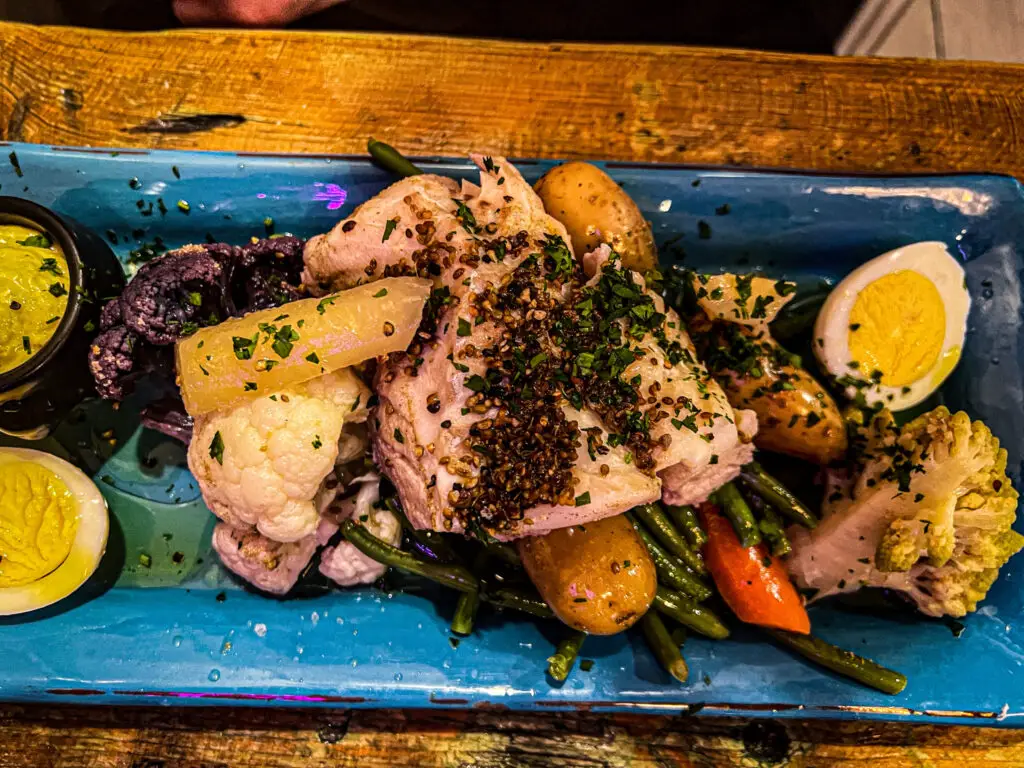 Seafood
Due to it's location Marseille is a popular fishing port. For that reason we recommend trying some seafood whilst you are there. There are a number of really good seafood restaurants around Vieux Port and Vallon des Auffes particularly. For the most authentic food avoid places with people out the front trying to attract tourists.
Pastis
Pastis is a popular aperitif, so worth trying as part of your Marseille itinerary. It has an aniseed flavour is is supposed to be really good for quenching your thirst when it's hot. Most places serve the drink, although it is best drunk before a meal. It needs to be mixed with water as well so if it is served to you in a glass like a shot add water! We nearly swallowed it whole in a restaurant which caused the waitress to come running to our table telling us to add water. Whoops.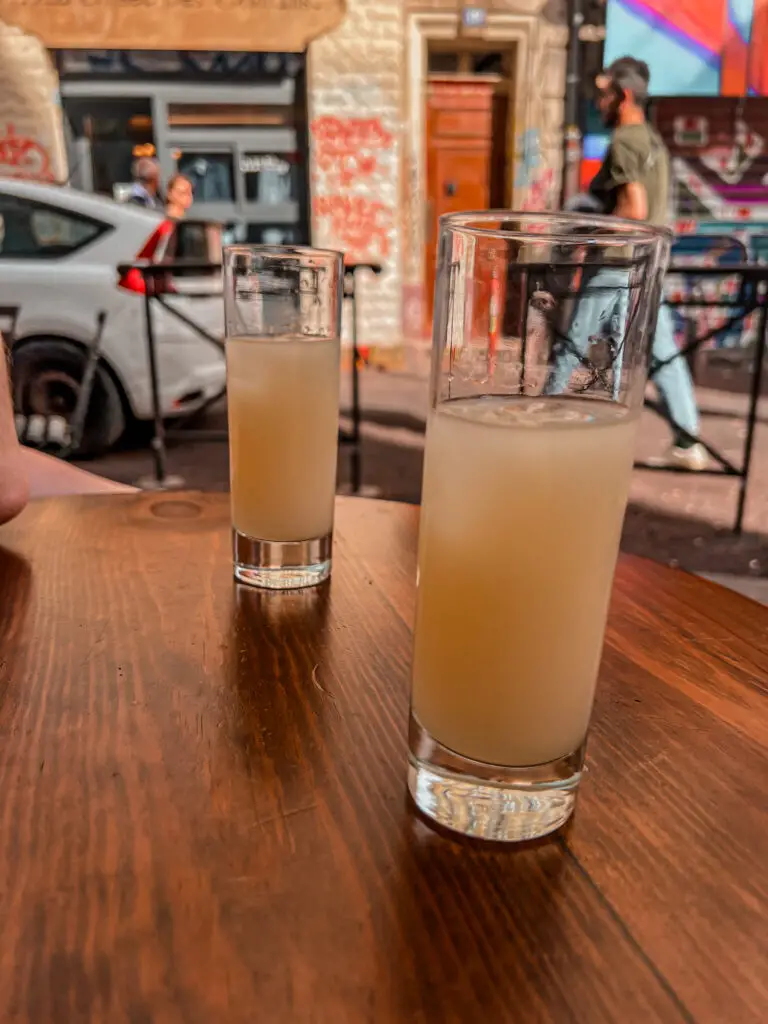 How to get around during your 3 days in Marseille
Chances are you will need to use public transport during your 3 days in Marseille. It's relatively easy to navigate especially if you use GoogleMaps alongside it. Marseille has trams, buses and the metro, and the same ticket type is valid on each mode of transport.
You can buy tickets at tram stops or metro stations, and also directly from bus drivers. If you do buy your ticket on the bus though make sure you have small change as cards are not accepted.
You need to validate your tram and bus ticket on boarding, and scan your ticket to pass through the turn styles on the metro. You can transfer onto any mode of public transport with an hour.
Budgeting for 3 days in Marseille
You might be wondering how much money you really need for your 3 days in Marseille. We personally didn't find Marseille that expensive. You might have this idea in your head that because it is the French Riviera that you will need to fork out a lot of cash, but in actual fact it is moderately priced.
We ate out 3 times a day, had a few drinks, and saw quite a few sights in the city, and we spent about €570 between us for 3 days in Marseille. This didn't include accommodation. For context a meal for 2 cost us around €80 including alcohol. A glass of wine cost anywhere between €3 – €5 and a pint around €5.50. Accommodation in the Old Port was around €600 for 3 nights in a 4 star hotel. It's not as cheap as your cities like Lisbon or Prague, but not as expensive as Oslo or Copenhagen either.
Most places will accept credit card payment in Marseille, but if you plan to catch the bus or tip at restaurants you will need cash. We found it useful carrying a small amount of cash on us for this reason.
Best time of the year to plan your Marseille itinerary
Marseille is one of those cities that you could get away with visiting at any time of the year. It just depends on what type of holiday you are hoping to have. Summer is great (June -August) because it's the perfect time of year to take advantage of alfresco dining, walks along the beach, and tons of water activities in the city. The temperatures range from the low 20's to the 30's (Celsius). Obviously with great temperatures come high numbers of tourists. If you do visit in summer just make sure you book things like accommodation and tours in advance.
Alternatively if you want a cheaper break, with time to explore the museums then winter is a viable alternative. There are far few numbers of tourists and accommodation prices drop dramatically compared to summer months. Just keep in mind it will likely be cold and windy at this time of year. Temperatures average between 5 and 13 degrees Celsius but the good news is that is substantially warmer than norther Europe.
The best time to plan your Marseille itinerary in our opinion is around the shoulder seasons. April or May or October- November still have mild weather but with far fewer tourists.
Is 3 days in Marseille enough?
We found that 3 days in Marseille was the perfect amount of time to explore the city. We got to see the main tourist sights, had time to wander around some gorgeous neighbourhoods, and enjoyed some fantastic food and drink. If you are planning some day trips to places like the Calanques National Park you may need an extra day.
What to pack for 3 days in Marseille
Apart from your standard travel items here are some packing tips for your trip to Marseille.
Layered clothing
A light jacket (in summer) as it does get cool with the wind, especially at night
A warm coat (in winter)
Sun protection like sunglasses, sun cream, and a hat
Lip balm – honestly the wind!
Comfy walking shoes
For women a cross body handbag with zips
Tips for planning your 3 day Marseille itinerary
Here are some tips to help your plan your 3 day Marseille itinerary.
Know some basic French especially around food as most of the menus we encountered were in French.
Try to avoid places with 'English menus' honestly the food won't be great.
Bouillabaisse under €60 isn't worth your time, the authentic stuff will cost you over this amount.
Research the best areas to visit in Marseille as particularly in the northern parts it can be slightly dangerous.
Carry some cash on you especially for bus fare.
Do not criticise the Olympique de Marseille – seriously football fans here are incredibly passionate.
Book a table if there are particular restaurants you want to eat at – it does get busy.
Be careful walking around at night by yourself certain parts of the city can be sketchy.
More than 3 days in Marseille – Day trip ideas
Les Calanques
One of the most popular day trips from Marseille is a trip to the Calanques National Park. It's a beautiful national park with postcard perfect surroundings.
Cassis
Cassis is a gorgeous fishing village not far from Marseille. It is well worth taking the time to visit, and is also a gateway point to the Calanques National Park.
Should I spend 3 days in Marseille?
If you are wondering if you should spend 3 days in Marseille our answer is a resounding yes. We were genuinely nervous about visiting the city because of what we had heard and read about it. But honestly if you have your wits about you and be prepared that some parts of the city may be a little rougher than others you should be ok. We are so glad we visited because if we hadn't we wouldn't have gotten to experience just how incredible Marseille is. There is so much art and culture in the city, and the food is pretty incredible too. So if you get the chance we highly recommend that you plan your own Marseille itinerary.
If you found this guide to spending 3 days in Marseille useful don't forget to pin it for later.