Is Dubrovnik worth visiting? And everything else you need to know before you go
Are you planning a trip to Croatia and wondering is Dubrovnik worth visiting? In this guide we go through absolutely everything that you need to know before you book your trip. We give you answers those all important questions like is Dubrovnik expensive, or is Dubrovnik safe, to help you decide if Dubrovnik really is worth visiting.
Disclaimer: This post contains affiliate links, so if you use these links to buy something we may earn a commission, at no cost to you. Thank you for your support.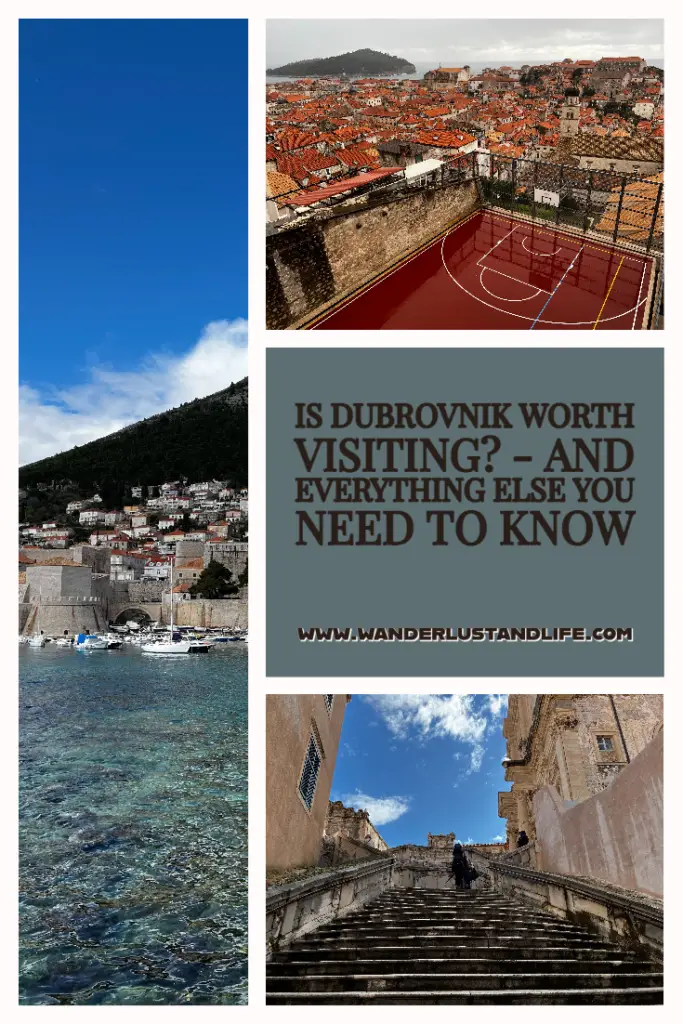 Before we answer the question 'Is Dubrovnik worth visiting' here is some background
Located on the Adriatic Sea, Dubrovnik is an incredibly popular tourist destination. The city is famous for its Old Town and fortress style city walls which are both UNESCO World Heritage sites.
More recently Dubrovnik has become known for its filming locations, with Game of Thrones being the most popular show filmed in the city. Star Wars fans will also be pleased to hear that some scenes have also been filmed here.
Overall Dubrovnik is a great mix of history, beaches, and cool bars. There certainly is something for everyone in this stunning city.
Is Dubrovnik expensive?
Dubrovnik is certainly one of the more expensive Balkan cities and one of the more expensive places along the Adriatic Coast. Or at least in our experience. That doesn't mean that you can't do things on the cheap though if you budget appropriately. Make sure that you are booking your accommodation well in advance. Also try and book right at the beginning of the tourist season before it gets really busy or September when it starts to quieten down.
If you are only in Dubrovnik for a short time it shouldn't be too costly, but it all depends on how long you are staying and what tours you want to do. We would probably recommend budgeting about €100 per person per day on average, this should see you through your meals including a sit down meal, some drinks, and a couple of tourist attractions. Obviously things can be cheaper or more expensive depending on the type of holiday you want.
Do I need cash in Dubrovnik?
You can pay for the vast majority of things in Dubrovnik with your credit or debit card. Amex, is slightly different as not everywhere accepts this, so ask before you order and eat a meal for example. We would recommend having some cash with you though, particularly if you are wanting to tip. We also did a day trip to Mostar and we needed cash for this, so keep that in mind.
And in case you were wondering as of January 2023 Croatia is now using the Euro as currency.
What language do they speak in Dubrovnik?
Croatian is the official language spoken in Dubrovnik. If you are an English speaker however, never fear as the vast majority of people here do speak English. We never had any issue with people not speaking English especially as it is a huge tourist spot.
Is Dubrovnik easy to get to?
There are a number of European airlines that will fly you to Dubrovnik, and once you land the best way to get to the Old Town and beyond is either via a shuttle bus or taxi. The shuttle bus will only really stop at the Old Town, so if your accommodation is a little further out like in Lapad for example, you will either need to walk from Old Town, get a taxi, or a bus.
We ended up getting an Uber form the airport to our hotel in Lapad, and this cost around €25 -€30. If you have a lot of luggage, or just want to take the stress of public transport away, then an Uber is very affordable.
How long should I spend in Dubrovnik?
If you are doing a cruise or a day trip then it is possible to do Dubrovnik in 1 day. You will only really get to see the Old Town, but it's quite small and easy to walk around. Ideally you want to spend 3 days in Dubrovnik as a minimum and maybe a day or 2 extra if you are planning any day trips to Mostar or Montenegro.
Is Dubrovnik safe?
We found Dubrovnik to be really safe. You shouldn't have any issues when walking around places like Lapad, or the Old Town. Locals tend to be quite welcoming, and we never felt unsafe here, even in the evening. In fact we often walked from Old Town to our hotel in Lapad during the day but also in the evening.
The main thing to be weary of when it comes to safety in Dubrovnik is more around petty theft or pickpocketing. Dubrovnik is a massive tourist city, and with tourism comes pickpocketing. Have your wits about you, particularly if walking around at night.
Is Dubrovnik really touristy?
I've mentioned this a few times in this article, but yes Dubrovnik is really touristy. Not only do you get your city break style holiday makers, but you also get a lot of day trippers – particularly from cruise ships. Obviously there is good reason that so many tourists visit Dubrovnik – which is that it is incredibly beautiful. The life and soul of Dubrovnik centres around Old Town, as this is where a lot of the main attractions are. You won't usually get a lot of locals hanging out here, and if they do it is because they work in the tourism industry.
Our biggest tip when it comes to visiting Dubrovnik is to research the cruise schedules, and do your main activities early to beat the crowds.
Is Dubrovnik worth visiting compared to other European cities?
We felt Dubrovnik was very different to other European cities we had visited. It's smaller for starters, and is very touristy. On the plus side though it is the perfect mix of beaches, historical sites, and excellent dining options. Given how beautiful it is we very much think Dubrovnik is worth visiting compared to other European cities.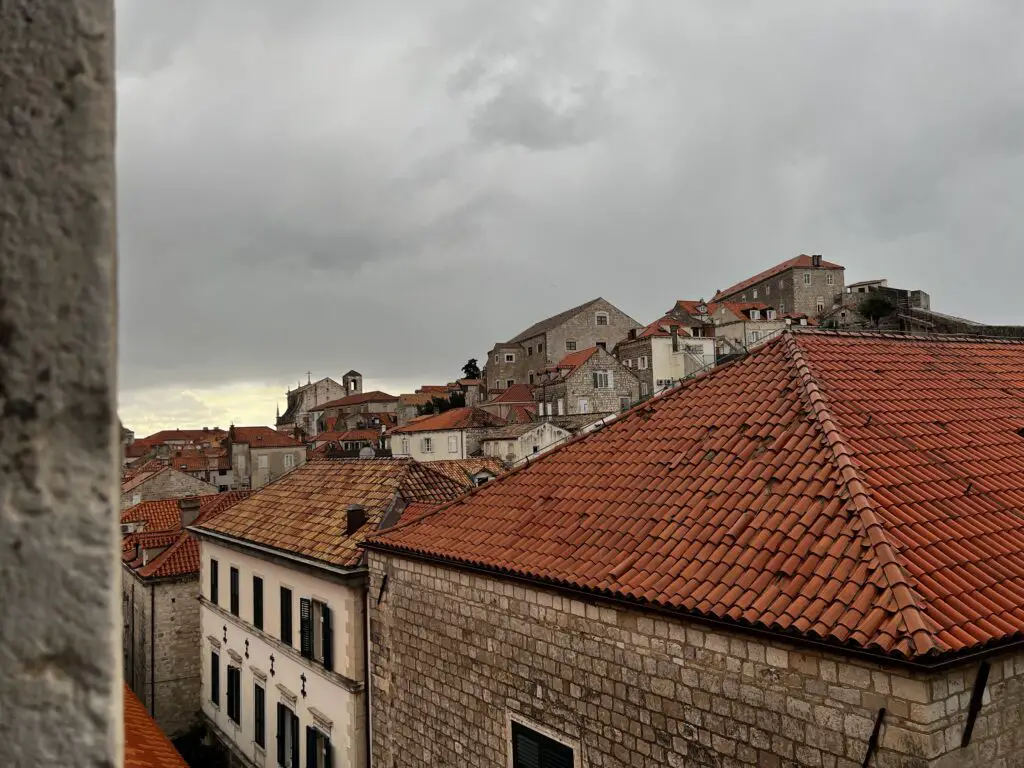 Can I use public transport in Dubrovnik?
You can use public transport in Dubrovnik, although you may not have to. The Old Town is completely walkable and this is where the vast majority of attractions are. For other attractions like an Elafiti Islands day trip that we did, we were picked up straight from our hotel.
You may need to or want to get the ferry to other smaller islands, or if you want to go further afield you can catch the bus.
What is there to do in Dubrovnik?
If you are wondering is Dubrovnik worth visiting for the attractions alone, then here are some of the best things to do to help you decide.
Explore the Old Town
The Old Town in Dubrovnik is actually one of the best preserved medieval cities in the world. It is surrounded by walls that are still standing to this day and were designed to protect the city from enemies. The Old Town is traffic free so you can walk around to your hearts content.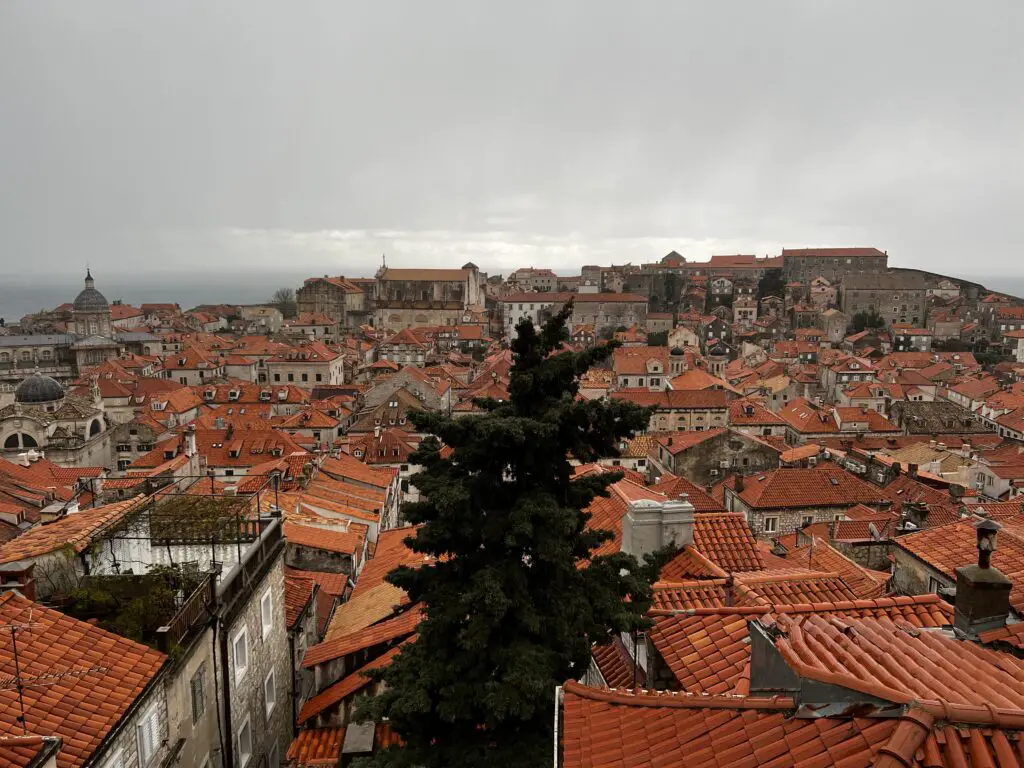 Spend time with the many cats
The Old Town is famous for its super cute felines. You won't be able to visit without seeing at least one cat. Most of them are friendly, but just make sure that you respect their boundaries.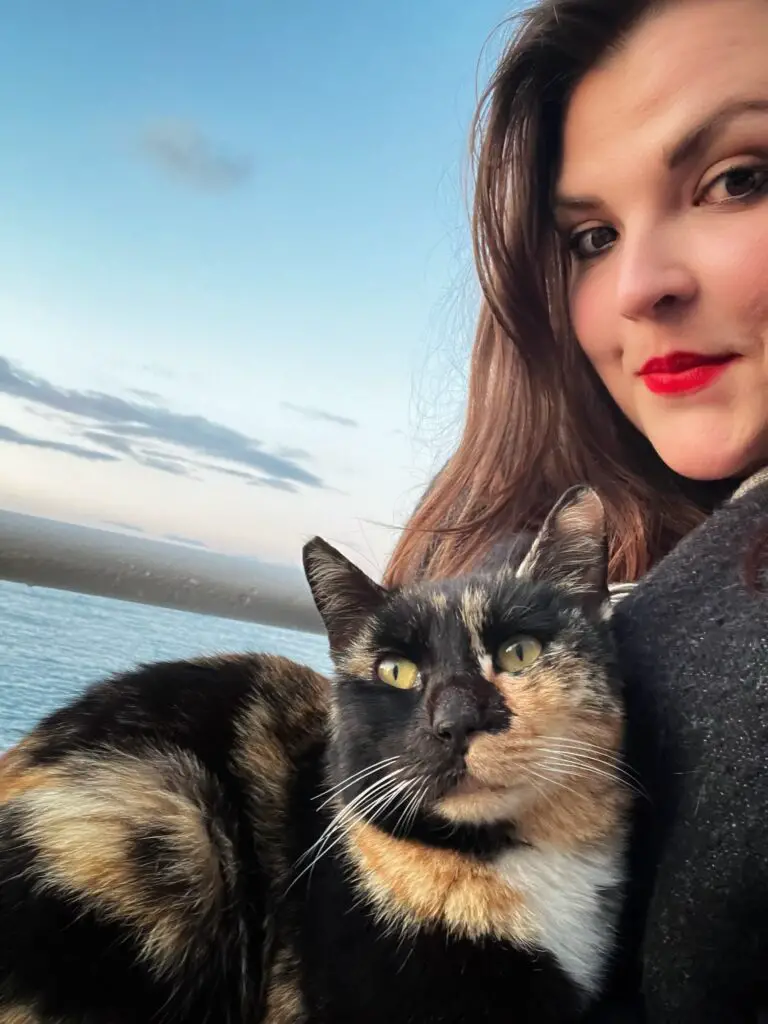 Walk the City Walls
One of the main tourist attractions in Dubrovnik are the city walls. They are about 2km long and you can do a full loop walking the walls looking down on Old Town. Some bits are quite narrow but overall it is a pretty easy walk and one not to be missed.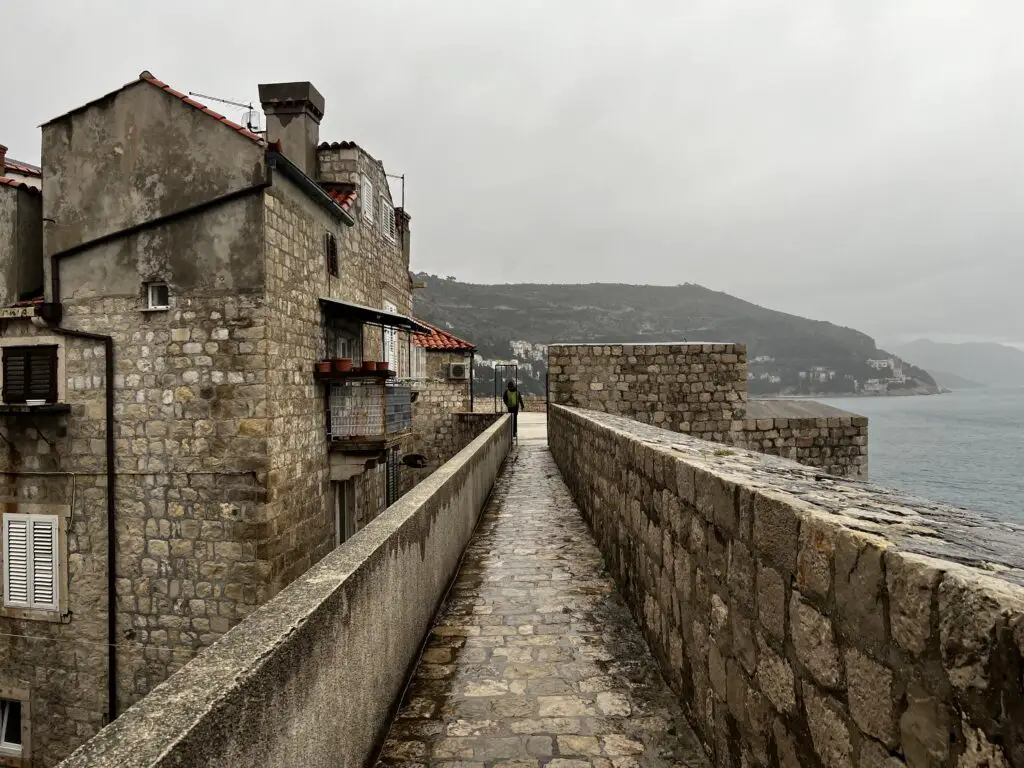 Visit Rector's Palace
Rector's Palace was built in the 15th Century, and was once home to the Rector who governed Dubrovnik (hence the name). These days it is a cultural history museum and a great place to visit on your trip to Dubrovnik.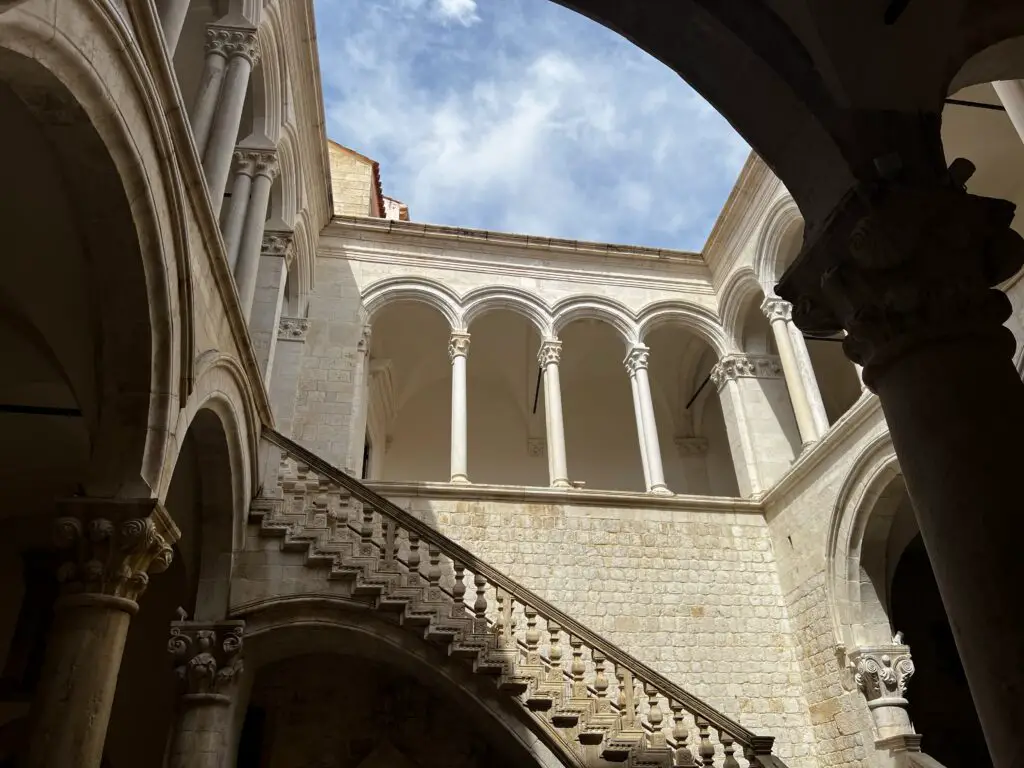 Ride the cable car
Ride the cable car to the top of Srd Hill for the best views of Dubrovnik. It's also a pretty spectacular place to watch the sunset. The cable car runs from April – October each year but check the website to determine the exact dates. It also doesn't run in bad weather, so don't get your hopes up if it is a miserable day.
Walk the shame steps
If you are a fan of Game of Thrones you have to visit the 'Shame Stairs' otherwise known as the Jesuit Stairs. The stairs are a popular attraction in Dubrovnik so if you want a picture without the crowds get there early.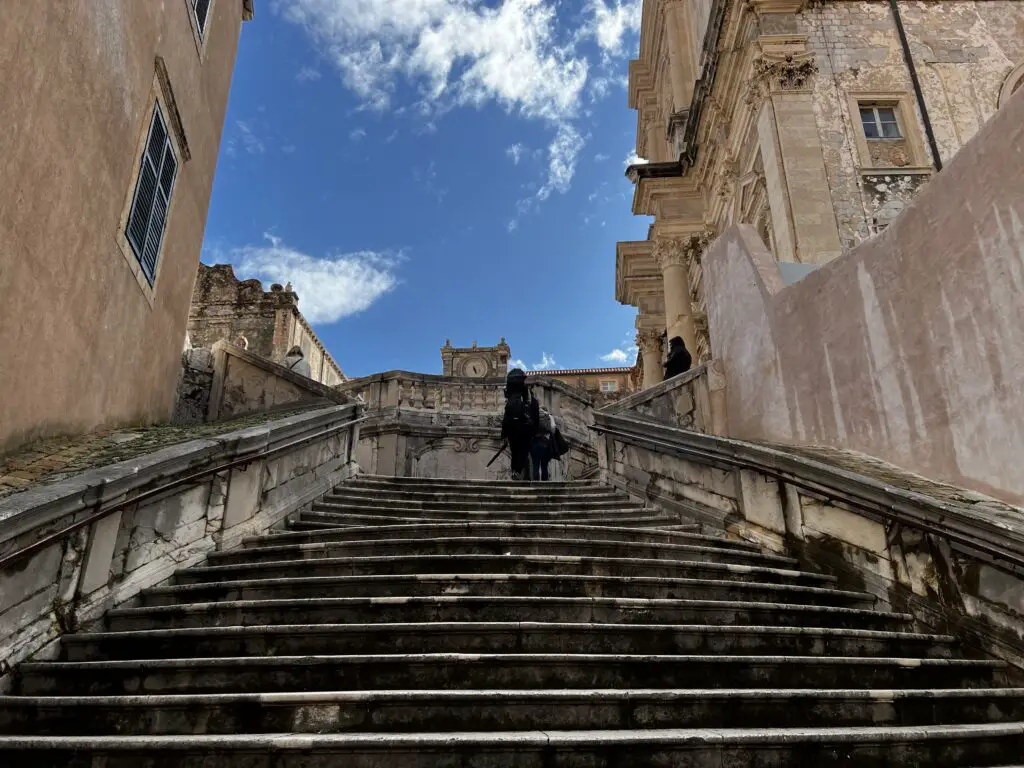 Do a Game of Thrones tour
One of the most popular shows filmed in Dubrovnik has to be Game of Thrones. If you are a fan you can do a Game of Thrones walking tour taking you to all the sights from the TV series.
Explore the Dominican Monastery
The Dominican Monastery used to be a religious complex established in 1225. These days however it is an art museum located on the eastern part of the Old Town. It's a beautiful place to visit and has a very tranquil garden/courtyard.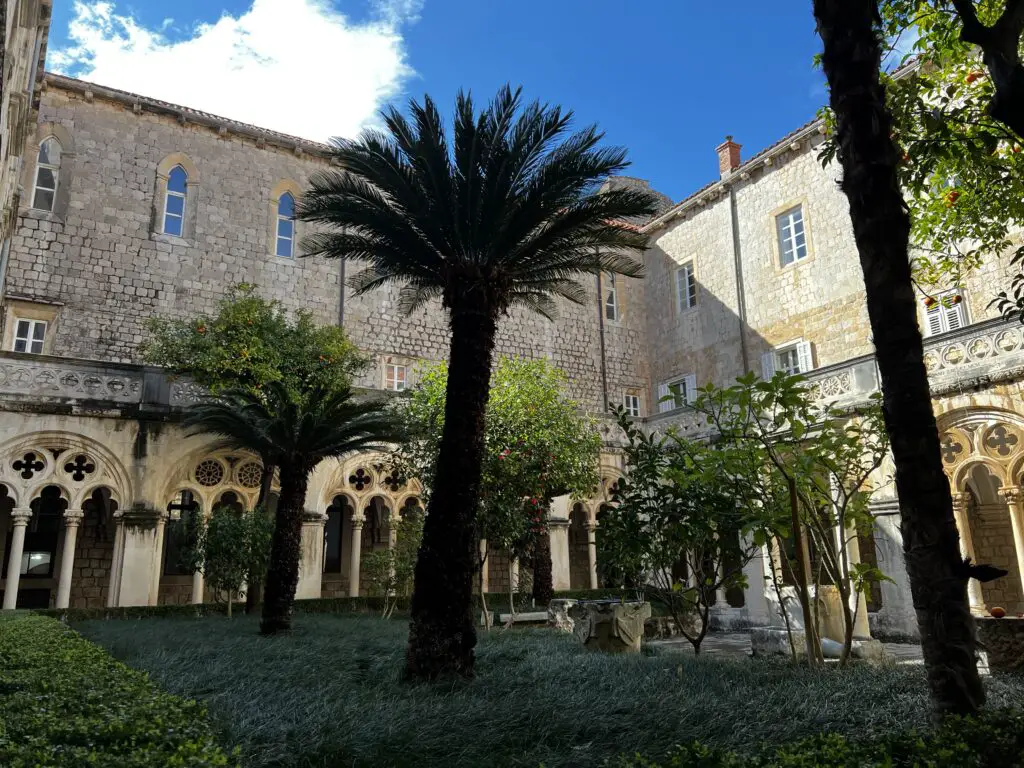 Visit Lokrum Island
Located only 600m away from Dubrovnik's Old Town is Lokrum Island. On the island you will find a monastery, botanical garden, and some beautiful beaches. The ferry to Lokrum only operates between April – November each year.
Explore the Elaphiti Islands
For the perfect day trip you can explore the Elaphiti Islands. You hop on a boat with food and drink provided and you then sail to 3 of the islands with time to explore each one. You can also bring your swimwear and cool down in the crystal clear waters.
For more information on visiting the Elaphiti Islands you can checkout this post.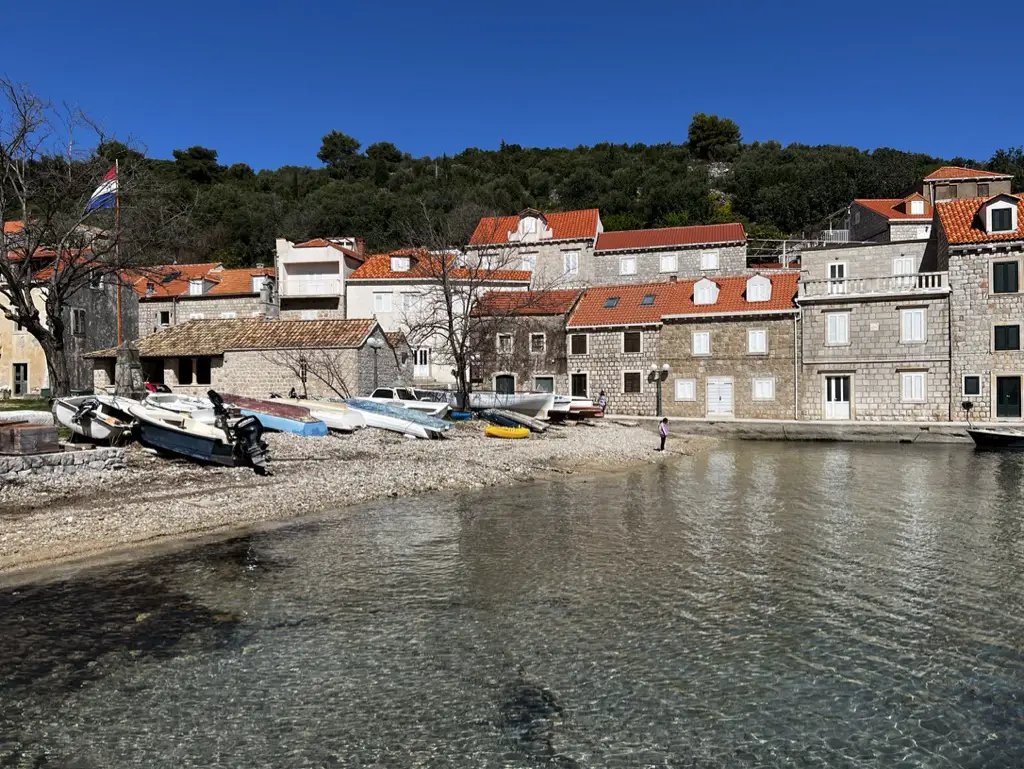 Is Dubrovnik worth visiting for solo travellers?
Considering that Dubrovnik is pretty safe, and easily walkable, it also makes it a great place to visit for solo travellers. It's also good because there are so many group tours that you can book onto if you fancy a bit of time spent with people. Overall, we would highly recommend Dubrovnik if you are a solo traveller.
Is Dubrovnik worth visiting for couples?
As good as Dubrovnik is for solo travellers, it's also a fantastic place to visit with your significant other. The romantic Old Town is perfect for strolling around hand in hand, whilst the beautiful city beaches are great for just relaxing together. There are also several incredible restaurants and bars to enjoy a romantic date night.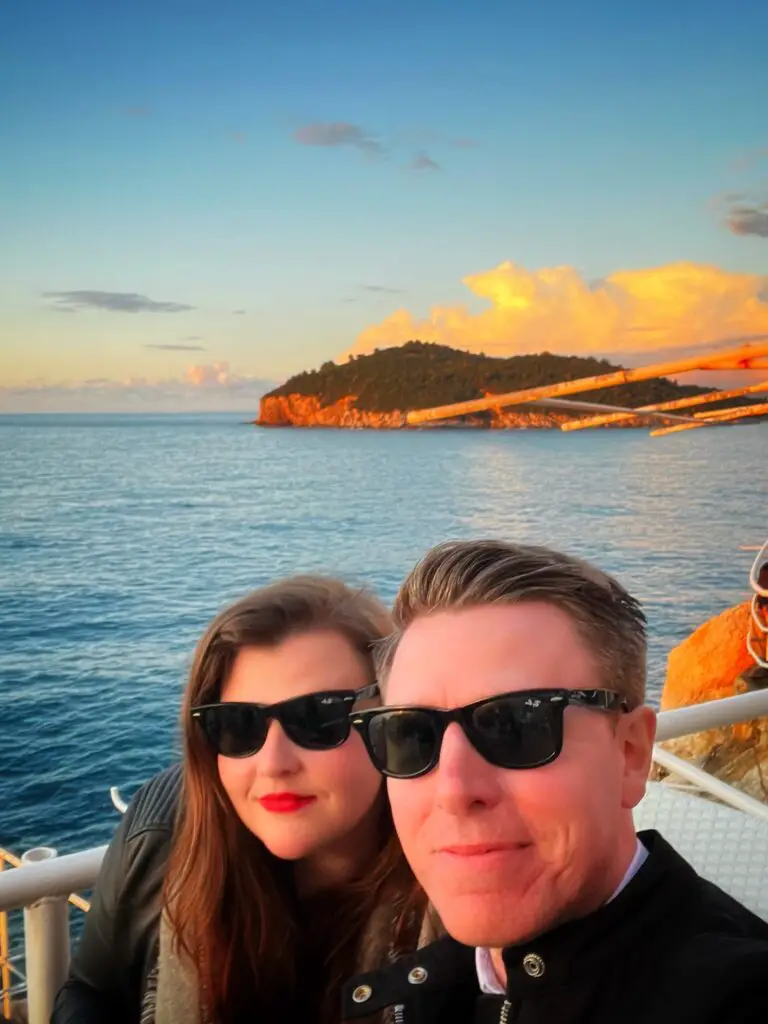 Is Dubrovnik worth visiting for families?
There are probably more family friendly places in Croatia to visit then Dubrovnik, but don't discount it immediately. Your kids will love the Walls of Dubrovnik, and get an education in the process. The Old Town is also a great place to spend time as a family, not only will you learn all about the history of the city, but you can stop and enjoy some gelato in the process. There are a number of beaches in Dubrovnik that are family friendly too, with calmer waters and a number of amenities.
Is Dubrovnik worth visiting for foodies?
If you are wondering is Dubrovnik worth visiting for foodies then the answer is a big yes! Dubrovnik is one of the best cities we have visited when it comes to food. If you are into seafood, fine dining, and good wine Dubrovnik is very much for you. There are so many incredible places to eat with amazing food. Most places do Mediterranean style food, but you will also find a few places that do sensational Bosnian food like Taj Mahal.
Two of our favourite fine dining restaurants had to be Posat and Gradska Kavana Arsenal. They both serve Mediterranean food and carefully selected wines. Dining out is a real experience in Dubrovnik – just make sure you book your table well in advance.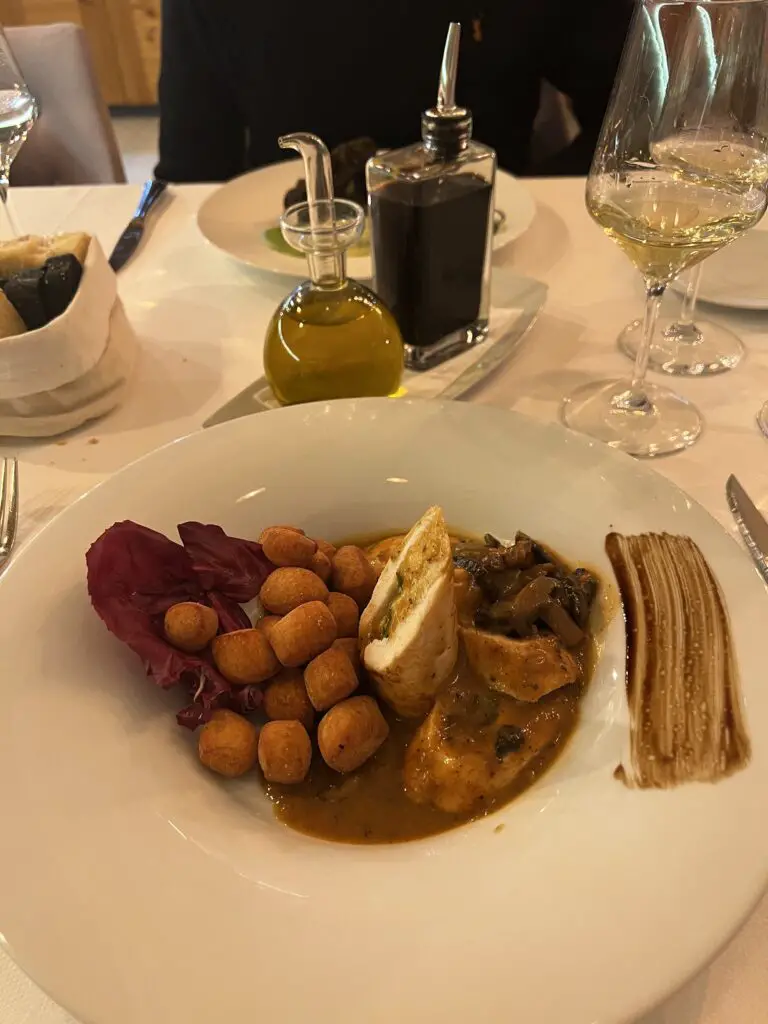 Is Dubrovnik worth visiting for the nightlife?
If you want a wild night out clubbing, Dubrovnik is not the place to go. Sure you get a few party spots like the Banjee Beach Club for example, but it isn't on the same scale as say Berlin for clubbing. It does have some of the most beautiful bars we have ever been to though. Particularly in the Old Town you will find so many quaint cocktail and wine bars to enjoy. You also have the picturesque Buža bar which is located on a cliff, and is one of the coolest bars we have ever been to. It's especially beautiful sipping beers at sunset.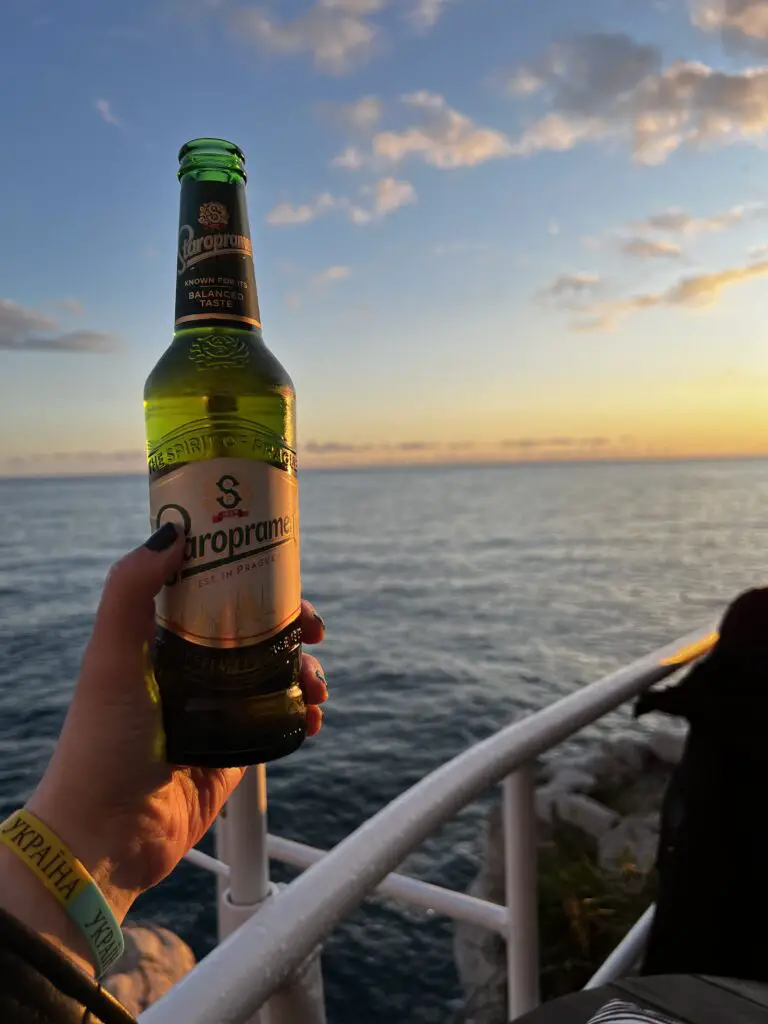 Is Dubrovnik worth visiting for nature lovers?
If you are a fan of nature Dubrovnik is one of those destinations that offers a perfect mix of city and beach life. You can partake in a number of outdoor activities like kayaking or snorkelling and enjoy the natural beauty of the beaches. Lokrum Island is another great place to go to escape some of the hustle and bustle of the Old Town and experience nature in this densely populated forrest island.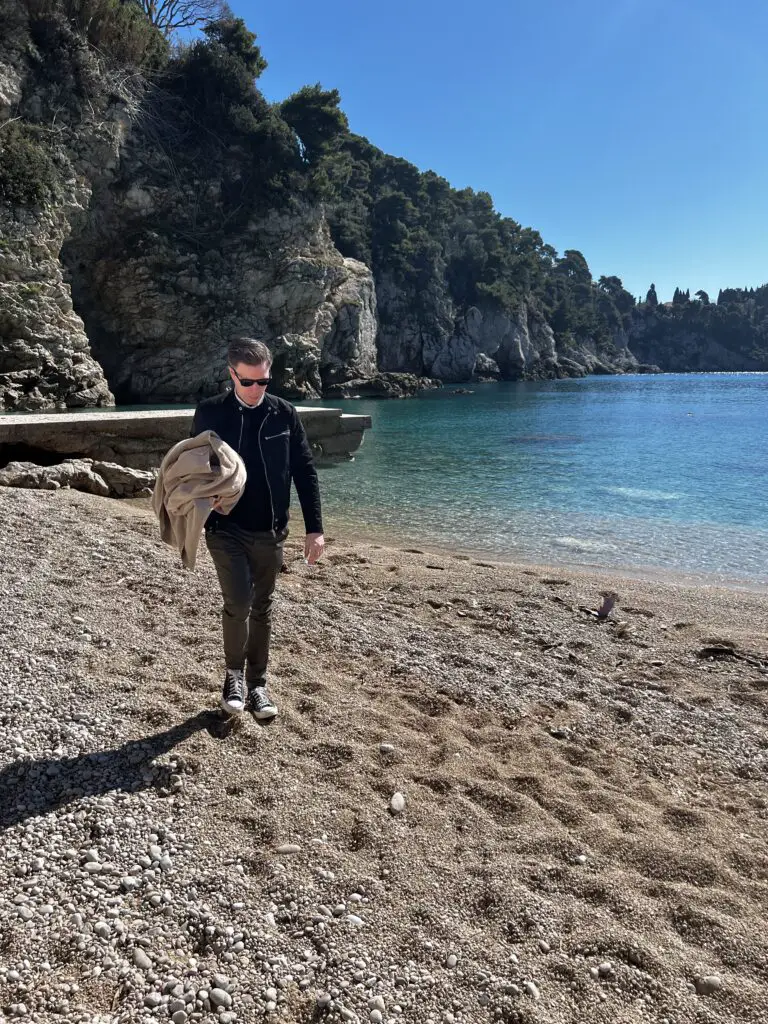 Is Dubrovnik worth visiting for history buffs?
History buffs will absolutely adore Dubrovnik. The medieval Old Town is so well preserved that it almost makes you feel like you have gone back in time. There are so many old churches to explore, as well as the city walls which to this day are in impeccable condition. And if it is more modern history you are interested in make sure you do a day trip to Mostar to learn all about the Balkan conflict and the impact of war on the city.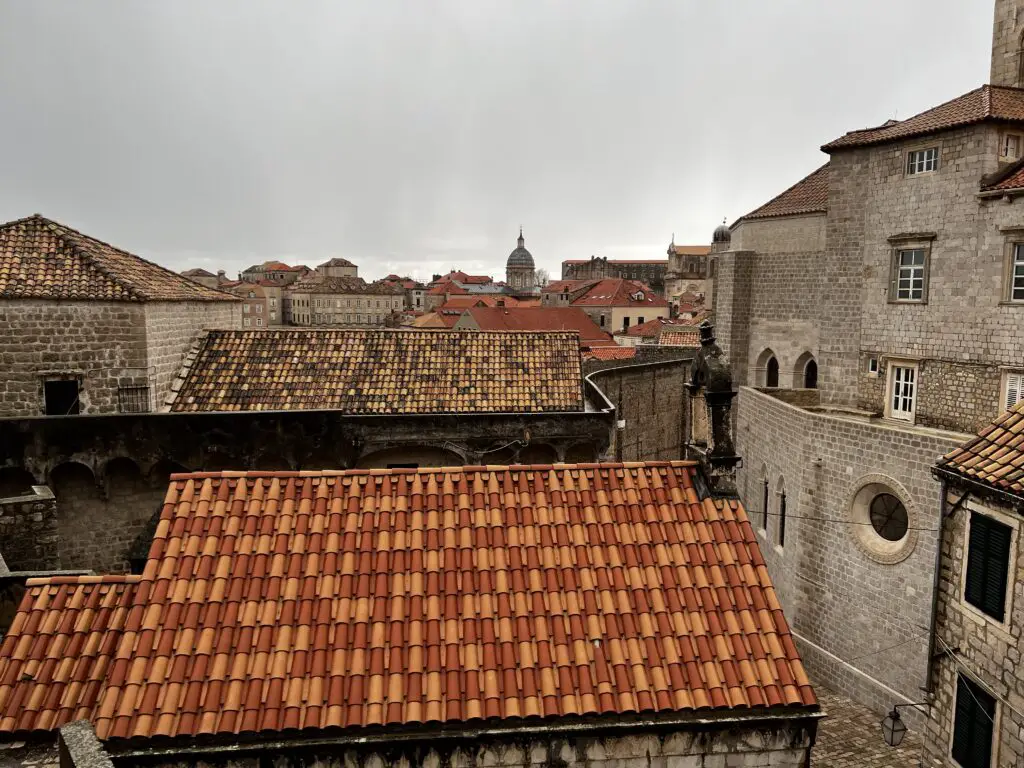 Is Dubrovnik good for a beach holiday?
If it is a beach holiday you are after Dubrovnik might not be the best option. If you want to lounge around all day on the beach whilst sipping cocktails we would probably recommend going somewhere else. But if you want to spend some time on the beach, mixed with a bit of exploring, then it is perfect.
The beaches in Dubrovnik tend to be quite small especially when compared to say the Greek Islands and in particular Santorini. You can find these close to the Old Town and the surrounding areas. The good thing about these small beaches is that you can find some real hidden gems with not many people, but if you want sun loungers and cocktails there are only a few beaches that do this.
Dubrovnik is best suited to those that want a mix of a nice relaxing break with some time to explore the surrounding areas and indulge in the local cuisine.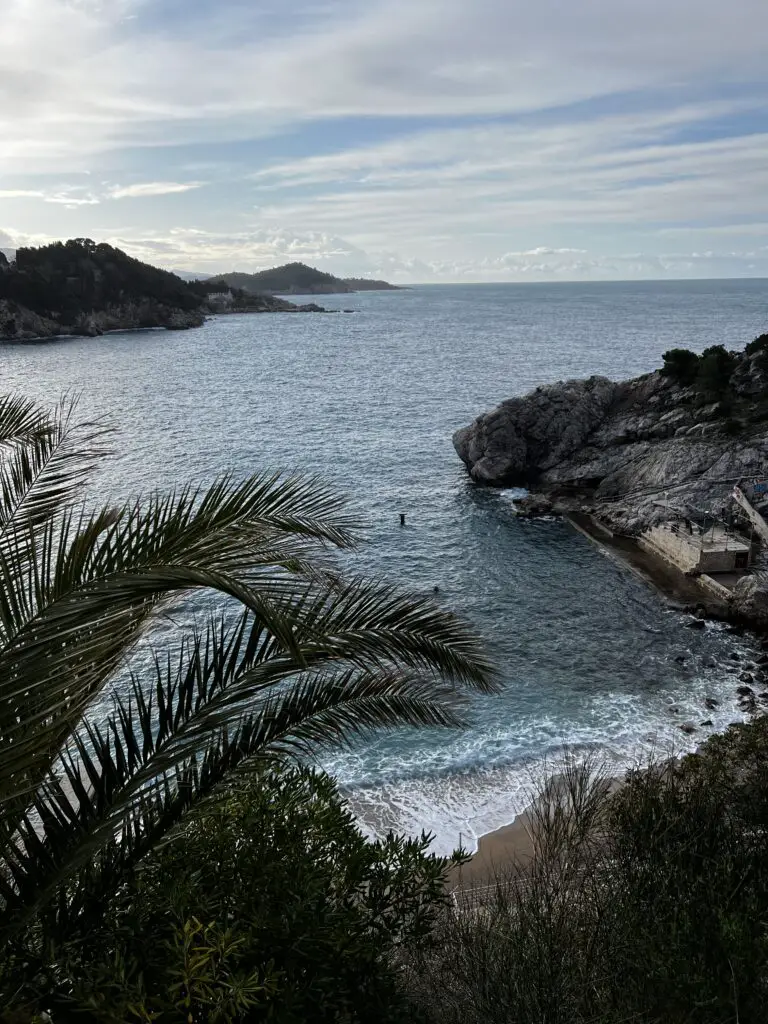 Is Dubrovnik worth visiting in the summer?
Honestly the best time to visit Dubrovnik is the summer months of June – August. These are the best months to make the most of your time in the city. The weather is dry and averages at around 30 degrees Celsius. It is the perfect weather for swimming, and other outdoor activities.
The only downside of summer is that it does get really busy in Dubrovnik. You should expect queues to tourist attractions, and will need to book things like accommodation well in advance. August is probably the busiest month so it might be worth avoiding it if you can.
Is Dubrovnik worth visiting in the winter?
Dubrovnik in winter is actually pretty chilly. Temperatures range between 7 – 15 degrees Celsius and it can be quite wet too. Because of the cold you won't get to enjoy activities like swimming or al fresco dining. It's also important to keep in mind that a lot of attractions will not be open. For instance we went to Dubrovnik in March and the tourist season had not started yet. This meant we were unable to visit Lokrum island or ride the cable car as they were still closed for the season. A lot of restaurants and bars in the Old Town also close over the winter months so it might not be the best experience.
The plus side of visiting in the winter is that there are way less tourists and accommodation is really cheap. We personally think you are better off visiting in the shoulder season ie. late April- May or September-October. A lot of attractions are starting to open/ wind down and you will have less tourists.
What to pack when visiting Dubrovnik?
Apart from your standard packing list items here are some must haves when visiting Dubrovnik.
Suncream/ sunglasses/ hats – basically anything to shade you from the sun
Swimwear
Layered clothing
A jacket – as it does get colder in the evening
Comfortable walking shoes – with all those cobbled streets you don't want to risk an injury
What should I know before visiting Dubrovnik?
Here are some final tips before you visit Dubrovnik.
Croatia is part of the EU and have only recently changed the currency to the Euro
Most places in Dubrovnik do accept Credit Cards so no need to stock up on cash BUT
We found that restaurant staff don't accept tips on credit card, so have some cash if you do want to tip your server
Speaking of restaurants if there is anywhere you really want to eat book this in advance
For the best photos head to Old Town early to avoid the crowds and check to see when cruise ships are arriving or departing, as with them bring an influx of people.
So Is Dubrovnik worth visiting?
Hopefully we have helped you answer the question is Dubrovnik worth visiting, and the answer is yes! Dubrovnik really is a beautiful city, and you can see so much in a short time. So whether you are a foodie, a history buff, or someone who enjoys drinking beers with a view, Dubrovnik is the place for you.
We hope you have found this article useful, and if so don't forget to pin it for later.