The best tips for visiting Iceland in winter
Everywhere we look these days, it seems social media is alight with pictures of Iceland in the winter. The cold temperatures against the steamy hot springs make it the perfect place to take those instagram perfect pictures. We ended up traveling to Iceland in November and did a little bit of Iceland in December too and we fell in love. In this post we wanted to let you know why you should be visiting Iceland in winter, as well as covering all the important things like costs and where to stay. We will also be providing tips on what to wear in Iceland in November/December too, because I learnt my lesson by packing really inappropriate clothes and really feeling the cold.
Wondering if Iceland is worth visiting? Here is a helpful guide.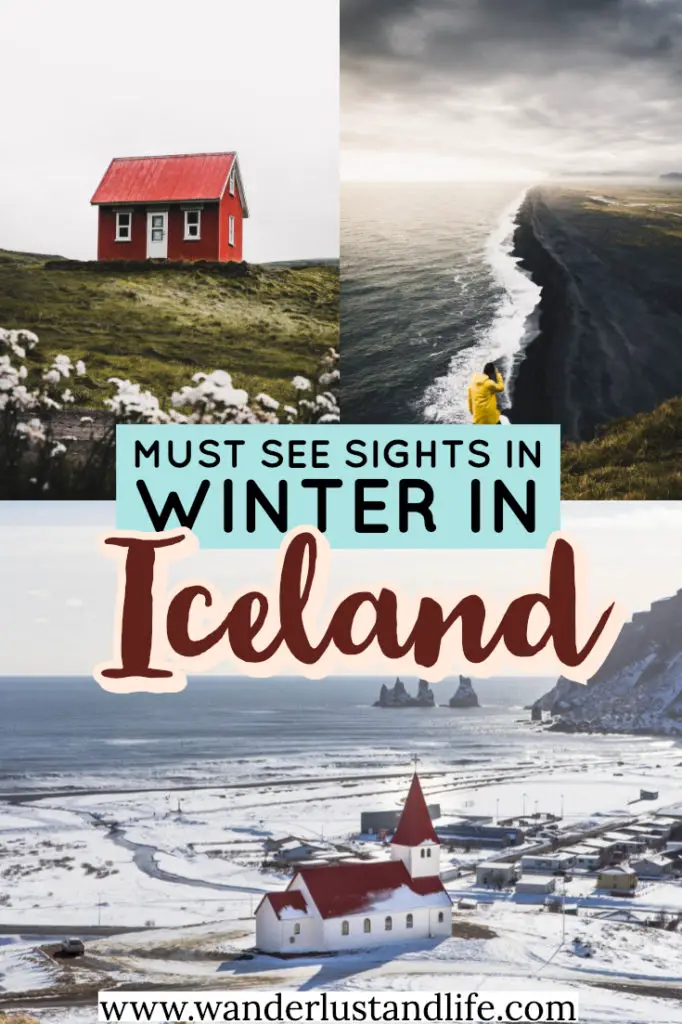 Why visiting Iceland in the winter is the best
Iceland is a really popular tourist destination but it is also super expensive. So visiting Iceland in the winter can be ideal particularly because things like accommodation can be a lot cheaper. While some sites might be closed due to the weather, most of the main attractions like the Blue Lagoon are still open. And of course there is way more chance of seeing the Northern Lights in the winter so that is always a plus.
For more information on the best and worst time to visit Iceland here is a helpful guide.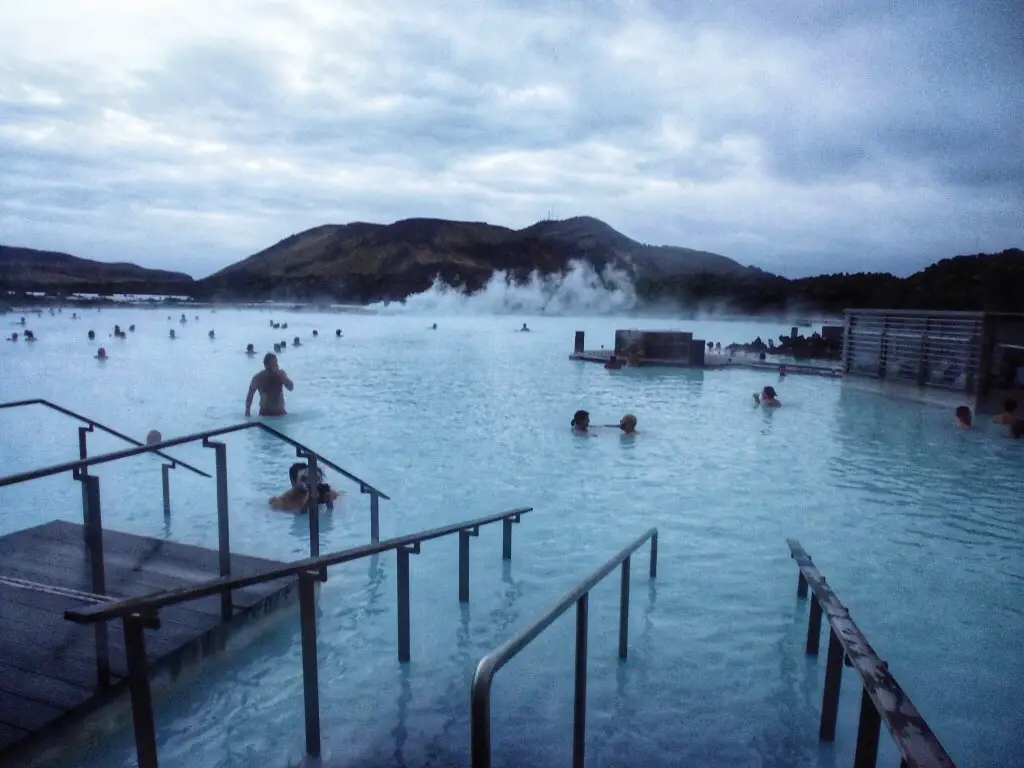 Iceland factsheet
Country: Iceland
Capital: Reykjavik
Languages Spoken: Icelandic but a lot of people in Reykjavik do speak English
Currency: Icelandic króna (ISK)
Famous for: Northern Lights, magical landscapes
Visit if you like: Incredible scenery and the great outdoors
Weather in Iceland in November
The weather in Iceland in November gets pretty nippy. In fact November is around about the time that the weather becomes a bit more erratic and windy. On average you are looking at temperatures of about 4 degrees Celsius although it does go below 0, especially at night. You will also notice a decrease in daylight hours in November too. On average you should expect about 8 hours of daylight but by the end of November this somewhat decreases to around 5. We actually think visiting Iceland in November is one of the best times to go. There is just enough daylight for it not to become bothersome and as long as you layer up, the cold weather is quite bearable.
Things to do in Iceland in November
There is a lot going on in Iceland in November. For starters November is when the Iceland Airwaves Music Festival is held. And we were lucky enough to experience it on our trip. For three days and three nights at the beginning of November all the pubs and venues are filled with bands and musicians performing. We ended up stumbling upon a bar where Bjork's son Sindri Eldon Þórsson was performing. So it certainly was really memorable. If you aren't into music though you will probably want to avoid being in Reykjavik at the beginning of November as accommodation prices can get a little more expensive because of the festival.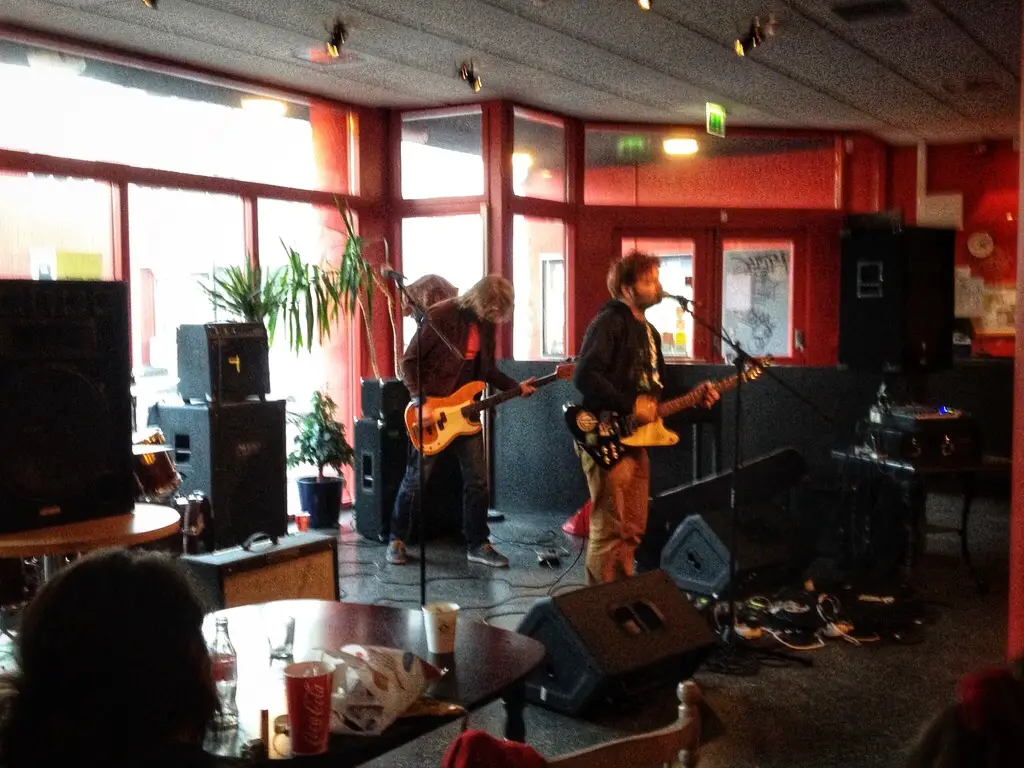 Weather in Iceland in December
Iceland in December gets pretty dark. At the start of the month there are only 5 hours of daylight, and as the shortest day of the year, December 21st looms closer, this reduces to 4 hrs and 7 minutes. It is usually bright between 12pm and 4pm. Don't let this put you off though as Iceland in December is still really beautiful. On average the weather sits at around minus 1 or minus 2 Celsius. Which is cold, but compared to a lot of places in the world at that time of year it is actually pretty mild.
Things to do in Iceland in December
December in Iceland is when people start getting excited for the holiday season. And with those long dark nights it means way more time to enjoy the Christmas lights. Reykjavik really shines with all the Christmas lights and holiday cheer. It is worth noting that particularly in the last couple of weeks in December things get booked quite quickly including restaurants and tours so at this time of year it is best to book ahead.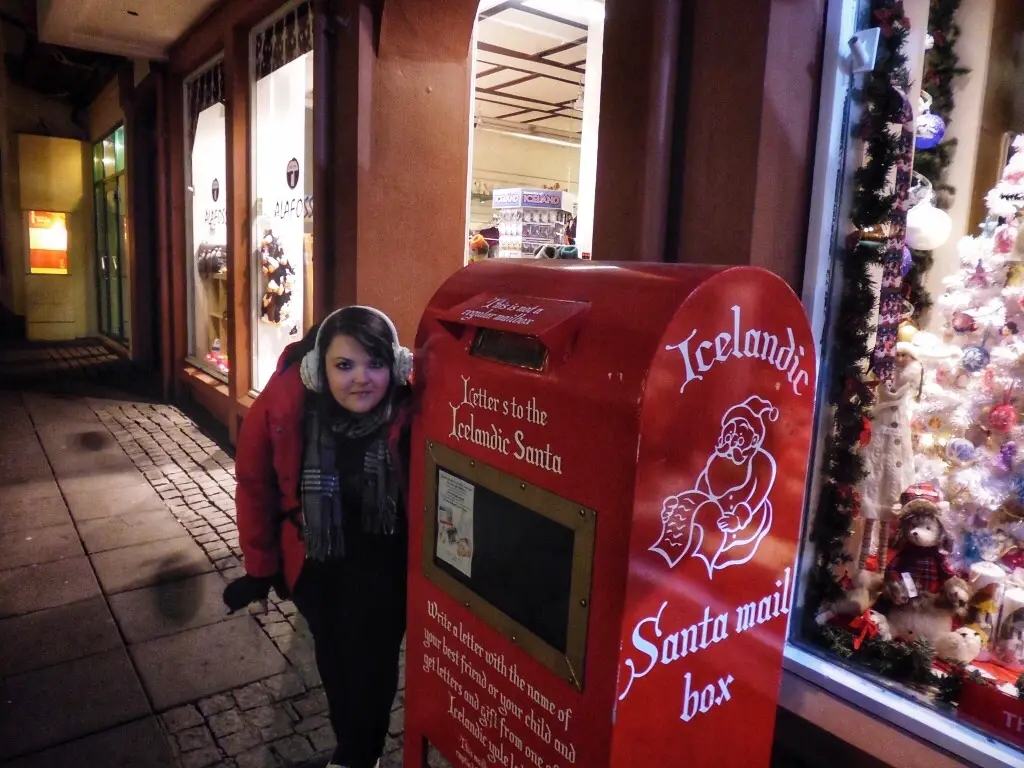 Let's talk money in Iceland and tips for saving yours
It wouldn't be right to write a post on Iceland without talking about money. Iceland's currency is the Icelandic króna. We actually tried to stock up before we left for Iceland but the majority of currency exchange places we went to, were really short on them. For this reason paying via credit card or bank card is a big thing in Iceland. For us it wasn't ideal because we kept getting charged international transaction fees every time we paid for something on our UK bank cards. In the end we kept taking out lump sums of money every fews days from the cash machine just to try and save us paying so many transaction fees.
Another thing we should mention is that Iceland is expensive. You will find yourself paying quite a bit for food and drink on nights out. We recommend booking accommodation that has a kitchen in it to try and save some money. In downtown Reykjavik for example there are a few grocery stores where you can stock up on the basics like bread and cereal and at least have your breakfast before you go out.
Where to stay when visiting Iceland in winter
Because we didn't feel comfortable driving around Iceland in winter ourselves, with those dark days and unpredictable weather conditions, we decided to base ourselves in Reykjavik. We stayed at Rey Apartments, located smack bang in the middle of Reykjavik. The location was perfect. We were close to the main streets where all the shops were, as well as the tourist information centre, and a grocery store. We stayed in a one bedroom apartment which had a full working kitchen, where we ate breakfast each morning before heading out to explore. It was great because it helped us save a bit of money instead of eating out. We also had a few dinners here too which again helped to keep costs down.
Getting to Reykjavik
Icelandair is Iceland's national airline based at the airport in Keflavik. Recently there has been an increase in low cost carriers flying into Iceland, for example Easyjet flies from the UK. Wow Air is another contender and is an Icelandic low cost carrier flying from Iceland to the US and Europe. Most flights will arrive at Keflavik airport. This is about a 45 minute drive from Reykjavik. We ended up paying for an airport transfer by bus and the coach took us all the way to our accommodation. It was easy and stress free.
What to wear in Iceland in winter- A packing guide
One thing to factor in to the weather in Iceland is wind chill. November particularly is quite windy and so even if you think it is 4 degree Celsius it might actually feel like minus 1. Therefore you need to pack appropriately. Some of the must haves are:
Layers – it is important to layer up as the wind chill really can get to you. Definitely pack your thermals!
A solid pair of shoes – you will do a lot of walking so solid warm shoes are a must
Thick socks – again because of the cold these are a must when visiting Iceland in winter
Gloves, scarf and a winter hat – Make sure you bring a good scarf and a winter hat to cover your ears. Wind chill is a nightmare.
A good coat – I brought a really cheap coat that was nowhere near warm enough and I really struggled. Make sure you bring a proper winter coat with a good bit of padding
Lip Balm – Trust us, your lips will thank you
Swimming Costume – you will definitely be grateful you packed this when you are soaking in a nice hot spring.
A small backpack – Especially important for carrying a bottle of water around and snacks, because everything is so expensive otherwise.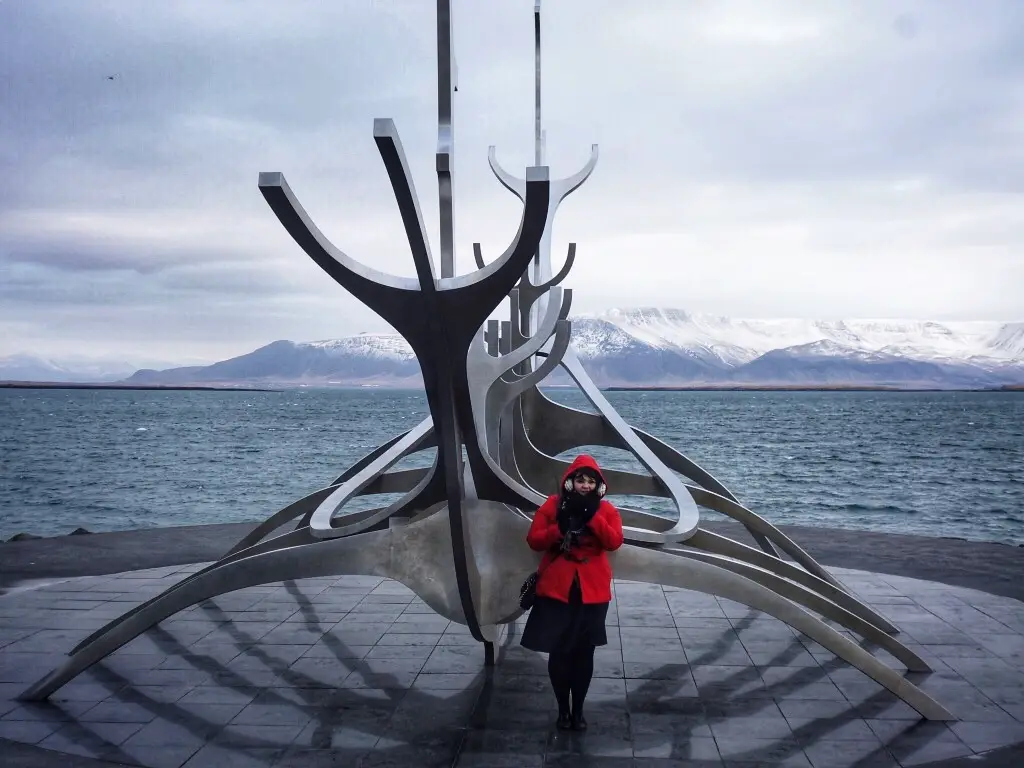 Best things to do when visiting Iceland in winter
Ok so now we are at the good bit. The to-do list. These are some of our top things to do. Keep in mind we were based in Reykjavik and booked our tours from the visitor information centre. As mentioned above if you are visiting Iceland in December, particularly in the last couple of weeks you really will need to book your tickets before you get there. To do that, we recommend booking via the Viator website.
See the Northern Lights
So there is no guarantee that you will see the Northern Lights at all, but winter in Iceland is the best time to try. We booked a tour and made our way out of Reykjavik to try and spot them. We got really lucky and it was an incredible experience but we had to wait around a lot!
Explore Reykjavik's food and drink scene
Since you are based in Reykjavik you will want to explore. There are a lot of great bars, pubs and cafes. In fact cafe culture is a huge deal in Iceland so make sure you order a coffee and some pecan pie and indulge! If you are looking for drinks, we recommend the Lebowski Bar. It is based on the movie the Big Lebowski and is completely decorated in Big Lebowski memorabilia.
The food in Reykjavik is also top notch. There are a number of really good seafood restaurants down by the harbour which you have to try. Also our top lunch time tip for winter is to go to Svarta Kaffið. Here they serve some delicious home made soup in a bread bowl. It is the perfect thing to warm you up on a cold Icelandic winter's day. It does get really busy in here though so do be prepared to wait.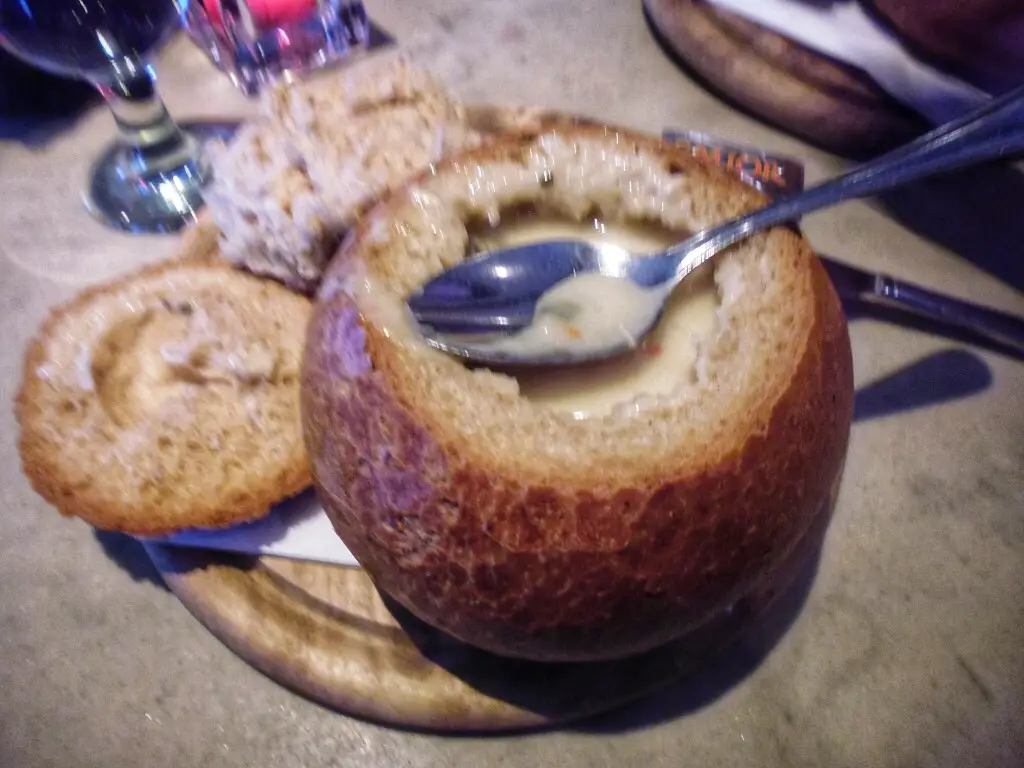 See Reykjavik from above at Hallgrimskirkja
One of the best places to see Reykjavik from above is Hallgrimskirkja, a very unusually designed church which is the largest in Iceland. Whilst it is quite minimalist inside, it is really beautiful inside. One of the best things to do is to head up to the observation tower, and the views are amazing. You get to see the colourful houses and the gorgeous mountains that surround Reykjavik.
Have a soak in the Blue Lagoon
Of course no trip to Iceland is complete without visiting the Blue Lagoon. Or at least some sort of hot spring. The Blue Lagoon isn't cheap but it sure is beautiful. We spent the majority of the day floating around, sipping strawberry wine, and just relaxing. It was one of the most incredible experiences and is the perfect thing to do in Iceland in winter. The water is of course heated and the cold weather creates a steamy mystical environment.
Visit the Golden Circle
We ended up booking a tour to see the Golden Circle. Part of the tour includes a trek through Thingvellir National Park, Gullfoss Waterfall, and Strokkur Geyser. It was such a fantastic tour. We got picked up right from our hotel in Reykjavik and got dropped back off at the end of the day. This was a really good opportunity for us to get out of Reykjavik and become acquainted with some of the natural beauty of Iceland.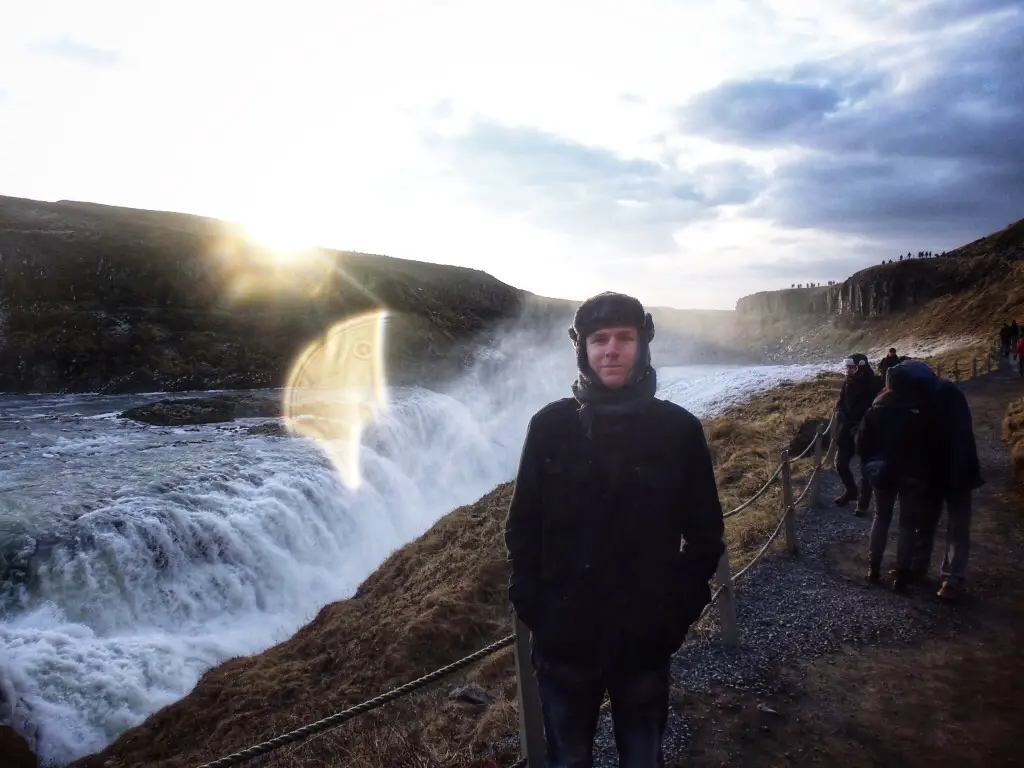 Go on a whale watching tour
Departing from the harbour in Reykjavik this tour was a great opportunity to see some of the wildlife Iceland is famed for. We were lucky enough to see two whales on our trip, and the best part, is the tour is done ethically so as not to scare or hurt the whales. I know you might be thinking why would you go out on a whale watching tour in the middle of winter? Well you do get a rather fetching thermal suit to wear on the boat. It was so cosy and kept the cold at bay. We also had some sea sickness tablets that we took as a precaution, although probably didn't need as the water was quite calm. On the boat you can also sip hot chocolate with rum, which of course will warm you up in no time!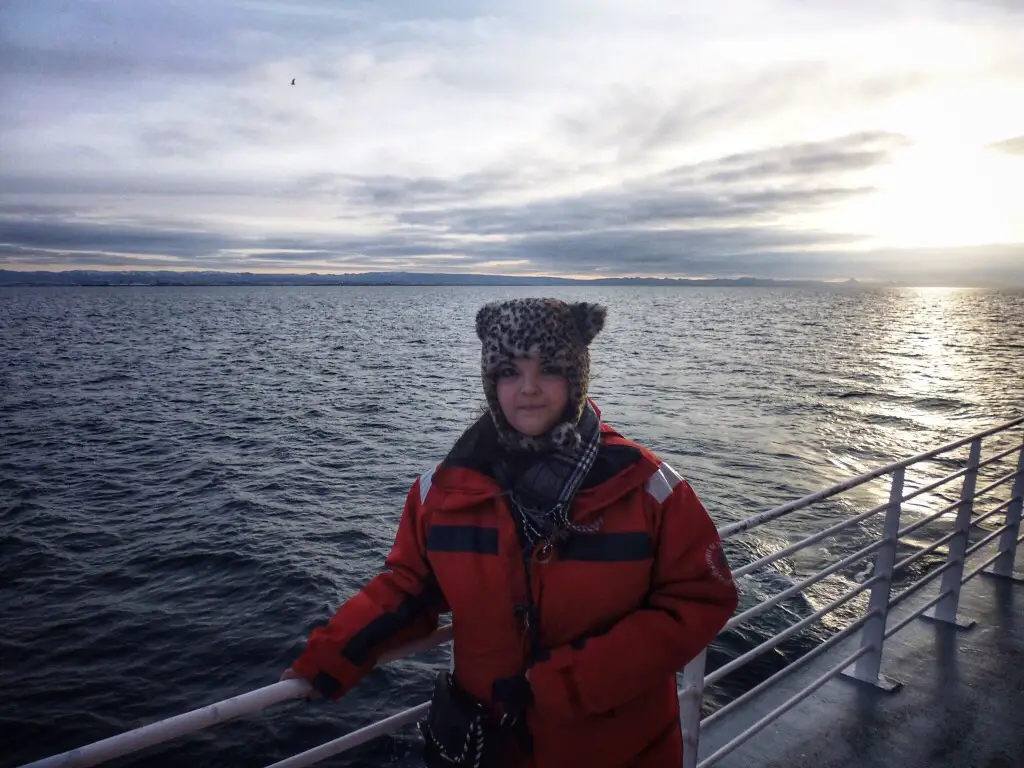 Iceland 4 day itinerary
Here is a sample Iceland 4 day itinerary to help you plan your own trip to this magical country.
Day 1
We arrived quite early in the morning, and after leaving our luggage with the accommodation we decided to take the opportunity to explore Reykjavik. We also took this time to book our tours for the coming days. Apart from eating and drinking we visited the Sun Voyager, a sculpture located by the water that resembles a viking ship, as well as admiring the views from Hallgrimskirkja. In the evening we took the opportunity to go on a Northern Lights tour.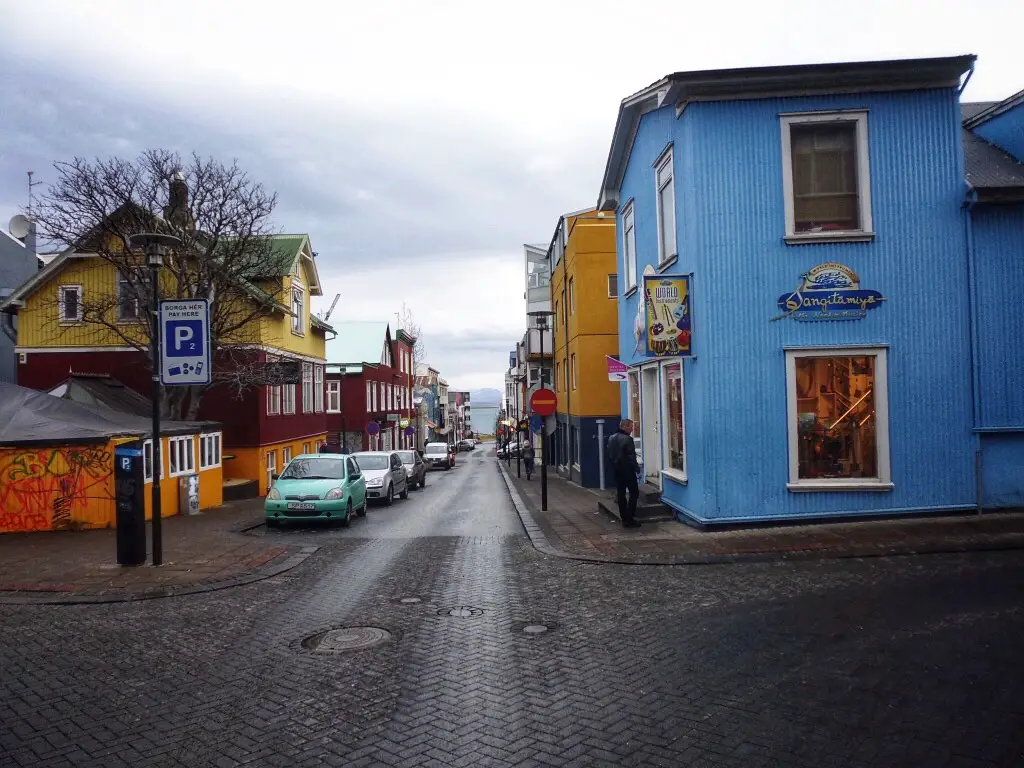 Day 2
We did the Golden Circle tour which included a visit to Thingvellir National Park, Gullfoss Waterfall, and the Strokkur Geyser. After returning from the tour we decided to have a few drinks in Reykjavik before heading back to our apartment.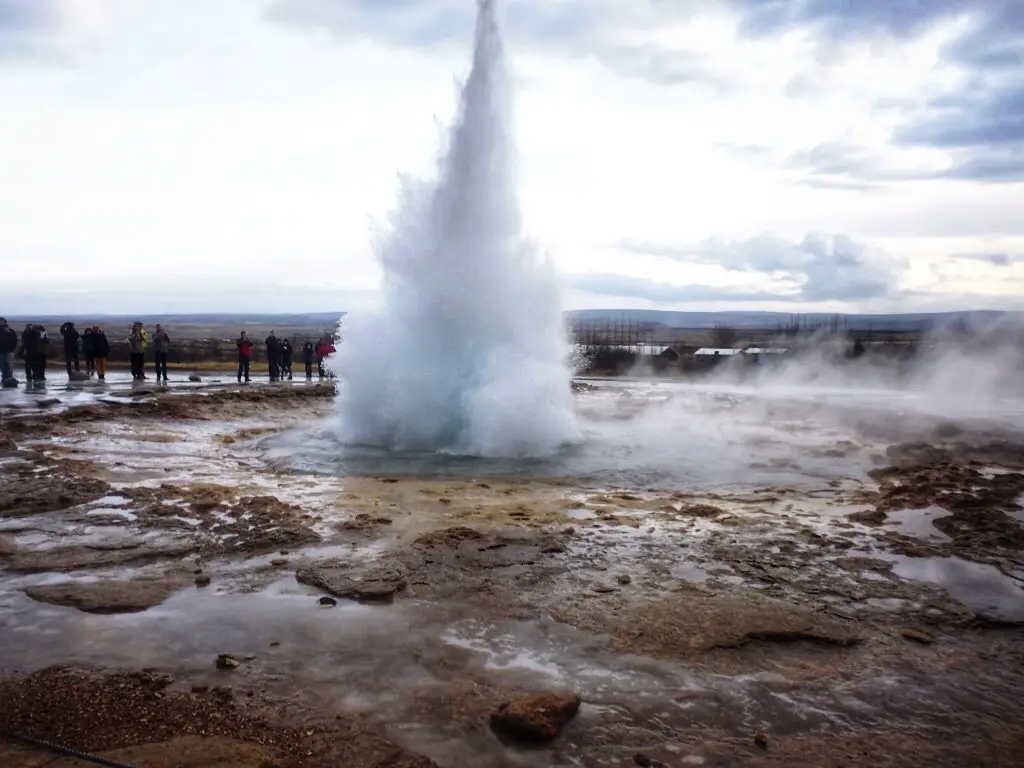 Day 3
We decided to go on a whale watching tour and explored the harbour area afterwards, sipping coffees and indulging in a seafood dinner.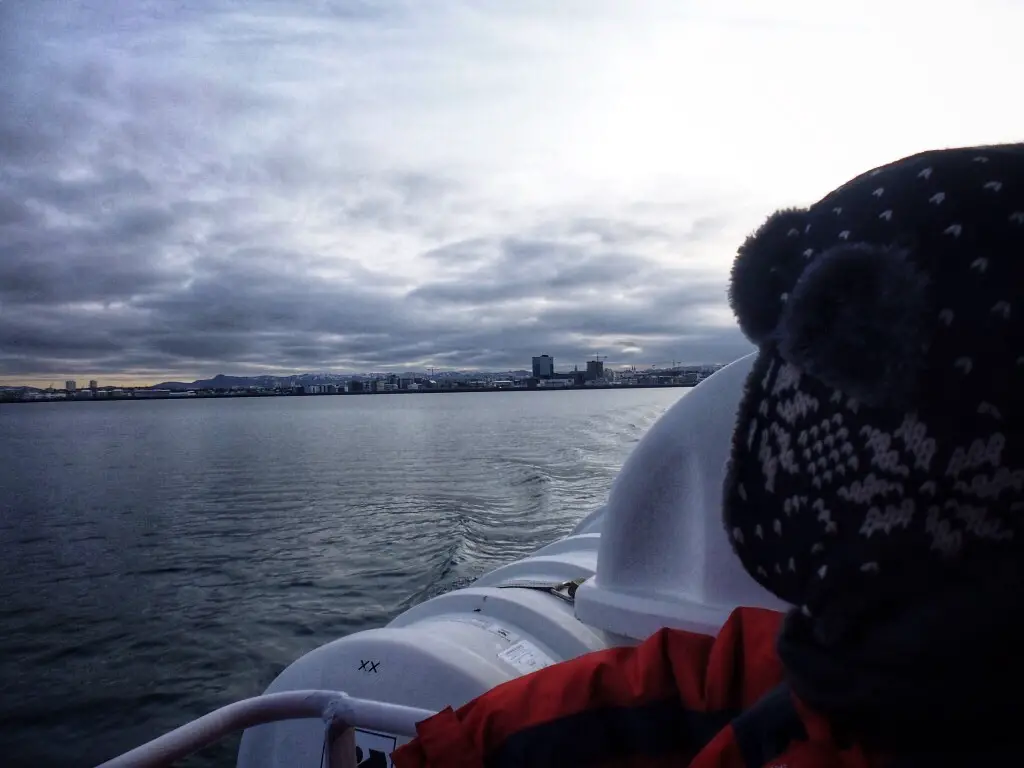 Day 4
On our last full day we went to the Blue Lagoon, and had a relaxing day. You probably do need almost a full day here, as it is just so calming.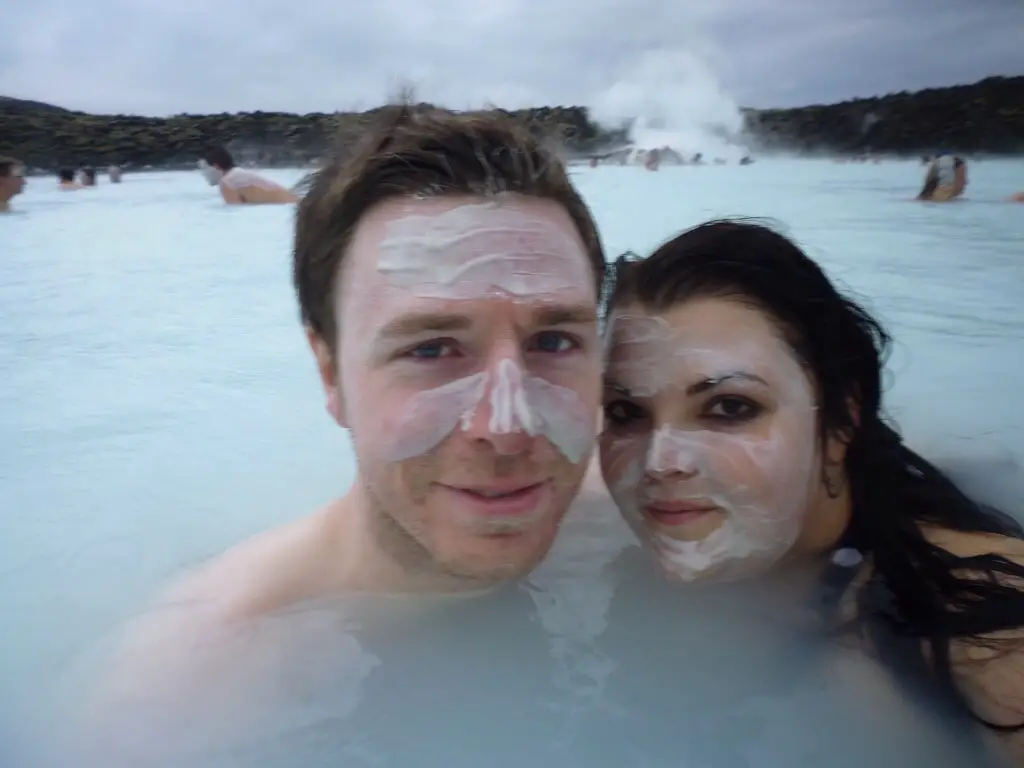 Romantic things to do on your winter trip to Iceland
Enjoy a romantic day at the Blue Lagoon
Try and spot the Northern Lights
Go whale watching in Reykjavik
Have a romantic meal by the harbour in Reykjavik
Iceland in winter – final thoughts
Hopefully this article has helped you plan your trip to Iceland in November or December. If you need any more suggestions or have any questions then leave a message in the comments section.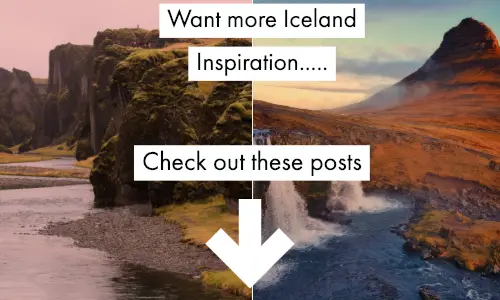 Tips for visiting the Northern Lights