How to plan the perfect 4 day Santorini itinerary – everything you need to know
Santorini has always been a dream destination of mine, so when Jet2.com reached out and offered us the chance to explore this magical island we jumped at the chance. Let's face it, Santorini has to be one of the most picturesque places in the world. With its white buildings on the edge of the rugged cliffs, blue domed churches, and glistening tranquil beaches, I think it is fair to say that our Santorini package holiday did not disappoint.
Overall we spent 4 days in Santorini exploring the island, and getting to grips with the best things to see and do. We also did a lot of eating, drinking, and sunset gazing. In this post we go through everything you need to know about visiting Santorini including where to stay, how to get around, and of course some suggestions for planning your own 4 day Santorini itinerary.
Disclaimer: We worked with Jet2.com who compensated our flights, accommodation, and transfers for this trip.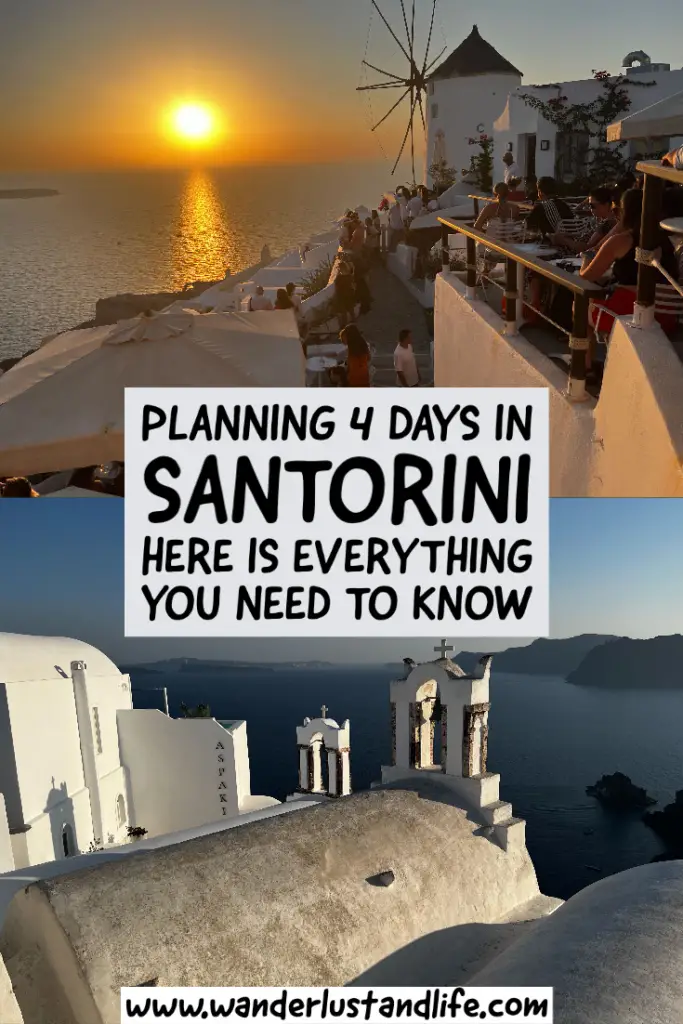 Santorini Itinerary Factsheet
Country: Greece
Language(s): Greek, but English is widely spoken
Currency: Euro
Famous for: Beaches, sunset views, wine, and blue domed churches
Santorini is one of the Cyclades Islands located in the Aegean Sea, with a population of around 15,500. Of course that population well and truly increases, particularly in the summer months, as the island receives around 2 million visitors a year.
Another interesting fact about Santorini is that it is a volcanic island. The volcano is currently considered dormant, but that doesn't mean it won't erupt again. Thankfully this is monitored closely, so all in all, it's a safe place to visit.
It's actually the volcanic activity of the past that gives Santorini its unique caldera setting. This large and predominately submerged volcanic crater gives Santorini those unique and dramatic Aegean Sea views.
The volcanic soil in Santorini also makes it a very unique place to grow crops, and the island is famed for its cherry tomatoes, white aubergines, and vineyards. In fact, wine is a big deal in Santorini, and there are several wineries on the island, all producing some really tasty wine.
There is actually a saying among locals in Santorini, that highlights this, and it is, there are 'more churches than houses, more donkeys than people, and more wine than water'. After spending 4 days in Santorini we could definitely see why!
Still trying to decide if Santorini is worth it – this guide might help!
Getting to Santorini
Getting to Santorini is relatively easy, particularly in the summer months, with a number of direct flights from numerous destinations. As mentioned we flew with Jet2 who fly there from airports across the UK. For a list of flights to Santorini with Jet2 you can have a look at their website.
Our flight from Manchester to Santorini was just under 4 hours, and we were so glad that we flew with Jet2 because we felt like we had decent legroom and excellent service. Which is always appreciated on a longer flight.
4 day Santorini package holiday information
Our 4 day Santorini package holiday included the following:
Flights to and from Manchester Airport
4 nights accommodation in Santorini
Airport transfers
Booking is easy – you just go to the Jet2 website and select holidays from Manchester Airport (or your closest airport), select your destination, and then pick your accommodation. Airport transfers are usually included too, which was so handy because you get taken straight to your hotel from the airport. You then get a text telling you the time your coach will pick you up for your return journey.
Where to stay during your 4 days in Santorini
Deciding on where to stay during your 4 days in Santorini is an important part of your trip. Despite Santorini being a small island, each area is quite different with its own unique feel. Here is a breakdown on some of the main areas to stay.
Oia
Oia is the Santorini depicted on all the postcards. Here you will find the whitewashed cave houses, with sweeping caldera views. Accommodation tends to be a bit more expensive here, as space is at a premium. It also gets really busy with tourists, so you may need to book any dinner reservations well in advance.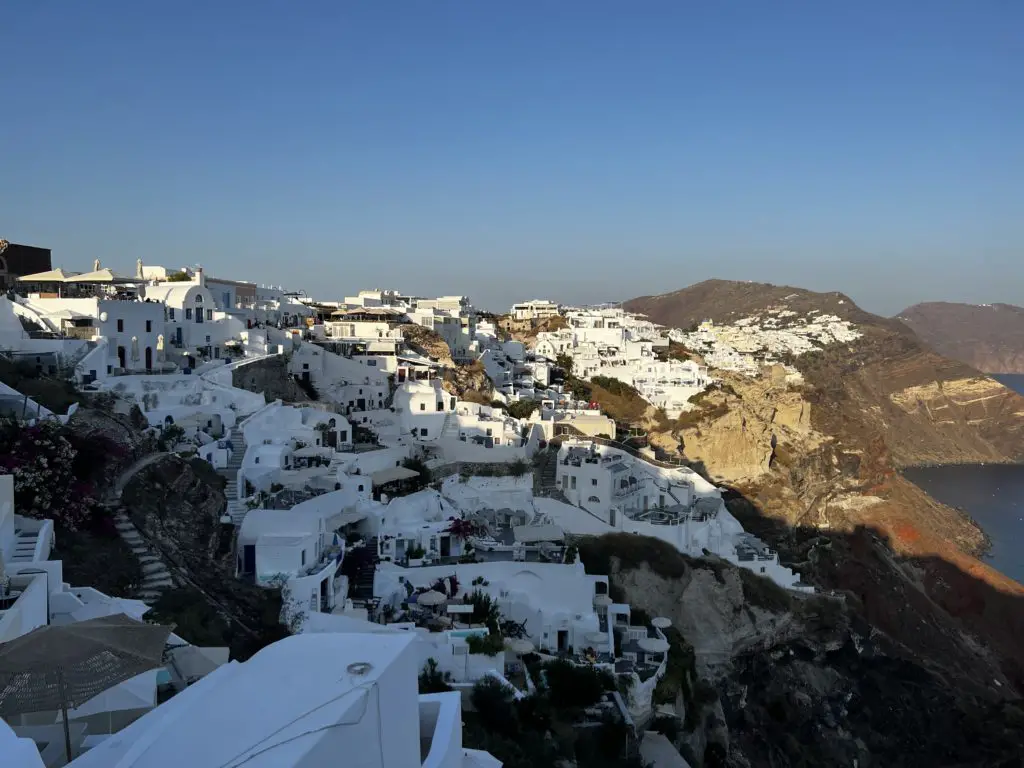 Fira
Fira is the capital of Santorini, and is another great place to go for the classic white houses and blue domed churches. The views of the caldera are also pretty amazing here. It is slightly less busy than Oia, and a bit cheaper too.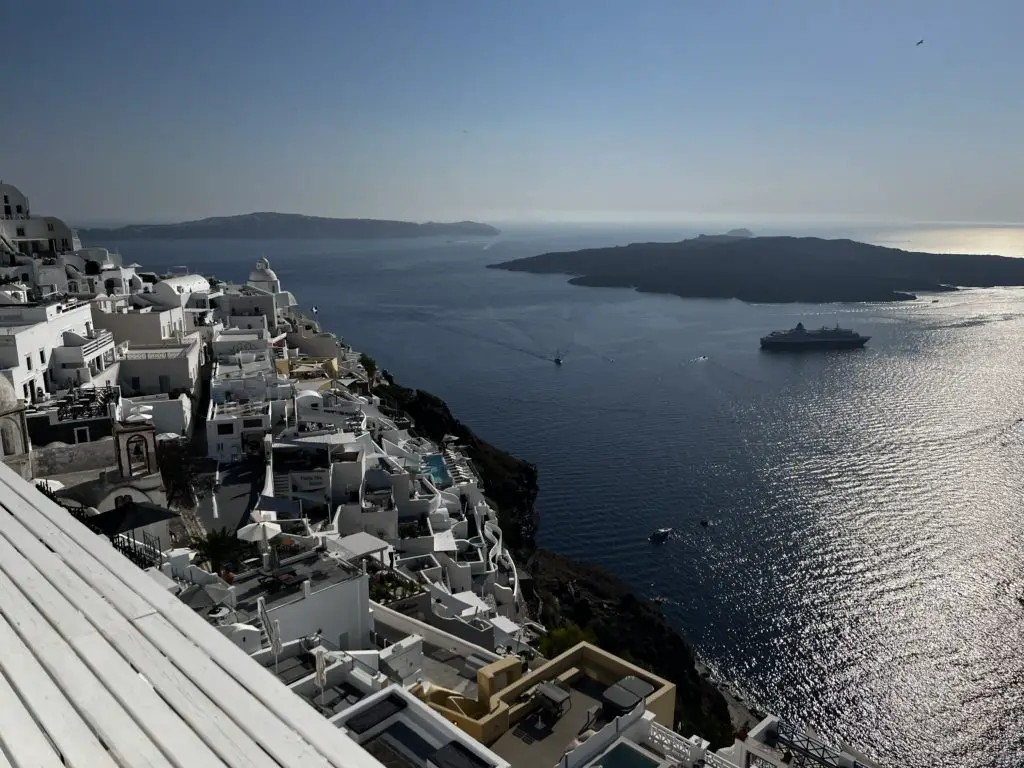 Imerovigli
If you are looking for something a little more quiet, but with amazing caldera views then Imerovigli is the place for you. It's perfect for couples, who are looking for a bit of serenity, but it is still close to Fira if you want to experience a bit of the nightlife as well.
Kamari
We ended up staying in Kamari for our 4 days in Santorini. Kamari is great if you want to be close to the beach. It's a popular tourist area with lots of restaurants and bars overlooking the black rocky beach, but it's not as packed as Oia or Fira.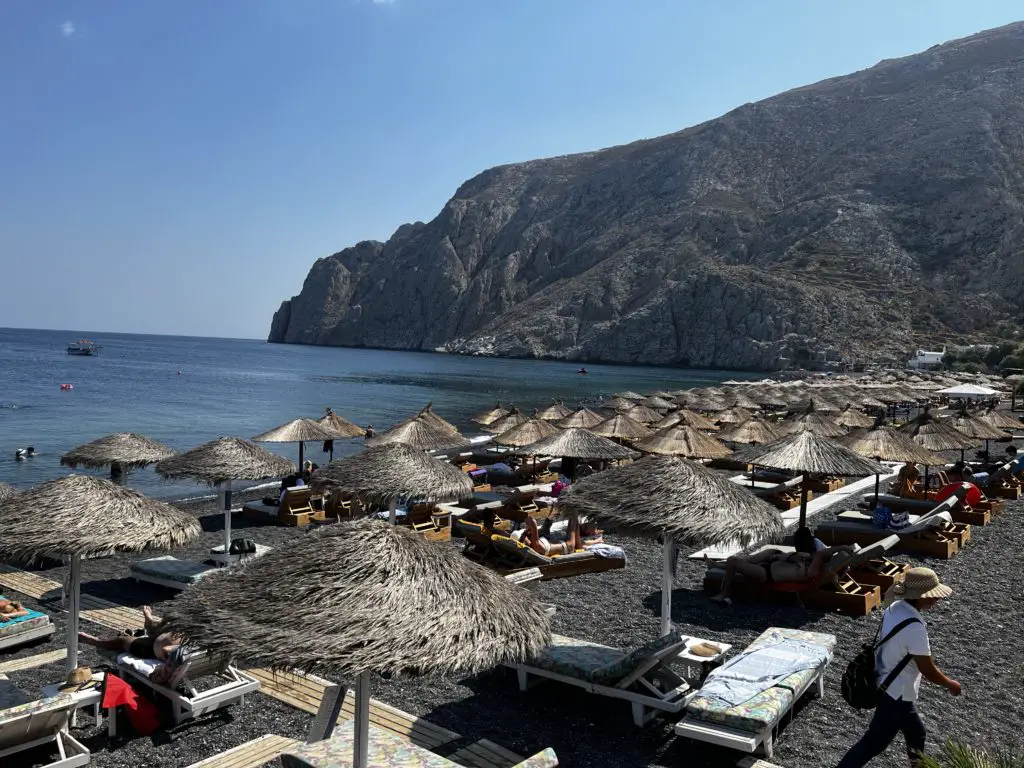 Akrotiri
Another quieter place to stay is Akrotiri. It's great if you want to stay somewhere slightly cheaper and a bit more low key. It's close to the Red Beach, and other attractions, but isn't as crowded or intense as Oia.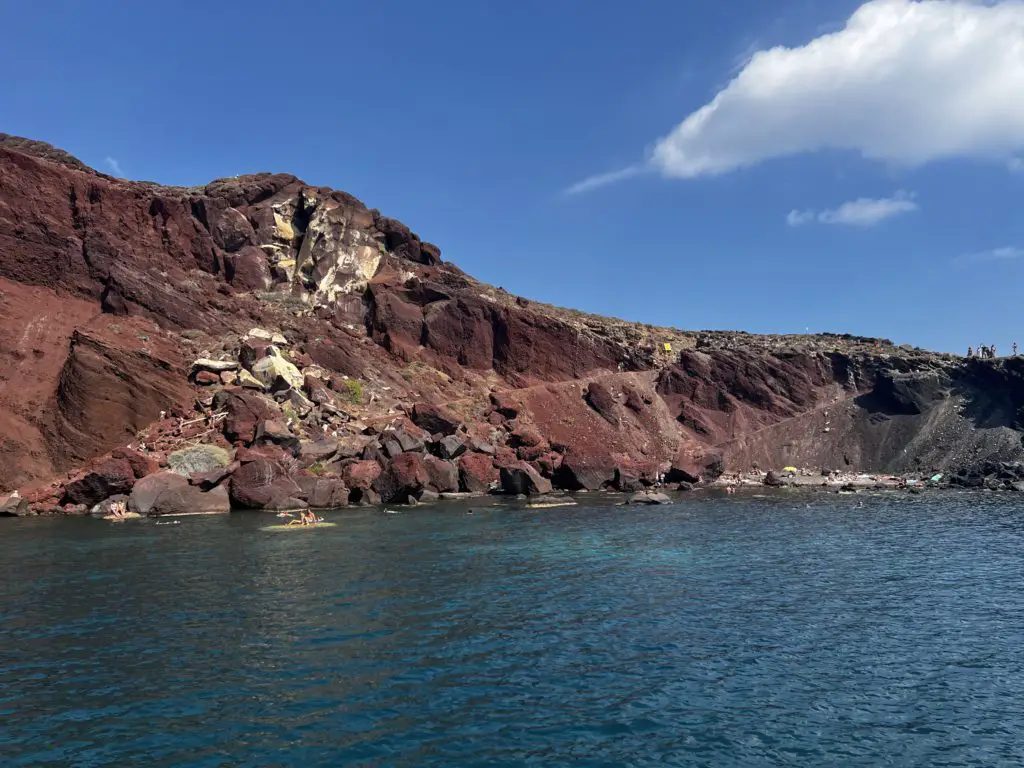 Perissa
Perissa is another good option if you are wanting a bit more of a beach holiday. It's similar to Kamari in that you have several bars and restaurants close to the beach. It also has budget friendly accommodation options, and is great for nightlife.
Pyrgos
Pyrgos is a small village with some incredible views. You get to explore the beautiful walkways and village life. There are a number of restaurants in the village, so you will always find somewhere to eat or drink.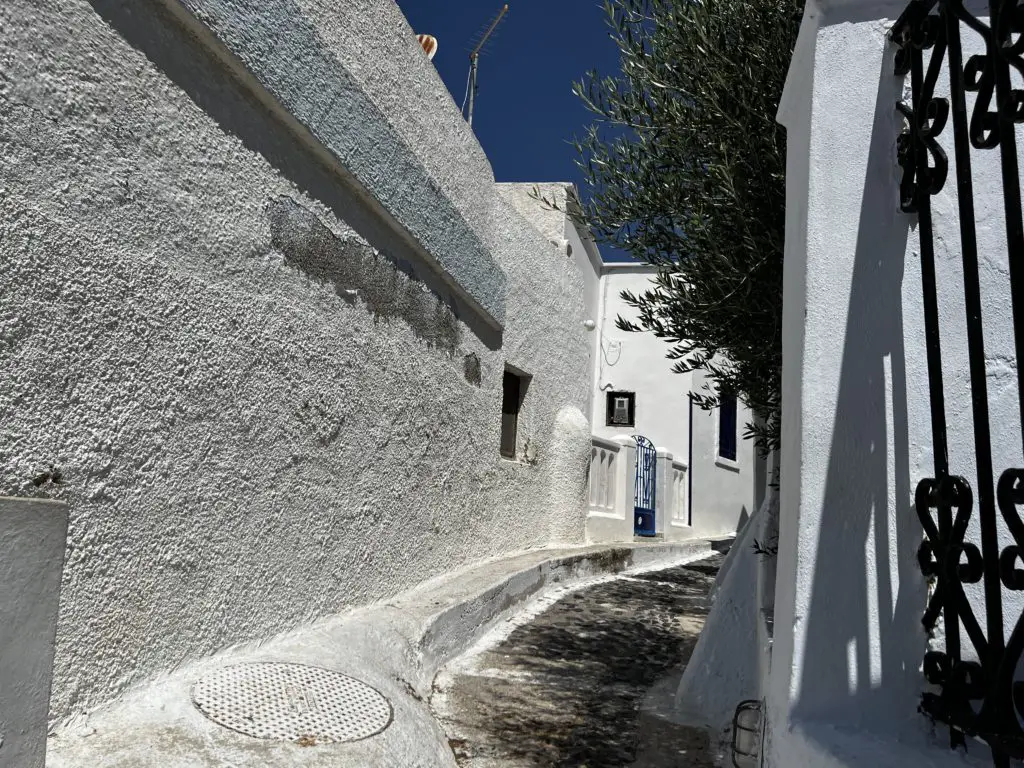 We've added a map to help give you a bit of context on where everything is on the island too.
Where we stayed during our 4 days in Santorini
Jet2 offer accommodation in all of the above areas, so you can make your choice based on your budget, but also the kind of holiday you are looking for. Here is a list of Santorini hotels offered by Jet2 to help you start planning.
For our Jet2 Holiday we chose Epavlis Grace in Kamari. We were enticed by the idea that it was an adults only resort, especially as we were visiting during peak time in August. We also liked the idea of being in Kamari and close to the beach.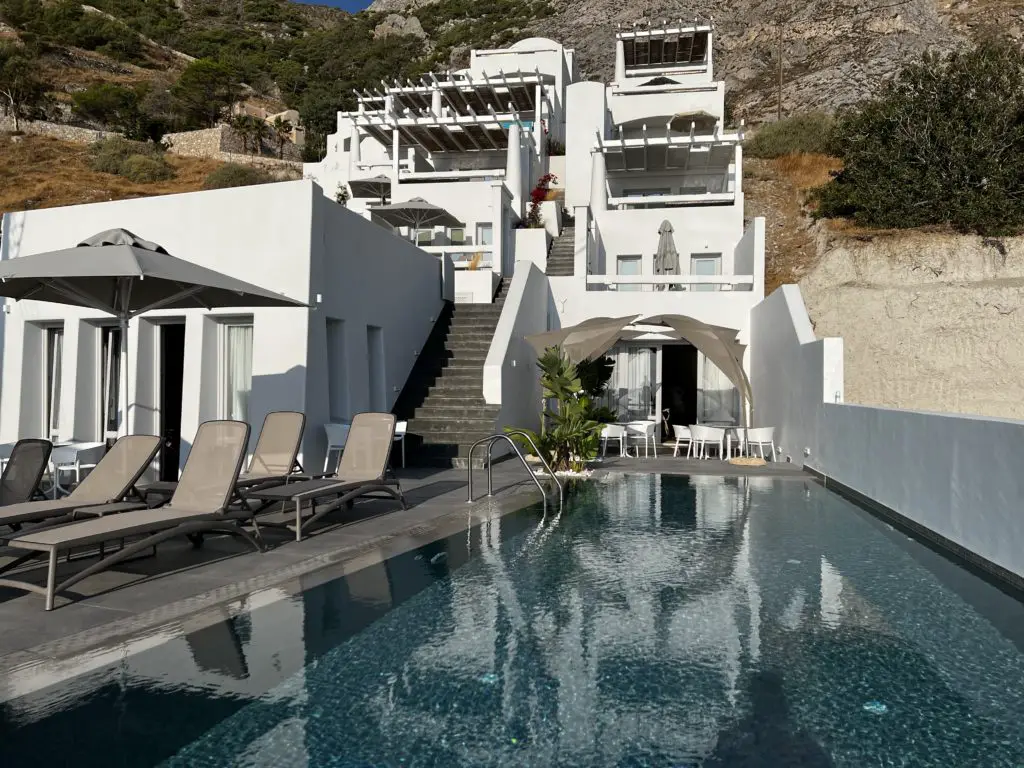 The hotel itself was absolutely perfect for us. The room was quite sizeable, and included a gorgeous balcony with a sea view. Breakfast was included in our package and every morning we helped ourselves to a selection of Greek food like tomato fritters, spanakopita (spinach pie), and baklava. But if that didn't whet your appetite, there were sausages, eggs, cereals, fruit and more.
Things to do as part of your 4 day Santorini itinerary
There are so many amazing things to see and do in Santorini. From romantic sailing experiences to lounging on the beach, you will find a little something for everyone. Here are some of the top things that you should add to your own 4 day Santorini itinerary.
Visit Oia
If you do an image search of Santorini chances are the first pictures that come up will be of the whitewashed cave buildings and rugged cliffs of Oia. Oia is basically like walking around in a postcard, and has some stunning views of the Caldera. Obviously with such beauty comes a lot of tourists, so Oia can be a little bit overwhelming.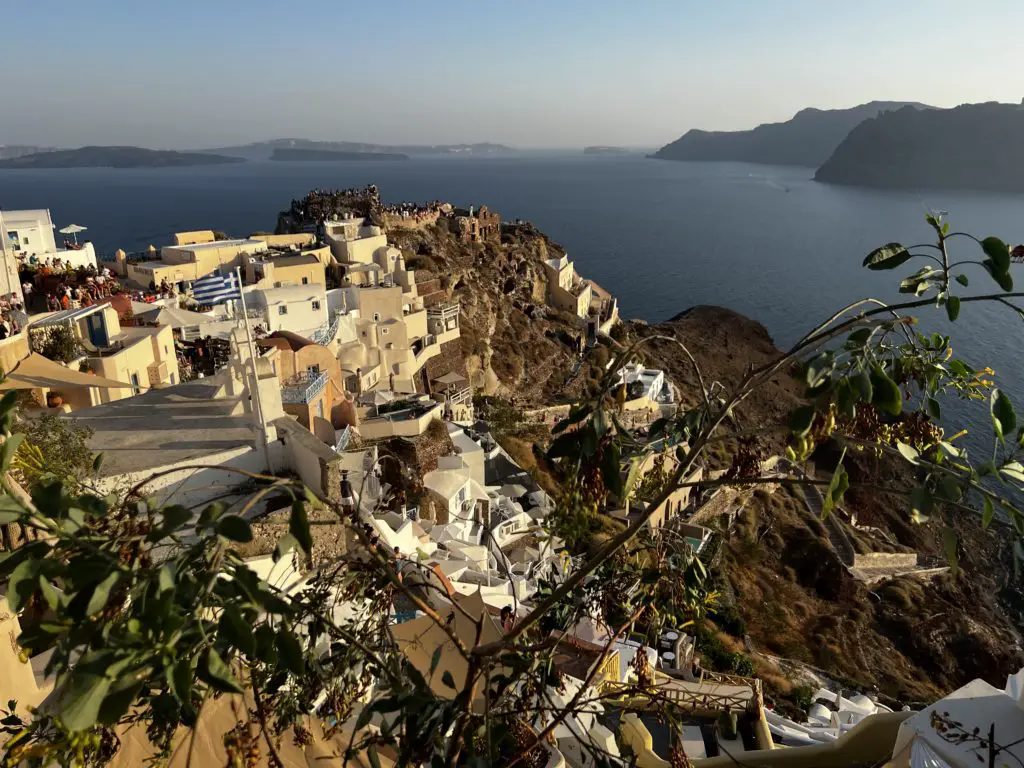 Don't let that put you off though because Oia is a must on any 4 day Santorini itinerary. It's a great place to walk around, do a bit of shopping, and stop every few seconds to pinch yourself as you admire the views.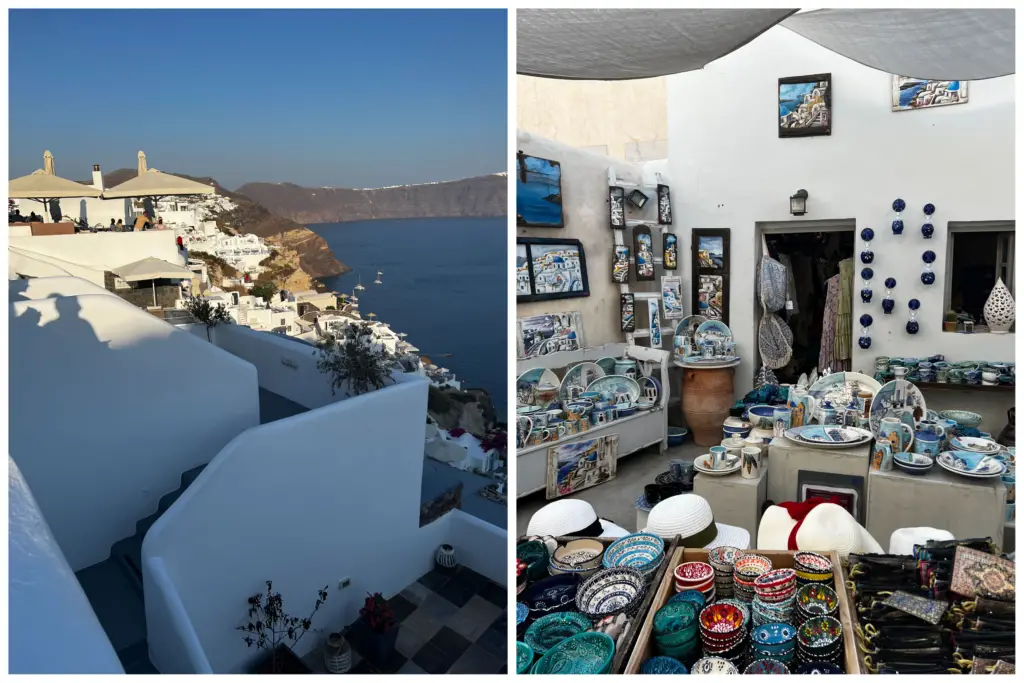 We didn't spend too long in Oia, mostly because it was so crowded. If you are planning to visit, we recommend checking the cruise schedule, as if there are several cruises docking throughout the day you will find more people and more crowds. Another thing to keep in mind is that Oia gets so busy particularly around sunset. So if you want to explore properly get here a good few hours before sunset.
Visit Fira
Another must for your 4 day Santorini itinerary is to take some time to explore Fira. Fira is the capital of Santorini, and like Oia is great for those postcard perfect views of the caldera. We really enjoyed our time in Fira. It was less crowded than Oia, and definitely felt a bit more chilled.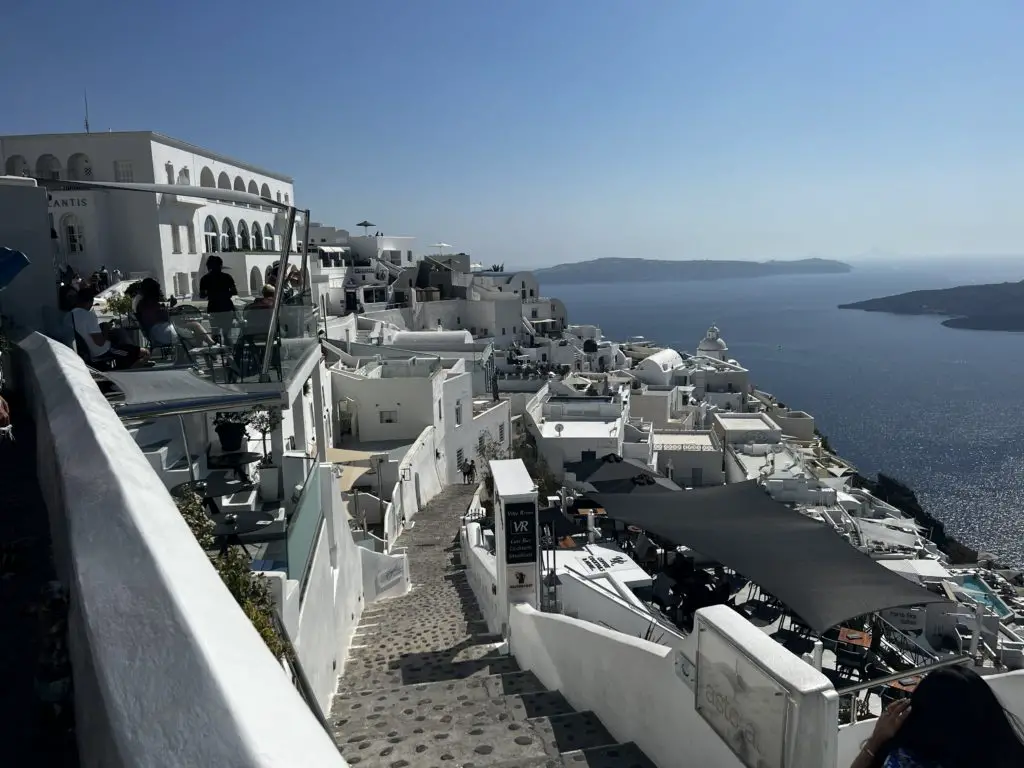 In terms of things to do in Fira, you can wander the beautiful walkways, visit the Museum of Prehistoric Thira, or ride the cable car. Or you can do what we did and chill out in a cocktail bar with amazing views. We ended up discovering a bar called Iriana with the perfect cliffside view, and sat sipping cocktails and lunching on pizza and moussaka.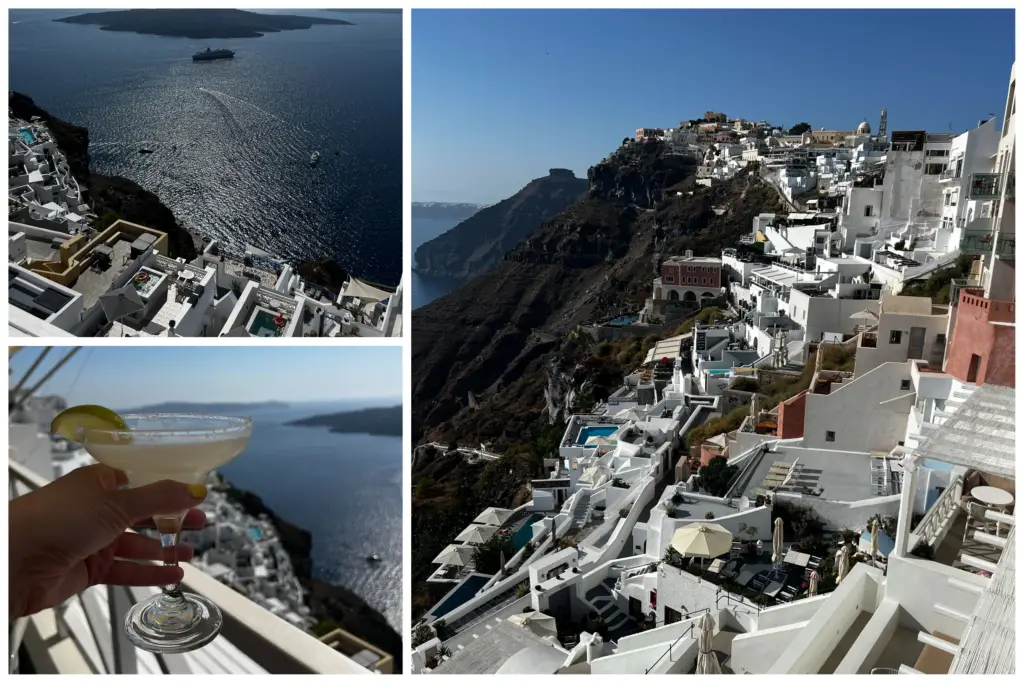 Walk around Pyrgos
If you are looking to explore a more low key village in Santorini then Pyrgos is a good shout. The village again gives you the opportunity to get lost in walkways filled with blue and white buildings, and some gorgeous souvenir shops.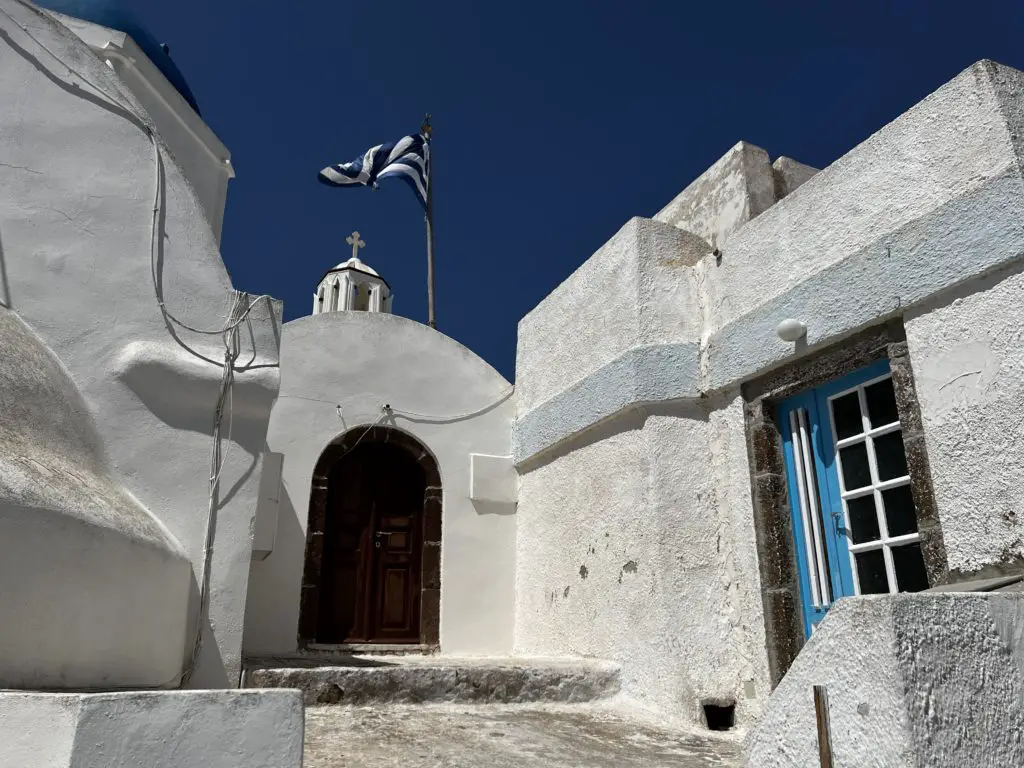 Pyrgos is located in the middle of wine country so it's a lovely place to stop before or after a wine tour. There are plenty of little cafes and bars, and a few Orthodox churches to explore. Plus if you make it to the top of the village you will be rewarded with panoramic views of the island.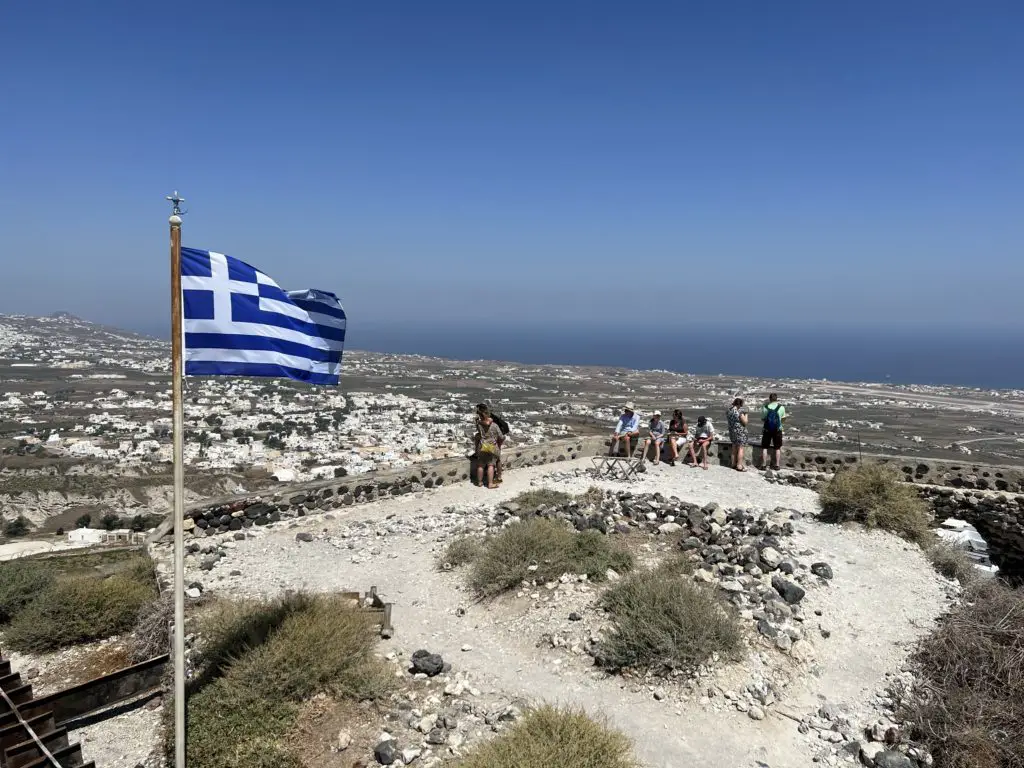 It might be small but we highly recommend adding a stop off in Pyrgos to your Santorini itinerary. It has a completely different vibe to Oia and Fira, with far less tourists. Also compared to Oia it's that little bit cheaper so if you are wanting to buy souvenirs Pyrgos is a great place to do it.
See the Red Beach
A visit to the beach is a pretty standard thing to add to your 4 day Santorini itinerary. But it is worth keeping in mind that you won't find golden sandy beaches in Santorini. Instead you will find unique beaches like the aptly named Red Beach. Located near Akrotiri this is probably one of the most dramatic beaches we have ever visited.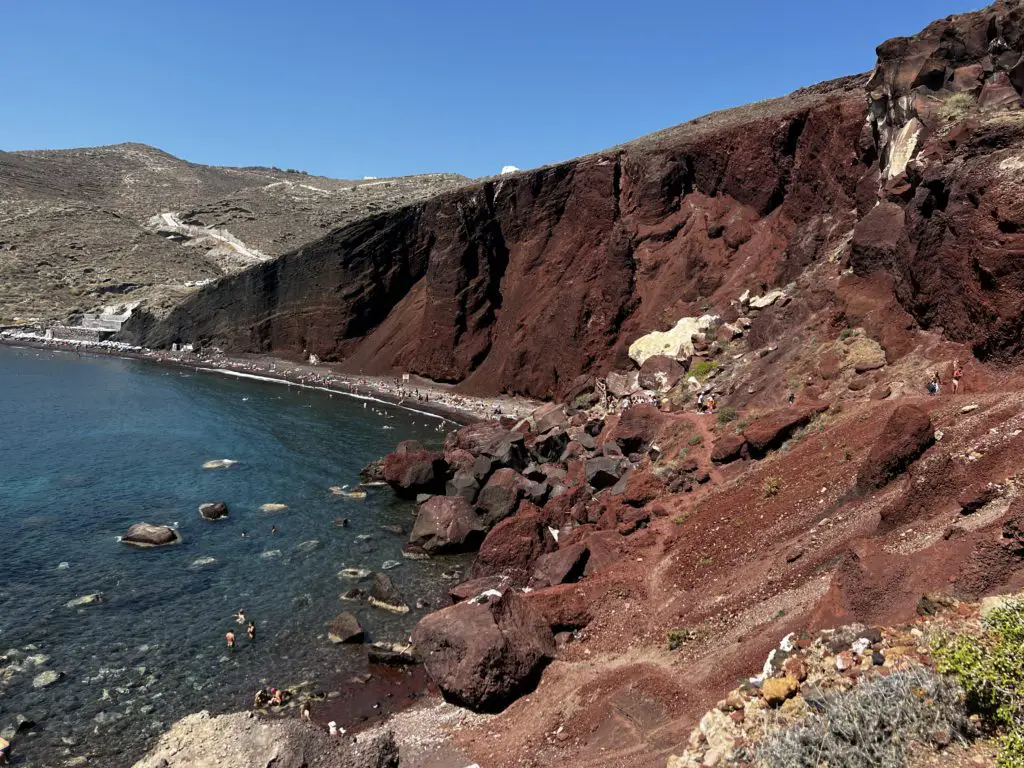 The beach gets its unique colouring from the red pulverised volcanic rock. With its deep red hues, steep cliffs and crystal clear water, it is certainly worth a look. And look is definitely the operative word here because visiting is actually considered quite dangerous due to the risk of landslides and falling rocks. The beach has been closed for a number of years although I'm sure as you can tell by the photo a lot of people tend to ignore this.
The best and safest way to see the Red Beach is either from the lookout point near the top of the beach or from a boat. Considering that Santorini is volcanic and prone to earthquakes, it is probably wise to heed the advice of the authorities and view the beach from a distance.
Lounge on the Black Beach
If lounging on the beach is something you desperately want to add to your 4 day Santorini itinerary then your best bet is to visit one of the black beaches, one of which you will find in Kamari. The reason the beach is black is because of the famous volcanic eruption in Santorini around 1600 BC. The island was covered in volcanic ash, lava, and pumice. It is the mix of these that caused the beaches to have black shorelines, as opposed to the golden sandy colours you might be used to.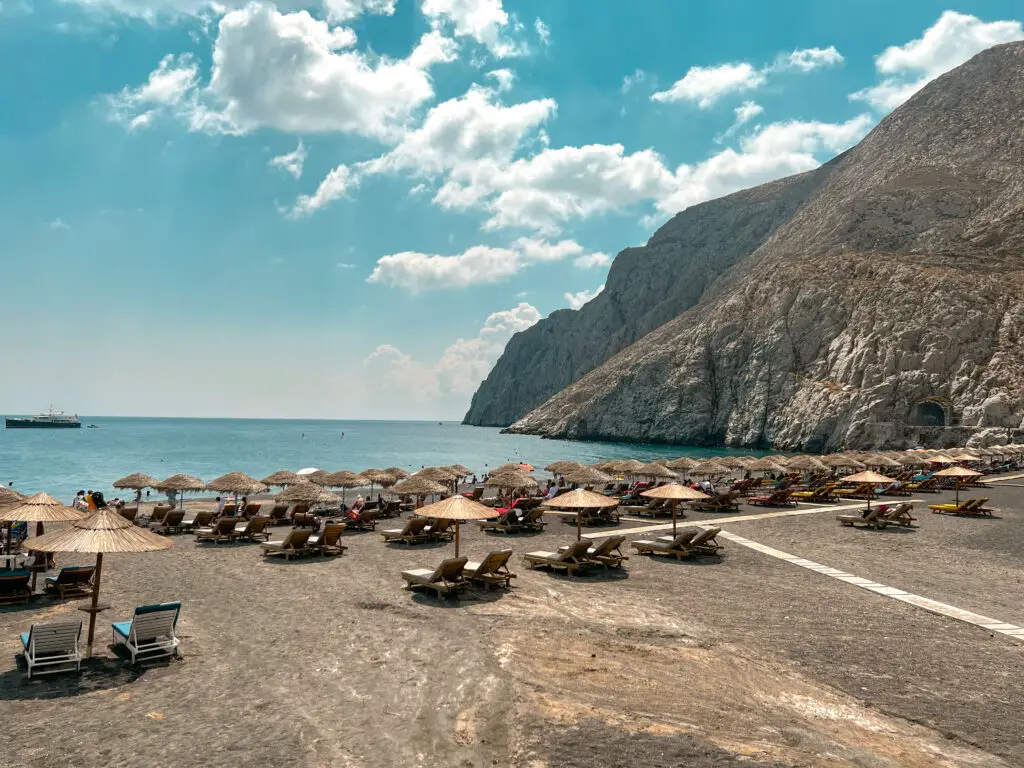 One of the things that makes this area especially beautiful is the stark contrast between the black rocks and the clear blue waters. The best beaches to experience this are in Kamari (as mentioned above), Perissa and Perivolos. These beachside areas are great if you are looking to sip cocktails from your sun lounger, indulge in some Greek food, or go bar hopping.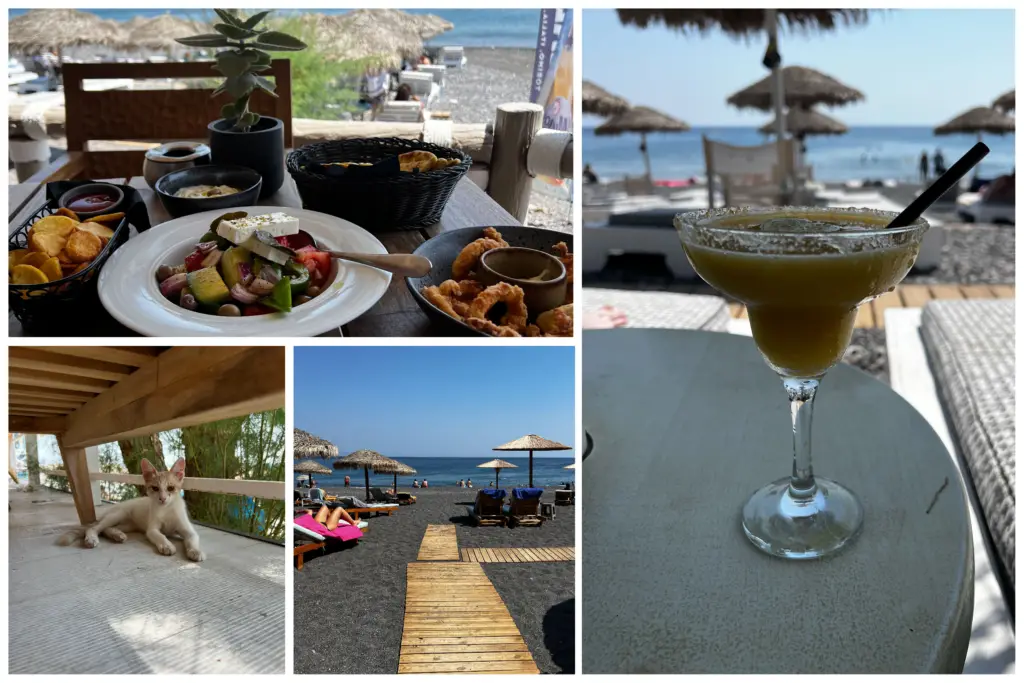 There is a very relaxed atmosphere here, which is so much different to other parts of the island. Plus, if you are after a bit of adventure you can also go snorkelling, rent a jet ski, or even go paddle boarding.
Explore Akrotiri Archeological Site
If you are a history buff you will not want to miss out on visiting the Akrotiri Archeological Site. The site was home to a Minoan settlement, however in the 16th Century BC, in similar fashion to Pompeii, a volcanic eruption caused the site to be buried in volcanic ash.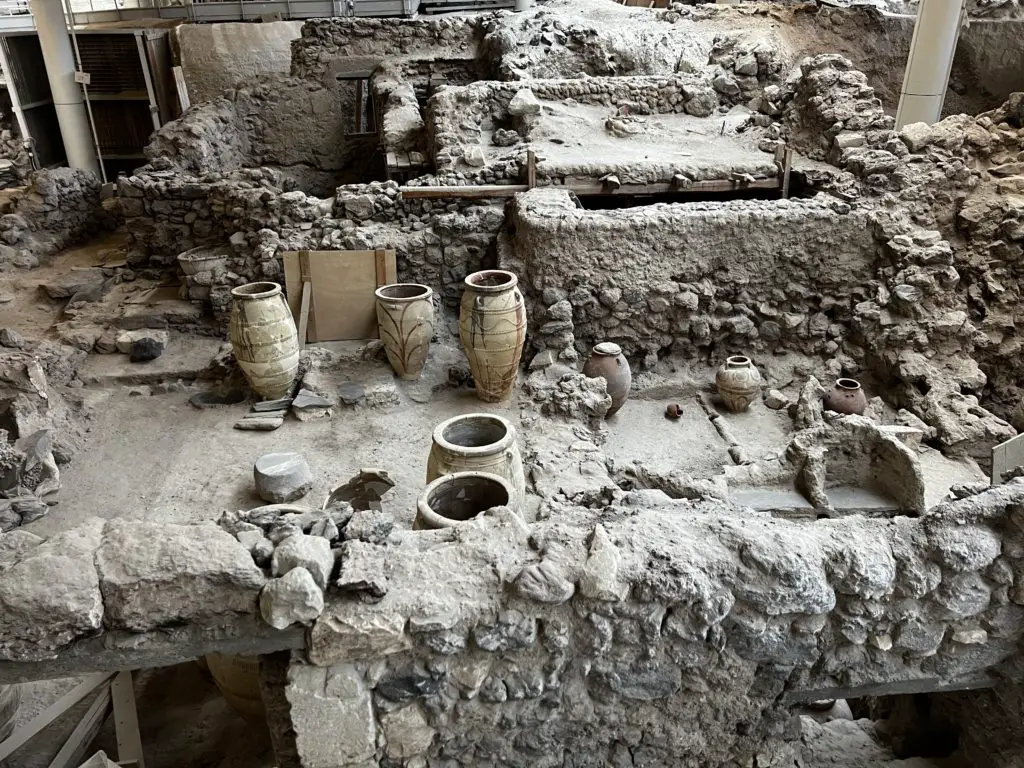 The site is very well preserved and for around €12 you can be transported to ancient Santorini. We ended up exploring here as part of an organised bus tour of the island. It is well worth a visit, where you can learn about the history of the island, and the Lost City of Atlantis connection.
You can purchase your tickets on the day or online in advance.
Do a wine tour
Another must to add to your 4 day Santorini itinerary is to do a winery tour. You can either visit one of the many wineries yourself, or if you plan to actually drink the wine you are best off booking a tour. Our tour included a visit to 2 wineries, where we got to sample 4 different wines at each.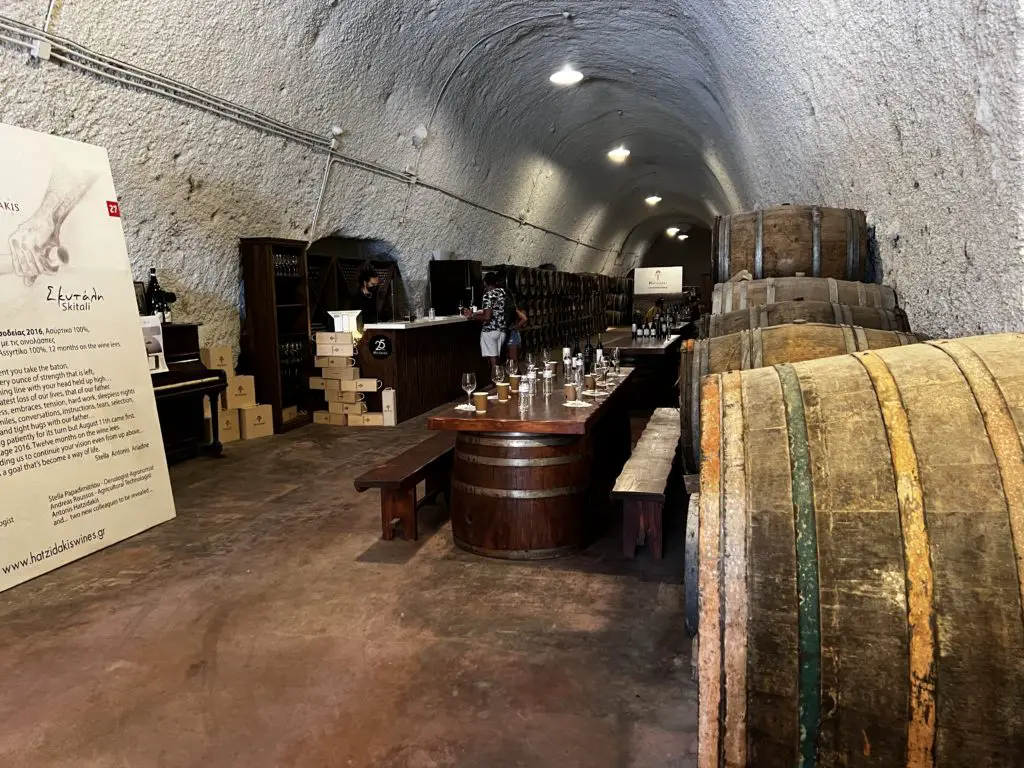 The good thing about doing an organised tour is that you get to learn all about how wine is made in Santorini, especially the unique way in which grapes are grown. A normal winery will see grapes growing on vines, however in Santorini due to the climate it is a little different. As the grapes grow they are woven into a sort of circular shape with the grapes facing the inside of the ring. This essentially protects them from the elements like strong wind and sunlight.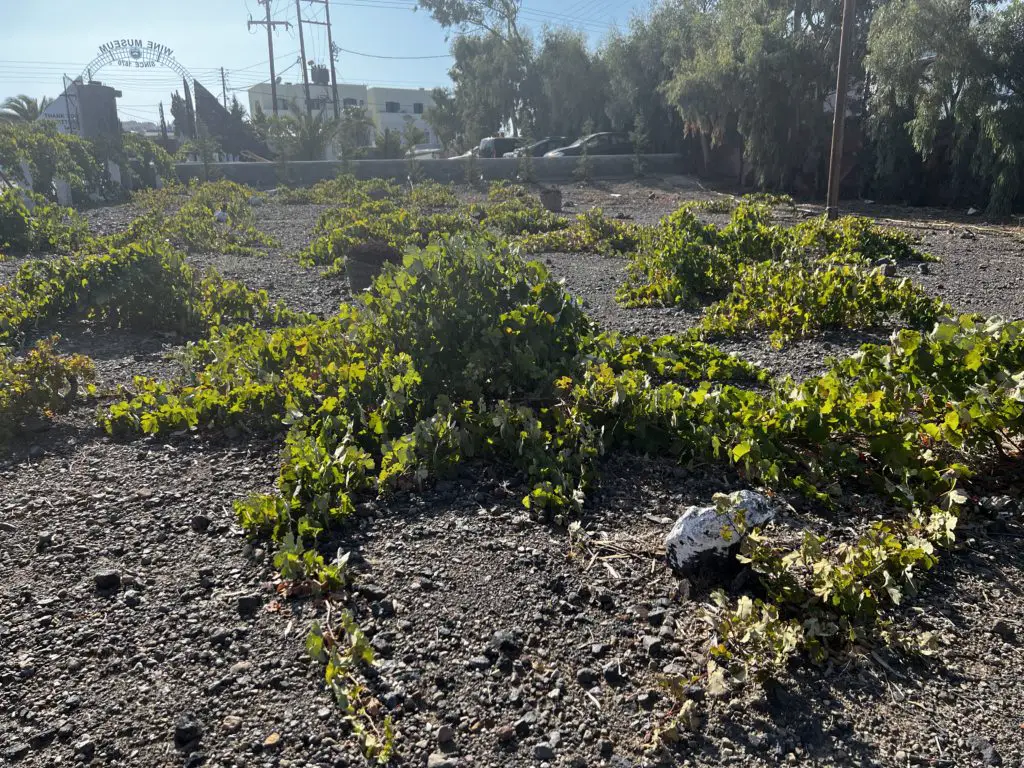 There are a number of different tours you can book, and the one that we chose ended in a bar in Oia to watch the sunset. We also got to sip on a glass of Santorini wine and nibble on some cheese and breadsticks. It was such a memorable experience and one that we recommend during your 4 days in Santorini.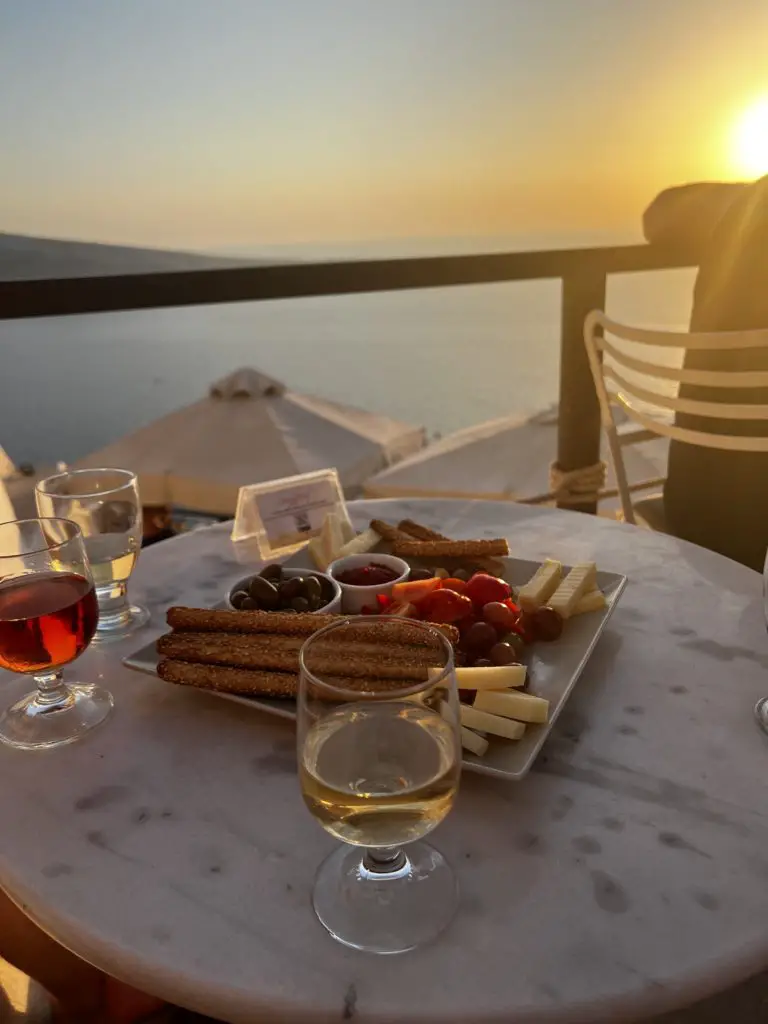 This is the wine tasting tour we did, that included watching the sunset in Oia. But there are several different tours you can do as you will see below.
Cruise the caldera on a catamaran
One of our absolute favourite experiences as part of our 4 day Santorini itinerary had to be doing a sunset cruise on a catamaran. There are several different options you can book, from private tours with say 10 or so people, to cheaper but busier boat tours. We opted for a tour where we had 10 people in total, and this included pick up from our hotel, dinner, and an open bar.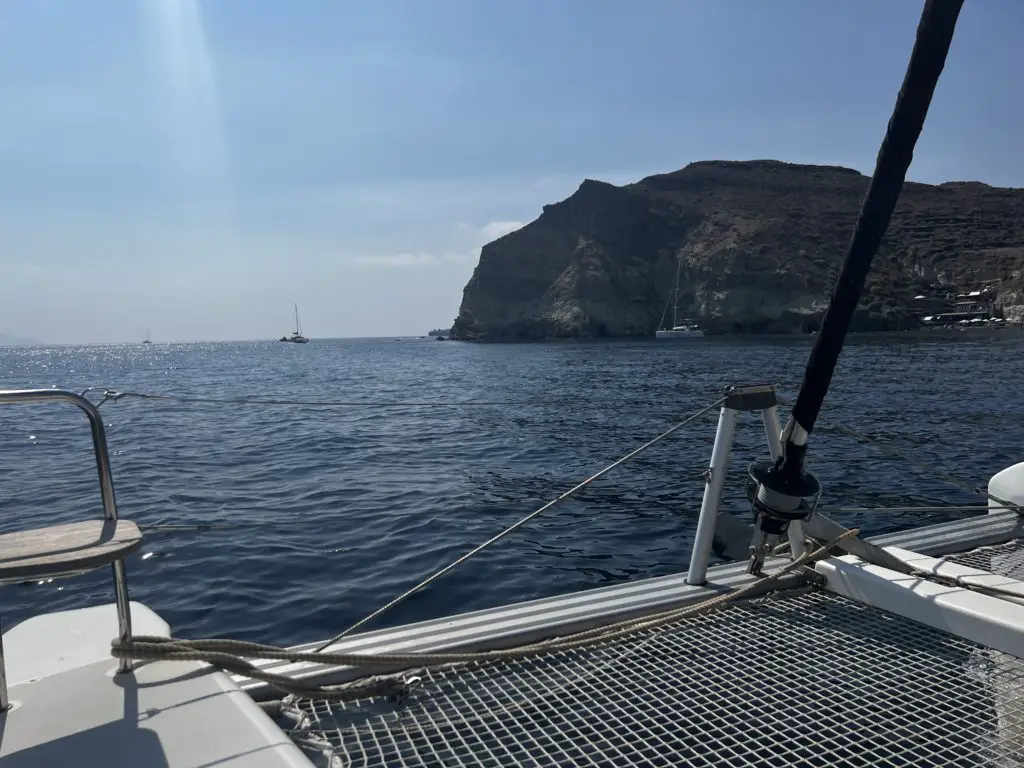 From the boat we got to see the Red Beach and the White Beach before stopping at the hot springs for a little dip. Towels are provided, so make sure you pack your swimsuit! The hot springs aren't actually that hot, which in the middle of a 30 degree celsius day is a relief. If you do plan to swim here though, pack a dark bathing suit as the sulphur in the water will stain.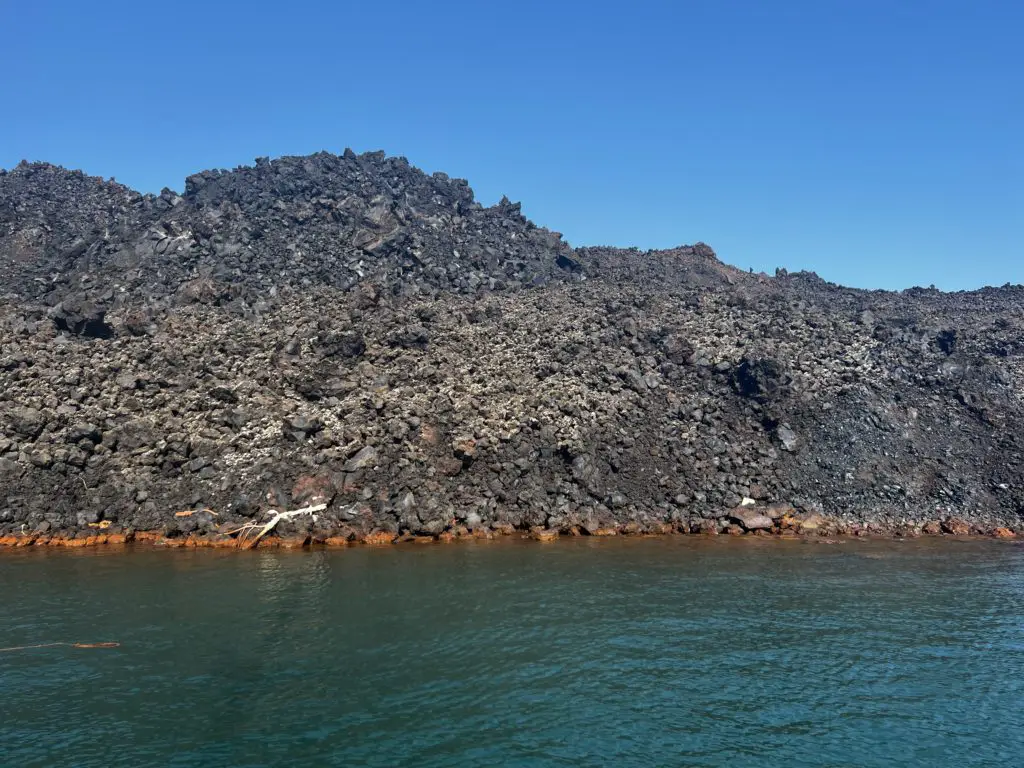 After enjoying the water we then sailed on before making another stop for some more swimming time whilst the crew prepared our dinner. It was such an incredible experience swimming in the sea, and you are provided with a mask and a snorkel so that you can look at all the fish and sea life around you.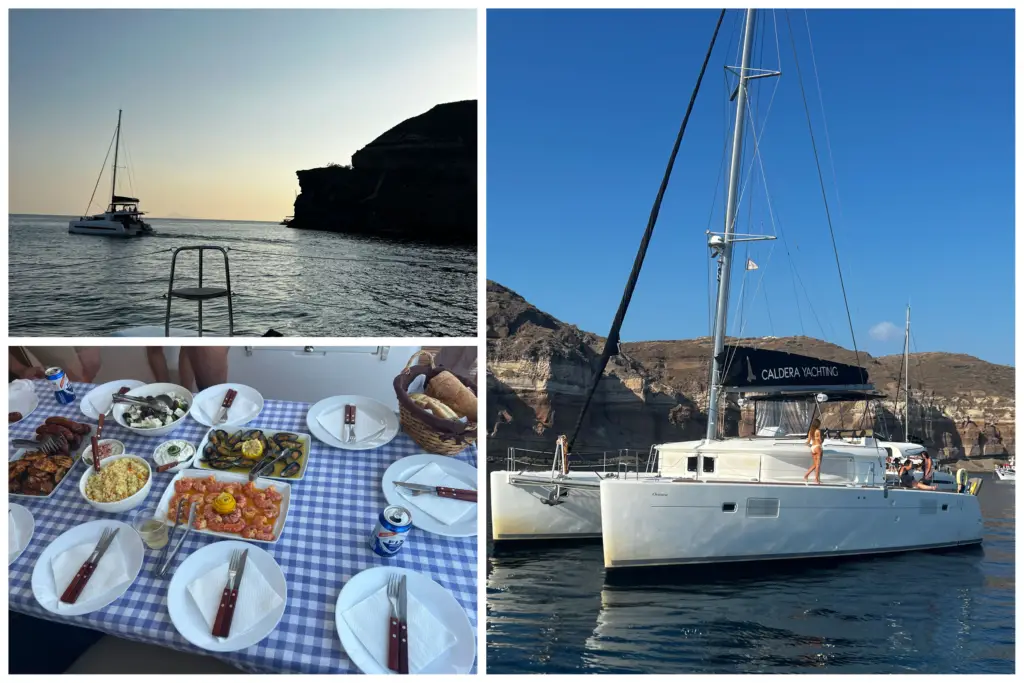 After dinner we carried on sailing and during this time we watched the sunset from the back of the boat. Again it was such an amazing experience, and one that we highly recommend as part of your 4 days in Santorini.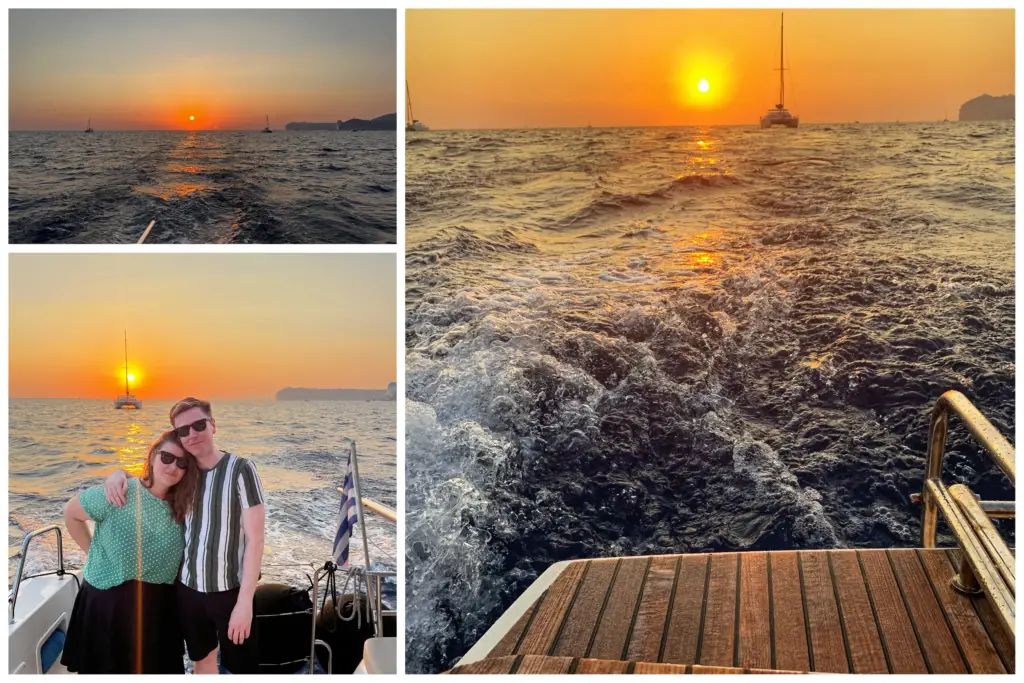 As mentioned above there are different cruises that cater to different budgets. This is similar to the cruise we did, and sits on the more expensive side. But below you will see links to various other cruises in different price ranges.
Visit the Prophet Elias Monastery
If you are looking for one of the best viewpoints in Santorini then you should add a visit to the Prophet Elias Monastery to your itinerary. Located close to Pyrgos, the Monastery is actually the highest point of Santorini.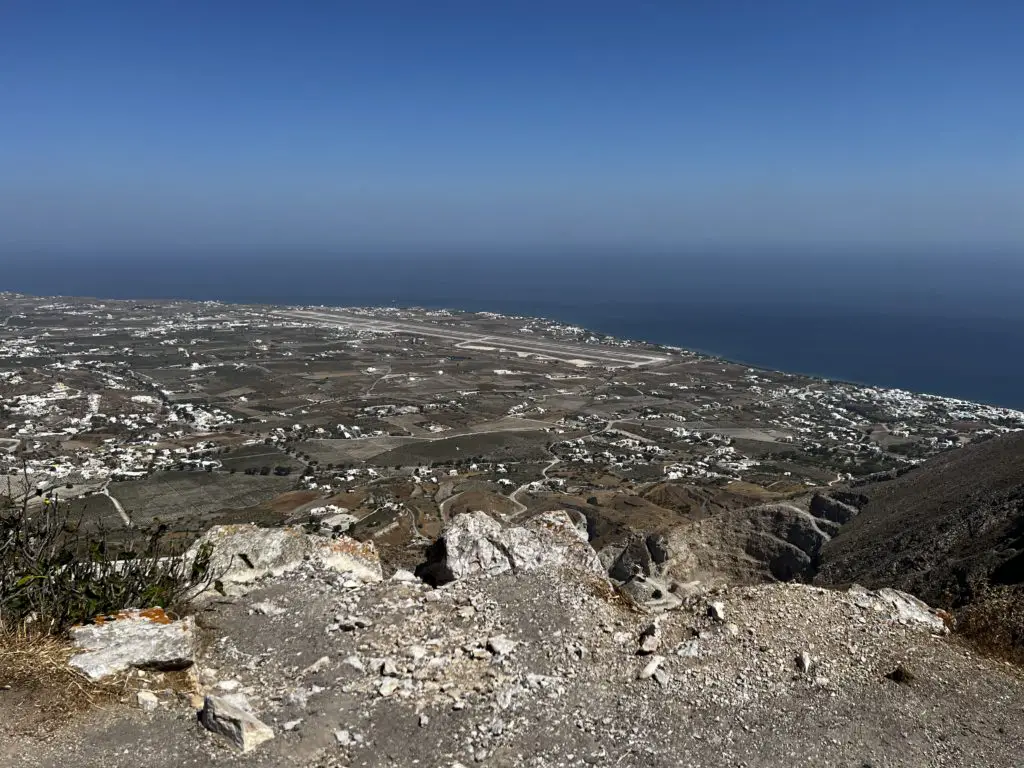 The Monastery was built in 1711, making it one of the oldest on the island. It has played an important role in the cultural and economic history of Santorini, before being damaged in an earthquake in 1956. These days it is home to a few monks, but is also a major tourist attraction on the island.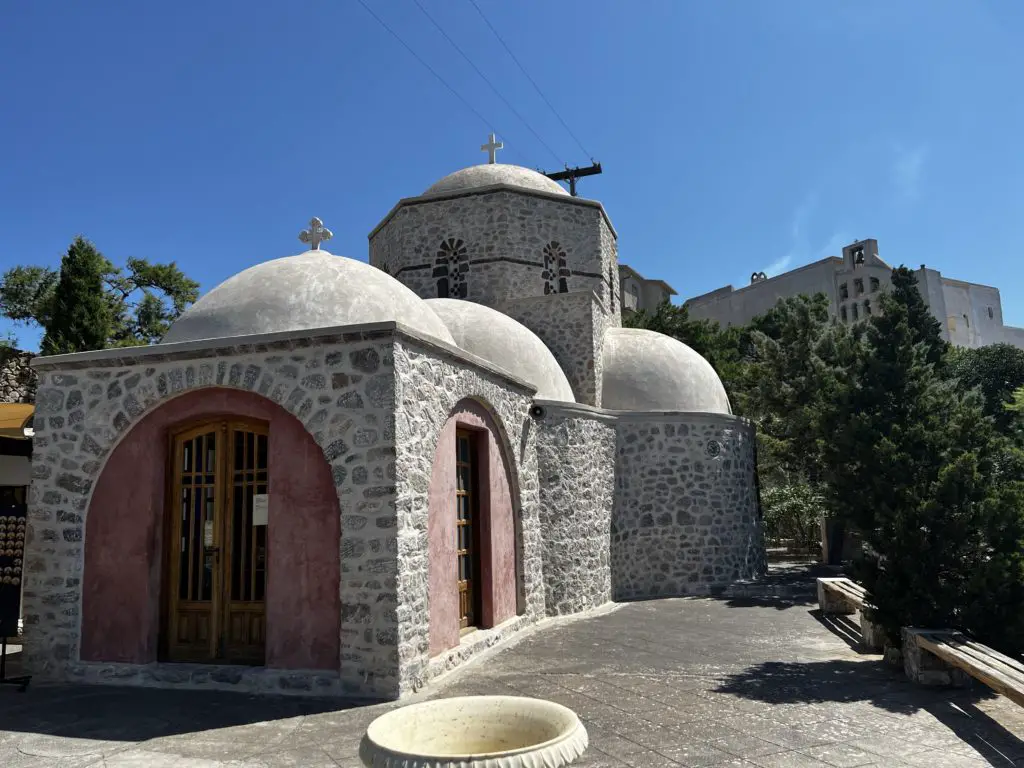 To reach the monastery you can either drive or take an organised tour. When you get here you will be treated to some amazing views over Santorini. You will also get the chance to have a look at some of the churches on the site as well. Make sure you cover up when entering out of respect.
Watch the sunset
Something that you absolutely have to add to your 4 day Santorini itinerary is to watch the sunset. Honestly, we've seen sunsets before but nothing like the sunsets we witnessed in Santorini. There doesn't seem to be a lot of cloud coverage in Santorini, and there are so many picturesque places on the island to go to unwind and see out the daylight.
Santorini sunsets are pretty famous, so with that in mind, you need to make sure you plan where to go in advance as things get pretty busy around this time especially in Oia. If you are hoping to catch the sunset in Oia, then our advice would be to get there early, and book a table at one of the cliffside bars, well in advance. We ended up at the Sunspirit Bar in Oia, which was pre-booked for us as part of a wine tasting tour we were on.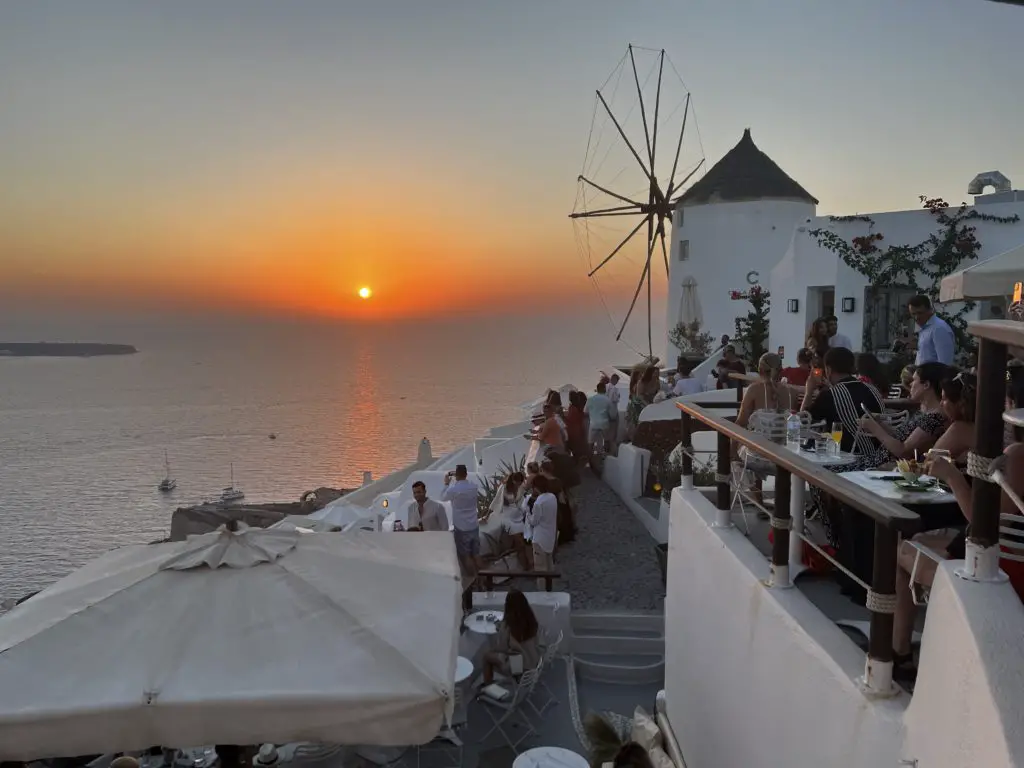 If you want to avoid the crowds when watching the sunset in Oia, stay around the bottom of the village where the tour buses drop you off to watch the sunset here instead. It is way less crowded, and there is a really nice bar here called Deilino that not many people know about, so we managed to bag ourselves a spot whilst watching the sunset.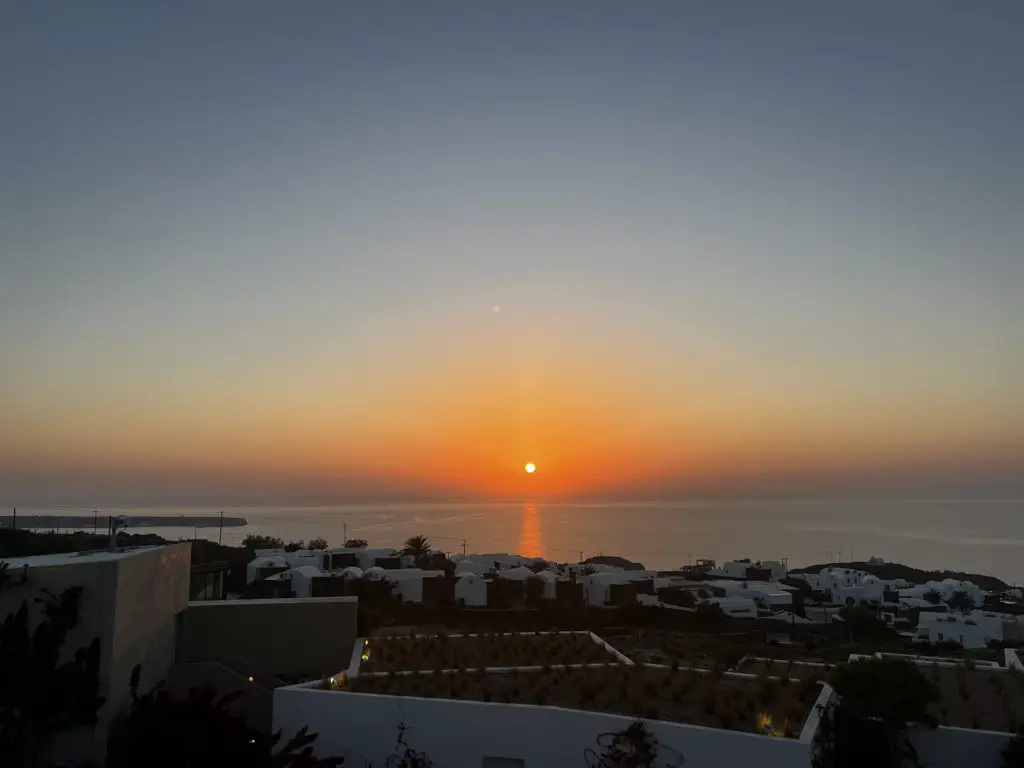 Apart from Oia, some other spots to watch the sunset during your 4 days in Santorini are Fira, Prophet Elias Monastery or Akrotiri Lighthouse. Alternatively if you do a sunset catamaran cruise like we did, you will also be treated to some sensational views.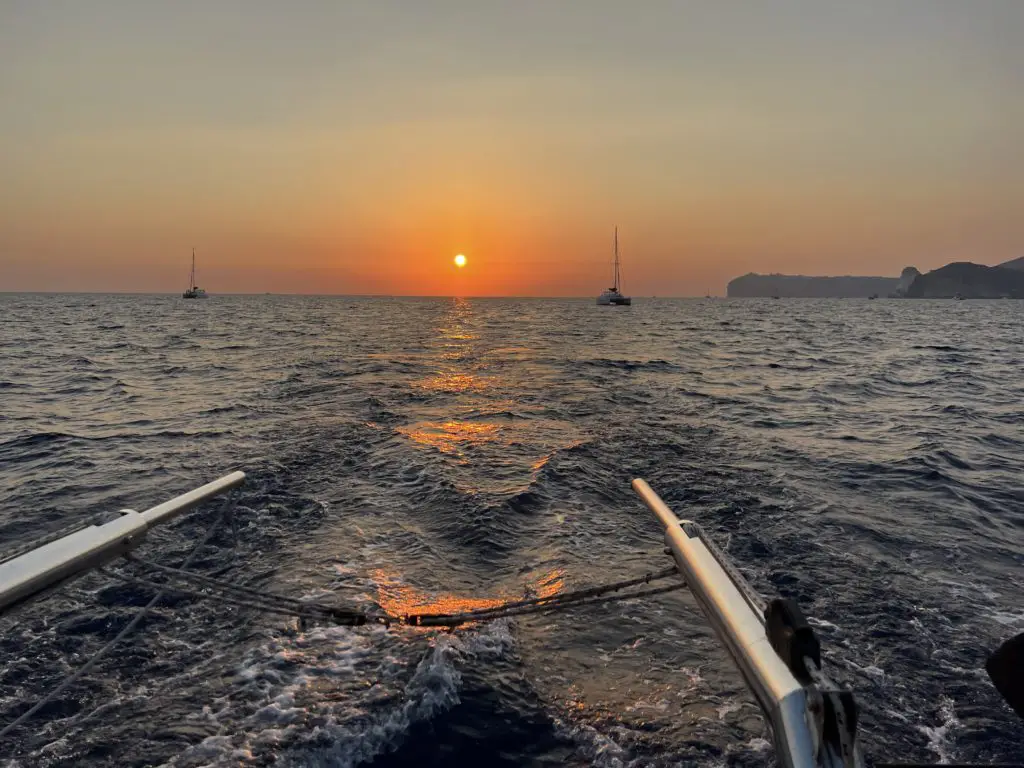 Also just to note if you have booked a package holiday through Jet2, then you can get in touch with your representative to book a number of fantastic tours, as well as discussing tips on things to do and see.
Sample 4 day Santorini itinerary
Here is our sample 4 day Santorini itinerary that covers everything that we did when we visited. We actually flew in to Santorini quite late on the first night, checked into our hotel, and immediately went to bed so we aren't counting that. One of the good things about a later flight though is that you get to wake up in Santorini the next day and immediately start your holiday. Hopefully this guide will inspire you to create your own Santorini itinerary.
Santorini itinerary – Day 1
After waking up in Santorini and enjoying breakfast at our hotel, our 4 day Santorini itinerary started with an island tour. We thought it would be good to familiarise ourselves with the island and explore as much as possible.
We got picked up at around 10am and started the tour with a visit to the Prophet Elias Monastery. After getting some photos and exploring the churches, we then went to Pyrgos. Here we had the option to walk around with our guide, or explore ourselves.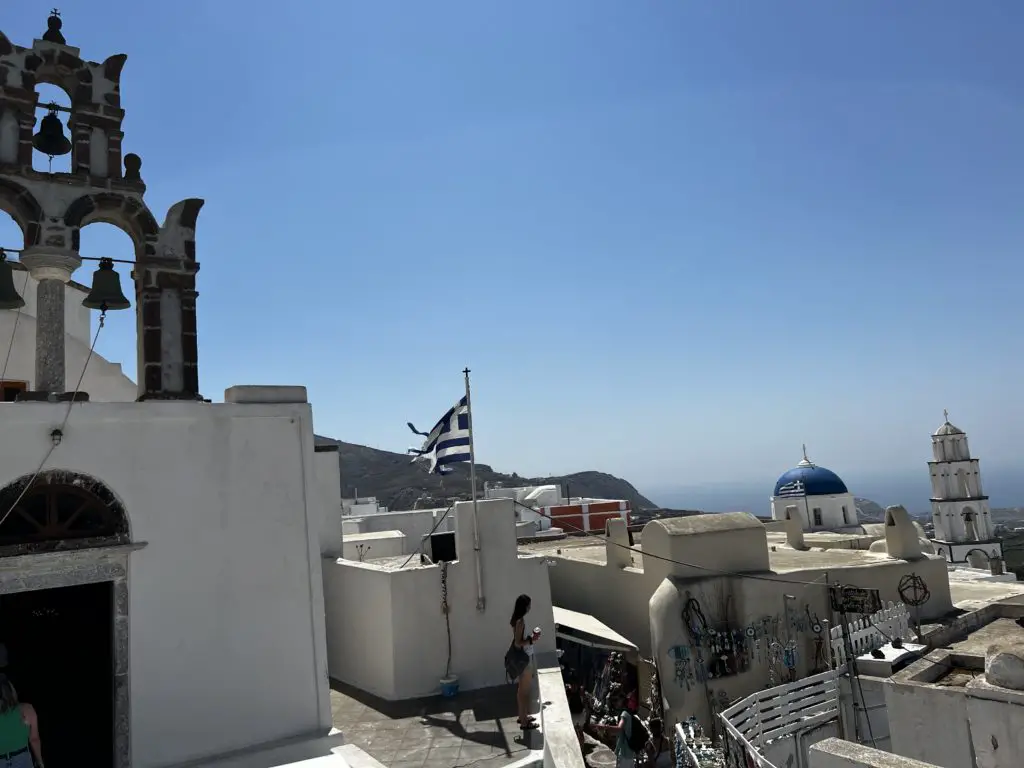 Our next stop was the Akrotiri Archeological Site, followed by a walk to the Red Beach. As mentioned above the Red Beach is prone to landslides so we only went to one of the viewing points before making our way back to the bus.
We then visited Fira, where we had a good few hours to grab some lunch and explore the whitewashed walkways, and take in the caldera views. We ended up eating, and having a couple of cocktails at Iriana which had stunning views of the water.
Our final stop on the tour was Oia, where we had some free time to walk around, before settling down to watch the sunset.
Santorini itinerary – Day 2
On day 2 of our 4 days in Santorini, we decided to treat ourselves and booked a sunset catamaran cruise. This meant that we had some free time in the morning, which we used to take advantage of our hotel pool, and gorgeous balcony.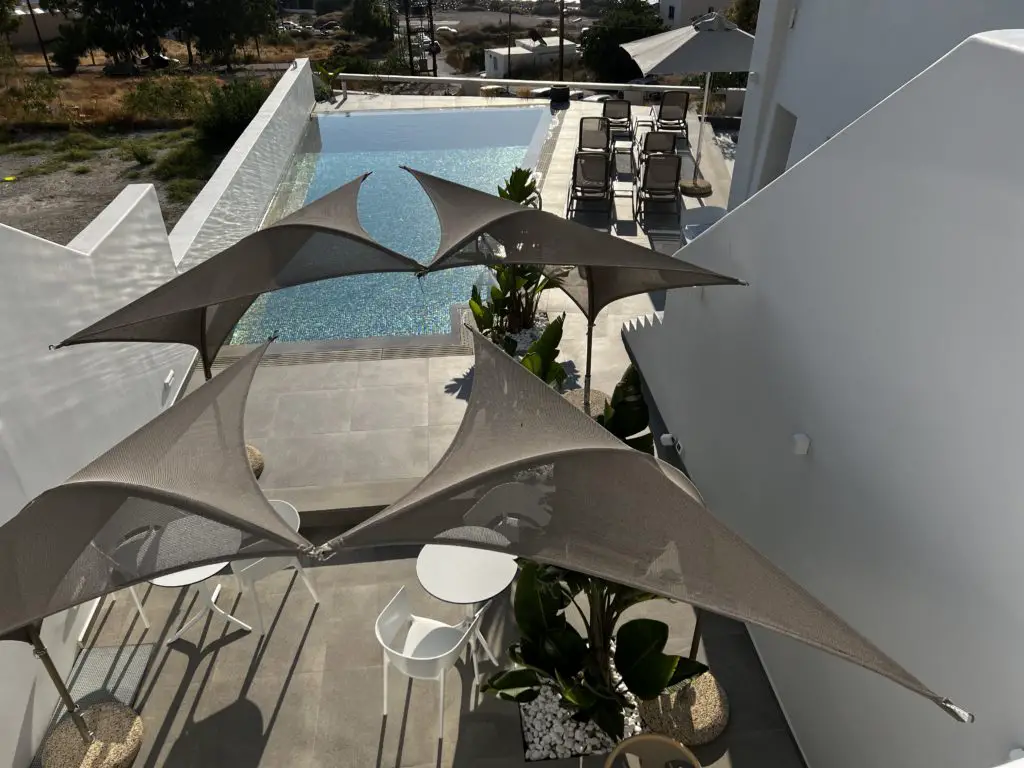 In the afternoon our bus picked us up from our hotel and took us to our boat. The full cruise lasted until sunset, and after this we were taken back to our hotel.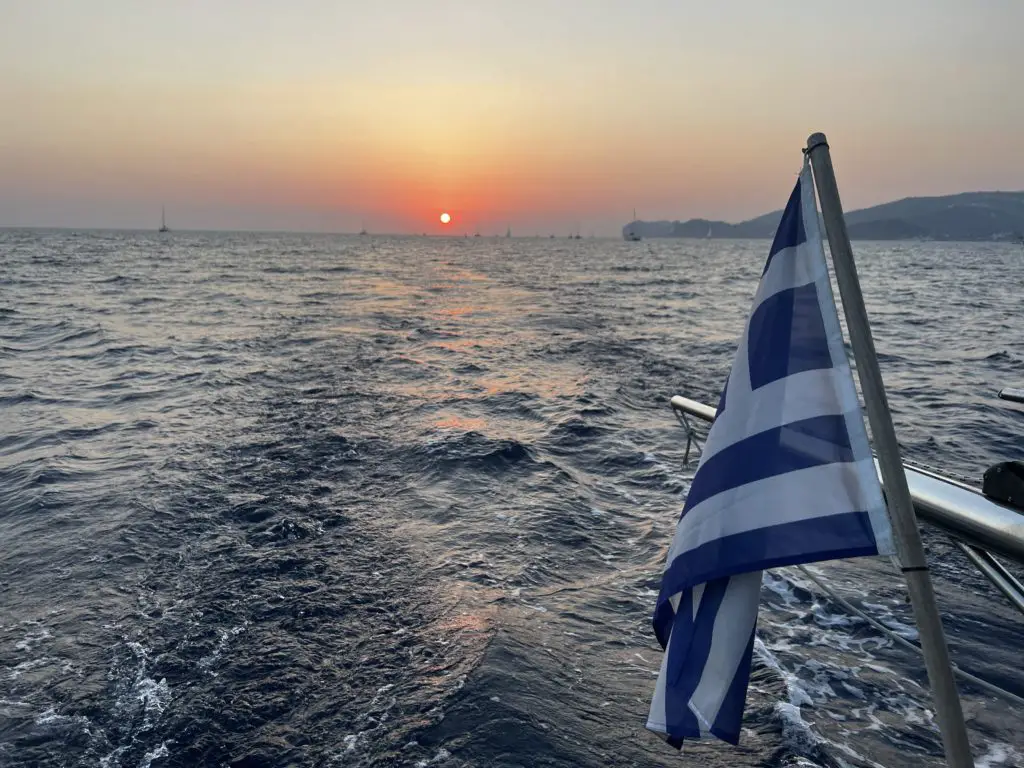 Santorini itinerary – Day 3
After a bit of a sleep in, and a quick dip in the pool, we decided to do a wine tour in Santorini. We got picked up from our hotel in the early afternoon and headed to Hatzidakis Winery for a tour and some wine tasting.
Our second stop on the tour was the Santorini Wine Museum which is located at Koutsoyannopoulos Winery. We had about half an hour to explore the museum and then again got to sample some wine.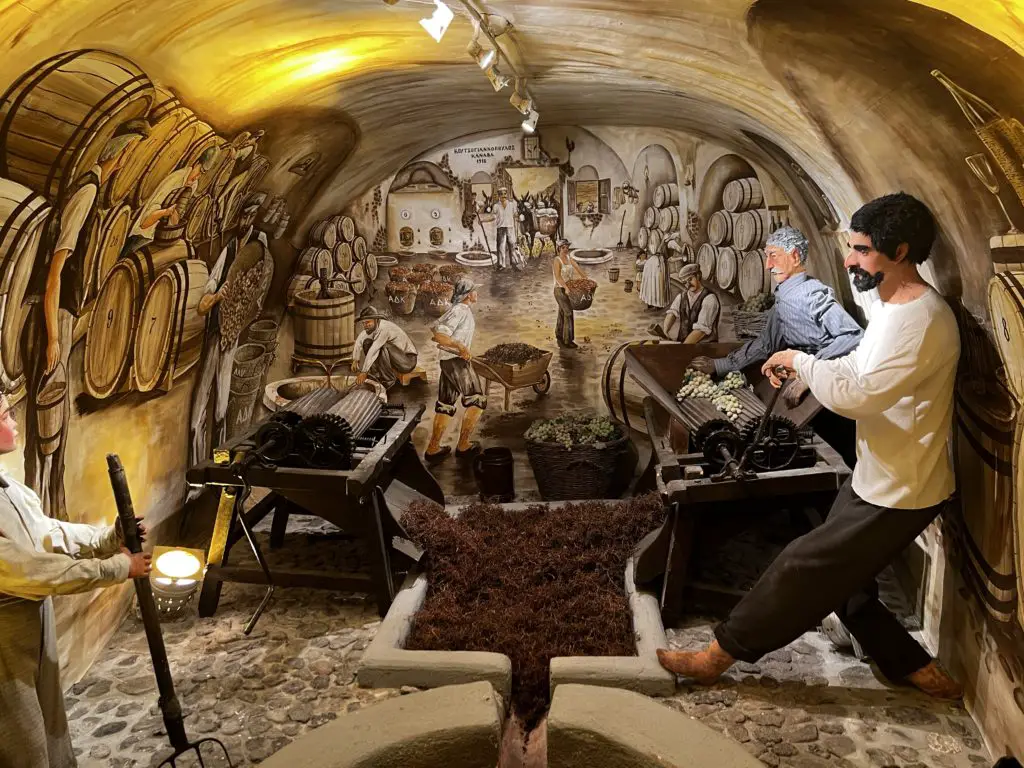 The tour we booked ended in Oia at the Sunspirit Bar for sunset. It was perfect because the tables had been reserved for us so we weren't having to jostle for a prime viewing position. We had a glass of wine and some nibbles, before being driven back to our hotel in the evening.
Santorini itinerary – Day 4
On the last of our 4 day Santorini itinerary, knowing that we had an 8pm flight we decided to spend the day exploring Kamari which is where our hotel was. There is a lot to do in Kamari like lounging on the black beach, shopping and exploring the many restaurants and wine bars. For us it was a lovely chilled day before we had to head home.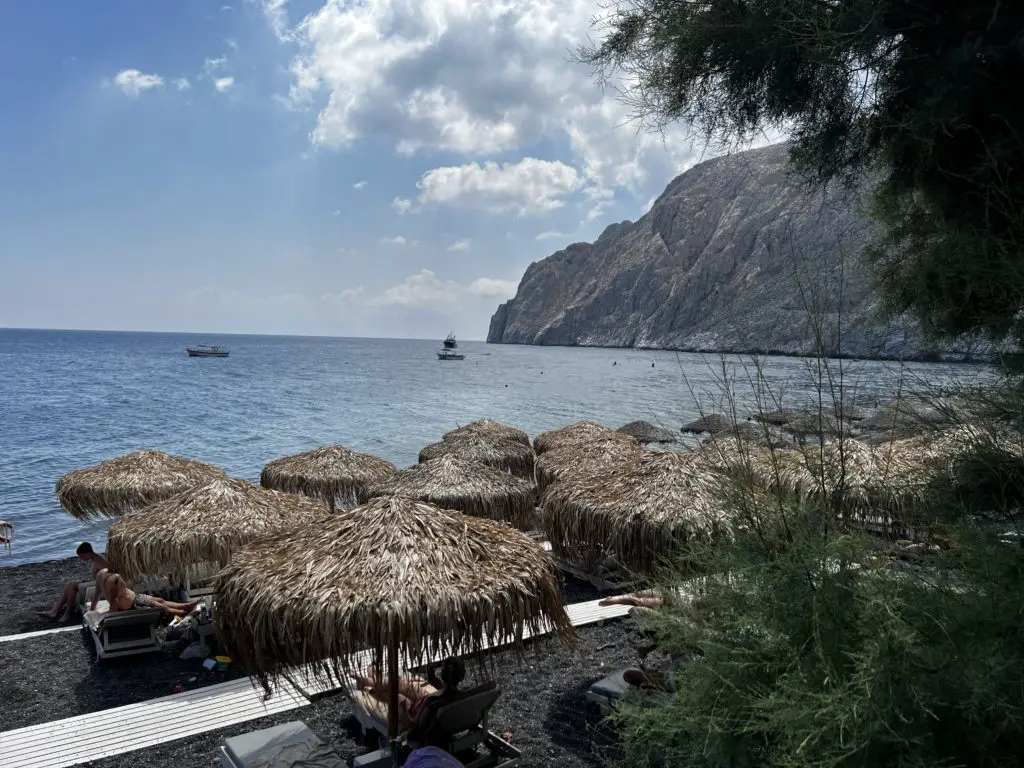 Romantic things to add to your 4 day Santorini itinerary
Usually in each blog post we write, we try and cover a section on the most romantic things to do in a city. Santorini is one of those places where absolutely everything you do is romantic. From watching those gorgeous Greek sunsets, to getting lost strolling around cobbled white walkways, the whole island oozes romance. Here are some of the most romantic things to add to your 4 day Santorini itinerary.
Sip cocktails on the beach in Kamari
As mentioned above our hotel was in Kamari, so we spent a bit of time there enjoying the beach and some cocktails. You can rent a sun lounger for around €20 and then order food and drinks from there. It's a really nice relaxing way to spend time with your significant other.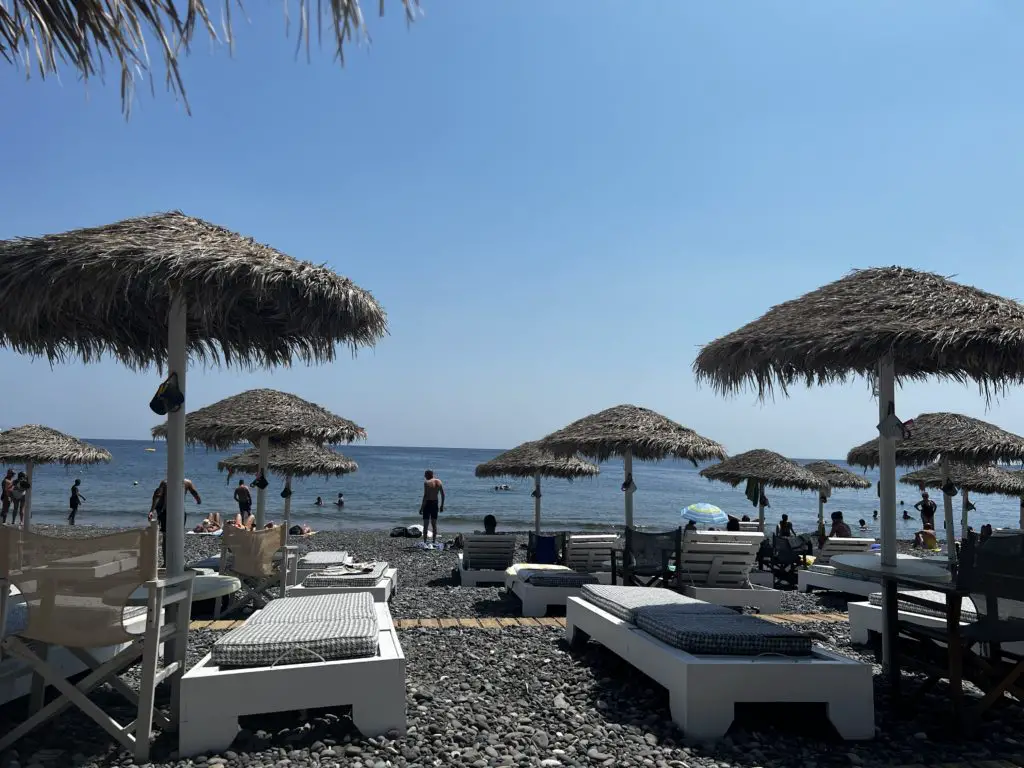 Walk hand in hand around the breathtaking walkways of Oia
Oia is pretty much made for romance, and if you are lucky enough to be able to stay in one of the gorgeous cave hotels with plunge pools then you are pretty much set. Otherwise you can always walk hand in hand through the beautiful walkways.
Sip cocktails whilst watching the sunset in Fira or Oia
Fira and Oia are both excellent locations for watching the sunset, so why not book a table and enjoy the views with your significant other. Just make sure you book well in advance to secure your spot.
Book a sunset cruise
A sunset cruise was honestly one of the most romantic things that we did as part of our 4 days in Santorini. If you want it to be extra romantic you can book a private cruise, or opt for one with a smaller number of people.
Book dinner with a gorgeous view of the caldera
If you are in Fira or Oia then one of the most romantic things to do has to be to book a meal at a restaurant with incredible caldera views. Bonus points if you do it at sunset.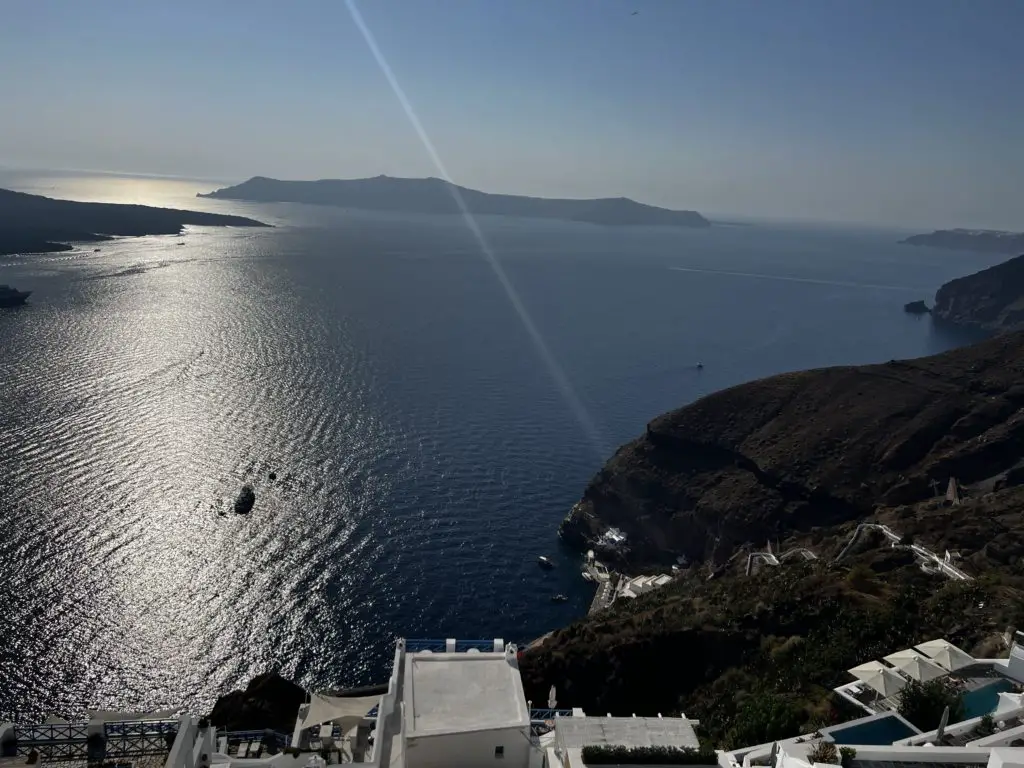 Eating and drinking during your 4 days in Santorini
Santorini is known for its amazing food and drink, so we highly recommend indulging in some traditional Greek food on your trip. Where you eat and drink will of course be largely dependant on where you are staying in Santorini, but you will find a lot of traditional Greek tavernas all over the island. Here are some of our top suggestions for things to eat and drink in Santorini.
Santorini Wine
It wasn't until we started doing research for our 4 days in Santorini that we realised how big of a deal wine is on the island. Despite it being a small island, there are over 18 wineries that you can visit. So wine has to be on your list of things to drink in Santorini. Try one of the Vinsanto wines with a meal, or do one of the very popular winery tours.
Greek Salad
Greek Salad is a staple when eating in Santorini. It's perfect for a light lunch or an accompaniment to a larger meal. The salad usually includes things like tomatoes, cucumber, olives, peppers, onions, olive oil, and of course a generous serving of feta cheese.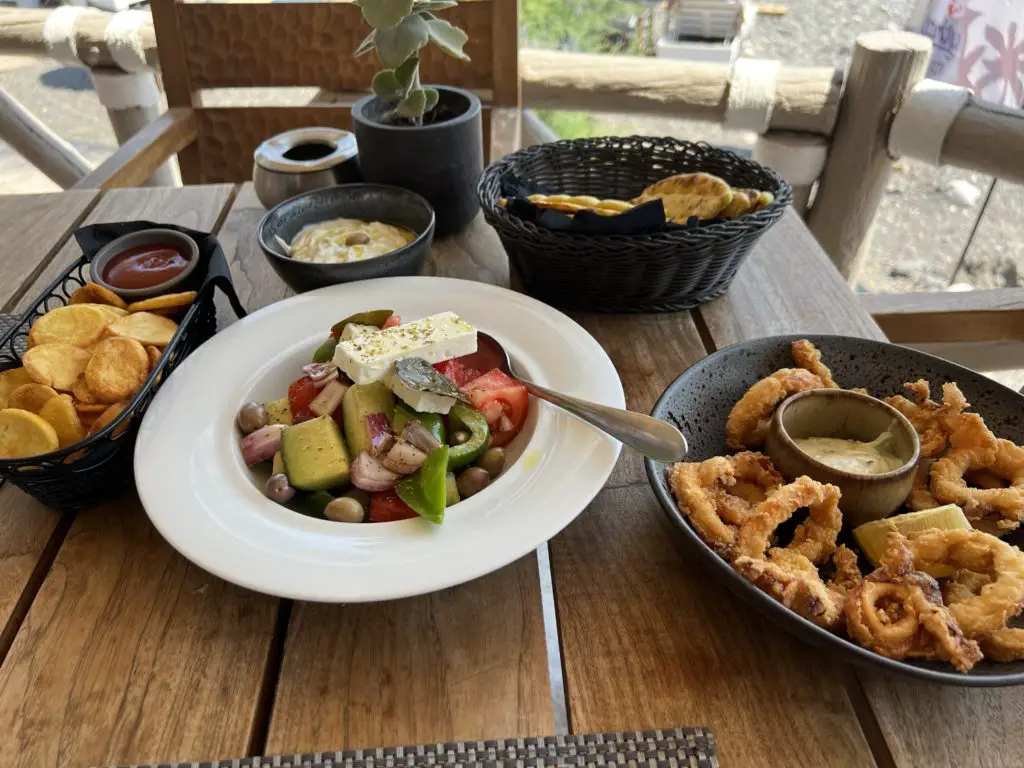 Fava
You cannot go to Santorini without trying Fava. In fact it is probably one of the most famous dishes in Santorini. Made from Fava beans it's kind of a puree (think Greek version of hummus) that is perfect with pita bread.
Tzatziki
Tzatziki is another must try during your 4 days in Santorini. It's a kind of dip made with strained yoghurt, cucumbers, garlic, and olive oil. It's delicious with grilled meat and pita bread.
Honey and Sesame Feta
One of our favourite dishes in Santorini had to be the honey and sesame feta cheese. It's feta wrapped in a crispy filo pastry, and topped with toasted sesame seeds and a generous serving of honey. The mix of sweet and salty is perfect, and it makes for a perfect starter.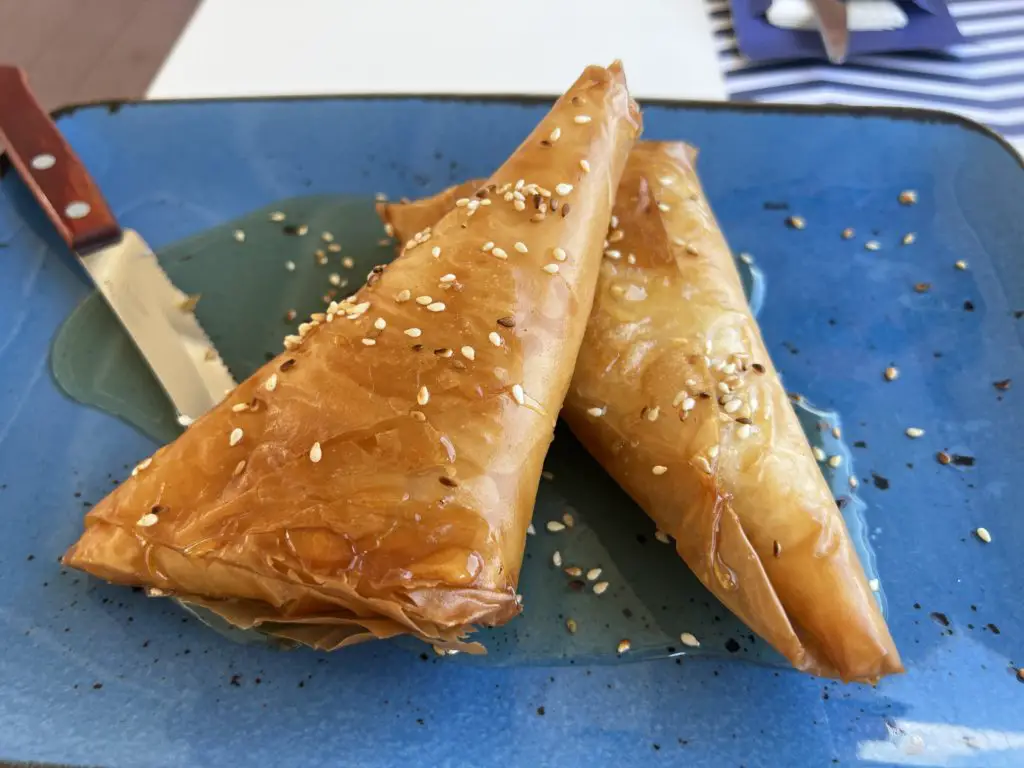 Tomatokeftedes
On every tour of Santorini that we did, someone would always be raving about the Tomatokeftedes. They are basically tomato fritters, made with the flavourful Santorini tomatoes. It might not sound hugely appetising, but honestly they are so good, and definitely worth a try.
Ouzo
When in Greece we recommend trying Ouzo which is an aniseed flavoured aperitif. It's slightly reminiscent of Sambuca but it has a better aftertaste and is a little bit smoother, at least in our opinion.
Some other must eats that you have to add to your 4 day Santorini itinerary, are dishes like Gyros, which is a dish of chicken and pita bread. There is also Moussaka, and the sweet and the moreish Baklava.
How to get around during your 4 days in Santorini
You might be wondering how to get around during your 4 days in Santorini. There are several options for travellers wanting to explore the island, but a lot of that will depend on where you are staying. Here are some of the best ways to get around the island.
Public Transport
Public transport in Santorini isn't the most reliable if we are being completely honest. The only real form of public transport are island buses, which are more like coaches than say the buses you might be used to at home. Most parts of the island are accessible by bus from Fira which is the capital. So if you are wanting to visit Oia you will need to change buses in Fira.
Buses get really full quickly, and the schedules are a little iffy. But despite this they are a cheap way to get across the island, so if you are on a budget, and you have the patience they are worth it.
Taxi
There are actually under 30 taxis on the whole island of Santorini – at least that is what one of our tour guides told us. But it is a small island so that probably makes sense. Because of the low numbers taxis can be expensive in Santorini. For example, we stayed in Kamari, and to get to Oia by taxi this would have costs us around €40 one way, with travel time in the region of 30 minutes.
If you want to travel by taxi you can either pre-book or hail one off the street. We wouldn't recommend using taxis as your primary means to get around the island though because of the price, and limited availability.
Organised Tour
One of the best ways we found, to get around during our 4 days in Santorini was to do organised tours. These tours include pick up and drop off from your hotel, and you also get to learn about the history of the island as you travel. This is also ideal if you have booked a Santorini package holiday with Jet2, as they will be able to help you book your tours.
There are several different tour options you can take including the below:
Car Rental
If you are wanting to be a little more independent on your 4 day Santorini itinerary, then your best bet for getting around will be to rent a car. That way you can see everything that you want to see and stick to your own schedule. There are several car rental spots across the island, and you can rent anything from a car, motorcycle, and even a quad bike.
If you do decide to rent your own transport here are a few things to remember:
You must drive on the right side in Greece
Parking in the more popular tourist places can be difficult – for example one of our tour guides told us that parking in Fira after 10am is almost impossible
So what is the best way to get around Santorini?
As you can see there are a number of options for getting around Santorini. Obviously you will need to decide which option is best for you and a lot of this will be based on time constraints and where you are staying. For us though we weighed it up, and the best option for us was booking organised tours. As we only had 4 days in Santorini we wanted to see and do as much as possible in this time. We also wanted to be able to grab a glass of wine, or a cocktail without having to worry about driving. So we opted to book some organised tours to take in the island highlights and get us around Santorini.
Budgeting for 4 days in Santorini
I think one of the reasons we put off visiting Santorini for so long is because we had this idea in our head that it was going to be expensive. And admittedly it was, but if you have been reading our blog recently you will know that we visited Copenhagen a few weeks ago, so in comparison, Santorini isn't too bad.
We mentioned that our flights, accommodation, and transfers were covered by Jet2, so if you wanted to look at some package holidays to Greece you can have a look at their website which covers a range of different budgets.
In terms of costs in Santorini, our hotel included breakfast which we filled up on every morning, and then we only really needed dinner after this. Although I won't lie there were also many gelatos and pastry that we obviously had to try during the day. On average though a dinner for 2 cost us around €60 – €70 which included cocktails or wine.
Going out for drinks is pretty on par with the UK (or at least Manchester anyway). Cocktails average at about €12 but prices can be higher especially in places like Oia where you are paying for the views as well as the drink.
The most expensive part of our trip was the tours. But these range from €30 each to our most expensive which was €150 each. Some tours included drinks and food, as well as transfers to and from our hotel. You can obviously do Santorini on a bit more of a budget, by using public transport, and spending less on food and drink.
You also don't need to worry about taking too much cash with you on your holiday in Santorini. Pretty much everywhere we went accepted card payment. We would recommend having a little bit of cash though, especially as you can't always tip at restaurants using your card. Additionally some places have a minimum amount for card payment so if you are only trying to buy a bottle of water for example you may prefer to have some cash.
Best time of the year to plan your Santorini itinerary
Santorini is one of those places that has almost become a victim of its own success. It's hugely popular and at times it can be a bit crowded. Don't let that put you off visiting though, Santorini is an amazing destination. If you are wondering when the best time to visit Santorini is, we would recommend sometime between June and September.
Of course, when you visit Greece you want to experience the warm weather, beach days, and sunshine, so June – September will be best for this. August tends to be the hottest month in Santorini but also the busiest as well. That being said we visited in August, and it was fine, you just need to be prepared, and book tours and accommodation in advance.
If you are wanting to visit Santorini in the low season or over the winter months, just remember that there are less flights available, and many of the bars and restaurants will be closed. It will also be a completely different experience to the summer months.
Is 4 days in Santorini enough?
You might be wondering if 4 days in Santorini is enough time to see everything on the island. In all honesty 4 days in Santorini is a good amount of time to get to grips with the island, see some of the key attractions, and indulge in some of that delicious Greek food. Santorini is relatively small so this is a good length of time. We felt like we saw everything we wanted to, although we also felt like we could have spent longer here, but mostly because it is so beautiful.
If you are wanting to have a few beach days then you might want to stay a little longer and a 7 day package holiday might be a better option.
What to pack for 4 days in Santorini
Apart from your usual holiday attire, here are some packing tips for when you visit Santorini.
Bring comfortable and flat shoes, the cobbled walkways and steep stairs around the island are not ideal for heels, no matter how good they might look.
Bring your swimwear but don't worry about towels – most hotels will allow you to take towels for the pool or to the beach, and boat tours usually provide them as well.
Sun cream, sunglasses and a hat are musts.
Light clothing.
Mosquito repellant.
Tips for planning your 4 day Santorini itinerary
As mentioned Santorini is a popular holiday destination and it can get pretty crowded. Here are our top tips for planning your Santorini itinerary.
Book any restaurants you want to eat at in advance particularly in places like Oia.
If you want to watch the sunset book a table at a restaurant in Oia or Fira well in advance to be guaranteed a spot.
If you are planning to visit Oia or Fira check when the cruise ships are due to dock as these are popular places for cruise passengers. Some days you might only have 1 or 2 ships and others you might see 7, so plan your visit accordingly.
You will need to buy bottled water for drinking in Santorini, as the tap water is not drinkable.
Don't flush any toilet roll down the toilet, as this will clog the narrower pipes.
Should I do a 4 day Santorini package holiday?
If you are on the fence about whether or not to visit Santorini, or book your Santorini package holiday then we highly recommend you book it! Santorini is stunning, and with everything we got to see and do on the island this is certainly a holiday that will forever remain in our memory. Our 4 days in Santorini were just incredible, and we are so glad to finally be able to tick it off our bucket list.
If you found this 4 day Santorini itinerary useful then don't forget to pin it for later.