One of the most popular attractions in York has to be none other than York Minster, a 235ft gothic cathedral built in the 1400's. So, when we planned our trip there we knew it was on the top of our list. We also wanted to climb York Minster Tower, as we had heard that the views were unbeatable. Now considering that we are both a little scared of heights and not great with confined spaces we knew it was going to be a challenge. Nevertheless, we did it. So here is everything you need to know about visiting York Minster and climbing the tower.
York Minster Tower Quick Factsheet
Where: York
Purchase tickets: On the day inside of York Minster
Cost: £18.50 for an adult £15.50 for a student and £6 for a child. This cost includes both York Minster and the tower.
Steps: 275
When: Most days but weather dependant
About York Minster and York Minster Tower
York Minster is a cathedral in York, and its full name is 'Cathedral and Metropolitical Church of St Peter in York'. It was one of the first gothic style cathedrals in Europe and is also to this day on of the largest of its kind – at least in Northern Europe anyway. It was constructed between 1230 and 1472, so it took a while to complete. York Minster is about 160m in length, and it's tallest tower stands at 71m. So it is fair to say the views from here are pretty spectacular.
Something else that is particularly noteworthy was that in 1984, due to a lightning strike part of the roof caught fire and collapsed. Some of the glass as part of the stained glass Rose Window cracked but miraculously this stayed intact.
York Minster is also rumoured to be haunted, which considering that York is said to be the most haunted city in Europe, probably isn't surprising. Unfortunately we cannot confirm or deny this fact, but do keep an eye out for any mysterious happenings whilst you are there!!!!
If you are interested in haunted York, then here is a tour that will give you a whole new perspective on the city, including York Minster.
How can I climb York Minster Tower?
If you are looking to climb York Minster Tower then it is relatively easy to do so. Tickets can be booked on the day, as whether or not you can climb York Minster Tower will very much depend on the weather. Tickets will need to be purchased on top of your usual admission to York Minster.
You will be given an allocated time slot to climb and you will only be permitted to climb at this time. The reason being that the stairs are really narrow and you will go up and down the same way.
Is it safe to climb York Minster Tower?
Climbing York Minster Tower is totally safe, but it is not recommended for anyone with mobility issues, health issues, or a fear of tight spaces. Full details can be found here.
What it is like climbing York Minster Tower?
Before we climbed York Minster Tower we looked online and read various reviews. I'm not a huge fan of heights or tight spaces so wanted some perspective on what this meant. Some reviews were dramatic, like the one I read about ambulance crews having rescue someone. Others were positive, like the guy on youtube that lulled us into a false sense of security as he laughed and barely broke out into a sweat during his ascent. So really, we had no idea what to expect. This is why we have written this guide.
Starting your York Minster Tower Climb
As mentioned previously the first thing to note is that there is only one set of stairs used to go up and down York Minster Tower. Once you book your tickets you are given a specific time to go up the tower in a group. Our advice if you are unsure is to get to the back of the group. There is no room for over taking once you start and the last thing you need is feeling the pressure of the whole group behind you.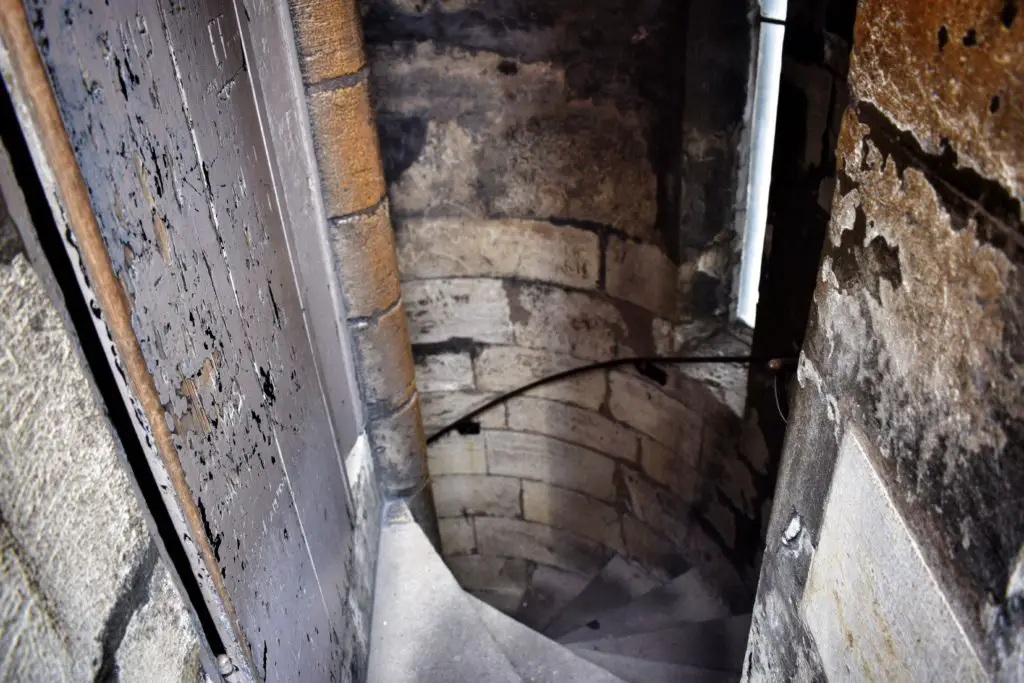 And so you climb. It is about 108 steps until you reach your first viewing area. This is in the form of a narrow walkway on the top of the minster roof leading you to the central tower. Realistically at this point if you wanted to go back down you could. But obviously be aware that it is a one-way system so you need to make sure that everyone in the group has made it up before you begin your descent. You can also spend a bit of time up here catching your breath particularly if you are at the back of the group.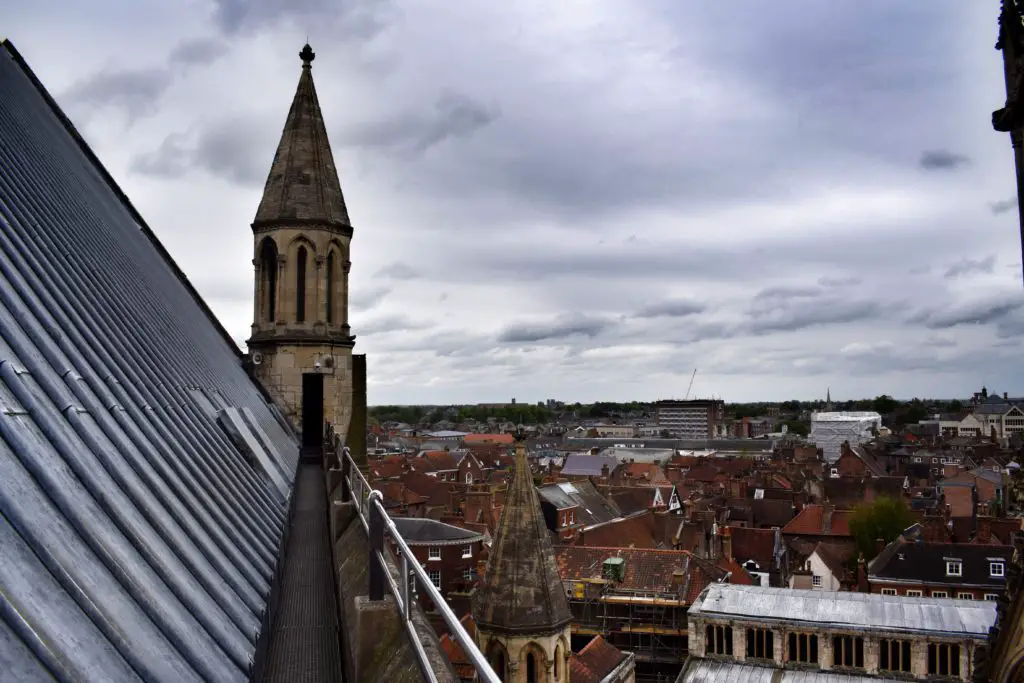 If this is as far as you can go you still get a lovely view and get to see some of the external features of the building up close. Quite a few people in our group turned around after this point which was more than ok. So if you are feeling nervous about climbing York Minster Tower hopefully this gives you some reassurance that you can in fact turn back around.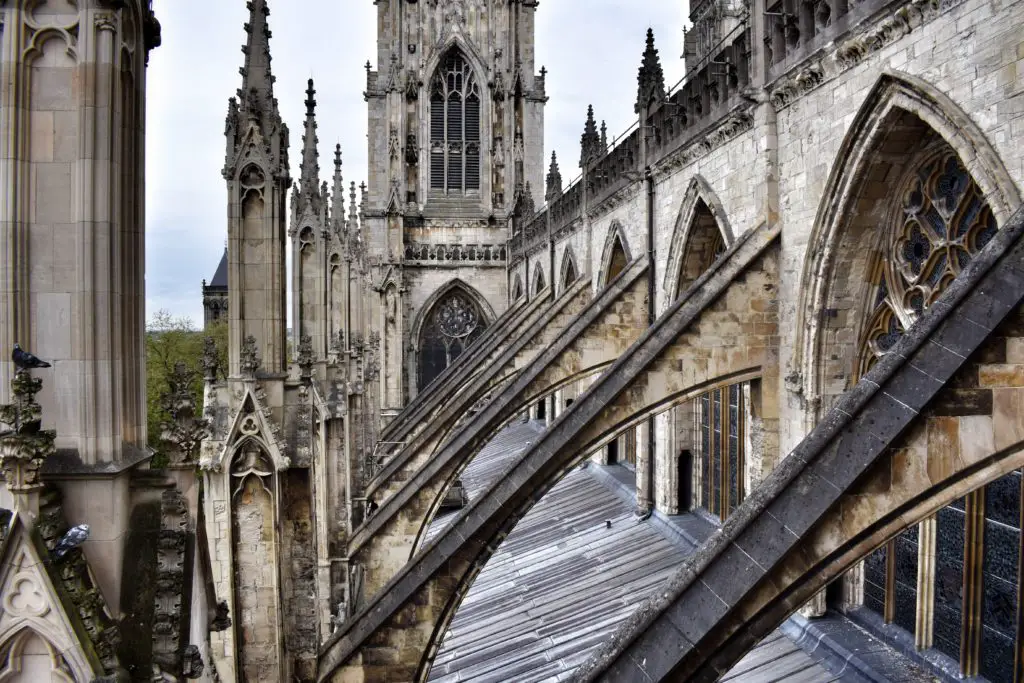 Carrying on to the top of York Minster Tower
The next part of the climb is the hardest. First of all it gets really narrow, and the closer you get to the top the narrower it gets. At certain points my feet couldn't actually fit on the whole step. The stair case winds a lot as well, and it doesn't feel like there is much air in there. Claustrophobics take note! Luckily, we were last in the group because I had to take a lot of breaks and remind myself that it was ok and there was no need to panic. Again if you aren't the fittest and want to take your time stick to the back of the group so you can take your time going up. Once you make it to the top though the views are just incredible.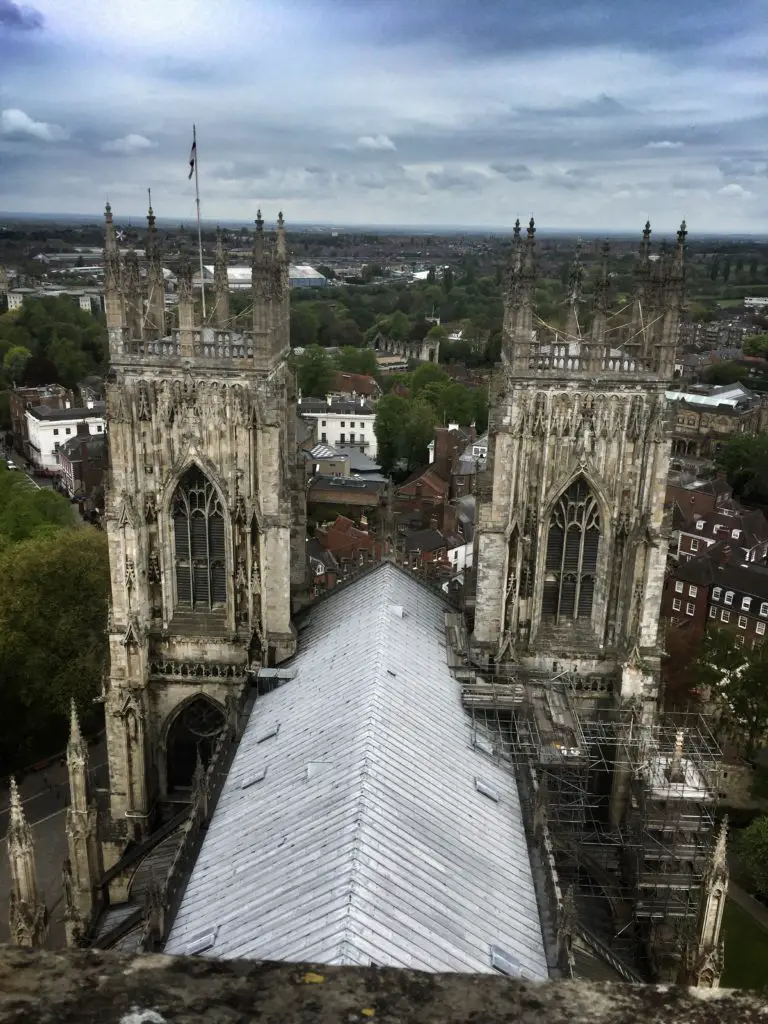 The top of York Minster Tower
The top of the tower is all fenced in but there are some camera shaped holes dotted all around so you can snap some amazing pictures. Keep in mind you have a time allocation so you need to start making your way down before the next group starts to come up. There is a staff member at the top of the tower who will instruct you when it is time to go back down.
Of course, what goes up must come down again, and you have to descend the same way you came. It is obviously a lot easier going down though. So happy climbing everyone!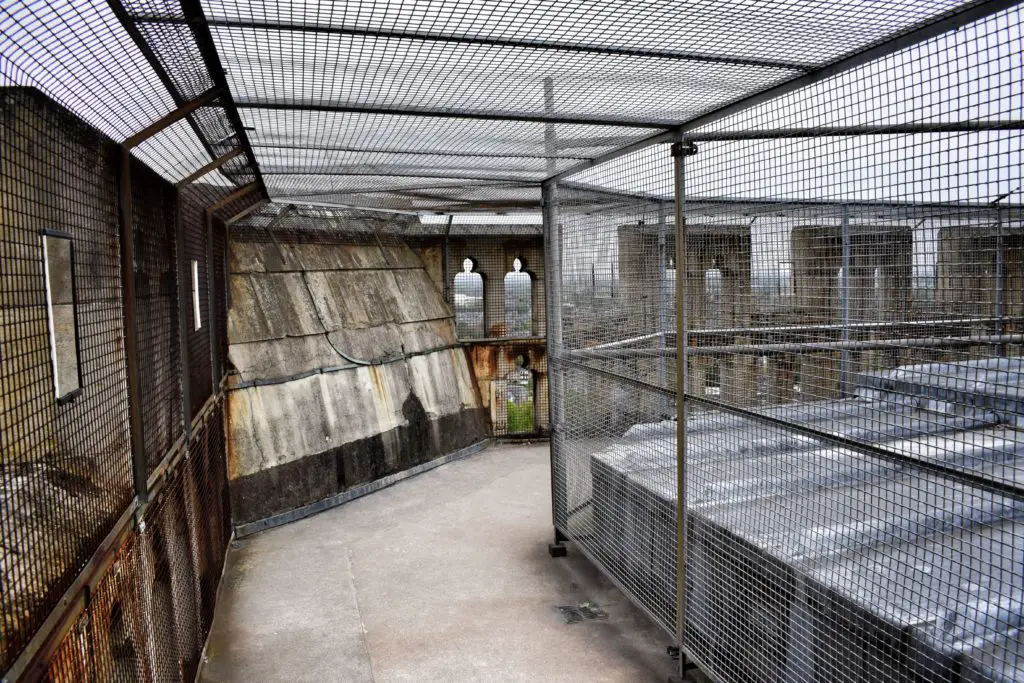 Is it worth climbing York Minster Tower?
Honestly we think climbing York Minster Tower is absolutely worth it. The views are truly amazing, and once you get to the top you feel such a sense of achievement. If you are feeling a little nervous stick to the back of the group as we mentioned, that way you won't feel like you have to rush. Take a break when you get to the viewing platform around midway, and let others pass you along this bit if they wish. Do it at your own pace, but be mindful of others. And most of all have fun. It's such an amazing view from the top of York Minster Tower, that you will probably wonder why you didn't do it sooner.