4 days in Lisbon: The best 4 day Lisbon itinerary to help plan your trip (+ a Sintra itinerary)
Planning on spending 4 days in Lisbon? Well you have come to the right place. Lisbon is one of our favourite European cities. Lisbon is ridiculously beautiful with its charming neighbourhoods, hidden bars, and incredible sunset spots. It's also one of those places that has decent weather year round, and is actually one of the cheaper European capitals. We have come up with a 4 day Lisbon itinerary, to help you plan your own trip to the Portuguese capital. We even include a perfect Sintra day trip itinerary for those wanting to travel further afield.
From costs, to accommodation tips, we provide you with everything you have ever wanted to know on spending 4 days in Lisbon. So if you are wondering what to eat, drink, see, and do in Lisbon, read on.
Disclaimer: This post contains affiliate links, so if you use these links to buy something we may earn a commission, at no cost to you. Thank you for your support.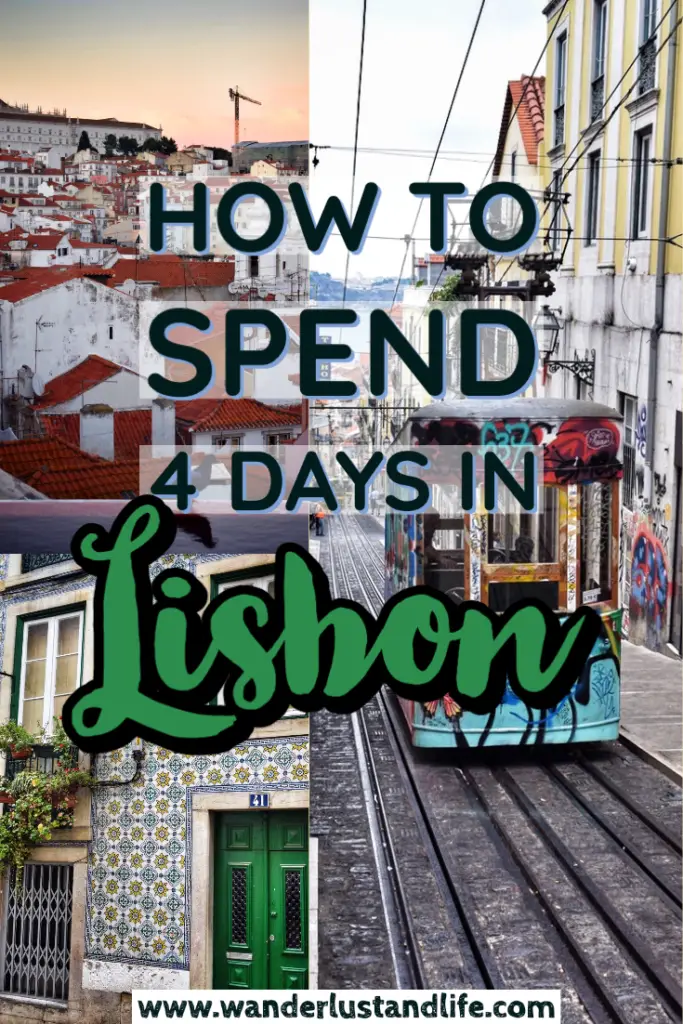 4 day Lisbon Itinerary Factsheet
Country: Portugal
Language: Portuguese but English is widely spoken
Currency: Euros
Famous for: Mosaic tiled buildings, custard tarts, great food, even better weather
The gorgeous hills and coastal surroundings of Lisbon make it the perfect city break destination. Lisbon is a city that is the perfect mix of old world charm, with modern touches. It's one of the oldest capital cities in Europe, and you will see this when exploring the labyrinth streets in Alfama, or the castle district. They are also a number of modern places like the Pink Street, and the LX factory that are trendy, modern, and vibrant.
It's also a really green city, and there has been a major drive lately to clean up the city air and promote green sustainable spaces. It won the European Green Capital of 2020 as awarded by the European Commission. So if you are into sustainable travel, it is certainly a city to watch.
It's also a hugely cultural city, that knows how to live well. From the mouthwatering food, al fresco dining, and all around positive vibes, Lisbon really is the place to visit.
If all this isn't enough to convince you to book your 4 days in Lisbon, then we should also add that it is one of the cheapest capital cities in Western Europe. You really can visit Lisbon without spending your life savings. This is probably why the city is popular with digital nomads and students alike.
Still wondering if Lisbon is worth visiting then make sure you checkout our post answering all your burning Lisbon questions.
Getting to Lisbon
Chances are your 4 day Lisbon itinerary will start at Lisbon Portela Airport or Lisbon Airport as it is more commonly known. In our experience it is one of the better airports in Europe, and getting into the city centre is really easy. You have a few options with everything from bus, train, and taxi services available. Here is a summary.
Taxi
Of course, getting a taxi is going to be your quickest and easiest option to get from the airport to the city centre. The cost isn't too bad either, compared to other European airports. On average you are probably looking at around 20 Euros at the most one way.
Metro
The metro is a fast and cost effective way to get to Lisbon from the airport. A one way ticket will costs you 1.45 Euros, although you do need to purchase a Viva Viagem or 7 Colinas card, and top this up as you use it, but that is an additional 0.50 cents. The metro takes about 20 minutes to get you to the centre of Lisbon, and from there you can either get another subway, bus, or tram to your onward destination. This is also a good option if you have a super early or late flight as the metro runs between 6.30am – 1am.
Aerobús
Another quick and easy way to get to the city centre is by Aerobús. This is essentially a shuttle bus that stops in the city centre, or the Lisbon financial district. You do need to check the route in advance to make sure that this is convenient for you, but if so it's only 4 Euros one way to get into Lisbon. The bus leaves every 20 minutes between 7.30am and 9pm.
Where to stay during your 4 days in Lisbon
One of the most important bits to planning your 4 day Lisbon itinerary is where to stay. Maybe that is just me? But surely there are others out there who spend hours anxiously trawling the internet trying to find the best place to rest your head each night?
There are a few different areas that we recommend staying in. Our biggest bit of advice though, is start planning your accommodation early. The further in advance you book, the more likely you are to find a good deal. We know this from experience.
We ended up staying in Saldanha at the Olissippo Saldanha. The hotel was lovely, and all, but it wasn't the neighbourhood we originally wanted to stay in. It did only cost us about €10 in a taxi to the hotel from the airport, and we were only a couple minutes walk away from the subway and a busy bus route so not all bad news.
Here are the neighbourhoods we recommend, particularly if this is your first visit to Lisbon.
Alfama
Honestly Alfama has to be one of the most beautiful parts of Lisbon. It's full of character, and is a labyrinth that you will just want to get lost in. A lot of the accommodation here tends to fall under the apartment stays, but there are a few hotels to choose from here as well. It's a very quirky neighbourhood full of restaurants, bars, and people having a great time.
Baixa
Baixa is the more touristy part of Lisbon, which is good news in some ways because it is close to the key attractions, and a lot of the main squares. Like Alfama it is full of restaurants and bars, and has a great atmosphere. This is probably the heart of Lisbon in fairness, and is our top recommendation for your 4 days in Lisbon.
Bairro Alto
Another area that is close to the hustle and bustle is Bairro Alto. There are cobbled streets, graffiti filled edgy walls, and probably most importantly several places to eat and drink. It can be lively in the evening, so if you want some peace and quiet this might not be for you. This is a good area for couple's though because there are lots of rooftop bars with incredible views.
Belem
Belem is a great area to stay in if you want a little bit more of a chilled vibe. There are some restaurants and bars, but it is not as lively as some of the other areas we have mentioned here. There are a lot of parks and green spaces and it is close to Cascais, if you are planning to visit.
All in all if you only have 4 days in Lisbon, it's probably better staying somewhere close to the action. Baixa is probably your best bet, particularly for first time visitors.
Our tips for choosing your accommodation would be:
Book well in advance, particularly during the summer months
Make sure your accommodation is close to public transport
Avoid staying in Belem if you are only in Lisbon for a short time, as it is quite a bit out.
Things to do as part of your 4 day Lisbon itinerary
There is a lot to do in Lisbon, and we obviously cannot cover it all. BUT we have tried to cover all the highlights, and a few hidden gems too. For Instagram worthy locations in Lisbon this article might be right up your street.
Explore Alfama
If you do nothing else in Lisbon then make sure you check out the Alfama District. It's such a magical part of Lisbon with its narrow alleyways, quaint stores, and cosy cafes. You can do a pre-booked walking tour, or you can choose to explore on your own.
The area is very hilly but the good thing about that is the views are sensational. We recommend stopping to enjoy some food and drink along the way when exploring Alfama, as it is an area best seen slowly.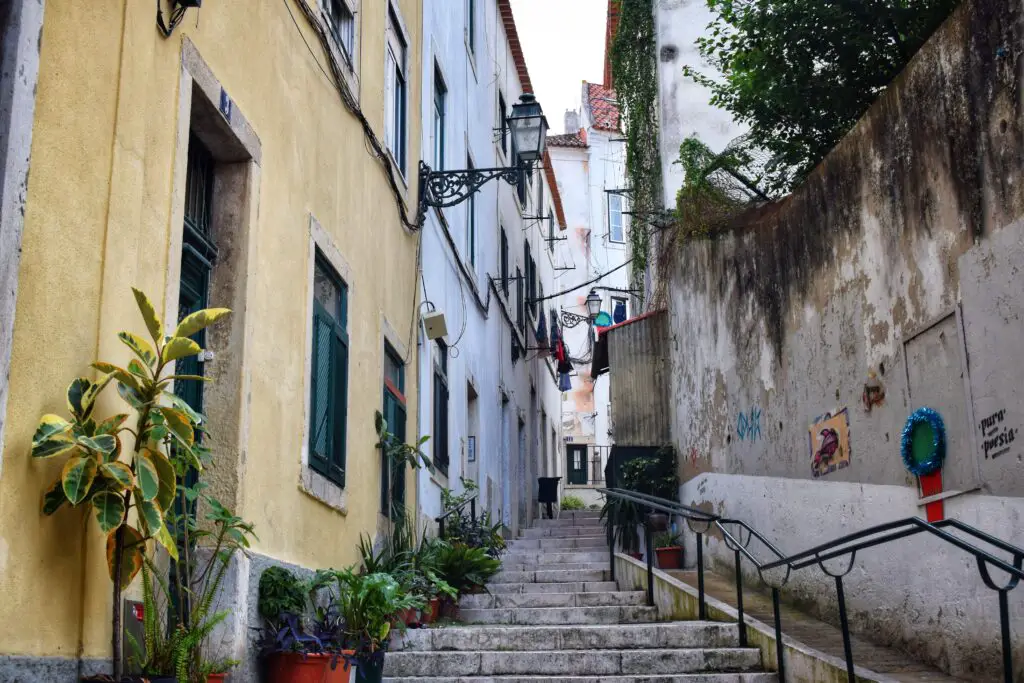 Lisbon Cathedral
This is one of Lisbon's most recognised religious buildings, and is located in the Alfama District. It's also a great place to go to get that iconic shot of Tram 28 snaking its way past with the cathedral in the background. It is free to enter the cathedral so it is worth exploring and it is also an opportunity to have some peaceful time to reflect in a chaotic city.
Listen to Fado
If you are in Alfama, then you should try and listen to some Fado as the area is renowned for it. What is Fado? Good question, it's a melancholy type of music genre which began in Lisbon around the 1820's, although there is debate to when it started as some insist is has been around longer
The music itself is expressive, and usually involves eating dinner whilst listening to the music. Below are some recommendations for where to listen to it.
Head to Miradouro de Santa Luzia for breathtaking views
Another place with breathtaking views is Miradouro de Santa Luzia. This stunning and romantic terrace is located by the church of Santa Luiza and is a fantastic place to relax particularly on a sunny day. This is another attraction in the Alfama District, which again is why Alfama is one of our favourite parts of Lisbon. The gardens create a kind of oasis feel, with views of Lisbon on one side and the gorgeous Portuguese style tiles on the other. You will find buskers and artists here which adds to the romantic atmosphere.
Portas Do Sol Viewpoint
Right at the top of hill you will find the Portas do sol viewpoint. Again this is a great place with some fantastic views over Lisbon. There are a number of bars and cafes around here too, which certainly adds to the charm. And what better way to admire the views than to sip Sangria in the sunshine.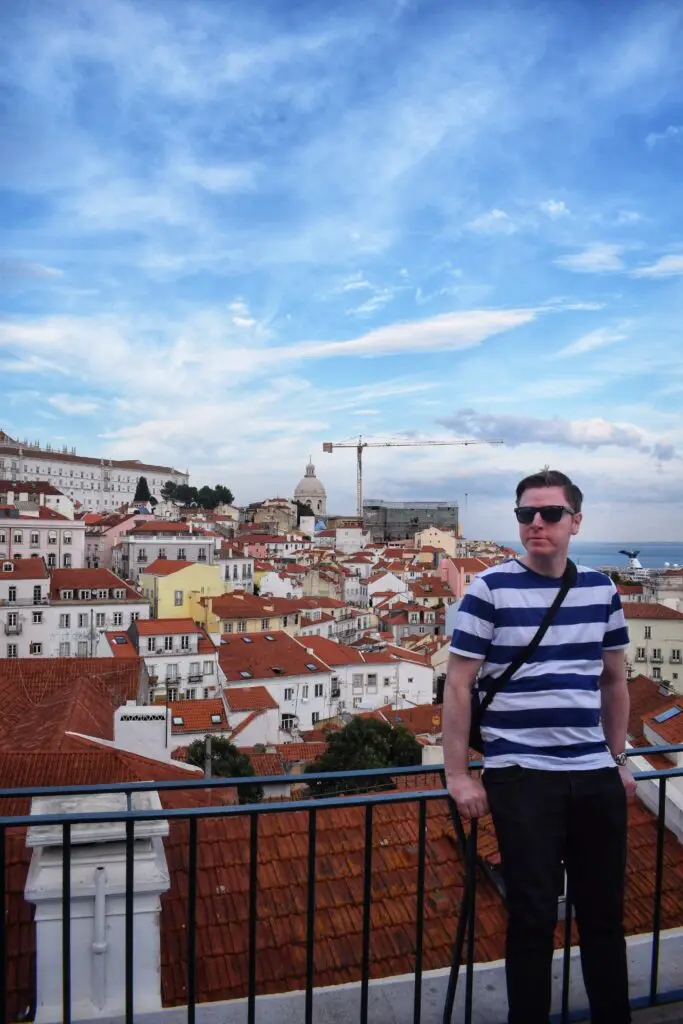 Lisbon Story Arch
One of the hidden gems of Alfama has to the be the Arch of Rua Norberto de Araujo. Here you will find a mural entitled Lisbon Story. This depicts the history of Lisbon in a kind of comical way. It is a little tricky to find, but once you do it is worth it.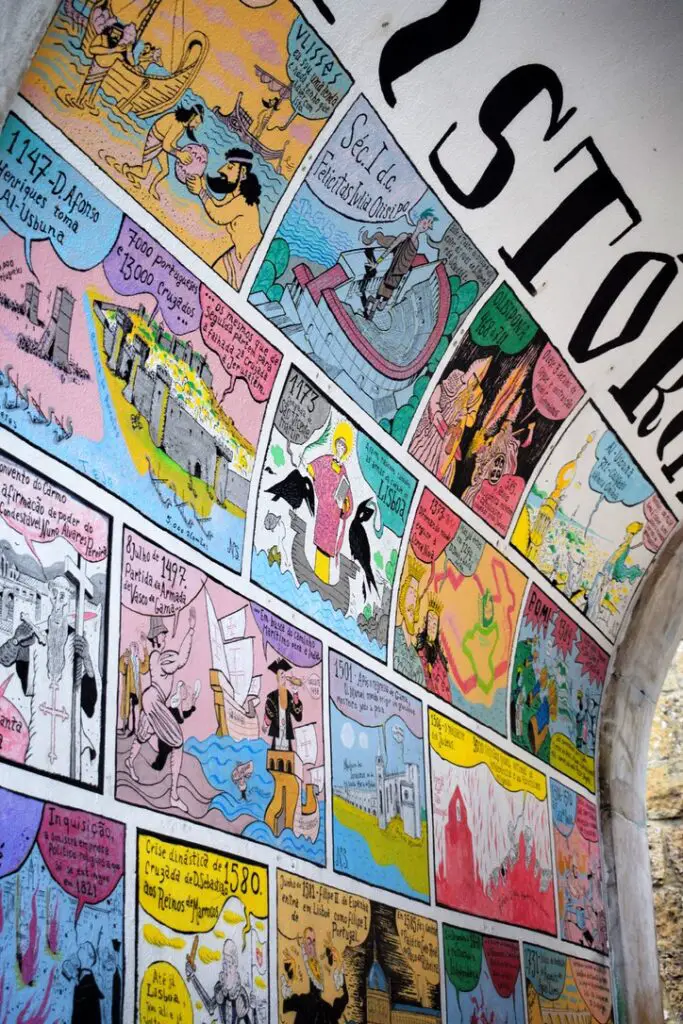 St George's Castle
St George's Castle is hard to miss as it stands tall above the Alfama District. The castle that you see today is actually a restored version as it collapsed in the 1755 earthquake. At one point it was also a royal residence, before the King decided to build a palace near the water. Views from the castle are incredible and almost worth the entrance fee alone. Entry to the castle will set you back about 10 Euros.
Praca do Comercio
No 3 days in Lisbon is complete without a visit to the Praca do Comercio. It is one of the main squares in Lisbon located right near the Tagus river. It also used to be where the Royal Ribeira Palace was located until it was destroyed in the earthquake of 1755. After this it was remodelled to resemble what you see today.
If you get the chance it is a great place to head before sunset. There is a section by the river where you get an amazing view of the Ponte 25 de Abril Lisbon's iconic suspension bridge. And if you time it right, you might also catch a glimpse of the sunrise in the background.
LX Factory
The LX Factory is pretty much a mecca for hip coffee shops, quirky stores, and some really funky outdoor bars. It is also home to Ler Devagar, of the most photogenic bookstores we have ever seen.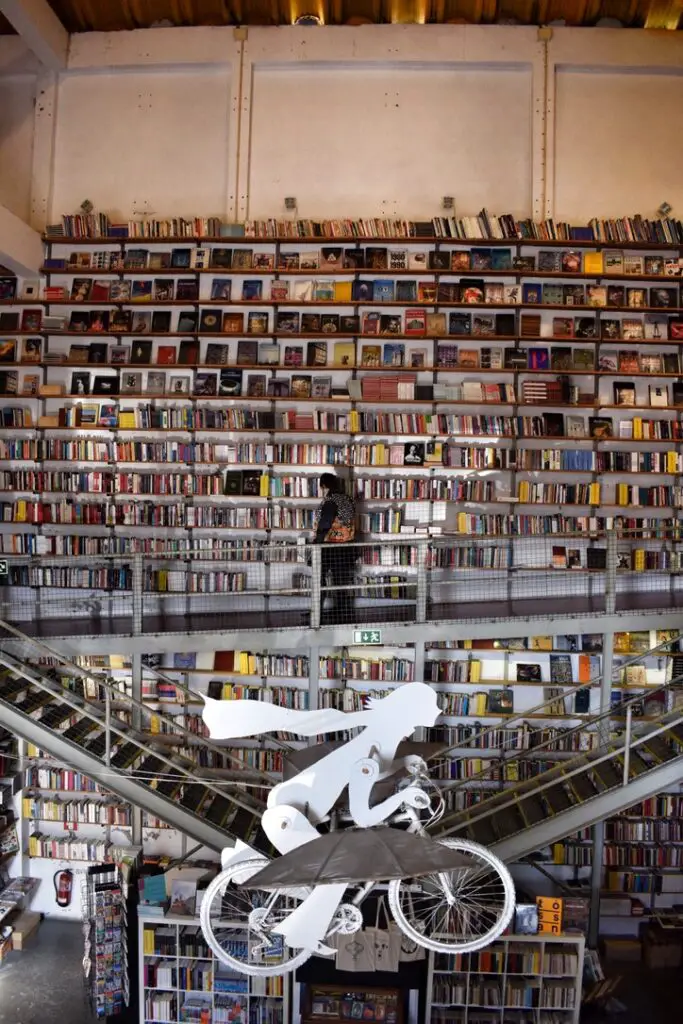 The Pink Street
In a place where Lisbon's seedy Red Light District once sat is now a street, so colourful it's like it was made for Instagram. Located on Rua Nova do Carvalho this bright pink wonder might look quiet and unassuming in the daylight, but in the evening is home to some of Lisbon's best nightlife.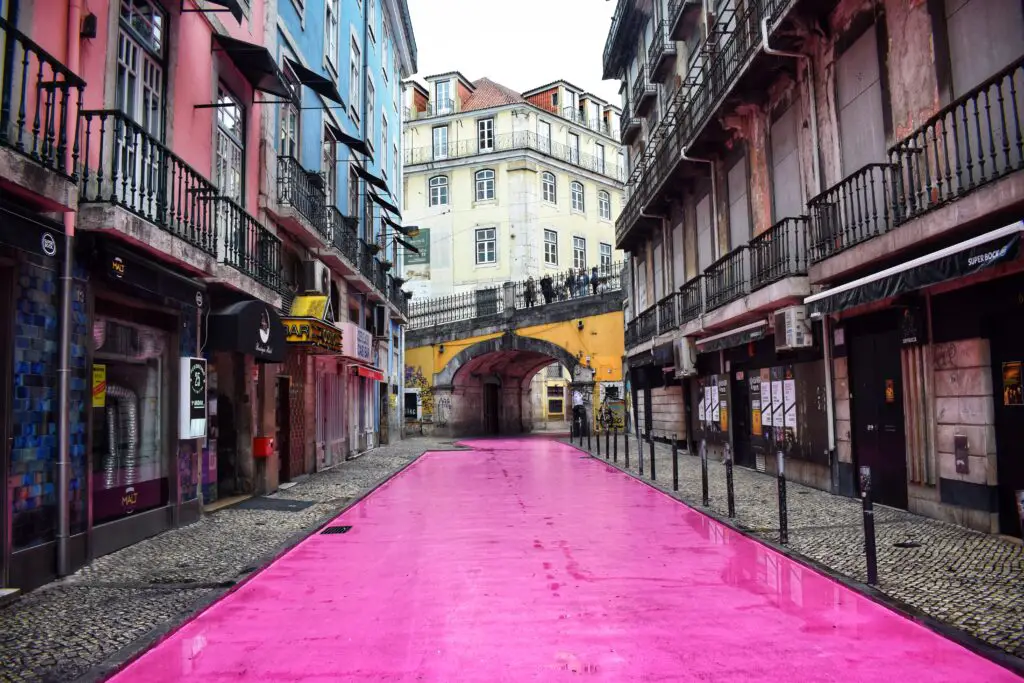 Santa Justa Lift
Located in Baixa the Santa Justa Lift, was originally designed the connect the lower streets of Baixa with Largo do Carmo. The design was created by Raul Mesnier de Ponsard who was a student of Gustave Eiffel. You know, the same Gustave Eiffel of the Eiffel Tower fame.
These days it is less about transportation and more about tourism, but that's ok. The views from the top and excellent. The only problem is lining up to get there.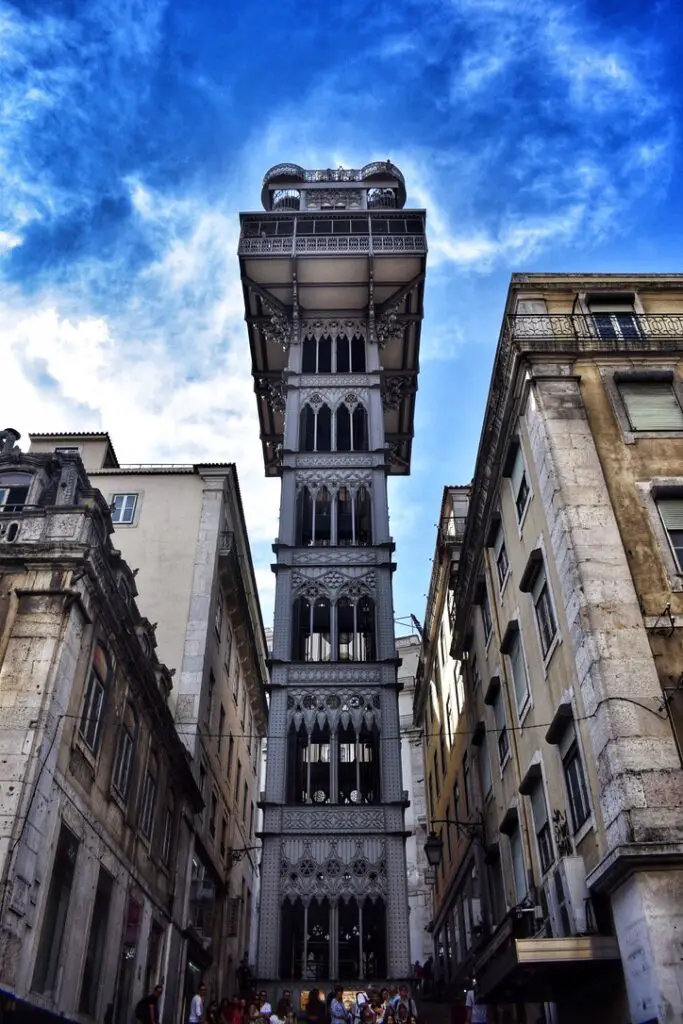 Elevador da Gloria & Elevador da Bica
The Elevador da Gloria and the Elevador da Bica are two of the funiculars located in Lisbon. Lisbon is actually built on 7 hills (although it feels like more sometimes), so the funiculars come in handy particularly in the heat. They are a must see for any 4 day Lisbon itinerary. As they ascend or descend you can take some really cool pictures as they pass the quirky graffiti clad streets.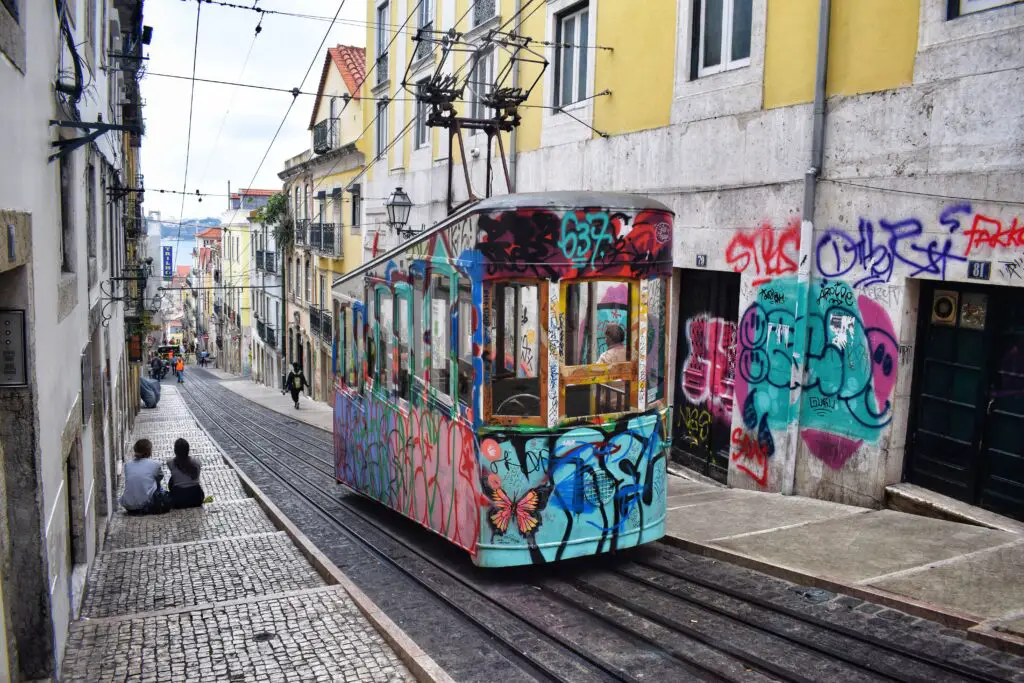 Carmo Convent Ruins
Spend even a short amount of time in Lisbon and you will learn that in 1755 Lisbon experienced one of the most deadly earthquakes in its history. The city was damaged and the Carmo Convent and Church was pretty much destroyed.
These days it is a tourist attraction, and serves as a reminder of what happened and the wrath of mother nature. The ruins are strangely calming though, and well worth a visit. If you find beauty in ruins, or just want to learn more about the history of Lisbon this is for you.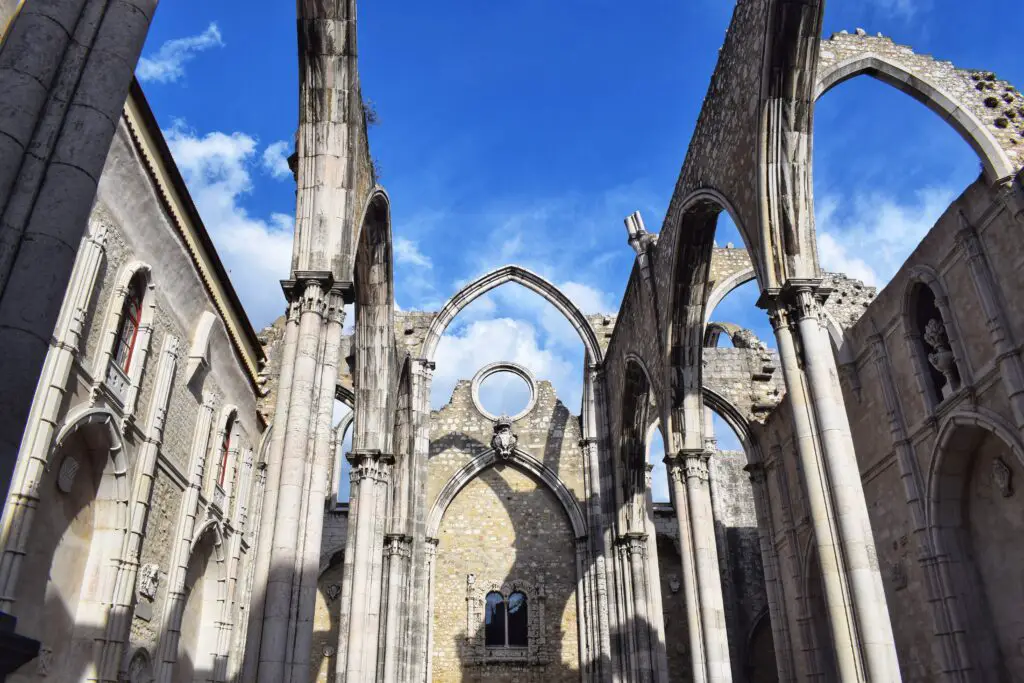 Tram 28
The most well known tram route in Lisbon happens to be on Tram 28. This is a must on your 4 day Lisbon itinerary. It does get busy with tourists but it is such a beautiful route taking you through the heart of Lisbon.
It used to be just for locals, but the secret got out. If you want to get on at the start of the route then you will need to make your way to Square Martim Moniz in Baixa. I will offer fair warning, the lines are big. We waited over an hour, but it was kind of worth it. In hindsight we should have got on either at the end of the line and gone back to Baixa, or got on at a different stop throughout the route.
If you purchase a 24 hour ticket for the public transport the tram should be covered in this price. You just need to swipe your ticket and hop on. Or in reality squish on!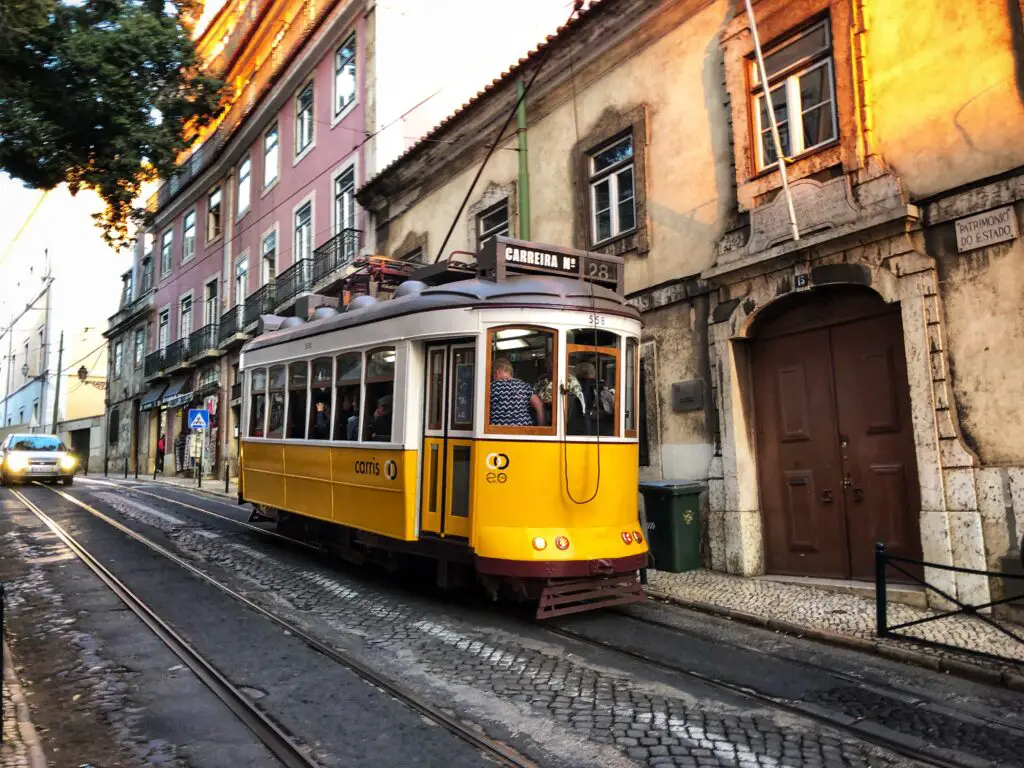 Jerónimos Monastery
If you are heading out to Belem then we highly reccommend visiting the Jeronimos Monastery. It used to be a monastery of the Order of St Jerome and is also a prime example of the Manueline style of architecture you can find throughout Lisbon. The queues here can be crazy so you might want to get in early to avoid the mad rush or at least purchase your tickets in advance. Alternatively you can purchase a ticket for the Belem Tower which includes entry to the Monastery which will mean you won't have to wait along with loads of other people for entry.
Belem Tower
One of the most beautiful sights in Lisbon has to be Belem Tower. Built in the early 16th century the tower was commissioned by King John II as part of a defence system at the start of the Tagus river. The tower consists of 4 floors and you can go inside and explore.
It's a great place to explore, and especially if you have 4 days in Lisbon, it is worth trekking out to Belem to see. If you have less time though, it might not be worth it. Belem is a quaint area to explore with lots of restaurants, bars, and museums.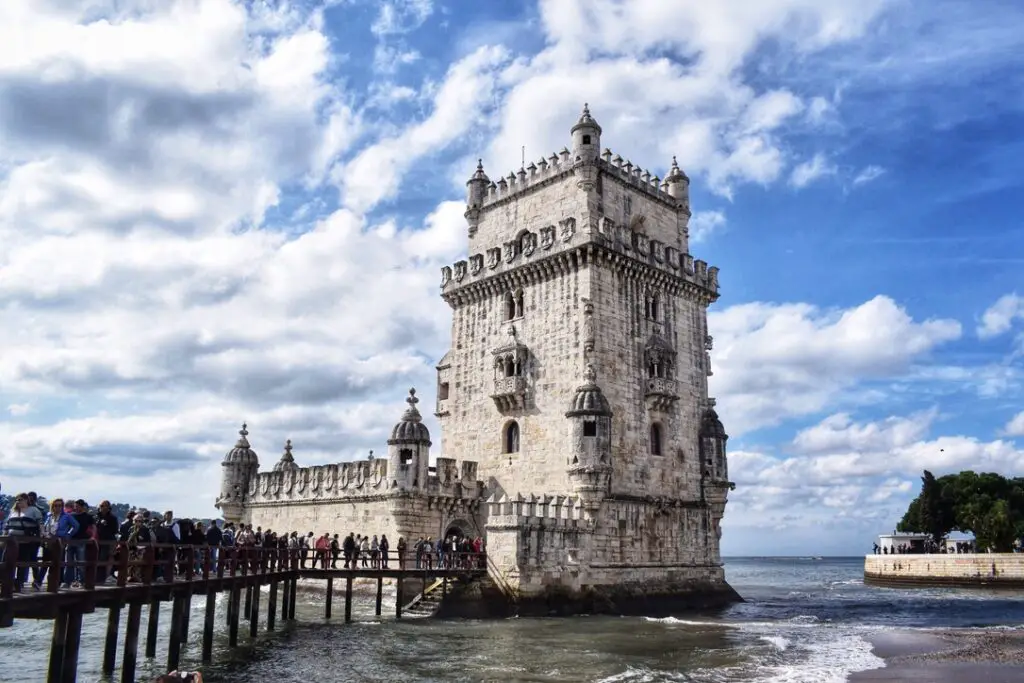 Do a river cruise
If you have the time we highly recommend doing a river cruise in Lisbon, so that you can see the city from a different angle. You can book various packages that include food and drink, or even sunset cruises.
Sample 4 day Lisbon itinerary
Here is our sample 4 day Lisbon itinerary to help you make the most of your trip.
Day 1
Start the day in Baixa and grab some breakfast in the area.
Visit some of the district highlights such as:
Praça do Comércio
Elevador de Santa Justa
Convento do Carmo
In the afternoon head to the Time Out Market for lunch and visit the Pink Street afterwards. Ride the Elevador da Bica, and enjoy some afternoon drinks in the Bairro Alto area.
Day 2
Start your day exploring Belem, and visit the Jeronimos Monastery. Afterwards go for some coffee and pastéis at Pastéis de Belém. After walk towards Belem Tower. When you have finished visiting, make your way to the LX Factory for a late lunch and some drinks.
Head towards Elevador de Gloria, and ride the funicular. The visit St George's castle towards sunset. Head to Chiado for some Fado.
Day 3
Start the day with a ride on tram 28 do the full route and then come back and get off at Lisbon Cathedral.
Spend the rest of the day exploring Alfama, and make sure you enjoy some sunset drinks too.
Day 4
Day 4 of your 4 day Lisbon itinerary is the perfect time to either go back and explore the bits of Lisbon you have missed, or want to delve into a bit more. Or you could do a day trip to Sintra which we definitely recommend.
Romantic things to add to your 4 day Lisbon itinerary
If you are travelling to Lisbon with your significant other, then here are some more romantic things you can add to your 4 day Lisbon itinerary.
Drink Cocktails at sunset
If you are looking to inject a little romance into your 4 day Lisbon itinerary, then we recommend visiting the Memmo Alfama for cocktails. It is a hotel with a bar that overlooks the red tiled roofs of the Alfama District. Non guests are allowed to visit, but cannot use the pool. There are also specific tables reserved for guests. It really is worth the visit. It is so beautiful and romantic sitting here sipping cocktails watching the sun set over Lisbon.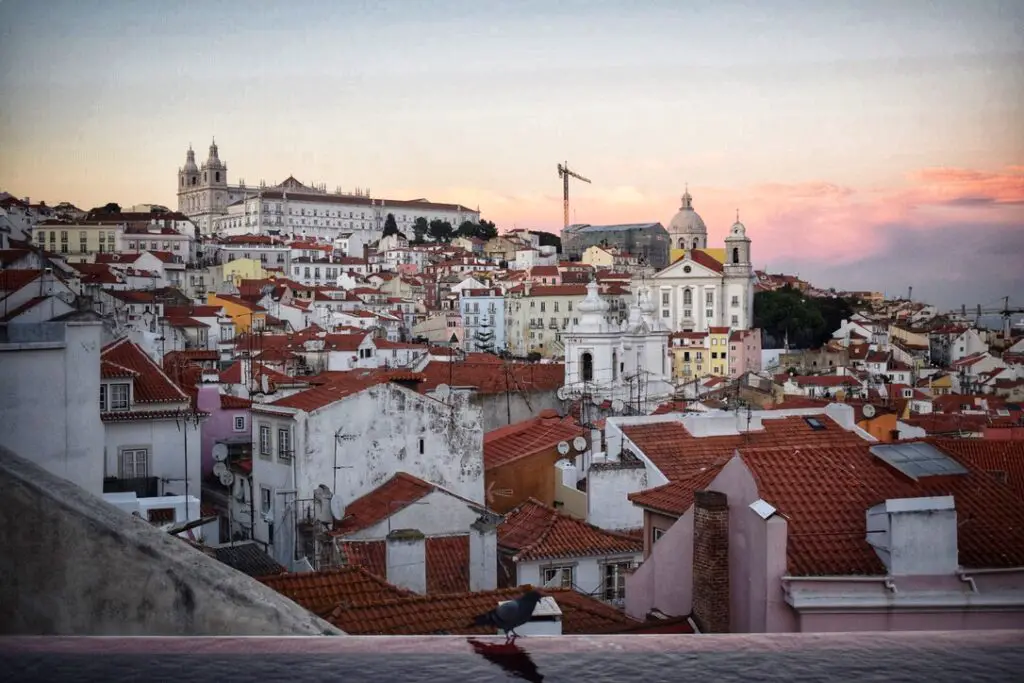 Do a sunset cruise
A sunset cruise on the River Tagus is perfect if you want to add something romantic to your 4 days in Lisbon. There are a number of different options you can choose from and we have listed a few below.
Eating and drinking during your 4 days in Lisbon
Lisbon is a real foodie city, which honestly we weren't expecting but were pleasantly surprised about. I don't think Portuguese food gets enough hype. I mean Spanish or Italian food we know about, but Portuguese not so much. Here are some of the best places we ate during our 4 days in Lisbon that we think you should try.
Time Out Market
The Time Out Market is a real culinary treat in Lisbon. And it is somewhere we highly encourage you to go as part of your 4 day Lisbon itinerary.
Here you will find a variety of often Michelin star vendors, serving traditional Portuguese food and everything in between. The Time Out Market in Lisbon is a fairly new concept, only opening in 2014. The idea was to create a food hall with some of Lisbon's top chefs serving everything from sardines, to noodles, and even fresh seafood.
It does get pretty busy but is definitely worth a visit, particularly if you consider yourself a bit of a foodie. So grab yourself a table, and then get ordering!
Pasteis de Belem
The most incredible custard tarts you have ever tasted can be found right here at the Pasteis de Belem. Before we visited we genuinely though, can a custard tart really taste that good. And the answer is yes. I don't even know how quite to put into words how incredible they are.
The queues are pretty long to get in here, especially for a takeaway coffee and Pasteis. But honestly it is worth it. As soon as you bite into one of the perfectly crispy, gooey custard tarts you will be hooked.
Valenciana
Dave and I watch a lot of travel shows. And one of our favourites presenters has to be Rick Stein who is a chef who visits these amazing European locations and eats the best food on offer. One of the restaurants he visited in one of his shows was Valenciana. It's a kind of Mediterranean BBQ place, serving up some incredible Peri Peri chicken among other things.
Peri Peri isn't huge in Lisbon, and actually the chillis themselves originated in Africa, but if you have been to a Nandos you will probably associate Peri Peri with Portugal. So if you want to try some peri peri chicken this is your go to place. It was so much better than we could have ever imagined.
We ordered some Peri Peri chicken with chips and rice, and not only was it cheap, but it was delicious. The restaurant is a bit out of the way from the usual tourist bits of Lisbon, but is so worth a visit.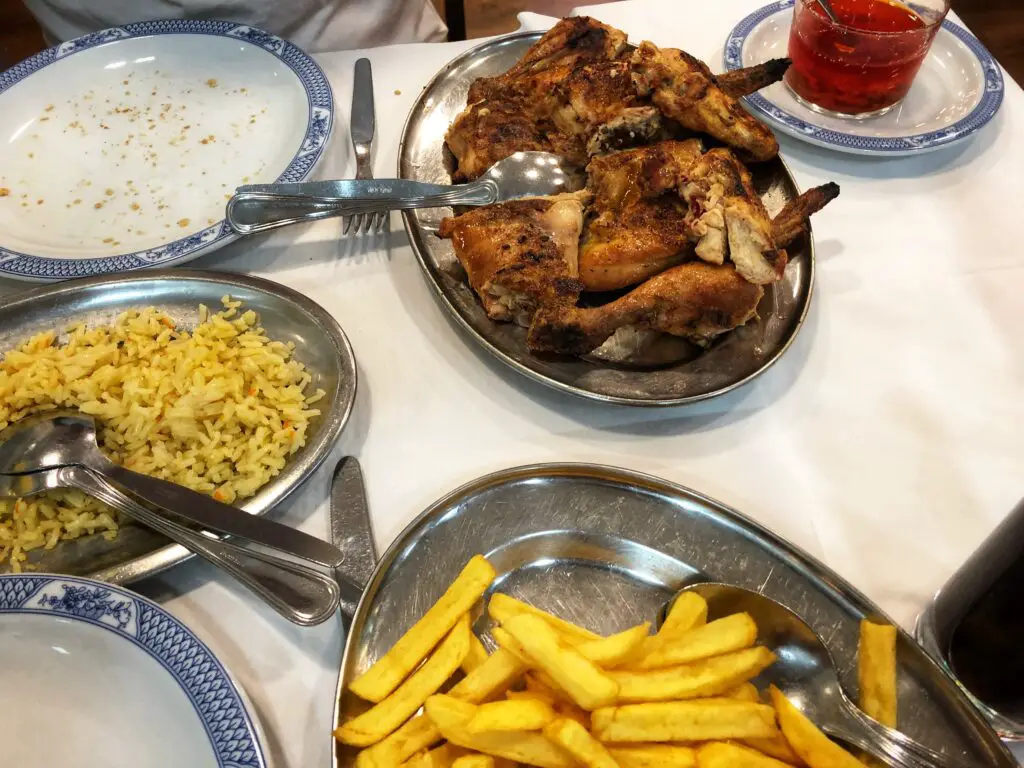 Must eat food during your 4 days in Lisbon
If you are like us and trying new foods is something that you look forward to when you go on holiday, then this part of our 4 days in Lisbon guide is for you. Here are some of the must eat foods to try in Lisbon.
Sardines
Sardines in Lisbon are a big deal. It seems like every restaurant in the city has a dish including the oily fish delicacy in some form. In fact Sardines are so important in Lisbon there is even a festival in their honour. Well kind of. The festival is to honour St Anthony who is the patron saint of Lisbon. He would often preach to the people of Rimini, in Italy.
It was said that the people ignored him but the sardines came to the shoreline to listen to him. During the festival you will find grilled sardines served on a small slice of bread. At other times of the year you will find variations of the dish, like the ones we discovered at the Time Out Market which was a bruschetta like sardine dish.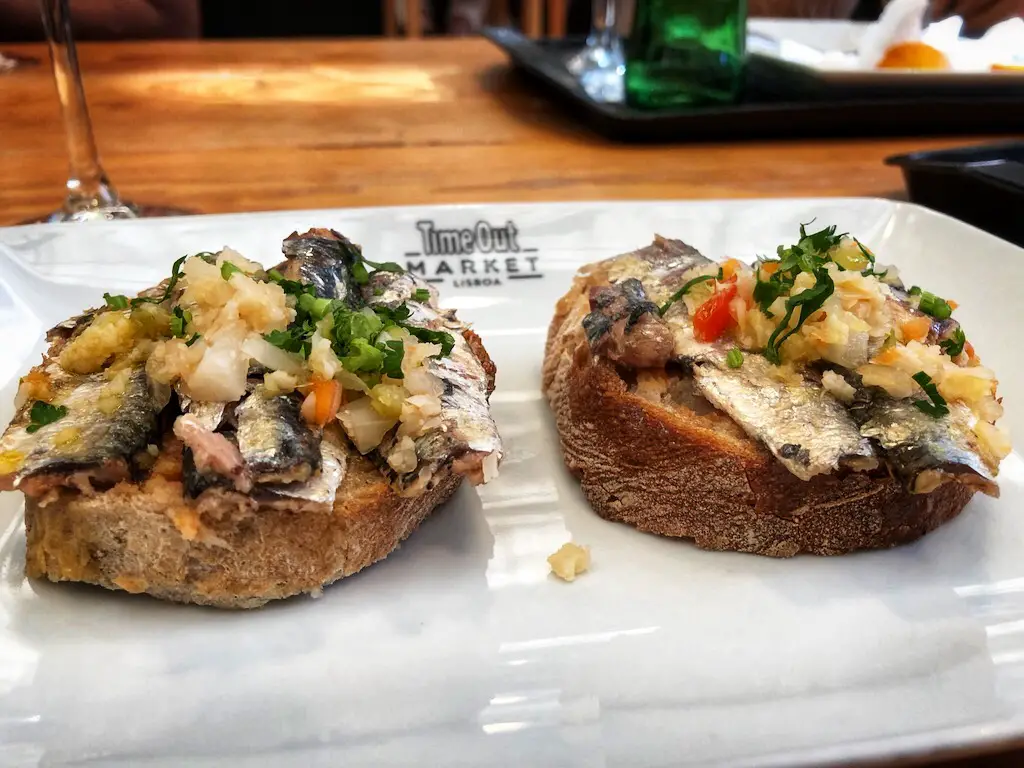 Peixinhos da Horta
So before arriving in Lisbon we didn't realise that tempura was actually invented in Portugal and not Japan. Tempura vegetables are another big deal in Lisbon especially green beans. Peixinhos da Horta which is a dish consisting of green beans and tempura is a centuries old dish and was said to have been made initially on Portuguese ships to keep the vegetables from going bad. These days you can find it on the menu at several traditional Portuguese restaurants. The ones we had, had quite a thick batter, but apparently it is supposed to be a lot lighter.
Salted Cod
Ok I will admit that this wasn't my favourite dish in Lisbon but still worth a try. The simplicity and versatility of the fish means that you find it in several dishes in Lisbon. In fact it has been said there are over 356 ways to prepare a salted cod dish, which means you could have something different every day of the year. 
Basically there is no way you can get through your 4 day Lisbon itinerary without coming into contact with some salted cod. The classic way to prepare it is with a salted cod fillet served with potatoes. Salted cod is made by dousing the cod is copious amounts of salt, it is then dried. In order to eat it you need to soak it in water for at least a day to reduce the salt levels.
Just a warning don't order this dish expecting it to taste like your typical fish and potatoes. The salted cod has a distinct flavour and is a little harsher then the usually sweet tasting cod fillets. 
Bacalhau à Brás
Bacalhau à Brás is said to have originated from the Bairro Alto district of Lisbon. It is a dish that includes shredded codfish, thinly cut potatoes, onions, and parsley and is held together with scrambled egg. Out of all the salted cod dishes we tried this was actually my favourite.
The thinly cut potatoes add an element of crunch to the dish, and whilst the salted cod is the main flavour in the dish, I really liked the texture of the egg as a binding agent. Whilst the salted cod and potatoes wasn't anything to write home about in my opinion, the Bacalhau à Brás certainly made me realise why the Portuguese are so into their codfish.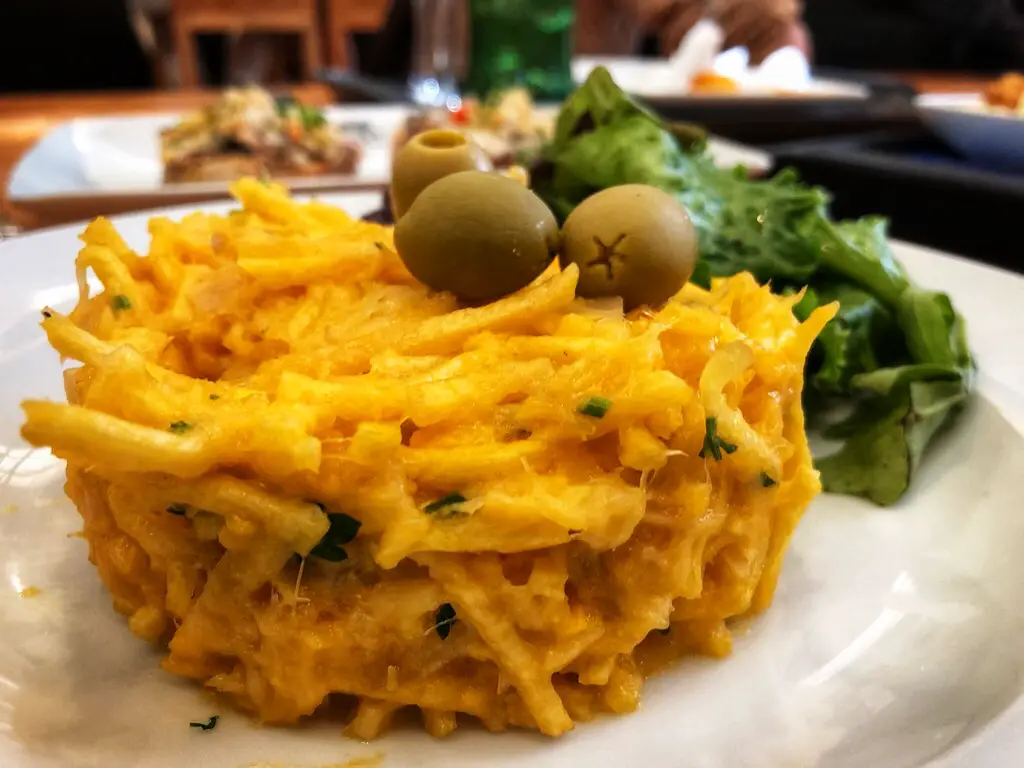 Ginjinha
In terms of drinking, no 3 days in Lisbon are complete unless you have tried Ginjinha a Portuguese liqueur made from sour cherry. It comes in a shot glass or if you want to be even classier a chocolate shot glass. Make sure you sip it, and do beware it is pretty potent even though it doesn't taste like it.
If you are looking to do some food tours during your 4 days in Lisbon here are some that we recommend, from making your own to walking food tours.
How to get around during your 4 days in Lisbon
Public transport is really convenient and easy to use in Lisbon. Now you will need to purchase a Viva Viagem card, for 0.50 cents. Once you have this, you top up the card with your transport fare. The easiest thing to do is get a 24 hour ticket. This will cover buses, trains, and trams (including the 28) for little over €10 per person. We topped our card up at the nearby metro station each day.
Alternatively you can buy tickets on board the buses, trams, or funiculars in the city. Just be mindful that this will be a little more expensive then if you were to use your Viva Viagem card. Here are the transport options in a bit more detail.
Metro
There are 4 metro lines in Lisbon identifiable by their different colours (Blue, Yellow, Green and Red). The metro is frequent and convenient running between 6.30am and 1am daily.
Trams
There are 6 tram lines in Lisbon including the very popular Tram 28. The trams are operated by Carris and take you across the city. We actually didn't end up using the trams all that much except to get to Belem and of course to do Tram 28.
Funicular & Lift
They may look touristy but the funiculars and the vertical lift in Lisbon are all genuine modes of transport. They are ideal to help you ascend some of Lisbon's steepest streets.
Bus
We ended up getting the bus quite a bit in Lisbon, as they tend to go to areas not accessible by tram or metro. They operate between 5am to 11pm, and the easiest way to work out where you are going and where to get off is to follow your route on Google Maps.
Public transport in Lisbon can get really busy especially during peak hours. Don't be surprised if you are crammed into a tram or a bus at some point.
The other option for getting around is to do a hop on hop off city tour. Obviously you won't be using this as your transport for your full 4 days in Lisbon, but for one of the days at least they are always a good option.
Budgeting for 4 days in Lisbon
You might be wondering how much money you will need as part of your 4 day Lisbon itinerary. Obviously that answer is related to the things you want to do and see, but the good news is, Lisbon is a relatively cheap place for tourists. Obviously you can spend a lot of money if you wish to, but you can also save a lot of money too.
We budgeted for a mid-range trip, where we saw a lot of attractions, had some decent sit down meals, and a few drinks in the evening. In total we probably spent an average of €100 per person per day. This is without including accommodation.
You can do things way cheaper though. For example instead of eating at restaurants visit bakeries and food markets. You can also limit the number of tourist attractions you visit as well.
To give you a bit of perspective on how much things cost, a standard meal for 2 with wine will likely cost under €35 (obviously depending on where you eat). Tourist attractions are also relatively cheap, and you shouldn't spend more than €30 a day on these.
When it comes to paying for things, most places will accept card in Lisbon, but we recommend having a bit of cash as some of the smaller or more obscure bars/restaurants may only accept cash.
Best time of the year to plan your Lisbon itinerary
Lisbon is an attractive destination all year round. It's warm weather, and sunshine, make it an ideal place to visit.
Visiting Lisbon in summer
Unsurprisingly the summer months of June, July, and August, are incredibly popular in Lisbon. But something to keep in mind is that it gets incredibly hot. You are looking at temperatures well into the 30s (Celsius), and with all those hills it can be a little draining.
Summer is also peak travel season, with August especially being a busy month. With that in mind prices for flights and accommodation does tend to increase, so you need to book well in advance.
Visiting Lisbon in winter
We wouldn't recommend visiting Lisbon in the winter months, not unless you are prepared for cooler weather and less daylight hours. A lot of people assume that winter in Lisbon is still really warm, which maybe it is compared to other European cities, but honestly it can be very rainy and cool.
Temperatures range from 8 degrees Celsius to around 15. You won't get your al fresco dining, and beach days like you would in the summer months.
Visiting Lisbon during the shoulder months
If you are going to spend 4 days in Lisbon, then we recommend visiting during the shoulder months. We ended up visiting in October, and it was pretty much perfect for us. The temperatures were mild at around 23-26 degrees Celsius. There was a good amount of sunshine, and a lot of outdoor dining too. The city is still busy but nothing compared to August.
March-May are also good times to visit due to the milder temperatures, and lower number of tourists. You still get the odd beach day, and can definitely sit outside sipping beers in the sun. So it's win win.
Is 4 days in Lisbon enough?
You might be wondering if 4 days in Lisbon is enough. Lisbon is truly one of those cities you could spend weeks exploring. There are so many magical streets, coffee shops, and bars to explore, and sometimes it feels like 4 days in Lisbon just isn't enough.
That being said, if you want to see the main attractions in the city, eat some delicious food, and immerse yourself in the culture then 4 days is a decent amount of time. It also gives you time to explore Sintra if you want, or you can stay an extra day!
If you have less time here is our 1 day Lisbon guide.
What to pack for 4 days in Lisbon
What you pack as part of your 4 days in Lisbon will largely depend on the time of year that you are visiting. Apart from your usual travel items here are some suggestions though for things that we think you should bring with you on your trip.
Comfy walking shoes
Sunglasses, hat, sunscreen – basically anything to protect you from the heat particularly in the summer
In the colder months or shoulder try to layer up, as even if the days are warm the evenings can get chilly
Rainjacket particularly if you are visiting in the winter months
Swimwear
Reusable water bottle – again the heat and hills make for thirsty work!
Tips for planning your 4 day Lisbon itinerary
Hopefully this article has persuaded you to pack your things and plan your own 4 day Lisbon itinerary. Here are some final tips from us on things you should know before you go.
Book your tours in advance, especially in peak season.
Book accommodation well in advance too, we booked last minute and struggled to find cheap accommodation close to all the action.
Also do your research when eating in Lisbon. The food is amazing but try to avoid the tourist traps.
Do a Fado tour – trust us!
Be wary of pickpockets, Lisbon is generally safe, but pickpocketing does happen so be mindful especially in super touristy areas.
More than 4 days in Lisbon
If you have more than 4 days in Lisbon, or if this isn't your first trip to the city, and you are looking to mix things up, you have several day trip options. Here are some of the more popular.
Cascais
Another popular day trip destination is Cascais which is a resort town on the Lisbon coastline. It is a popular holiday destination particularly in the summer and again can be easily reached by train.
Palmela
The highlight in Palmela has to be the castle. From here you get some sweeping views of the town. It is easy to plan a day trip from Lisbon as there is a direct bus that can take you straight there.
Sintra
One of the most popular day trips from Lisbon has to be Sintra, a picturesque town about 25 kms away from Lisbon. You can easily get here by train, but just make sure you bring your walking shoes as there is so much to see and do here. Because this is such a popular trip we have decided to include a Sintra itinerary just in case you did want to visit, so read on for more information.
Sintra day trip itinerary
Even if you only have 4 days in Lisbon, we recommend a day trip trip to Sintra. It's a fairytale town that is about a 40 minute train ride away from Lisbon. You can also get yourself booked on a day tour like one of the ones below.
If you are visiting Sintra on your own and not part of a tour group then the best way to get around when you arrive is via hop on hop off bus.
Sintra Highlights
There are a lot of things to see in Sintra, but realistically if you are on a day trip as part of a 4 day Lisbon itinerary, there is no way you can see everything. We did a day trip, and managed to fit in 3 key attractions in Sintra, which was lot but managable. Our advice for visiting is to pick 2 or 3 main things you want to see. Work out what route the hop on hop off bus is travelling, and then plan to see each attraction along the way.
Palácio Nacional da Pena
For the quintessential Sintra experience you need to visit, the Palácio Nacional da Pena. The vibrant colours and intricate detailed architecture make you feel like you have walked into a Disney film. I mean if a Disney film included a bunch of tourists and Instagram influencers.
The palace was commissioned in 1842 by King Ferdinand II who wanted it to be reflective of a scene from an opera. The result was the grandiose palace we see today. It's very popular with tourists as I'm sure you can see in the photo below. Our advice is to save time by purchasing your tickets online in advance. These also include a skip the queue option.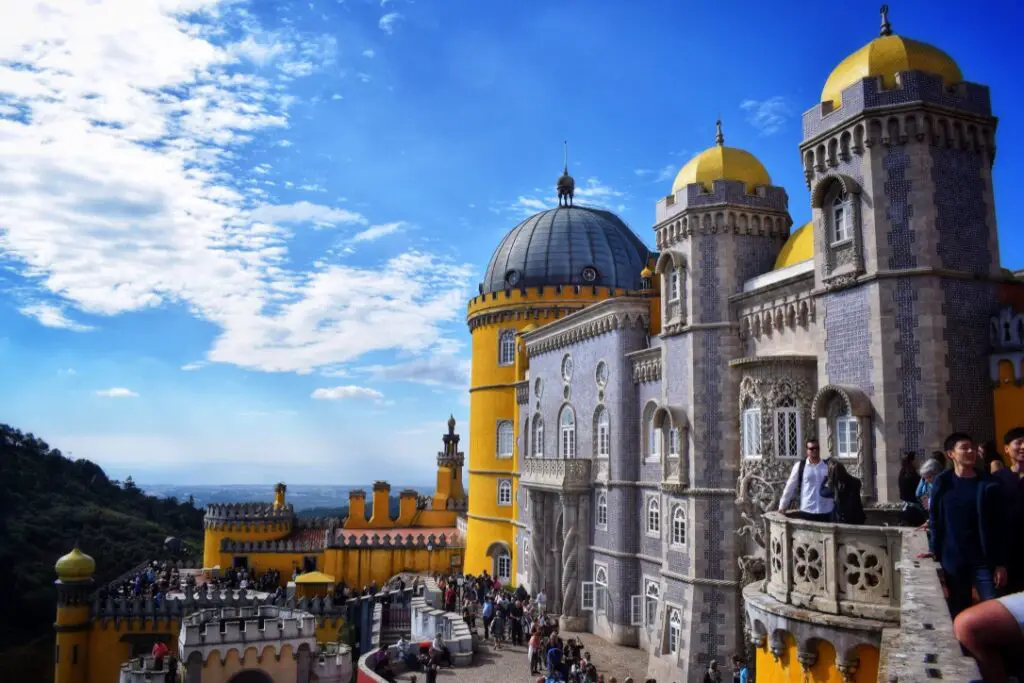 The National Palace of Sintra
Another popular attraction in Sintra is the National Palace, which is currently a historic museum. It is one of the best-preserved royal palaces in Portugal and apparently one of the most loved among Portuguese nobility. You will recognise it from the two chimneys rising out from the top that have become part of the iconic landscape in Sintra. Doors open at 9.30 am and last entry is 6.30 pm. Tickets cost around €10, and it takes about 40 minutes to explore the full museum.
The Quinta da Regaleira
This was on of our favourites on our trip. The Quinta da Regaleira, is a Gothic style grand house and estate. The house was built in 1904 by Carvalho Monteiro, a well to do Portuguese businessman. After being owned by various people it was only in 1997 that the local government reclaimed it as a national monument and opened it to the public a year later. The house itself in incredible, but one of our highlights was the well that we came across when exploring the gardens.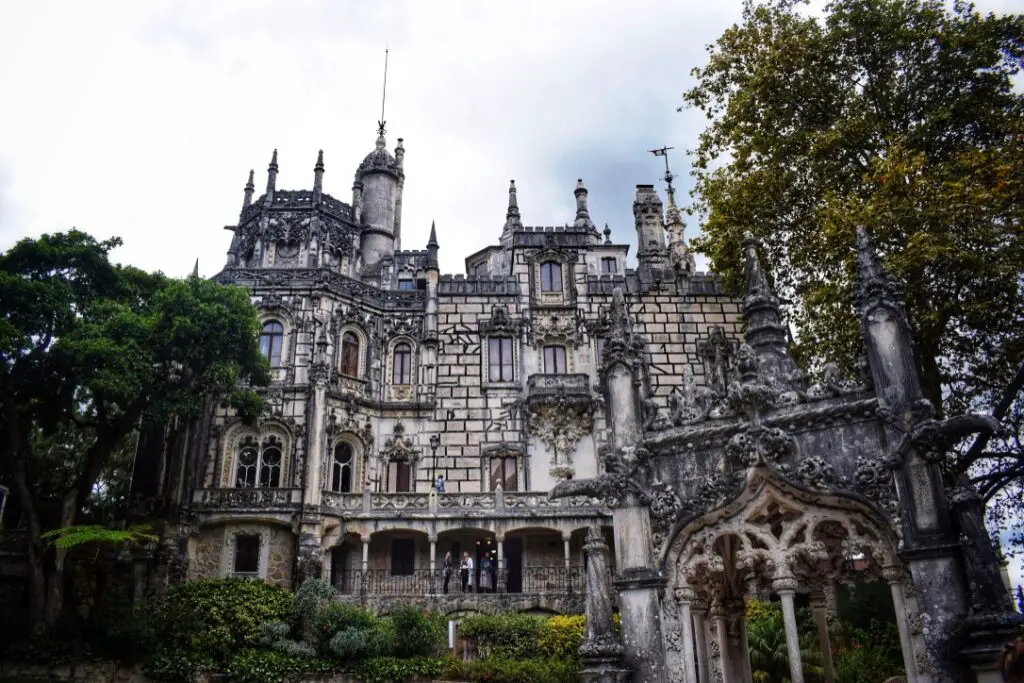 Moorish Castle
For something a bit different, that doesn't involve grand houses, Moorish Castle or The Castelo dos Mouros is a good option.The castle ruins are set in the middle of an exquisite forest and the views from the top of the ruins are absolutely incredible. The castle was built in the 9th Century as a way to guard Sintra but it later fell into ruin.  In the 19th century King Ferdinand II turned it into a picturesque ruin that forms part of the gardens of the Pena Palace.
You can purchase your tickets online in advance to save you queuing on the day.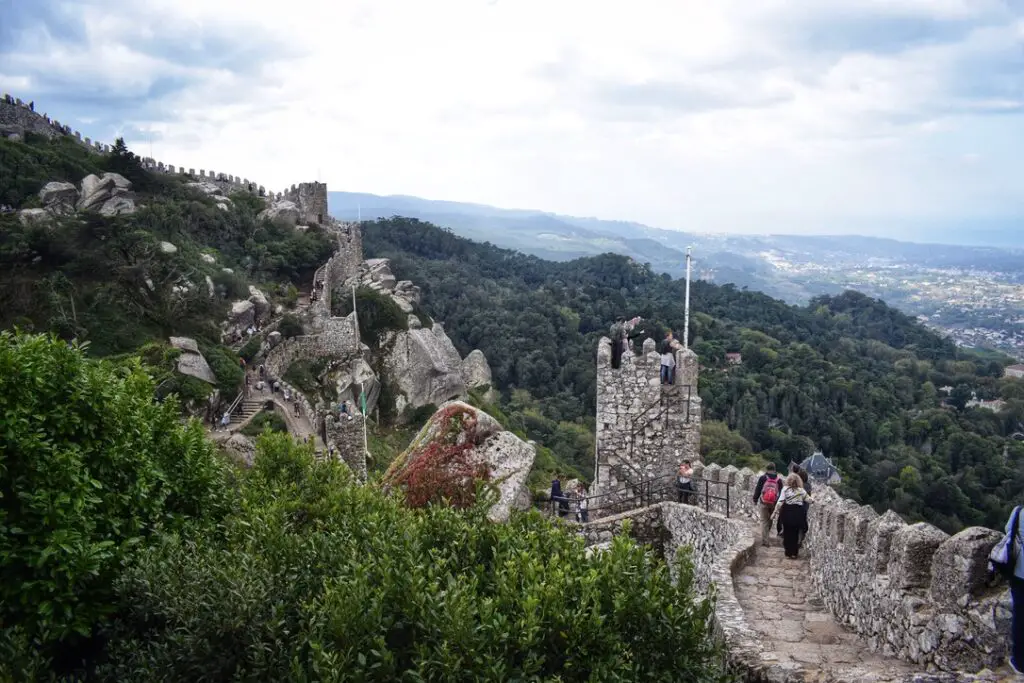 Monserrate Palace
The Monserrate Palace is located around 3.5km from Sintra's historic centre and so it is easy to overlook this hidden gem. The design is a mix of Arabic, Gothic, and Indian and these styles combined make it one of the most stunning mansions in Sintra. The gardens are also incredible to explore. Entry is €8.
Sintra Historic Centre
Don't forget to explore the historic centre in Sintra. It has cobbled streets, charming cafes, and our highlight, a lot of places selling little cups of Ginjinha.
As part of our time in Sintra, we only managed to explore the Palácio Nacional da Pena, Moorish Castle, and Quinta da Regaleira. We also made time to walk around the historic centre.
Should I spend 4 days in Lisbon?
If you are on the fence about planning your own 4 day Lisbon itinerary, then take this as your sign to go. Lisbon is incredible. Not only is is beautiful, but it boasts glorious weather, incredible food, and it's relatively cheap too. And if they aren't enough reasons to convince you to spend 4 days in Lisbon the fact that the nightlife is out of this world, and the sunsets in Lisbon are just magical will hopefully help persuade you.
We hope that you have found this 4 day Lisbon itinerary useful. And if so make sure you pin this guide for later so that you can look back. Happy travels!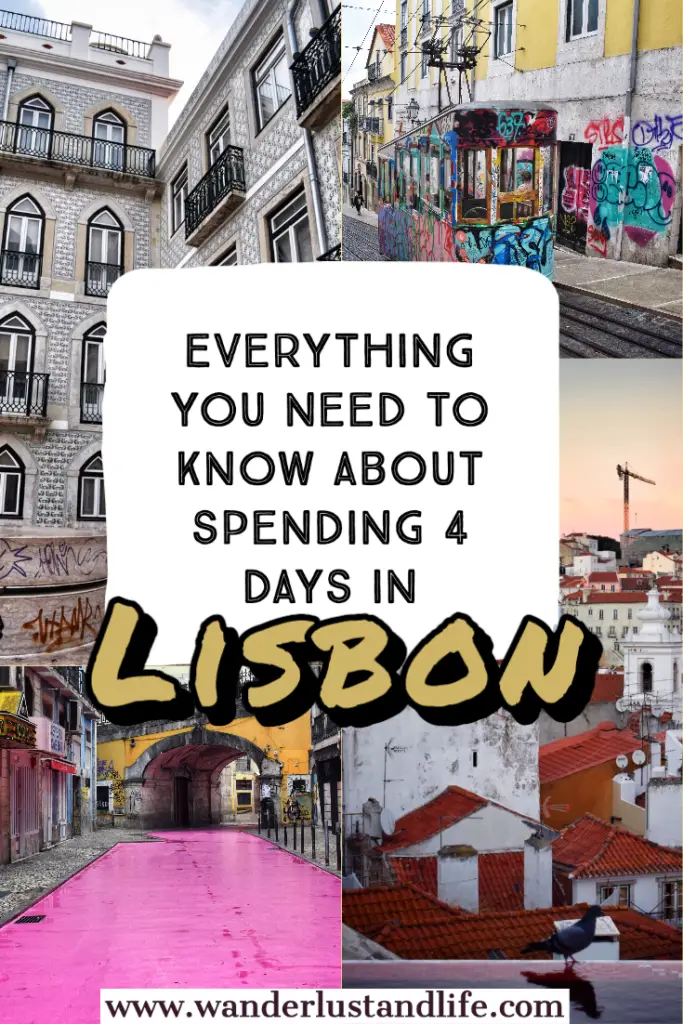 If you love Europe you might find these posts helpful