If you are looking to explore one of the UK's most beautiful villages, then Robin Hood's Bay is a must. Located on the North Yorkshire coast this village is known not only for its picturesque setting, but its history as a smugglers cove. In this article we help you plan the best Robin Hood's Bay day trip with tips on getting there, as well as what to do when you arrive.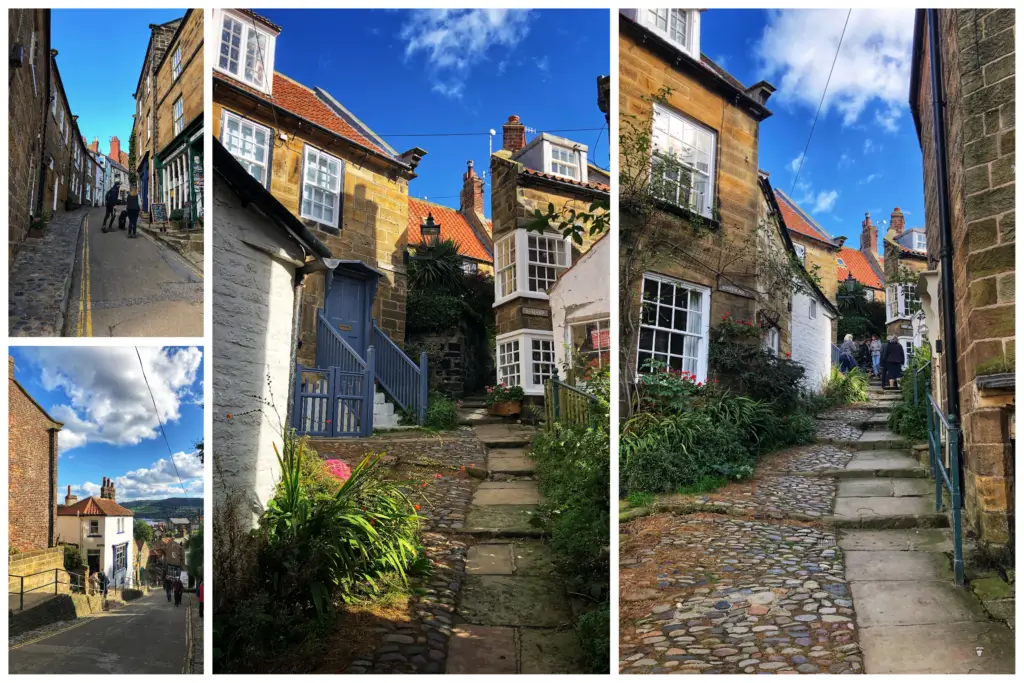 When to plan your Robin Hood's Bay day trip
The best time of year to plan your Robin Hood's Bay day trip is in the summer. The weather obviously tends to be a lot warmer and the days are brighter longer. We recommend avoiding August though as this is peak school holiday season and you will find it very crowded.
Don't completely discount the cooler months though, as bad weather can make the village feel cosier. There is something really nice about huddling in a warm pub next to a fireplace as the wind howls outside. There are also a lot less tourists, which is another bonus.
How to get to Robin Hood's Bay
The easiest way to begin your Robin Hood's Bay day trip is to drive. You are looking at about 2.5 hours drive from Manchester to Robin Hood's Bay, or just over an hour from York. Alternatively if you are based in Whitby it is only a 15 minute drive to Robin Hood's Bay.
If you are relying on public transport you are best off getting to Whitby either by bus or train, and then getting the X94 bus from here over to Robin Hood's Bay.
Parking during your Robin Hood's Bay day trip
If you are planning to drive on your Robin Hood's Bay day trip then you will need to know where to park. There are two public carparks in Robin Hood's Bay, both of which are located before the steep hill that takes you down to the bay.
Things to do in Robin Hood's Bay
Robin Hood's Bay isn't huge, so a day trip is probably a good amount of time to see everything. Here are our top suggestions on things to do on your Robin Hood's Bay day trip.
Eat some seafood
A Robin Hood's Bay day trip is not complete without snacking on some quality fish and chips, especially considering its history as a fishing village. One of the first things we wanted to do when we visited was grab some fish, scampi, and chips. Luckily at the top of the steep hill leading down to the bay we stumbled upon Fish Box. It's a takeaway style fish and chip restaurant, and you can eat outside, which we recommend you do because the views are incredible.
Chill out at one of the traditional pubs
Robin Hood's Bay has some really nice traditional English pubs, which are perfect for a pint and some grub. Some of the pubs here date back to at least the 18th Century when smuggling was rife, and things like silk and tea would be smuggled into the country to avoid paying high taxes. A lot of the pubs and inns in Robin Hood's Bay played a big part in smuggling these goods as items were passed through them and out of the village without ever being seen.
Have some afternoon tea overlooking the water
Eating is a big thing in Robin Hood's Bay, and we pretty much ate our way through the village. Whilst we were exploring the streets we came across The Cove, which is a cafe serving tea and scones among other things. It is a nice place to go for some afternoon tea with a view.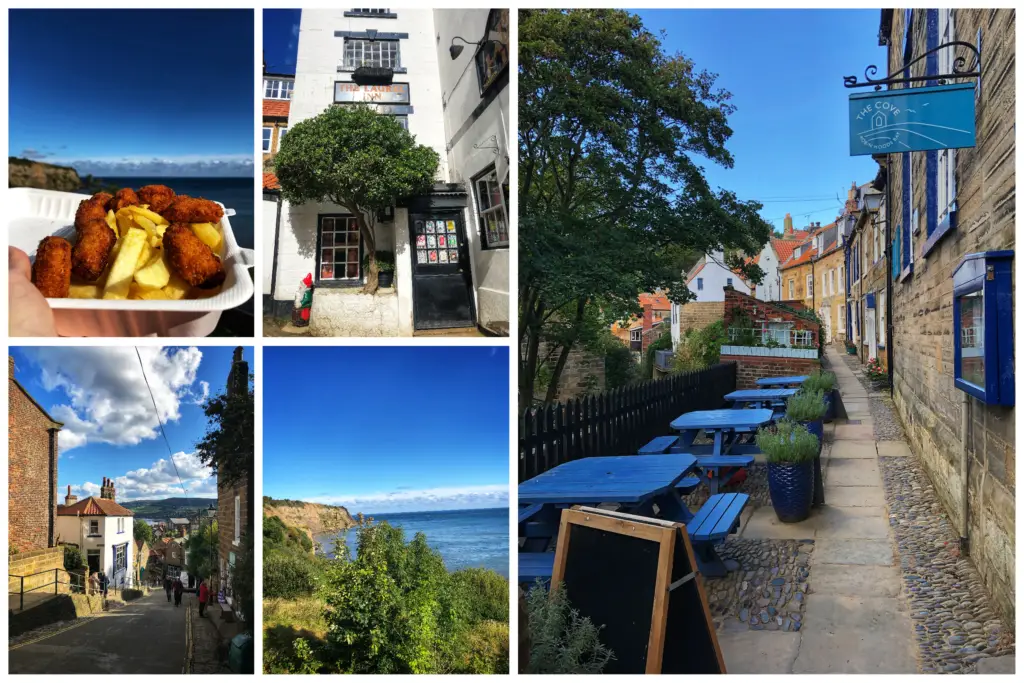 Do some shopping
Robin Hood's Bay has a number of independent shops that will tempt you to engage in some retail therapy. One of our favourites had to be the book store but that is probably because I am the biggest book nerd. Also if you have forgotten your swimming trunks or your bucket and spade to build a sandcastle you will certainly find a shop that will be able to help you out!
Feed your sweet tooth
If you are looking to feed your sweet tooth Robin Hood's Bay is a great place to do it. We found a shop serving some pretty amazing Gelato, as well as some hand made chocolates and sweets.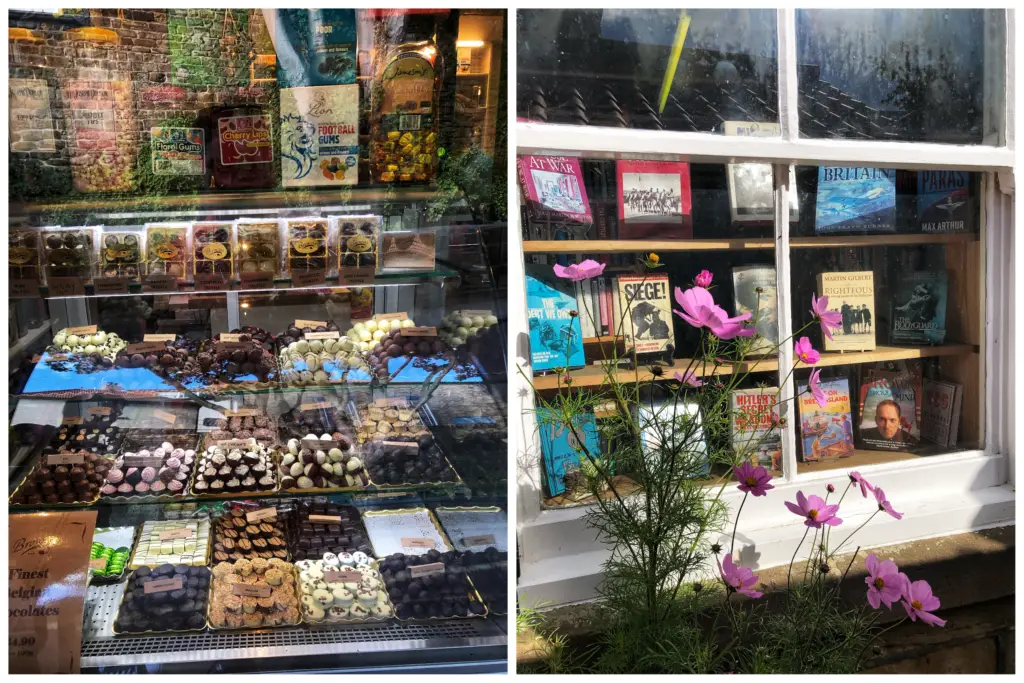 Take your time exploring the narrow streets
One of the best things to do during your Robin Hood's Bay day trip is simply just walking around the streets and exploring. The narrow cobbled streets, coupled with the colourful homes make this a fantastic place to get lost in. As mentioned above there are a number of quirky shops you will stumble across on your walk, including a very nice wine bar that we highly recommend!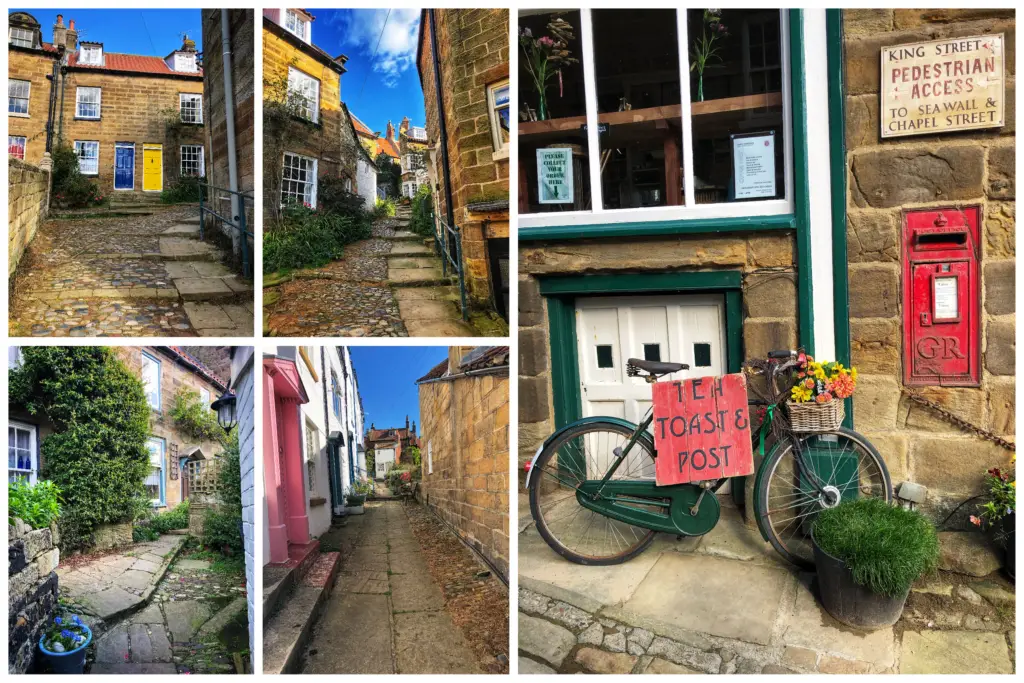 Walk along the beach
A big part of your Robin Hood's Bay day trip has to be spent on the beach. At low tide you will discover a secret world of rock pools and caves that you simply have to explore. It's a fantastic place to go for a long walk (don't forget to pick up some ice cream along the way!) or an even better place to sunbathe and people watch. It also seems like an ideal place for dogs, as we saw so many running across the sand living their best canine lives.