The best places to watch the sunset in Lisbon
On a recent trip to the Portuguese capital we spent some time trying to find the best places to watch the sunset in Lisbon. And we got really lucky. Because Lisbon is pretty hilly (which isn't surprising given it was built on seven hills), there are some really spectacular places to go where you can rest your weary legs after a day of exploring, and enjoy the views. In this post we list our top spots in order to enjoy the sunset in Lisbon as well as how to get there, and at what time.
Disclaimer: This post contains affiliate links, so if you use these links to buy something we may earn a commission, at no cost to you. Thank you for your support.
Pin this guide to watching the sunset in Lisbon for later!
Tips for watching the sunset in Lisbon
When looking for the perfect place to watch the sunset in Lisbon, we recommend trying to go somewhere with a spectacular vantage point. The higher the better. The city is quite hilly so getting to higher ground will make it a lot easier to chill out and relax with those sunset views.
It is also important to time it right. In February the sun tends to set at around the 6pm mark, whereas in the summer the days are longer and the sunsets at around 8 or 9pm depending on the month. Obviously this is a very rough guide and you should check what time sunset is when you are there.
What time is the sunset in Lisbon?
So first things first, you might be wondering what time is sunset in Lisbon? Of course that will depend on what time of year you are visiting Lisbon. One website we recommend is Time & Date, which gives you precise times for the sunset in Lisbon. All you have to do is pop in the date.
Where to watch the sunset in Lisbon
Here are our recommendations for the best places to watch the sunset in Lisbon.
Cais das Colunas
Cais das Colunas is really close to Praca do Comercio – just across the road in fact. Here you will find a sandy spot near the water. From here you can see the Ponte 25 de Abril, Lisbon's iconic suspension bridge. As the sun begins to set and the sky turns from blue to pink you can get some really beautiful pictures here.
It was pretty cloudy when we visited but we still managed to get some shots, and it was a beautiful moment sitting here watching the day come to an end in an amazing city.
It's a very easy place to get to to watch the sunset in Lisbon and you can sit on one of the boulders or just stand on the small section of beach and admire those views. It is a popular place and you will find a lot of people here ready to watch the sunset in Lisbon, but don't worry there is plenty of space for all.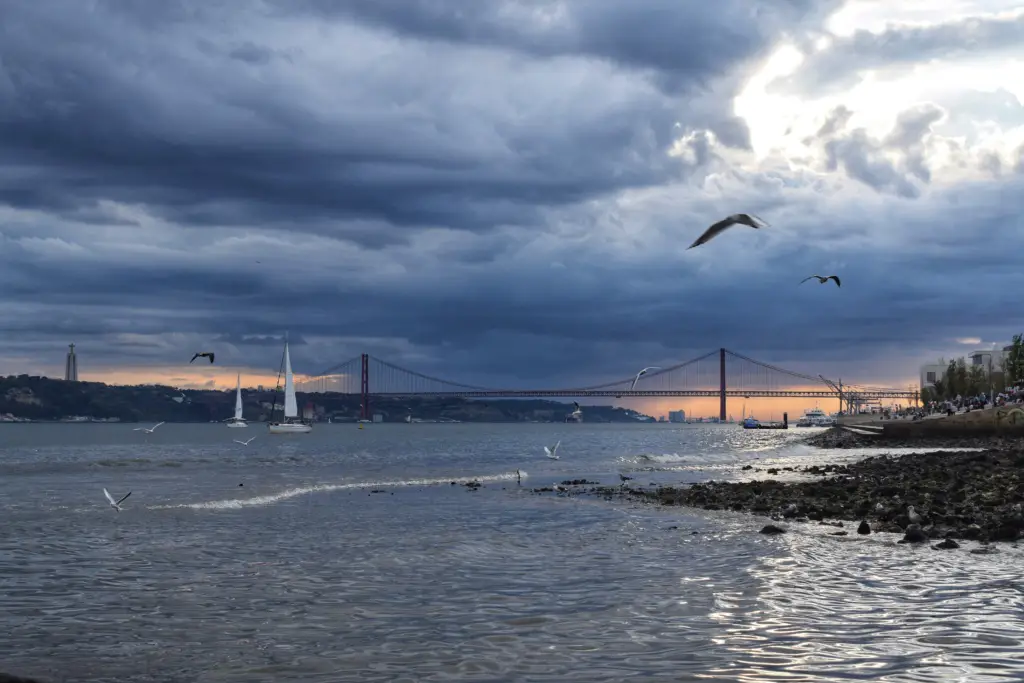 Directions for this perfect sunset in Lisbon spot
Miradouro de Santa Luzia
This is a romantic terrace located by the church of Santa Luiza. It is the perfect place to watch the sunset in Lisbon, particularly in the warmer months as you will often find buskers singing to you as the sun goes down. The atmosphere is beautiful and it is a fantastic place to end the day. There is a garden area nearby as well, and to be honest we found it one of the most romantic places in Lisbon, so it is worth a visit if you are visiting as a couple.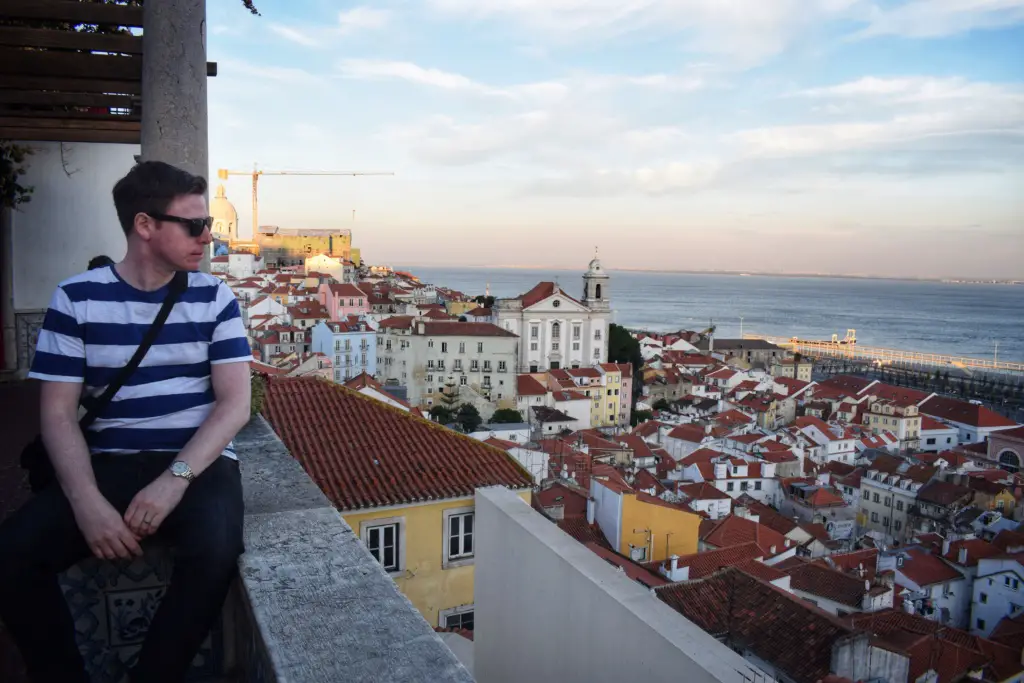 Directions for this perfect sunset in Lisbon spot
Tram 28
Ok this one might be a bit hard to plan, especially considering that the line for the tram can be incredibly long. But if you happen to be on Tram 28 as it leaves Square Martim Moniz in Baixa and snakes its way through the streets of Lisbon during sunset then you are in for a treat. As the sun goes down and reflects off the buildings it makes for fantastic photo opportunities and a really magical tram ride.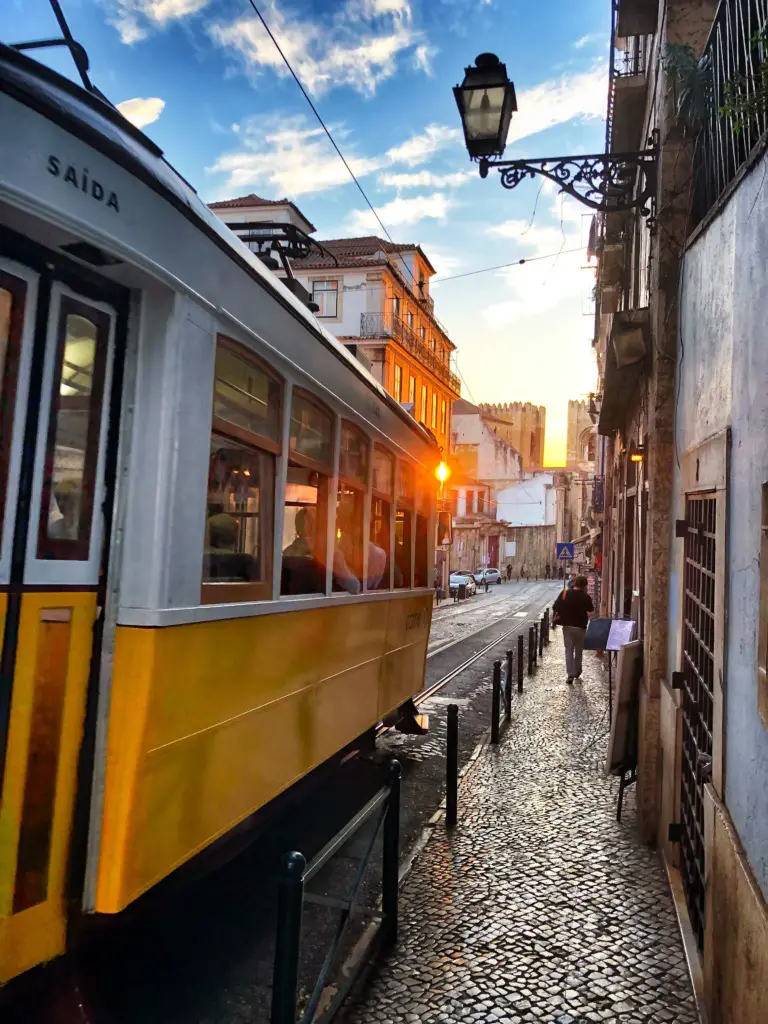 Directions for this perfect sunset in Lisbon spot
Portas Do Sol Viewpoint
Right at the top of the hill in the Alfama District you will find the Portas Do Sol Viewpoint. You get some pretty amazing views of Alfama from here as well as the cruise ships as they depart the city, bound for their next exciting destination. There are also quite a few bars nearby where you can sit, sip your sangria and watch as the daylight begins to fade. It is probably worth arriving before sunset particularly if you are after a drink and a table as it does get quite busy here.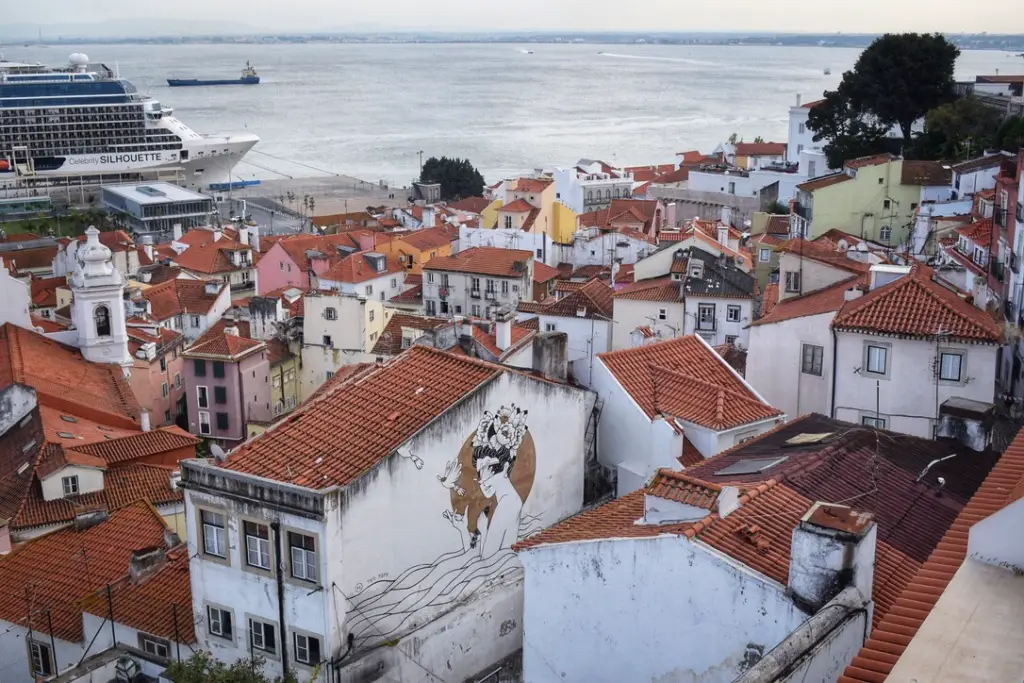 Directions for this perfect sunset in Lisbon spot
Memmo Alfama Hotel Bar
Not a lot of people know about the Memmo Alfama, but it is by far one of the best places to watch the sunset in Lisbon. You don't have to be a guest of the hotel to enjoy the spectacular views, but hotel guests do get seating preference so keep that in mind. We absolutely loved it here, because we got to relax and sip cocktails as the sky turned a magnificent shade of pink. Admittedly the cocktails are a little pricey but let us assure you the views from here are totally worth it.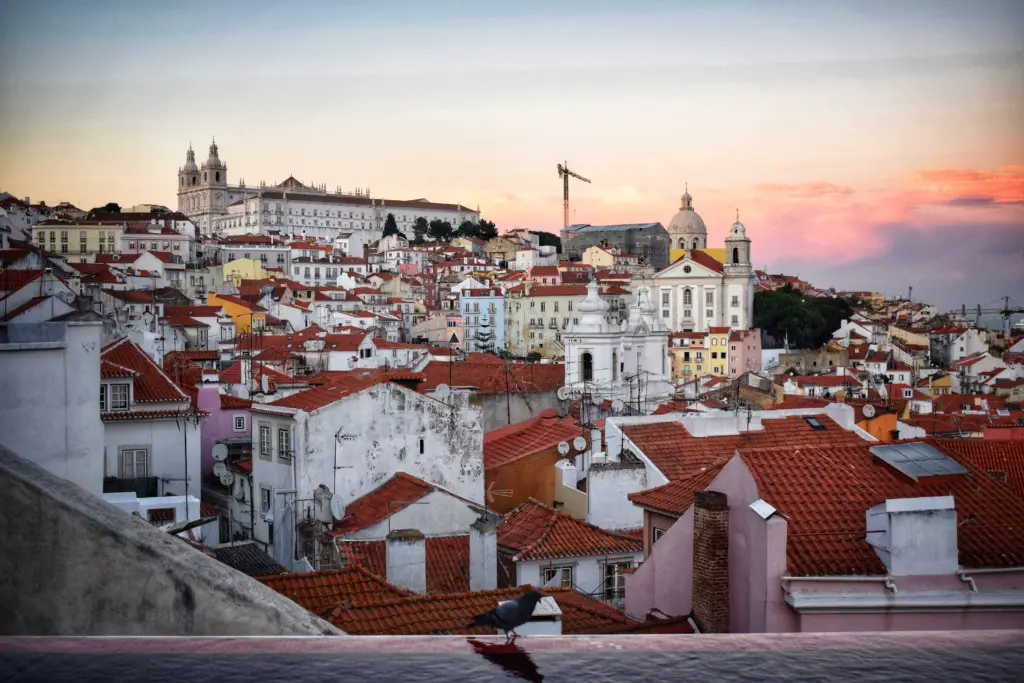 Directions for this perfect sunset in Lisbon spot
Castelo de Sao Jorge
Sadly, for us this is one of the top spots for seeing the sunset in Lisbon that we didn't quite make it to. But we wanted to add it in this guide because so many people have raved about it. When you visit Lisbon you cannot help but notice the enormous castle that pretty much dominates the city. The view from here is pretty epic during the day, so obviously it is going to be one of the best sunset spots in Lisbon.
The castle is open late as well, which is good news for sunset lovers. The crowds tend to disperse in the evenings, and you can also treat yourself to a glass of wine as you watch the glorious sunset in Lisbon.
Directions for this perfect sunset in Lisbon spot
Santa Justa Lift
If you time it right then you can enjoy some pretty epic views of the sunset in Lisbon from the Santa Justa Lift. Even if you can't make it to the top in time you can get a great picture of the lift itself as the sun goes down and reflects off the structure.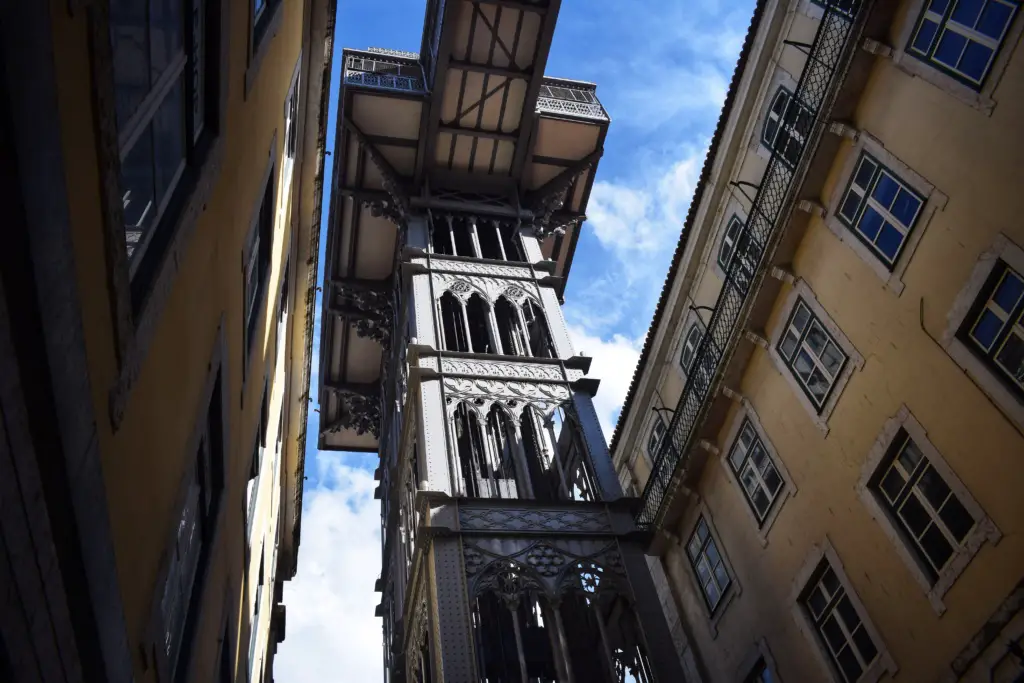 Directions for this perfect sunset in Lisbon spot
Belem Tower
The Belem Tower looks absolutely spectacular as the sun goes down behind it. Another plus for visiting at sunset is that it isn't nearly as crowded as it is during the day. We didn't get the opportunity to visit during sunset which is a real shame because some of the pictures we have seen are just incredible. The setting sun reflects off the Tower making it even more beautiful if that were possible.
If you are planning to visit the Tower as well here is a useful link to book this in advance.
And if you are looking to fill some time between visiting the tower and sunset we recommend visiting Pastéis de Belém for some of the best pastéis de nata we have ever tasted.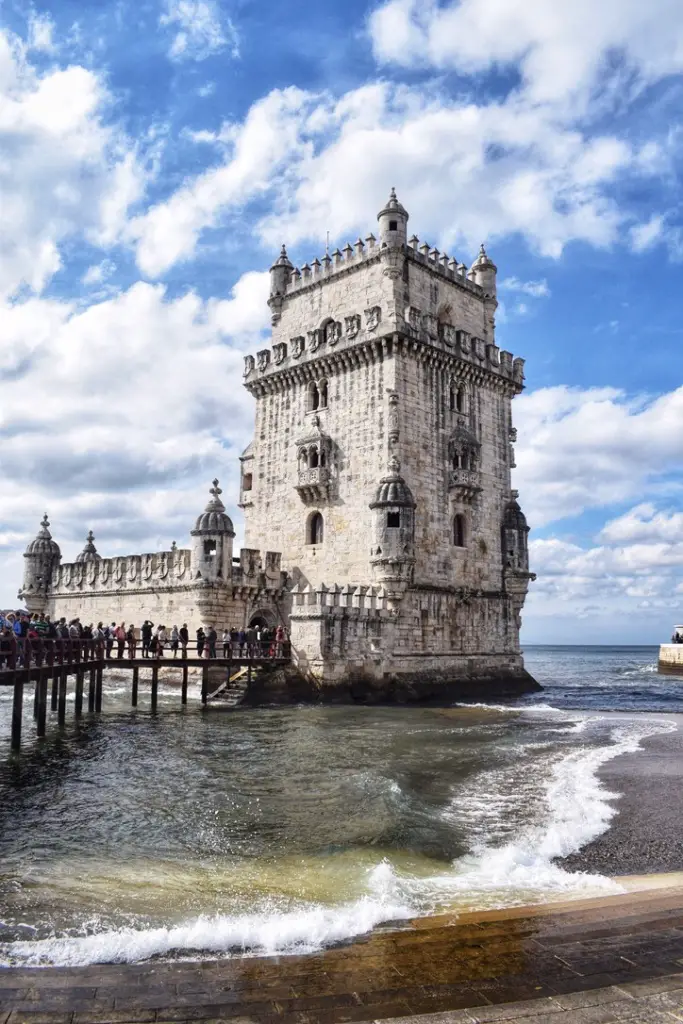 Directions for this perfect sunset in Lisbon spot
Streets of Alfama
If you are wondering where to watch the sunset in Lisbon then the Alfama District is certainly a worthy vantage point. As you explore the streets you are guaranteed some amazing sunset views and photo opportunities. There are also a lot of restaurants and bars in the area so you can grab a bite to eat after a long day of exploring.
What we loved was watching the sunset and seeing its reflection off some of the buildings in the district. You can walk around Alfama and accidently stumble upon some of the best sunset spots in Lisbon.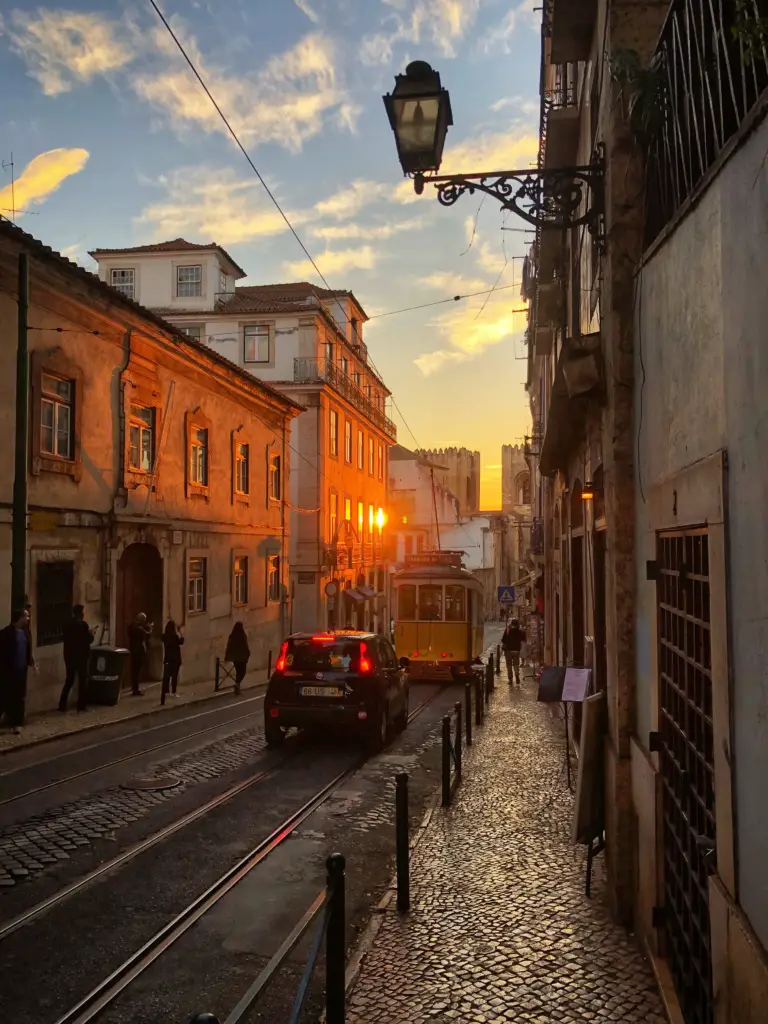 Directions for this perfect sunset in Lisbon spot
From the plane
Ok this one is kind of cheating but we wanted to take the opportunity to share a picture anyway. As we left Lisbon we were lucky enough to do so during sunset. Our flight was initially delayed which was frustrating but once we took off and saw these views we were so grateful.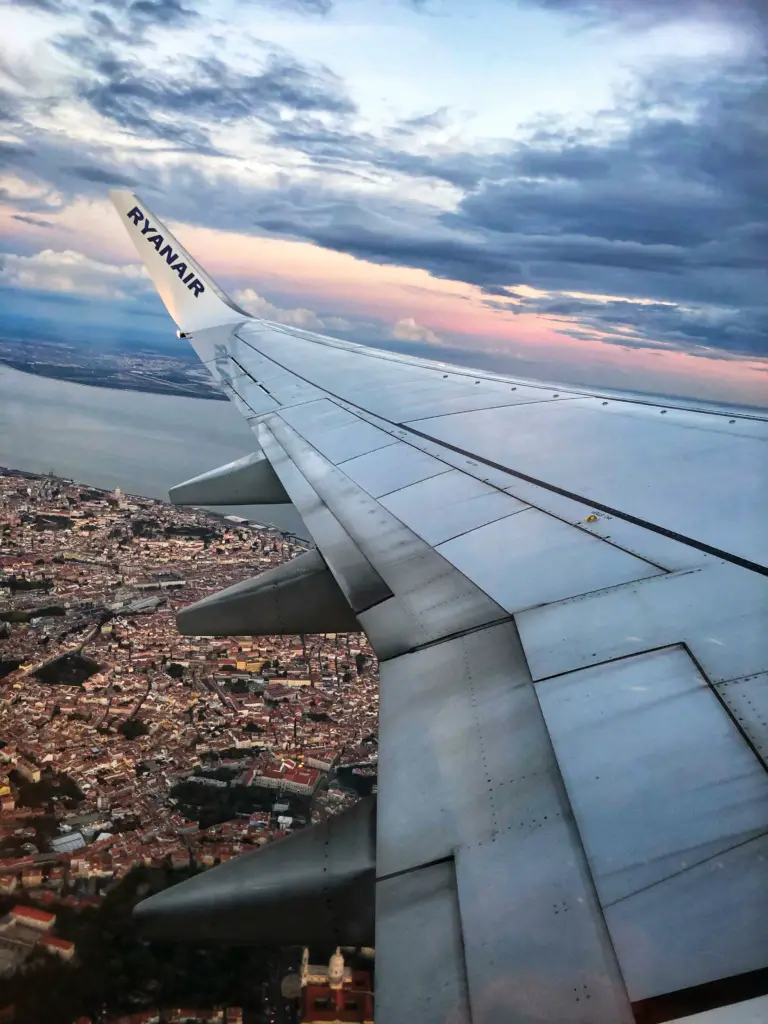 Want even more inspiration – here are some fantastic tours you can book for watching the sunset in Lisbon
Tagus River Sunset Tour
This Tagus River sunset tour is perfect if you want some snacks and drinks as you cruise along and watch the sunset. You travel between Mouraria and the Tower of Belém, and get to see the city from the water.
Alternatively why not do a sunset cruise on a vintage boat. It's the perfect way to enjoy the sights of Lisbon at sunset.
If you prefer to watch the sunset as you cruise down the River Tagus and listen to live music this tour might be for you.
After something a bit more romantic then why not go for a luxury boat sunset tour. Or a private boat tour.
Finally if boats are not your thing then we recommend this coastal sunset tour instead.
How to get around Lisbon
So you might be wondering how to get to all these incredible sunset spots in Lisbon. Fortunately public transport is cheap and convenient. We recommend purchasing a Viva Viagem card. You can then load the card with a ticket, and you are off. If you go to a subway station you can top up your card with a 24 hour ticket which covers, buses, trains, and trams (including the 28) for a little over 10 Euros per person.
When purchasing your ticket there is an English language option which is handy. You can alternatively buy tickets on board buses, trams, and funiculars in the city, but these are more expensive that if you pay with your you can buy on board tickets in Lisbon buses, trams, funiculars and Santa Lift lift, but they'll be more expensive than paying with Viva Viagem card. Here is a quick overview on the public transport options.
Metro
There are 4 metro lines in Lisbon identifiable by their different colours (Blue, Yellow, Green and Red). The metro is frequent and convenient running between 6.30am and 1am daily.
Trams
There are 6 tram lines in Lisbon including the very popular  and totally Instagrammable Tram 28. The trams are operated by Carris and take you across the city. We actually didn't end up using the trams all that much except to get to Belem and of course to do Tram 28.
Bus
We ended up getting the bus quite a bit in Lisbon, as they tend to go to areas not accessible by tram or metro. They operate between 5am to 11pm, and the easiest way to work out where you are going and where to get off is to follow your route on Google Maps.
Funicular & Lift
They may look touristy but the funiculars and the vertical lift in Lisbon are all genuine modes of transport. They are ideal to help you ascend some of Lisbon's steepest streets. Also they make for some pretty awesome photo opportunities especially at sunset.
Best areas to stay in for watching the sunset in Lisbon
One of the most important things when planning your time in Lisbon is of course working out where to stay. Some of the best places to sleep in Lisbon are in Alfama, Baixa, and Bairro Alto. These are centrally located areas close to a lot of the main tourist sites and of course will mean that you are in a great position to watch the sunset in Lisbon.
Here is our rundown on each of the neighbourhoods.
Alfama
This was our absolute favourite part of Lisbon, and in hindsight we would try to stay here if we are lucky enough to return to Lisbon. It's filled with back alleyways, steep hills, and a ton of character. It's probably one of the most photogenic parts of Lisbon, and great for a short break. Accommodation options in Alfama tend to be more apartment stays, so if you have your heart set on a hotel this might not be for you. The neighbourhood is really quirky, and there are so many places to eat, drink, and photograph.
It's also a great place to stay if you are looking for the perfect sunset spots in Lisbon.
Baixa
Baixa is probably the more touristy part of the city, and is close to a lot of the attractions and main squares. There are a lot of coffee shops, and restaurants, and the atmosphere is fantastic. This is really the heart of Lisbon, and great for people watching, and photographing.
Bairro Alto
The area is close to the city's two funiculars, and is full of hustle and bustle.  It's filled cobbled streets, graffiti clad walls, but more importantly a lot of places to eat and drink in the sunshine. It can get a bit boisterous in the evenings, so maybe not the best if you want a quiet night. It's a great place for couples too, with several rooftop bars in the area, and overall fun vibe. Especially with the rooftop bars it is a great area for watching the sunset in Lisbon.
Watching the sunset in Lisbon – a recap
Hopefully this article will help you find the best places to watch the sunset in Lisbon. The main thing to do to make sure you catch the sunset is to plan in advance, as sometimes the best places may be overcrowded. Also we recommend just exploring as you never know what beautiful viewpoint you might find to watch the sunset in Lisbon.
If you are interested in more Lisbon inspiration, we also have a post on the most Instagrammable places in the city. Or this guide to help you decide if Lisbon is worth visiting (spoiler alert it is!)
If you found this guide useful don't forget to pin it for later.