So you're planning to visit Portmeirion? Excellent choice. Nestled at the edge of Snowdonia National Park, in the North of Wales, Portmeirion is a small village that you really do need to see, to believe. Designed to evoke the feeling of being somewhere in the Mediterranean this tourist village is a must if you are visiting Wales. This guide will help you plan a list of things to do in Portmeirion Wales on a day trip, as well as when to go, and what to do if you want to stay a little longer.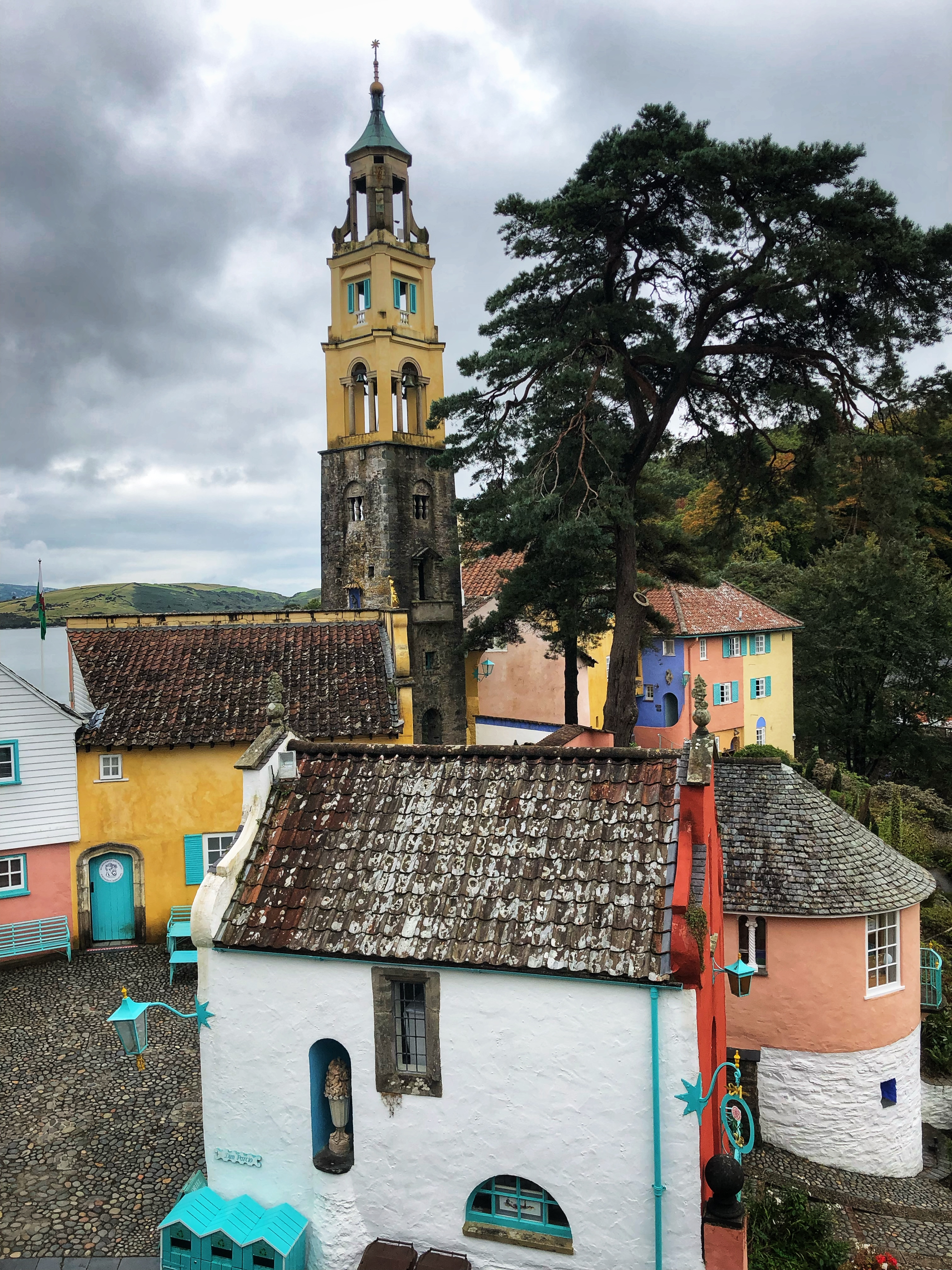 Things to do in Portmeirion – some background
Before we dive into things to do in Portmeirion here is a little bit of background. Portmeirion was built and designed by Welsh architect Sir Clough Williams-Ellis in the style of an Italian fishing village. The site was acquired in 1925 and the vision behind it was to create a site that naturally enhanced the natural background. These days it is owned by a charitable trust, which does mean you need to pay an entry fee, but it is definitely worth it to get the chance to visit Portmeirion.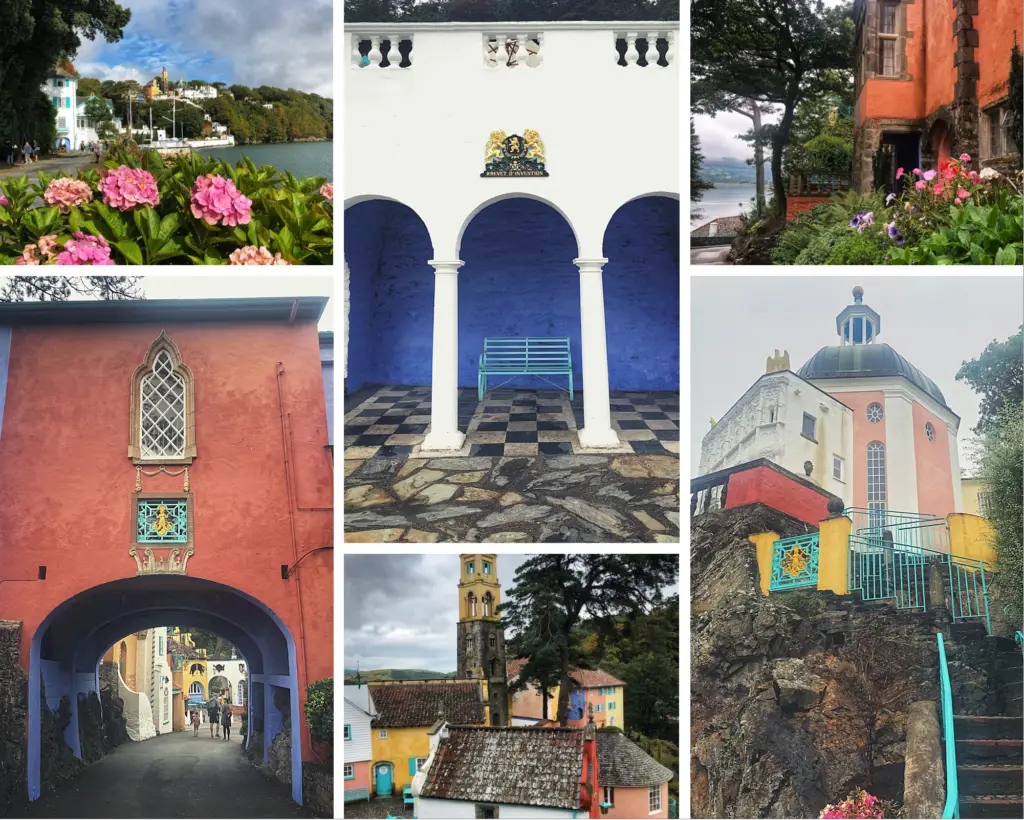 Portmeirion day trip – before you go
Here are some of the things you should know before you visit Portmeirion.
Tickets need to be purchased online before you go. Tickets are only valid for the date and time chosen so be mindful of this when pre-purchasing
Tickets cost around £15 pp but if you visit in winter you can get a discount
There is free parking near the entrance to the site
Bring a good pair of shoes as there are lots of walks particularly in the woodlands
Bring sunscreen – there isn't much shade and you will need it if you plan to do some of the walks
There are covid measures in place so you will need to abide by the rules at any given time.
Things to do in Portmeirion – How long do you need
Realistically you will probably want to spend a good 2-3 hours exploring time when you visit Portmeirion. You probably don't need a full day here unless you are planning to stay the night or go to the on site spa. The village itself isn't massive and you can see pretty much everything within the 2-3 hour window.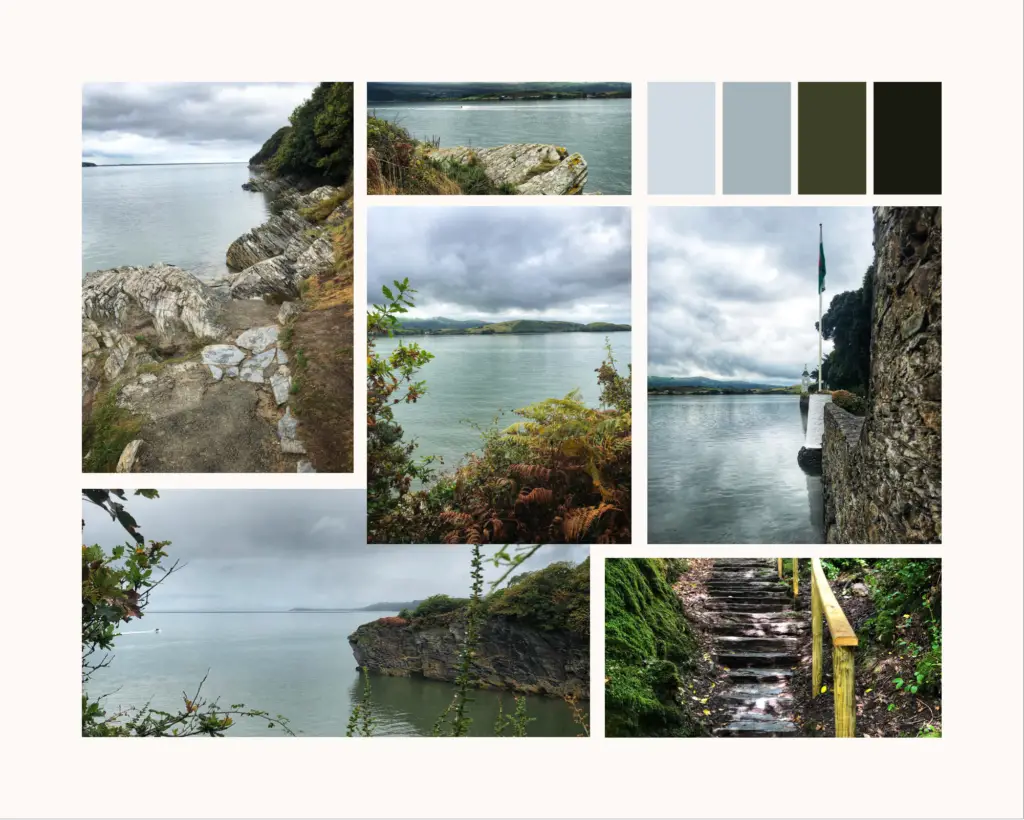 Things to do in Portmeirion
If you are looking for things to do in Portmeirion what we will say is it is a place best explored slowly. You won't find yourself rushing from attraction to attraction trying to make sure you fit it all in. Instead, you will want to take it slow, soak up the fairytale atmosphere and the bright colours, and just enjoy the beauty around you. That being said here are our must see attractions and things to do in Portmeirion.
Visit the Central Piazza
The Central Piazza is pretty much what fairytales are made of and visiting is one of the best things to do in Portmeirion. With its carefully manicured gardens, it is surrounded by the bright and quirky buildings of Portmeirion. The piazza is perfect for a spot of relaxing and soaking up the atmosphere. It's also fun to explore the surrounding buildings, but do keep in mind that the majority of these are accommodation so you can't just waltz in!
One of our top tips is to try and get here early, especially if you want to get some great photos without the swarms of people. Portmeirion opens at 9.30am so if you get here not long after you should beat the crowds. To be honest the Piazza alone was one of the main reasons we wanted to visit Portmeirion.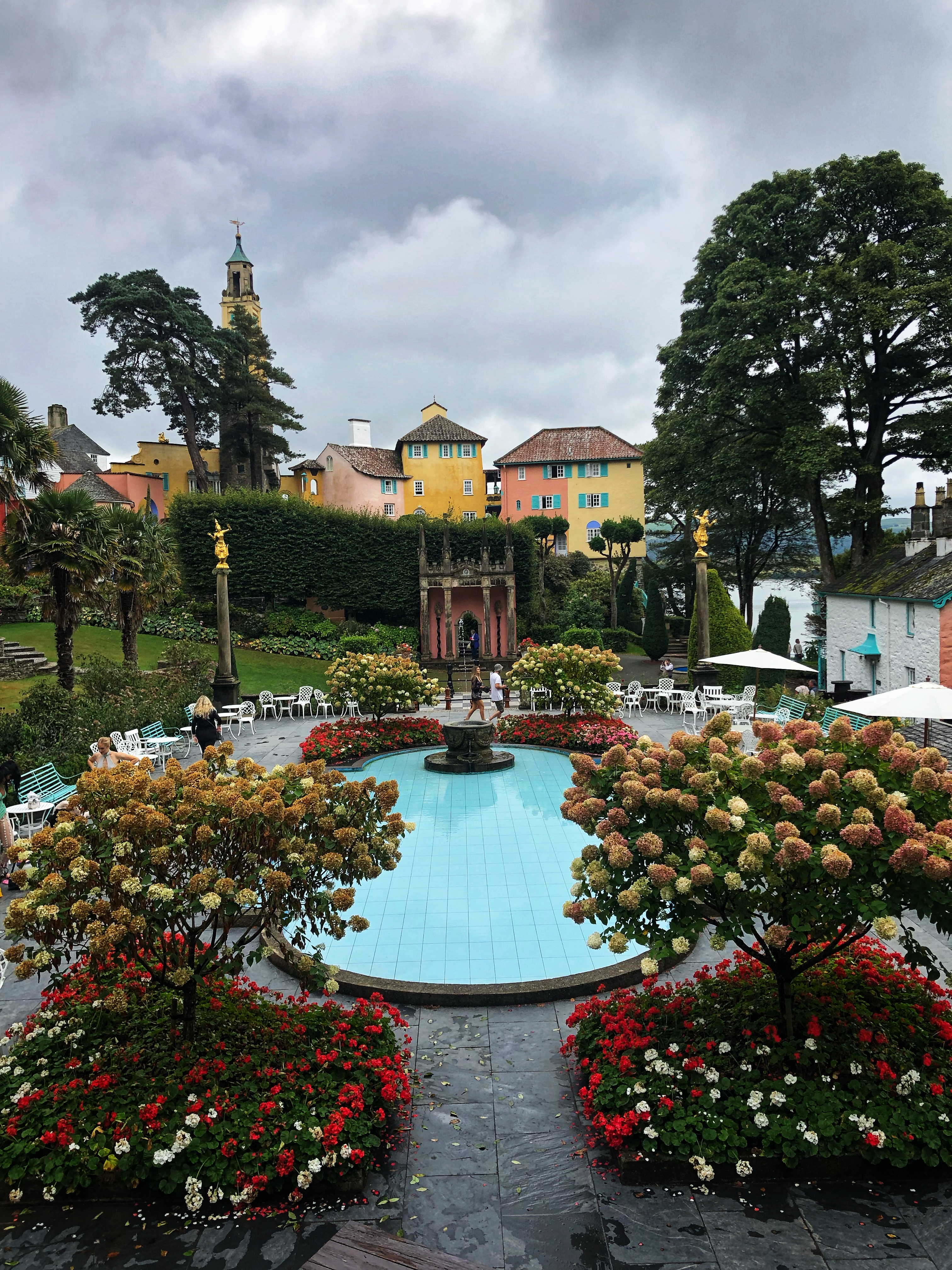 Enjoy some lunch by the water
There is no shortage of places to eat when you visit Portmeirion, from full sit down lunches to sandwiches and snacks. We recommend getting a sandwich or snack and enjoying it by the Quayside. The hotel also does a pretty decedent lunch or afternoon tea, but do make sure you book this in advance.
Explore the Quayside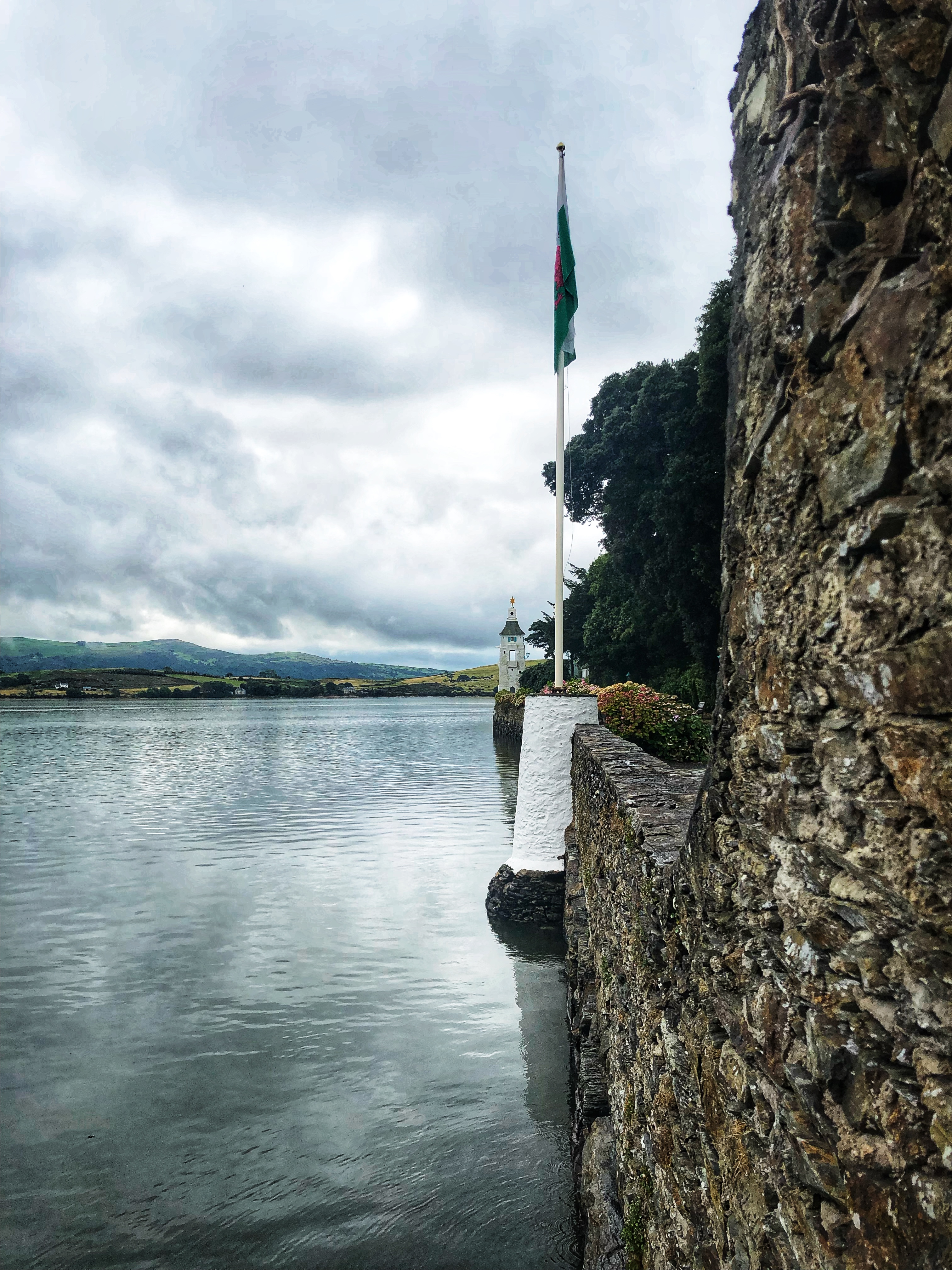 One of the top things to do in Portmeirion has to be exploring the Quayside. You really will feel like you are sauntering around the Mediterranean. You get some stunning waterfront views, as well as a classic photo op of the village behind you. There is also a stone boat that we even saw adults getting excited about and pretending to be pirates on. Another selling point is the heated pool which you can use if you are staying overnight at Portmeirion.
Do a bit of shopping
There are a number of quirky shops to have a gander in when you visit Portmeirion. For example you can buy some famous Portmeirion Pottery, some beautiful home accessories, or some artwork. Even if you aren't in the mood to buy anything it is worth having a look at the shops as there are a lot of unique things on sale, and who knows what may tickle your fancy.
Explore the Estuary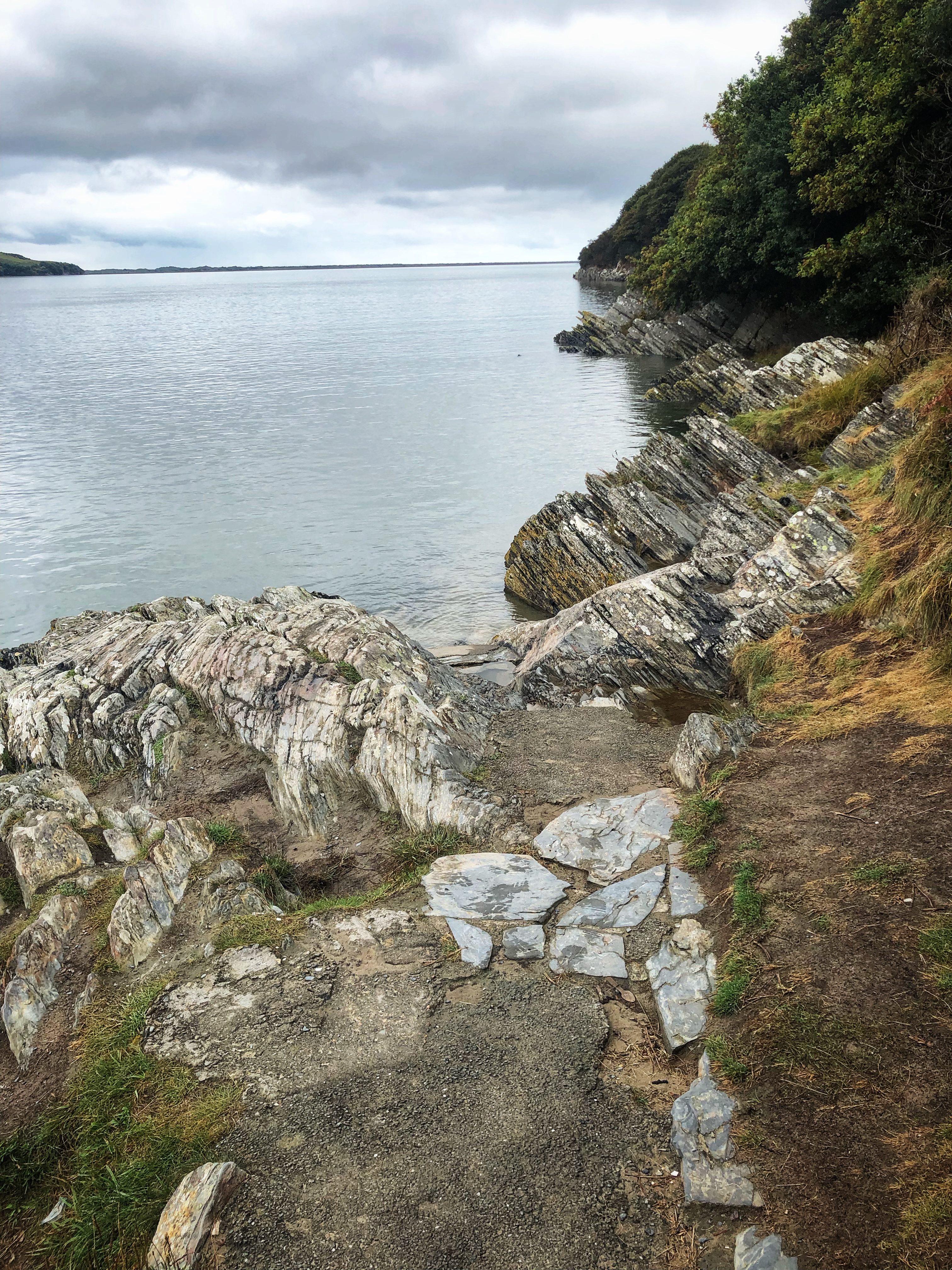 One of our favourite things to do in Portmeirion had to be exploring the coastline around the village. During low tide you will discover hidden caves whilst walking along the golden sand. Always be mindful of the changing tides though before venturing out. During high tide you can walk along the coastal path and listen to the soothing sounds of the waves lapping against the shore. Also see if you can spot the lighthouse on your travels!
Hike in the gwyllt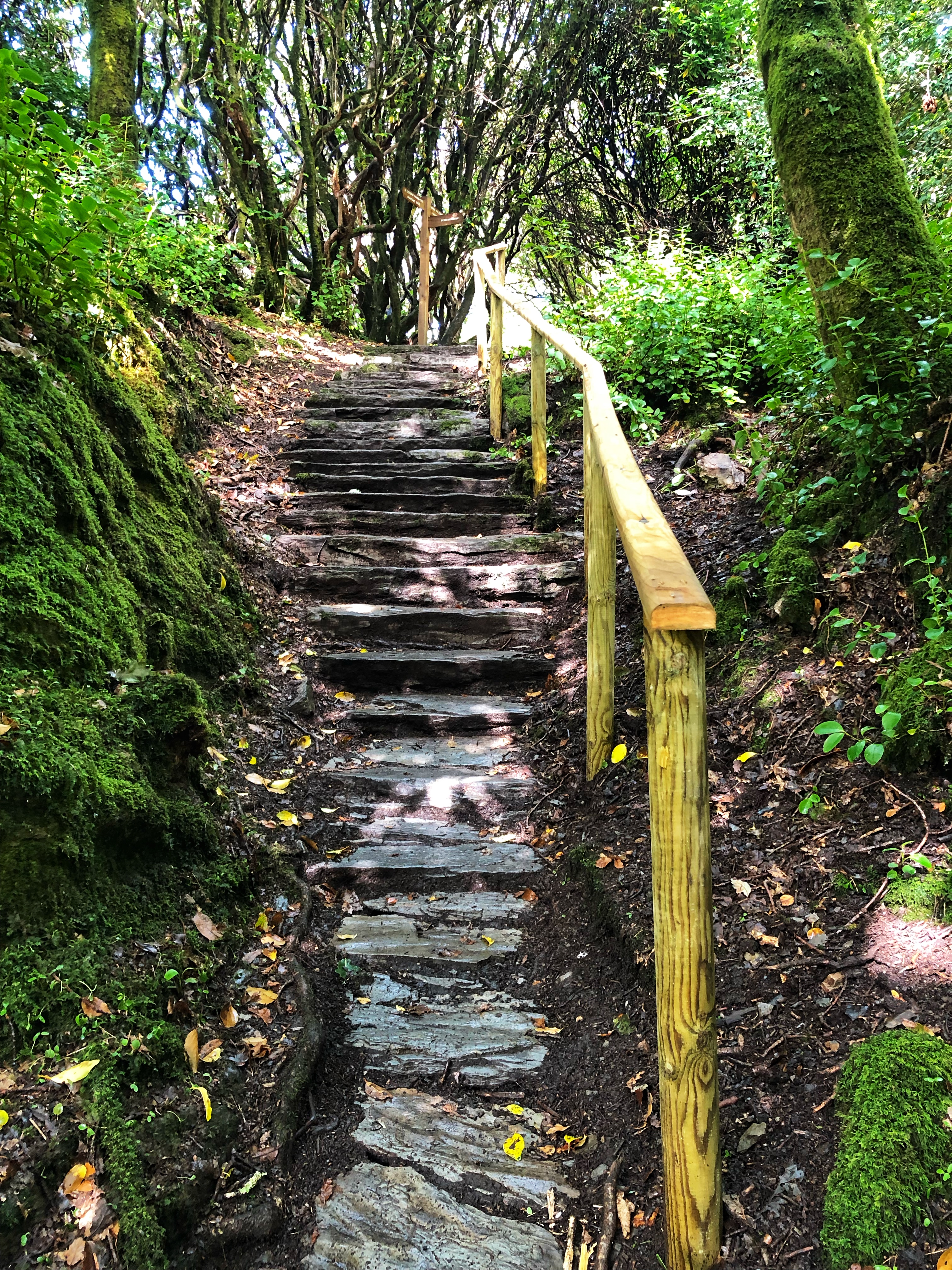 A major part of your 1 day in Portmeirion itinerary has to be to do a hike in the sub-tropical gardens that surround the village. Also known as the gwyllt, you will stumble upon a number of enchanting walks including through a pet cemetery, a ghost garden, and a whole lot more. The walks are beautiful and not too difficult either so people of all good fitness levels will be able to do them.
Relax in the Japanese Gardens
Whilst walking through the gwyllt try to find the Japanese Gardens. Here you will see a bright red bridge among the lily pads. It is perfect for a moment of calm and reflection during your Portmeirion day trip.
Enjoy the views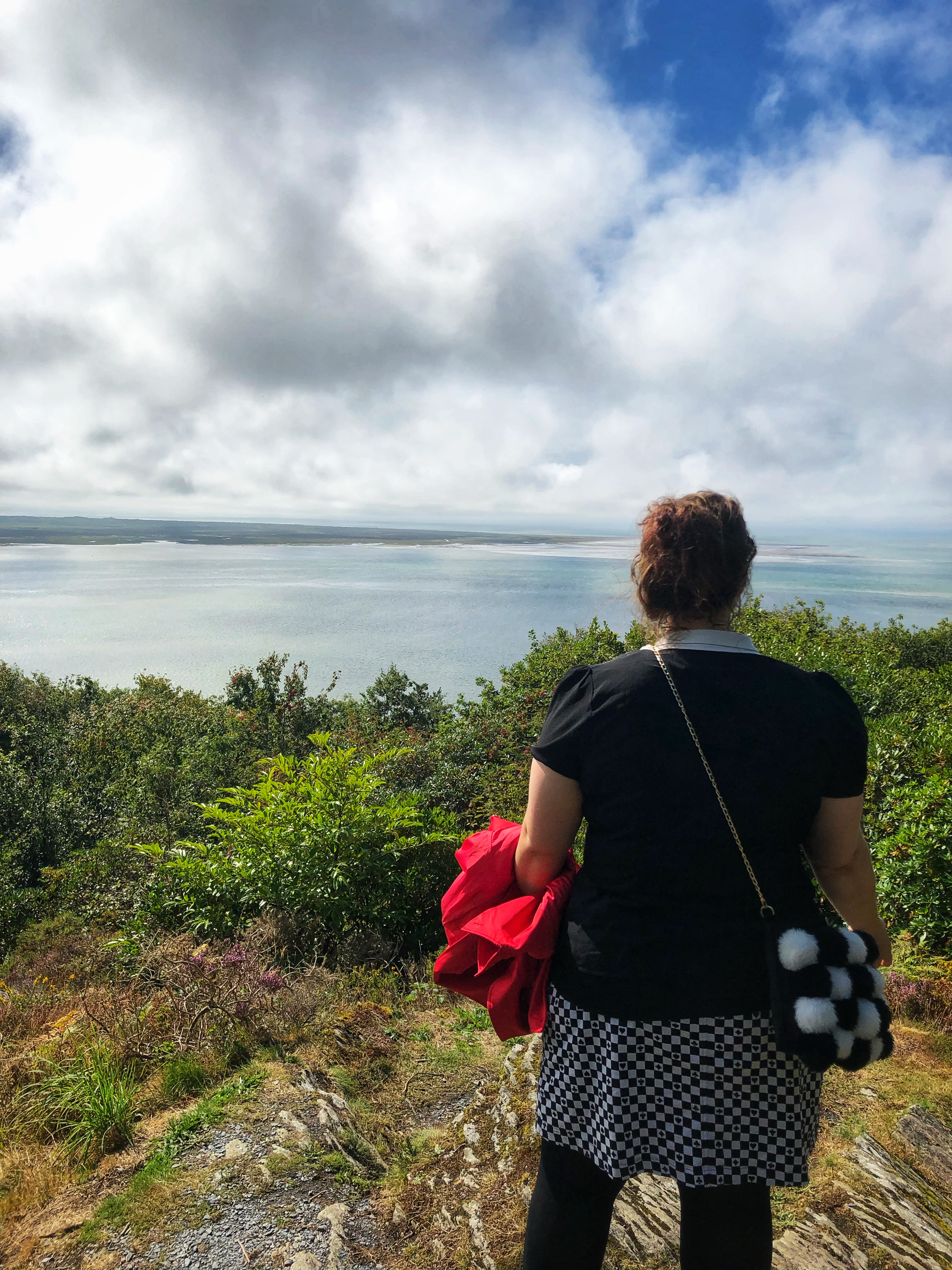 Another brilliant thing to do when you visit Portmeirion is to admire the views. There is a specific walk that you can take that will lead you to an incredible viewpoint. Here you can enjoy views of the coastline and get a few photos whilst you are at it. One of the best things for us was that when we got to the viewpoint we were the only ones there which was so nice.
Have some Gelato
If you are planning to visit Portmeirion then your day isn't complete without a visit to Caffi'r Angel for some Italian style gelato. The gelato is made in Portmeirion and there is an array of flavours to choose from.
We recommend getting it to takeaway so that you can enjoy it whilst admiring the Central Piazza. It was the perfect treat for us after spending a morning exploring the village and gardens, and gave us a moment to reflect on our time in Portmeirion.
Planning to visit Portmeirion – when to go
Portmeirion is one of those places that you can enjoy year round, but we think spring is the best time to plan your Portmeirion day trip. The flowers are in full bloom and the weather is much more favourable. You also avoid the crowds that visit in the summer, particularly around the school holidays. If you do decide to visit in the winter you can take advantage of cheaper entry costs and less people, which is always a bonus.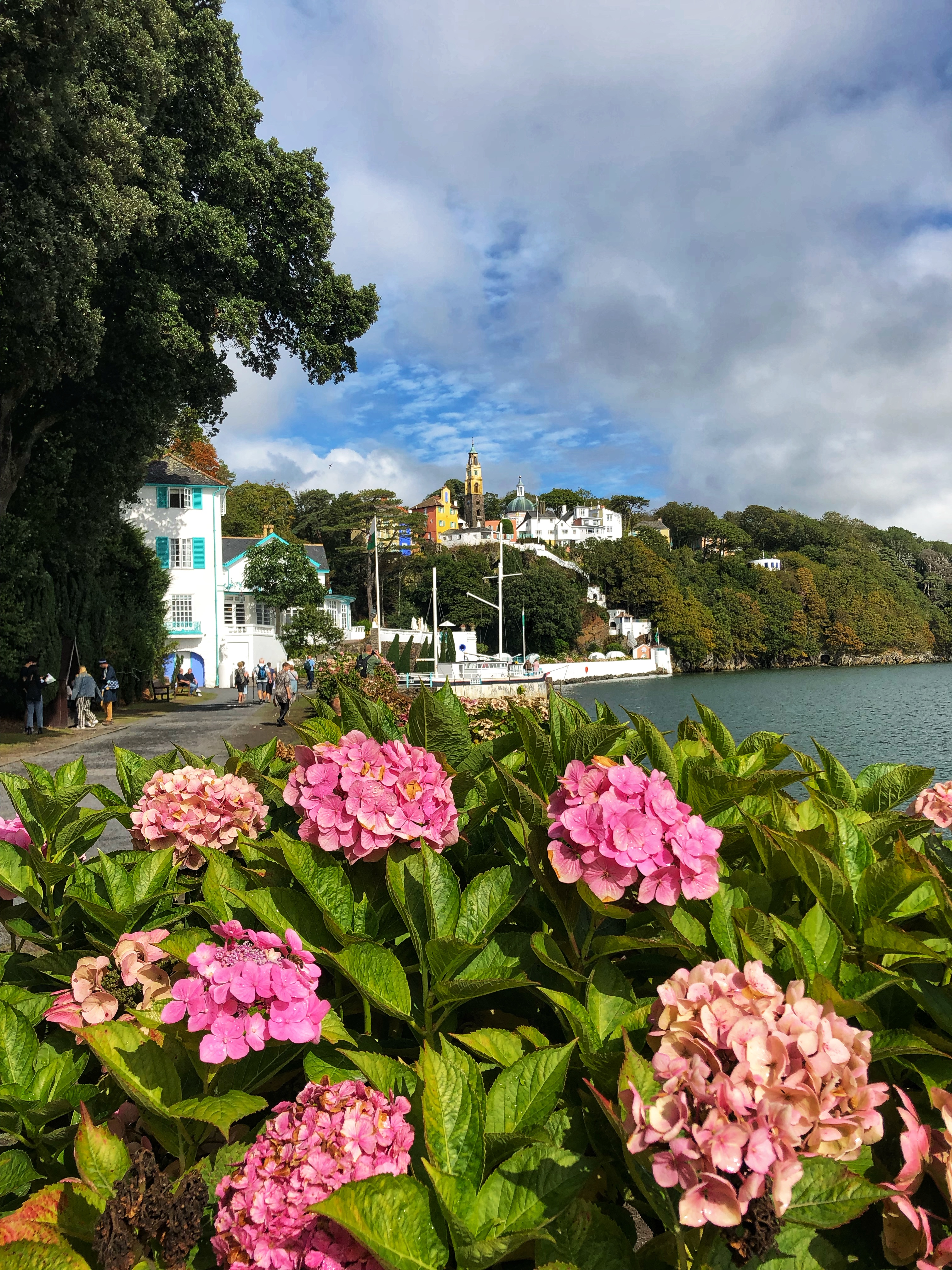 More than 1 day in Portmeirion
If you fall in love with the bright hues of the houses and the fresh sea air then you can stay the night at Portmeirion. You do need to book in advance and you can choose from hotel accommodation, fully serviced rooms, or self service cottages. There is also a spa where you can book a number of treatments.
If you are planning on staying a little longer in Wales, here is a 3 day itinerary that might be useful.
Things to do (around) Portmeirion
After completing your list of things to do in Portmeirion you might be wondering what else is located around here. If you are driving due to the close proximity to Snowden you can spend some time in Snowdonia National Park. The Snowden Mountain Railway offers scenic views. It is a 45 minute drive, but well worth it, especially if you are only around for a day trip.
You could also visit Criccieth Castle which is 15 minutes drive from Portmeirion. There are also a number of beautiful beaches to explore as well as Snowdonia National Park itself.
For more day trip inspiration in the UK have a look at the below:
So should I plan a visit to Portmeirion?
Yes you really should. Portmeirion is a real gem in North Wales. It is completely different to anything else you will see in Wales, and it certainly will provide you with a pop of colour and a splash of the unusual. With so many quirky things to do in Portmeirion it will be a memorable trip that is for sure.
If you are planning to visit Portmeirion don't forget to pin this article for later.