Are you thinking about visiting Belgium and wondering is Brussels worth visiting? Well this is the guide for you. We go through absolutely everything you need to know before booking your trip such as 'what is there to do in Brussels' 'is Brussels expensive' and much more.
Before we visited Brussels we had read so many reviews about the city. Some people seem to love it with it's excellent beer and lively atmosphere, and others seem to think it's boring with limited things to do. In our honest opinion we think it is the former and we will explain why below.
Disclaimer: This post contains affiliate links, so if you use these links to buy something we may earn a commission, at no cost to you. Thank you for your support.
Before we answer the question 'Is Brussels worth visiting' here is some background
Brussels is not only the capital of Belgium, but is also considered the political capital of Europe. The city is home to EU headquarters and over 40,000 EU employees live in Brussels. So it is probably unsurprisingly that around 27% of people living in Brussels aren't actually Belgian born.
Famous for it's cuisine and particularly chocolate, you might be surprised to learn that it isn't the city itself, but the airport that is the largest seller of chocolate in the world. Chocolate aside if it is healthy food you are after despite some debate it is largely accepted that Brussel Sprouts were originally grown by Belgians. So it is safe to say there is a little something for everyone in this remarkable city.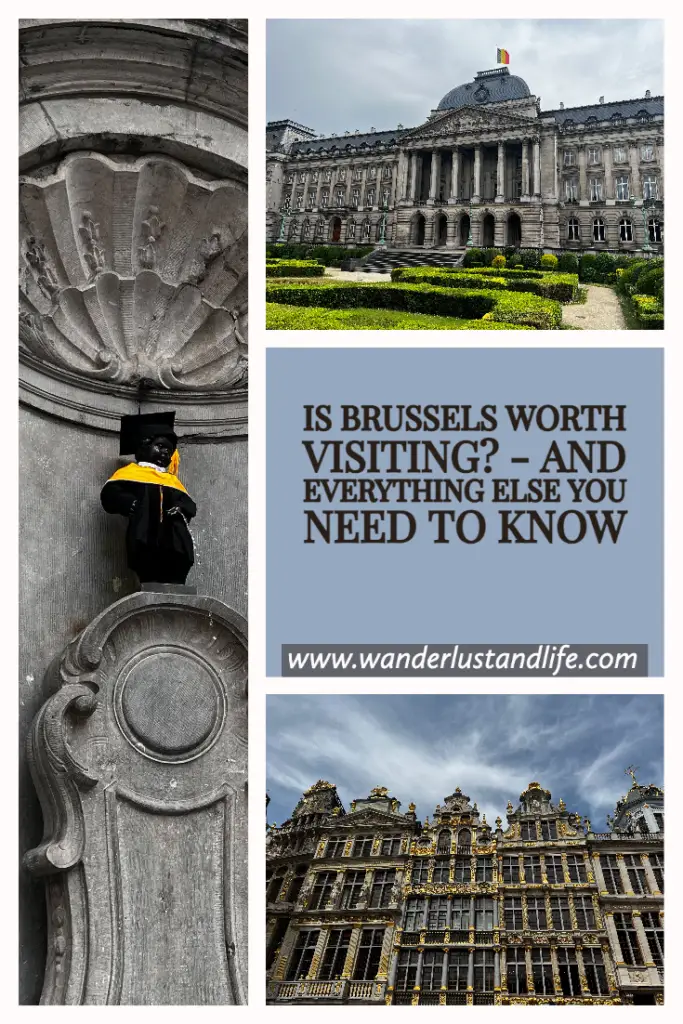 Is Brussels expensive?
In our experience Brussels wasn't a particularly expensive city. It certainly felt a lot cheaper than Paris or Amsterdam for example. Overall we ended up spending around €100 a day each for food, drinks, tourist attractions, public transport, and airport transfers. You can do it a lot cheaper if you cut out the restaurants and cocktails.
The above cost doesn't include accommodation, as we had booked this online in advance. Accommodation prices in the city vary, but the good news is there seems to be plenty of choice. For a mid range hotel you should expect to pay anything between €100 – €150 per night.
Do I need cash in Brussels?
We found that the vast majority of places in Brussels accepted card payment, so you shouldn't have any issue with this. That being said it's always worth checking with the vendor before ordering just in case. If you are paying with cash just be mindful that not all places accept larger notes like the €100 so try to get smaller denominations if you can.
What language do they speak in Brussels?
There are 3 official languages spoken in Belgium which are French, Dutch, and German. French is the most common. So if you were going to brush up on any foreign language before your trip we recommend French.
Brussels is very touristy so a lot of people here also speak English. We felt that people were happier speaking English to us than say in Marseille where people would avoid it.
Is Brussels easy to get to?
Brussels is really easy to get to and is a very well connected country. Bordering on France, The Netherlands, Germany, and Luxembourg, there are several modes of transport you can use to get here.
The majority of people will fly into Brussels. There are 2 airports with Brussels Zaventem Airport being the main one. From here you can get the train into the centre of Brussels in around 20 minutes. There are 8 trains per hour meaning you won't have to wait long to hop on.
If you are flying a budget airline like RyanAir you will arrive in Brussels Charleroi. Charleroi is a bit further out and transport options are more limited. You will need to get a bus in the form of the Flibco shuttle which leaves every 30 minutes. You will get dropped off at Midi Station and you will need to make your way into the centre from there, although it isn't far.
The train is another popular way to get to Brussels, and this includes the Eurostar. This arrives into Midi Station, and from here you take another train into the centre of Brussels.
How long should I spend in Brussels?
We spent 2 days in Brussels which is the minimum amount of time we would recommend spending in the city. We felt that we only really started to scratch the surface on things to do.
I know there are some people who feel you can get by with only spending 1 day in Brussels which is doable but it will be very rushed. The charm of Brussels in our opinion is taking your time enjoying the sights and sounds, but more importantly food and drink the city has to offer.
Is Brussels safe?
Overall in our experience we found Brussels to be a safe city. There are some parts of the city that we felt slightly uneasy in for instance around Midi Station. We arrived at the station quite late at night and had a 15 minute walk to our hotel. It wasn't the nicest area, but generally we felt ok here.
The centre, particularly around Grand Place is a bustling hive of activity and incredibly tourist friendly. In this area we felt fine walking around even in the evening.
Brussels does have one of the highest crime rates in Belgium which probably makes sense as it is a capital city. With that in mind we recommend being vigilant and keeping your belongings close by you at all times. Pickpocketing and petty theft is common so take precautions to ensure that you are not targeted.
Is Brussels worth visiting compared to other Belgian cities?
Brussels is the capital of Belgium, so we think it is definitely worth visiting compared to other Belgian cities. If you are looking for a city break with a bit of history, culture and cuisine Brussels is perfect. If you are after a more relaxing and scenic break then places like Bruges and Ghent may be better options.
Is Brussels worth visiting compared to other European capitals?
Admittedly Brussels doesn't have the same wow factor as say Paris or Amsterdam, but there is still so much to do here. It's a reasonably priced city break destination with tons of museums, parks, and don't forget incredible beers! We think Brussels is incredibly underrated so we highly recommend you visit and see for yourself.
Can I use public transport in Brussels?
We found the public transport in Brussels to be reliable, clean, and efficient. We only really used the tram and metro network whilst we were here, which obviously makes things a lot easier. It's also worth noting that if you end up staying somewhere central, then you can probably walk to a lot of the main attractions. One of the main exceptions for us was the Atomium which is further out, but still easy to get to on public transport. Tickets can be purchased at all metro stations and you can either get a day ticket or a single journey ticket.
What is there to do in Brussels
Wondering is Brussels worth visiting for the attractions alone? Here are the top things to do in the city to help you make your mind up.
Grand Place
The Grand Place is certainly an incredible sight in Brussels. It's a central square surrounded by some pretty impressive architecture. Some of the buildings include the former Guilds of Brussels, which were the centre of economic life in the late medieval and early modern periods, as well as the 'Flamboyant' Town Hall. And in case you were wondering Flamboyant is actually a style of architecture.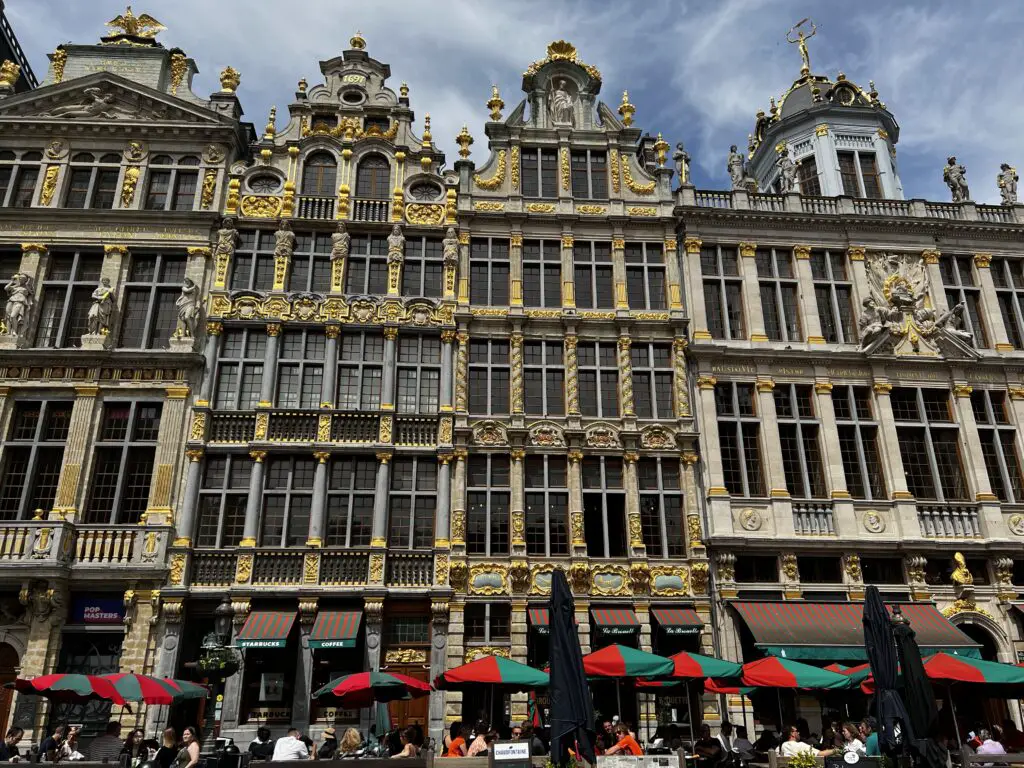 Royal Palace of Brussels
 The Royal Palace of Brussels is another great place to visit. It is the official palace of the King and Queen in Brussels, but not used as a royal residence. Apparently it is used for State visits and the like.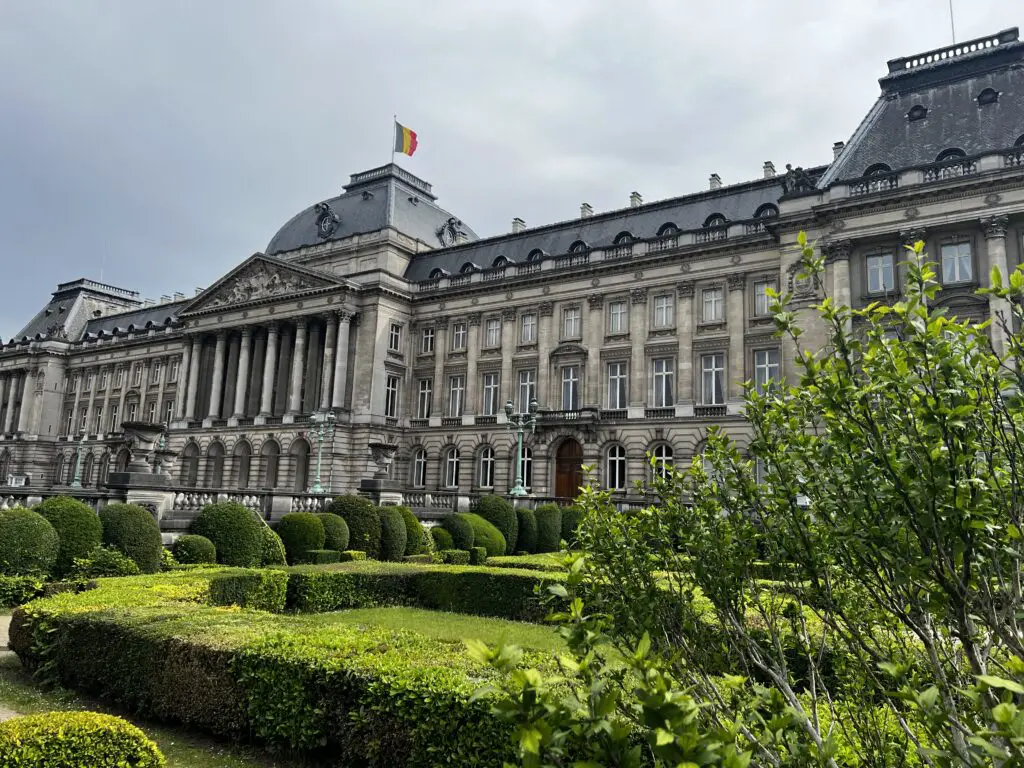 Manneken Pis
The people of Brussels love a good peeing statue. Manneken Pis is the most famous of the 3 peeing statues in Brussels. You also have a peeing girl and peeing dog – in case you want to visit them all.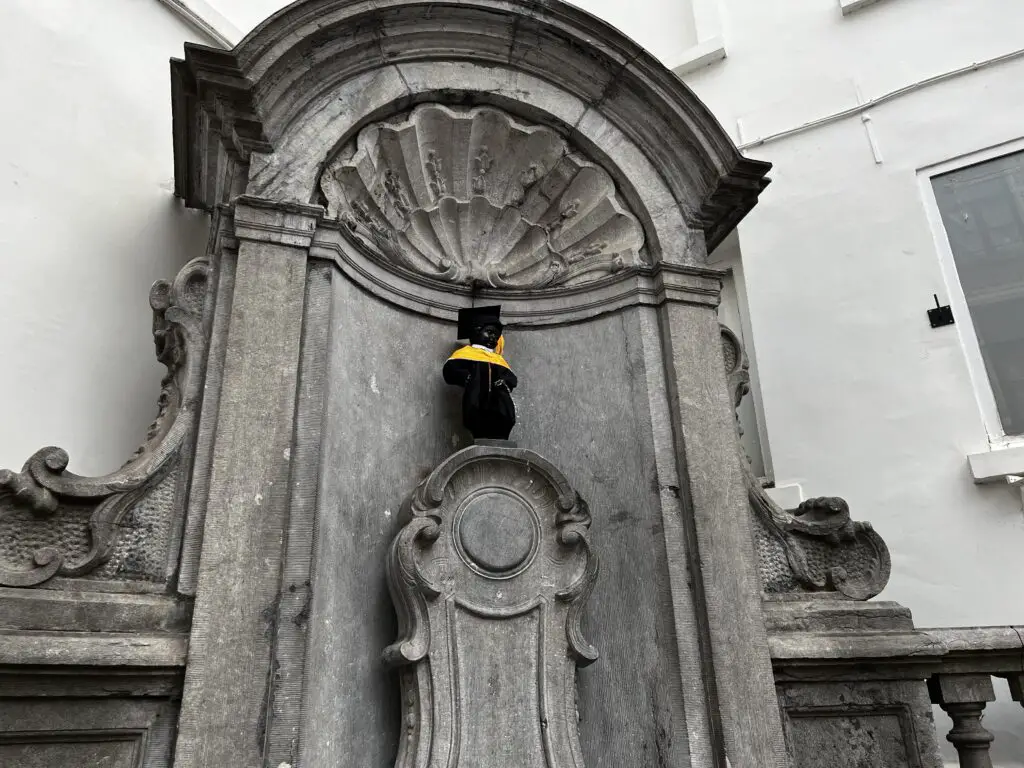 Atomium
The Atomium is the symbol of Belgium and one of the most popular things to do when visiting Brussels. It was constructed in 1958 for the World Fair in Brussels and it is fun to explore. Inside are museums and light shows which doesn't sound super exciting but we did enjoy it.
Mini-Europe
This is a great place to visit with kids. It's essentially a park with miniature sculptures of different European nations. Plus you can learn all about the EU.
Belgian Comic Strip Centre
Comics are a big deal in Belgium so if you get the chance you should try to visit the Comic Strip Centre. It includes Tintin and the Smurfs which are arguably the most famous comics by Belgian creators.
The Royal Gallery of Saint Hubert
Only a short walk from the Grand Place you will find the Royal Gallery of Saint Hubert. It's one of the oldest shopping arcades in Europe, and a great place to go for coffee or to buy chocolate.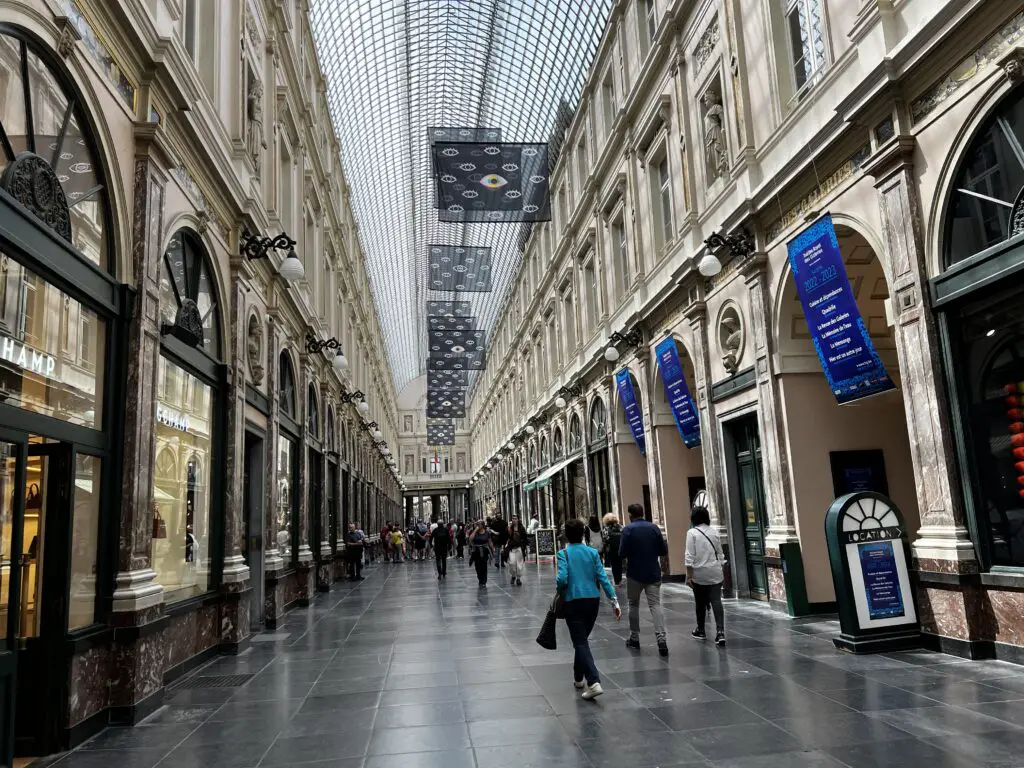 Brussels Park
Brussels Park is the largest urban public park in the city. It's a great place to go to have a break from the hustle and bustle of the city. There are also a number of cafes in the park so you can sip cold drinks whilst enjoying the sunshine.
Comic Strip Walk
A cool thing to do in Brussels is the Comic Strip Walk. All across the city you will stumble across artwork paying tribute to Franco-Belgian comic book characters. There is a specific route you can take, or you can just keep your eyes peeled as you move around the city.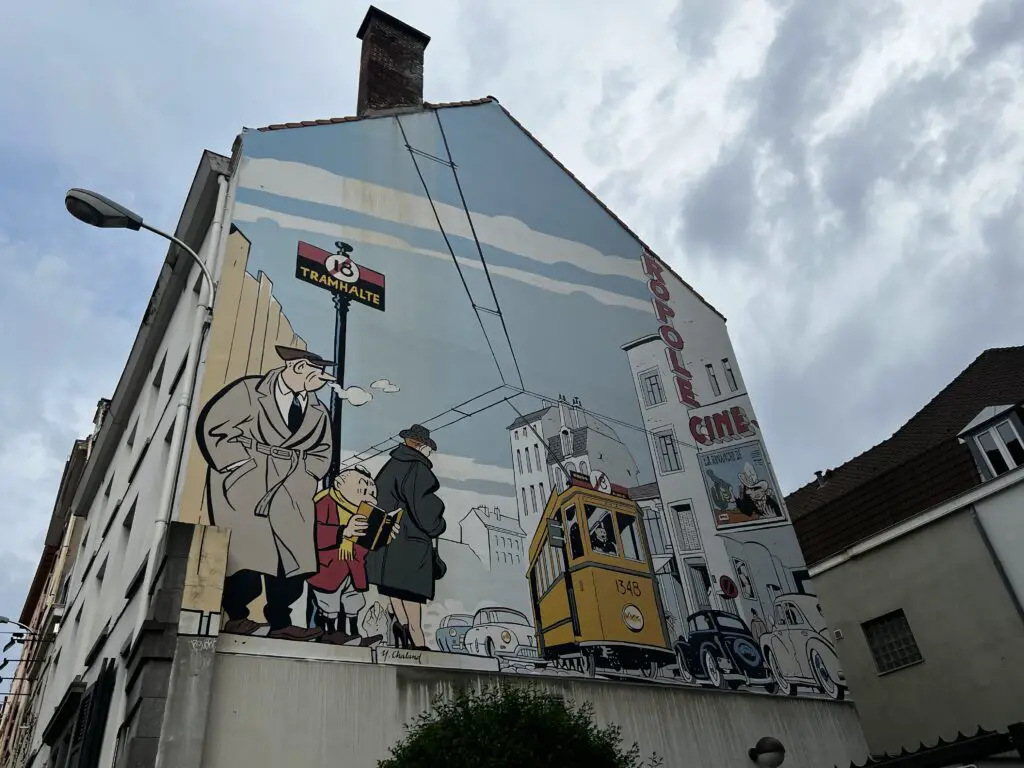 Chocolate Museum
You cannot go to Belgium without visiting the Chocolate Museum. The official name is Choco-Story, and it is a museum where you can learn all about the history of chocolate whilst sampling some along the way.
Old England
This is a great example of some of the amazing architecture in Brussels. It's an Art Nouveau style building that used to be the site of a large retailer. These days though it is a Musical Instruments Museum.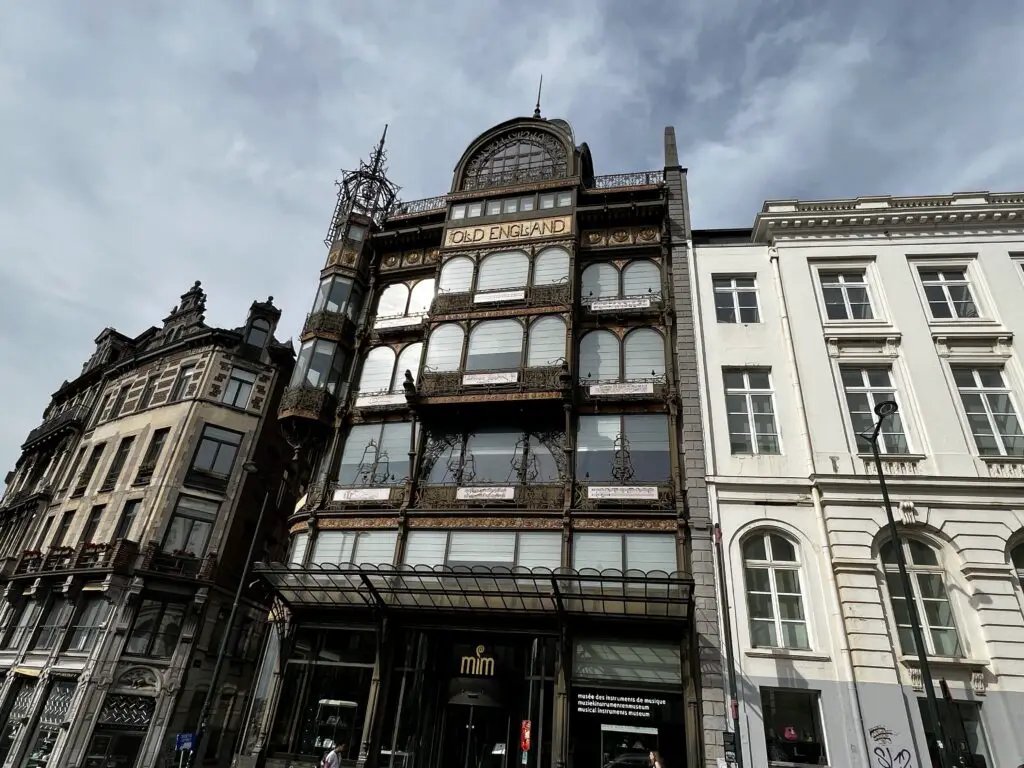 Mont des Arts
One of the things in our opinion that makes Brussels worth visiting is the fact it has a lot of green spaces and squares in the city. Mont des Arts is one of those. Essentially it is an urban square in the middle of the city but it is also the home of the Royal Library of Belgium and the National Archives. The public garden in the square is great for people watching and soaking up the sunshine.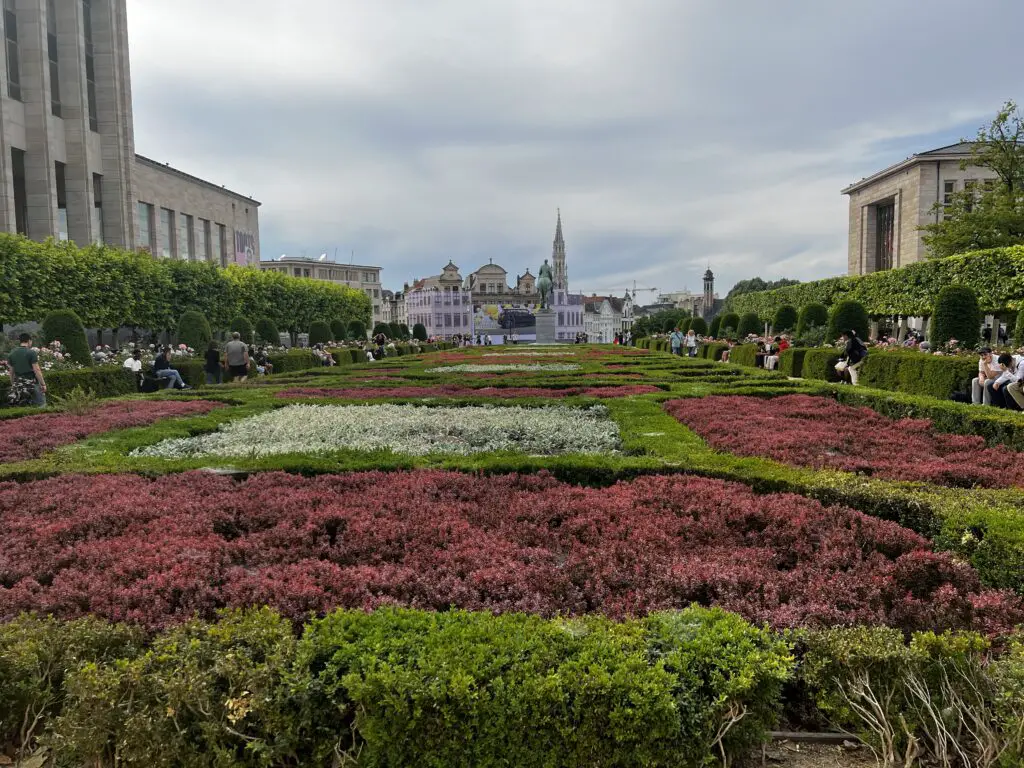 Is Brussels worth visiting for solo travellers?
Brussels is a great place for solo travel. The people in the city are really friendly which will make travel alone so much easier. It's relatively safe as long as you stick to the main tourist areas, and there are several group style tours you can join if you are wanting to meet people.
Is Brussels worth visiting for couples?
We visited Brussels as a couple and we think it is a great city to visit together. Not only is there a lot to do but the whole food scene is incredible, and the beers are top quality. It's basically the perfect place to go for some really good date nights. The city is enchanting and provides the perfect backdrop to a romantic break away.
Is Brussels worth visiting for families?
If you are wanting a city break away with kids Brussels is a great option. It's the perfect mix of culture, education, and fun. There are so many parks and outdoor spaces to share with your children. On top of that you have some incredible museums like the Comic Strip Centre, and even Mini-Europe and the Atomium which are great for kids.
Is Brussels worth visiting for foodies?
If you love food, particularly comfort food, you will love Brussels. The mix of cultures and international vibe makes for a fantastic food scene. It also has everything from street food to fancy sit down meals. Some of the must try foods in Brussels are of course Belgian Waffles, Pomme Frites, and Moules-frites. It's a hugely affordable city in terms of eating, pair that with Belgian beers, and you have yourself a foodies paradise.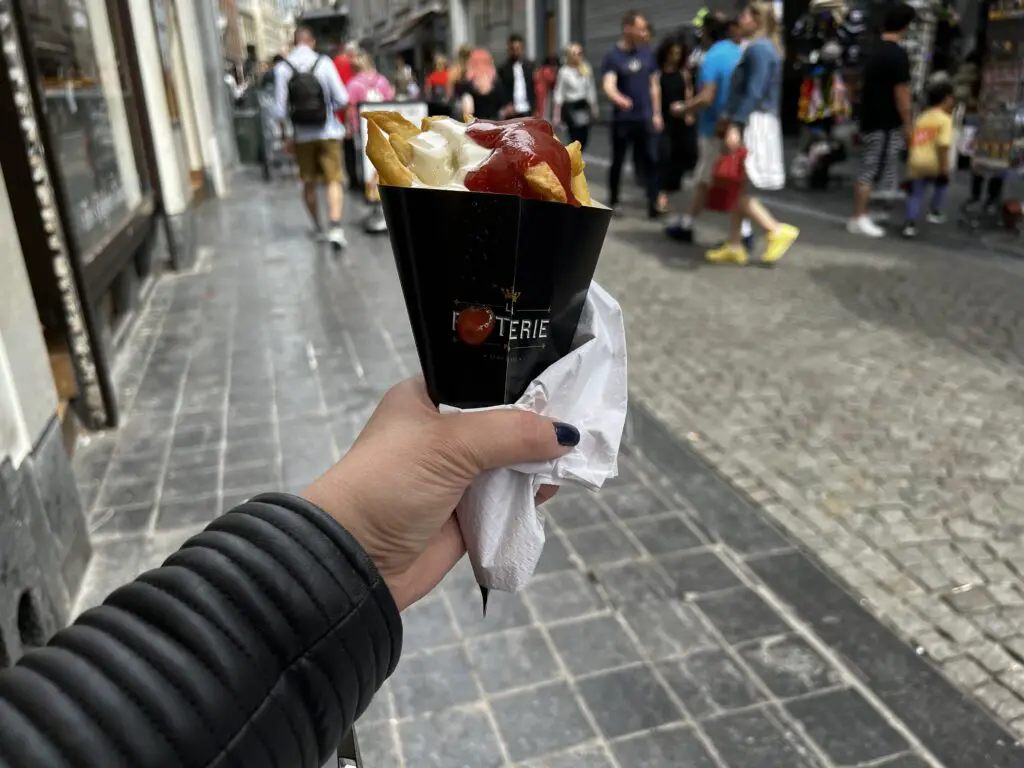 Is Brussels worth visiting for the nightlife?
We found that the nightlife in Brussels was amazing. It's lively and incredibly diverse. There is also a little something for everyone. If you want cocktails you are covered. If you are into clubbing again you are covered. And of course if you just want to sip Belgian beer well into the evening you are indeed covered.
We found that the nightlife scene was more relaxed compared to other cities like Berlin for example. Food and drink pairing is a big thing, and considering how potent Belgian beer is that might not be a bad thing. It felt like people tend to go out for slow drinks, and a great atmosphere. In all honestly that was perfect for us.
Is Brussels worth visiting for nature lovers?
Whilst there is a lot of green space in Brussels, this all tends to be more urban. It's not really a city to visit if you want to be at one with nature, or want to climb mountains. Keep in mind Brussels is a capital city so for anything nature orientated you will need to travel way further out.
Is Brussels worth visiting for history buffs?
If you are a history lover, you will enjoy some of the incredible museums in Brussels. You will also hopefully enjoy the city's beautiful architecture which tells a fascinating story. Grand Place and The Old England Building are definitely great places to start. There is also the City Museum which is close to the Town Hall. This will give you an insight into Brussels from the Middle Ages to the present day.
Is Brussels worth visiting in the summer?
Summer is peak travel season over Europe and Brussels is no exception. The weather is mild particularly in comparison to more southern European destinations. On average temperatures range from 12-25 degrees Celsius. You do get a few hot days in the 30s so keep that in mind when packing for your trip.
There are a number of awesome festivals in the summer, and it's also perfect for sipping cold drinks on rooftop terraces. Unsurprisingly with the great weather comes an influx of tourists. Accommodation prices tend to rise, so make sure you book well in advance.
Is Brussels worth visiting in the winter?
Brussels is one of those places that you can pretty much visit year round. Winters in the city are cool and range between 1 – 7 degrees Celsius. It rarely gets to freezing, which is good news if you are planning a winter trip. There are tons of museums in the city, and even the outdoor activities such as the Comic Book Walk are bearable provided you dress appropriately.
There is a real cosiness to Brussels in the winter and several ice skating rinks pop up, as well as well as the Christmas Markets in December.
What to pack when visiting Brussels?
I think the main things to remember when visiting in Brussels is that you should pack for the weather. Winters are cooler so a warm coat, gloves and scarf are a must. Summers are mild but can get cooler in the evening so make sure you pack layers.
Comfy shoes are another must for Belgium, as well as a reusable drink bottle to hydrate when doing all that walking.
What should I know before visiting Brussels?
Here are some of our tips for visiting Brussels
Plan all the things to do in Brussels in advance and book them online – particularly the Atomium
Be careful if you are drinking a lot of Belgian beer, that stuff is strong!
Most people speak English in Brussels, so if you can't speak French or Dutch this won't be a problem
Carry some cash with you as not all places accept card – but most do
Book restaurants online in advance – especially popular ones
Avoid the restaurants around the Grand Place as they are really touristy
Also there are a lot of fancy chocolate shops around Grand Place but you can get decent quality Belgian chocolate at supermarkets for a fraction of the cost.
So Is Brussels worth visiting?
So is Brussels worth visiting? Honestly yes! Maybe it is because we visited Brussels with very low expectations but we really did love it. If you love indulgent food, great beers and beautiful architecture Brussels is very much the city for you. It might not be as exciting as the likes of Paris or Amsterdam but it has its own unique charms that make for perfect exploration on a short trip.
If you found this article useful please do pin it for later.
Happy Travels!