This post contains affiliate links, so if you use these links to buy something we may earn a commission, at no cost to you. Thank you for your support.
If you are planning on flying Swiss Air, then why not consider including a layover in Zurich. It is an incredible city to explore, with great transport links, and let's not forget about the chocolate.
We have created this guide because we recently had a 9 hour layover in Zurich. After a 9 hour transatlantic flight we were pretty jet lagged and as we wearily trudged around, we kept wishing we had done more research on the city. For us though, a 9 hour layover in Zurich was the final stop on a trip around the USA. We had done so much research for the USA and barely any research for Zurich, something which we regret in hindsight. So, we wanted to put a guide together for anyone else like us has left the research part to the last minute on their Zurich Layover.
Layover in Zurich – Airport Guide
Zurich Airport is the main hub for Swiss Air and is also the largest international airport in Switzerland. Chances are, if you have booked a Swiss Air flight you will be at least transiting through the airport. For instance, we booked a flight from Manchester to Chicago with Swiss Air. So, we boarded a flight in Manchester to Zurich and then later Zurich to Chicago.
Our return trip was from Toronto, and even though we booked through Swiss Air we ended up on an Air Canada flight to Zurich due to the fact that these two airlines have a codeshare agreement. Then we flew Swiss Air from Zurich back to Manchester.
There are two main terminals in the airport and the one that you end up at will depend on where you are going/coming from and what airline you have flown. Most people with a layover in Zurich will probably be flying Swiss Air.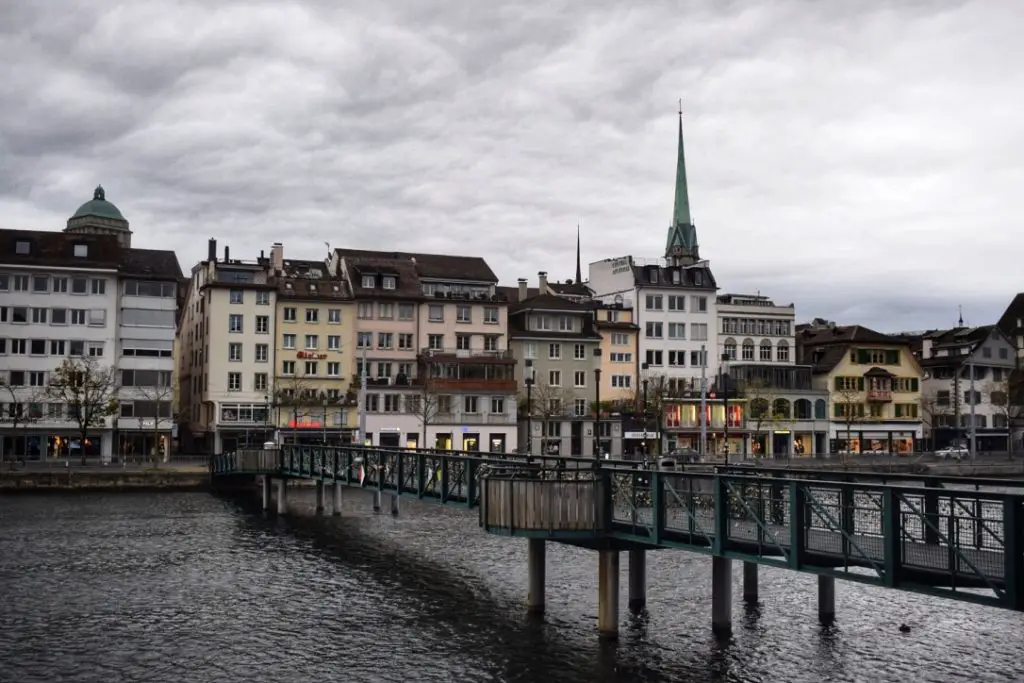 Layover in Zurich – leaving the airport
If you have a layover in Zurich and you are wondering whether or not to leave the airport here are some things to consider:
Do I need a visa for my layover in Zurich?
Most short term trips to Switzerland do not require a visa. Dave and I flew in on an Irish and British passport respectively and were able to walk into the country with no hassle. You will need to check though if you are travelling on a different passport as to what the rules are.
How long do I have for my layover in Zurich?
Obviously if you only have a short stopover then there really is no point leaving the airport. We had a 9 hour layover in Zurich which provided us with ample time to clear passport control, get a train to the city centre, explore, return to the airport, and clear security for our flight back. You need to be back in the airport at least 1.5 – 2hours before your flight (possibly 3 hours if you are flying outside of Europe).
Do I have to collect my bags?
If you have the option make sure you check your bags all the way to your final destination. That way you don't have to carry them around the airport/ city with you. The good news is that if you do have to collect your bags and want to explore the city centre then there is a luggage storage facility that you can pay for in the airport.
What time and day of the week is it?
If you only have a short layover in Zurich then before deciding to leave the airport you should think about what time it is and the day of the week. We arrived in Zurich at 6am, and by around 7.30/8am we were walking around the centre. The only problem was it was Sunday and nothing opened until about 9 or 10 am. We were absolutely freezing and exhausted from our flight and honestly would have preferred to have stayed at the airport until things opened.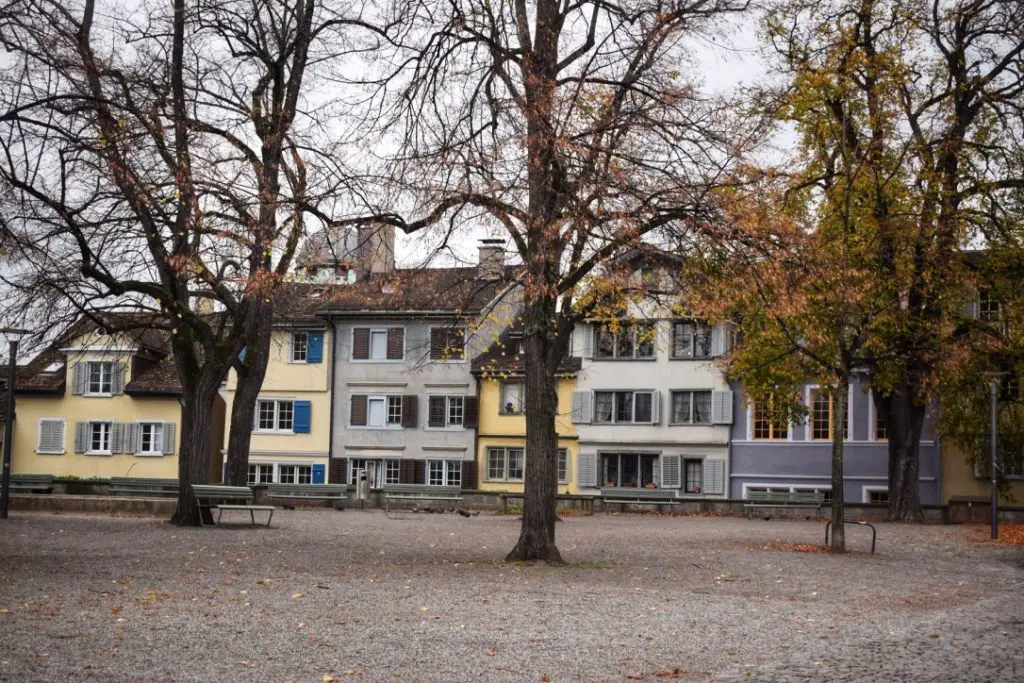 Zurich Layover Factsheet
Here is some important information you should know to help you plan your layover in Zurich.
Currency: Swiss Franc
Languages: German, French, Italian and Romansh
Country: Switzerland
Famous For: Chocolate, Cheese, Watches, Banking (it's one of the financial capitals of the world)
Zurich is a great place to visit if you like efficient city breaks that combine nature, and city life. It's such a safe and clean city making it perfect for a layover. Zurich is actually the largest city in Switzerland but not the capital. That title belongs to Bern. Another cool fact is that you will probably not go thirsty in Zurich. The city has over 1200 water fountains. And speaking of large numbers Zurich is also home to over 100 banks, and just to clarify that is individual banks not branches.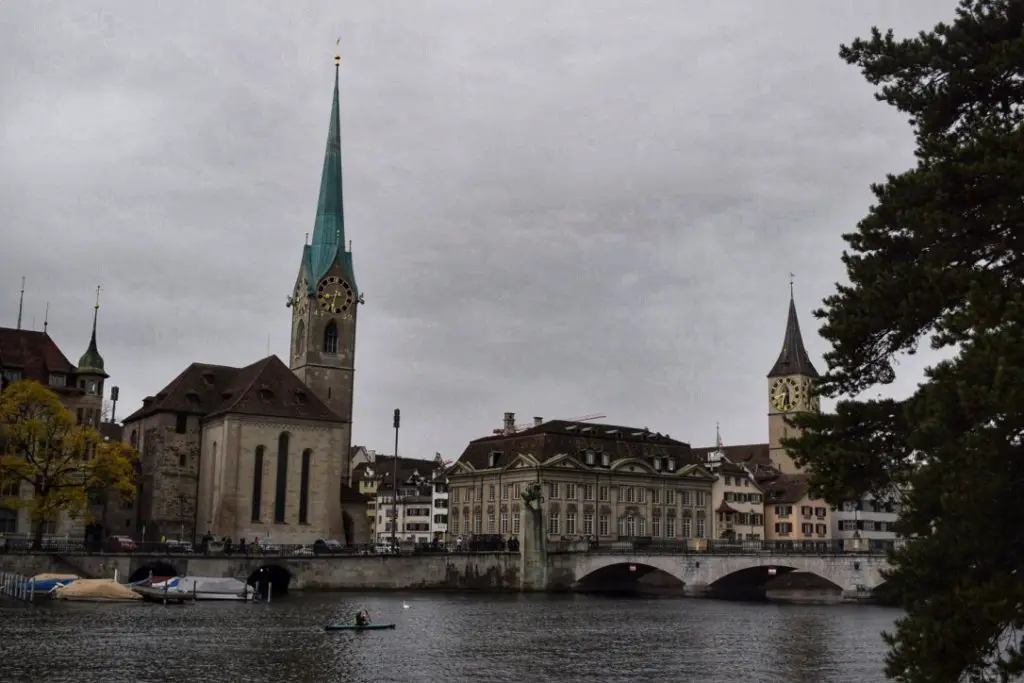 Zurich layover – Getting from the airport to the centre
Getting from Zurich Airport to the centre is actually really easy. We recommend getting the train as they are cheap and fast. Trains run every 5-10 minutes from the airport to the city centre all day between 5am and 12.30am. The train ride is only 10 minutes which is actually something we were quite surprised about. Tickets can be purchased at the station so no need to worry about booking in advance.
Tickets cost just under 7 Francs, although I should mention this is for a 2nd class ticket. We didn't realise when we bought our tickets and sat down in 1st class. We were very politely directed to the 2nd class carriages. That being said, 2nd class in Switzerland is actually really comfortable and clean, and in comparison to some of the trains we have here in England it was like sitting in luxury anyway.
Other alternative ways to get into the centre include taxi or shuttle bus. Keep in mind these options will be more expensive than the train.
About Zurich
Despite Bern being the capital of Switzerland, Zurich is actually the largest city in the country. Referred to as the economic capital of Switzerland, Zurich has topped a number of 'best places to live' lists over the last few years. The city population is over 400,000. The weather is quite mild in the city ranging from around -2 to 7 degrees celsius in the winter, and around 18 to 28 degrees in the summer. If your layover in Zurich is during the winter months, do wrap up warm and bring a good winter coat and scarf. Also, no matter what time of year you visit bring some good walking shoes.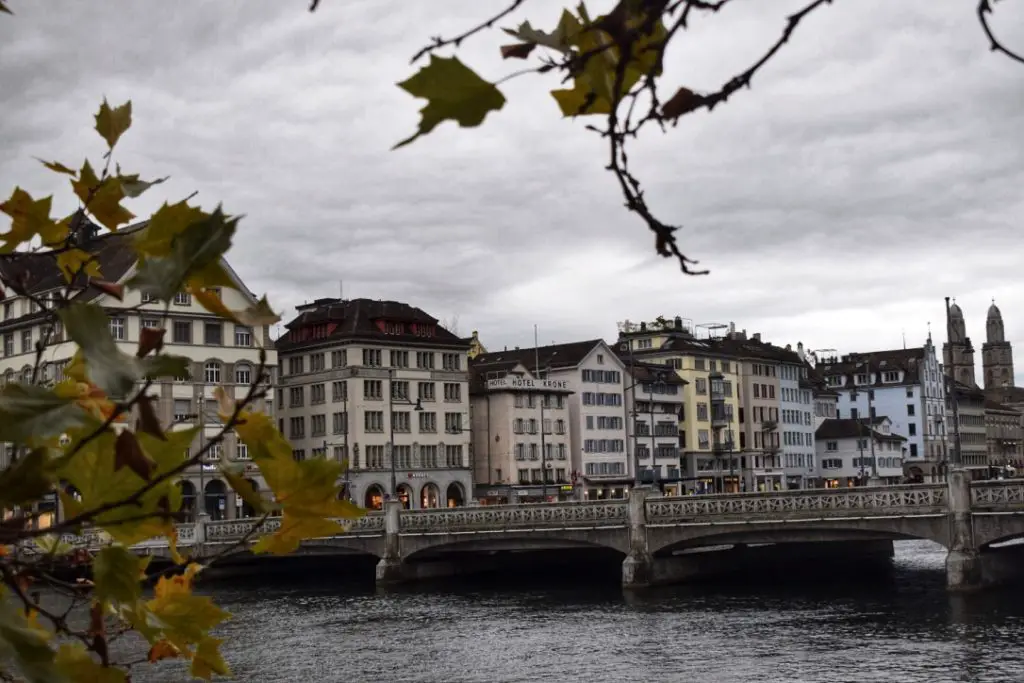 Getting around during your Zurich layover
Zurich is a really easy city to get around and if you only have a short stopover in Zurich, then exploring on foot is probably your best bet. We found very little need to use public transport once in the centre and walked everywhere during our layover. If you are going further afield or would prefer to catch public transport then that is no problem, as there are a number of buses and trams that snake their way through the city.
How much money do I need for a 9 hour layover in Zurich?
So you might be wondering how much money you will need for your 9 hour layover in Switzerland? The honest answer is well it depends on what you plan to do. I know that isn't the most helpful of answers, so let's try and break it down a bit.
First of all we should mention that Switzerland is expensive. The Franc is pretty strong currency and in comparison to your own, you aren't getting much bang for your buck. The cost of living in Switzerland is also pretty high so do keep that in mind.
Before deciding how much money you will need for your 9 hour layover in Zurich here are some things to consider.
Cost of a cup of coffee: 4.50 Francs (average)
Bottle of water: 3.00 Francs (average)
Basically a cup of coffee in Switzerland is equivalent to around £3.50, US$4.50, €4. Please bear in mind this is only a rough guide but it might help you plan how much money you need. You will need money for transport to and from the airport, food and drink, souvenirs, and any tourist attractions that you intend to visit. Credit Cards are generally accepted although this is mostly Mastercard and Visa.
Do make sure you have some Swiss Francs with you before you arrive. There are a number of currency exchange places in the airport, but they often have hefty fees and often don't have great exchange rates. We always take a bit of cash with us (enough for a taxi, coffee, etc) and then withdraw more cash with a pre-paid travel card.
What currency do I need for my Zurich layover?
In Switzerland the currency you will need is the Swiss Franc (CHF). It's divided into 100 Rappen (Rp). Francs are made up of 10, 20, 50, 100, 200 and 1,000 Swiss franc notes, and coins come in 5, 10, 20 and 50 Rappen, and 1, 2 and 5 francs. Most places in Zurich do accept card payments, although we always like to have a bit of cash on us just in case.
Things to do on a stopover in Zurich
Ok admittedly 9 hours isn't a huge amount of time to explore Zurich. Especially when you factor in getting to and from the airport, as well as getting through passport control and security. But the good news is, experiencing a bit of Zurich is totally doable. Here are some of the things we got up to during our 9 hour layover in Zurich.
Enjoy the cafes
Let's face it jetlag is the worst, and the best way to start your layover in Zurich is to chow down on some croissants and sip coffee. There are some really beautiful cafes in Zurich but our favourite has to be Cafe Schober. It is so cosy inside and is pretty much perfect for people watching on a lazy Sunday morning.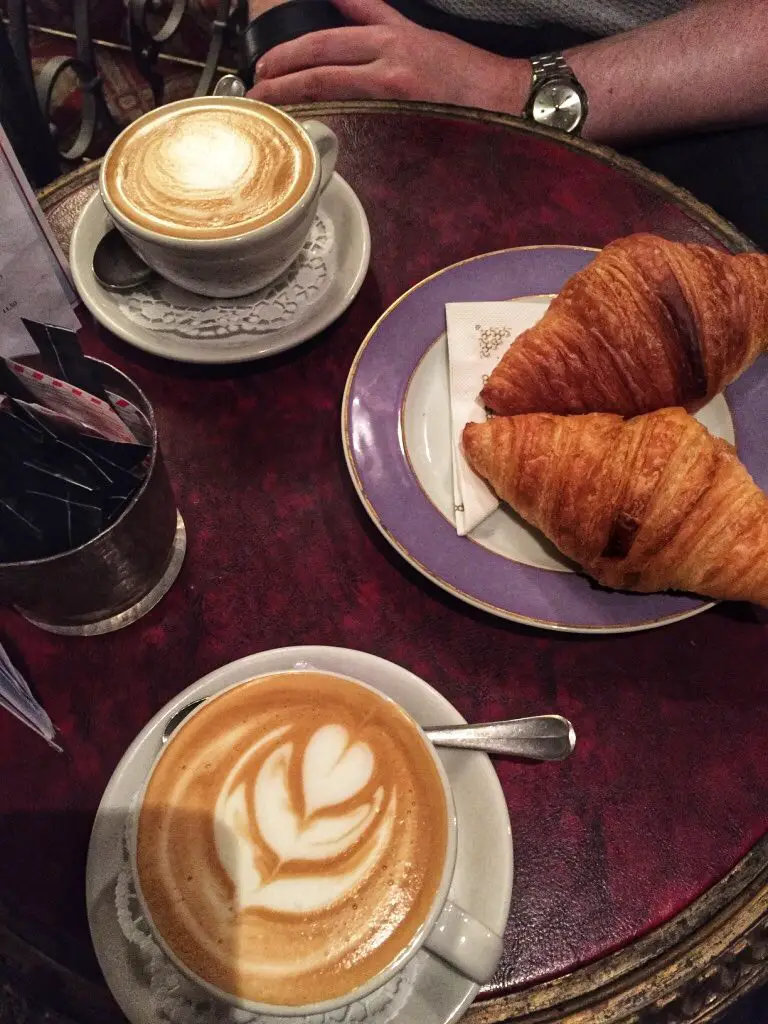 Eat all the chocolate
If you didn't eat tons of chocolate were you even in Switzerland? Sprungli is a great place to sit down and indulge. As well as chocolate they also do some pretty tasty macaroons. If you plan to visit during your stopover in Zurich it might be worth booking ahead. We ended up waiting around 30 minutes for a table but it really was worth it.
Shop
If you love designer stores then Bahnhoffstrasse is the place to go. You could easily spend a bit of time here shopping or in our case window shopping.
Kunsthaus Zürich (Museum of Fine Arts)
This is one of Europe's best art museums, and it is run by the Zurich Society of Arts. It has a large collection of works by several artists including Munch and Monet. If you are an art lover this a must visit place on your Zurich layover.
Visit Lindenhof
This was by far one of our favourite parts of Zurich and an absolute must see. From here you get some fairytale views over Zurich so it is the perfect place to take photos. You can also play a giant game of chess here too which is pretty amazing.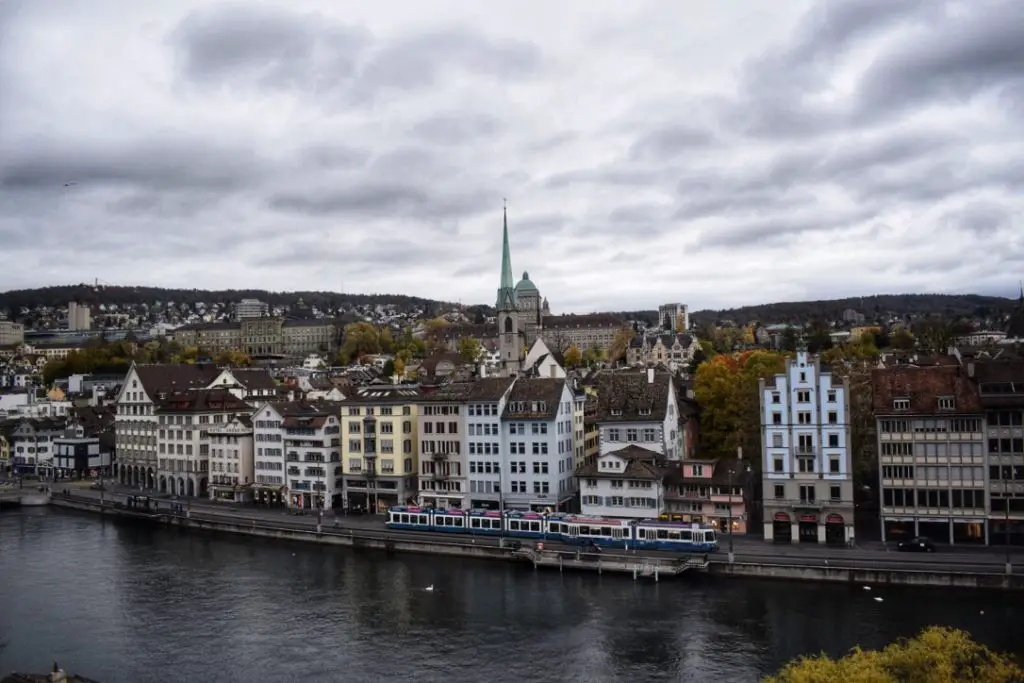 Take a walk by Lake Zurich
As we had flown into Zurich after spending a lot of time exploring the big concrete jungle type cities of the USA, a walk around Lake Zurich was actually really refreshing. It is a lot more active in the summer, but in the winter you get to enjoy the peace and serenity.
Climb the Grossmunster
Zurich has some pretty impressive architecture and one of the stand out buildings has to be the Grossmunster or Grand Church. Identifiable by its twin spires, legend has it that this church was built on the graves of Zurich's patron saints Felix and Regula. You can climb up one of the towers for a small fee and be rewarded with some impressive views.
Should I plan a layover in Zurich?
Honestly yes, it is basically the perfect place to spend a layover. It's safe, and clean, and really easy to get around. Plus a lot of the key tourist attractions or beauty spots are in the Old Town, which means you can spend a few hours walking around and taking it all in. Admittedly we are itching to get back to Zurich, and beyond, but we are so pleased we had the chance to explore even if it was only for a short time.
Zurich airport sleeping guide
If jetlag is getting the better of you then Zurich Airport has a transit hotel so that you can get some shut eye. We ended up getting a couple hours sleep before our flight home as we were just that tired. But in hindsight it would have been better to have a couple hours sleep and then head out into Zurich. It is a bit confusing finding the hotel and it is only accessible airside but believe us it is so worth it.
You can book a rooms for either a minimum of 3 hours, 3 – 6 hours, or more than 6 hours. You also get a choice of a double or single room and you can use the showers. Just be sure to arrange a wake up call so that you don't sleep through your flight.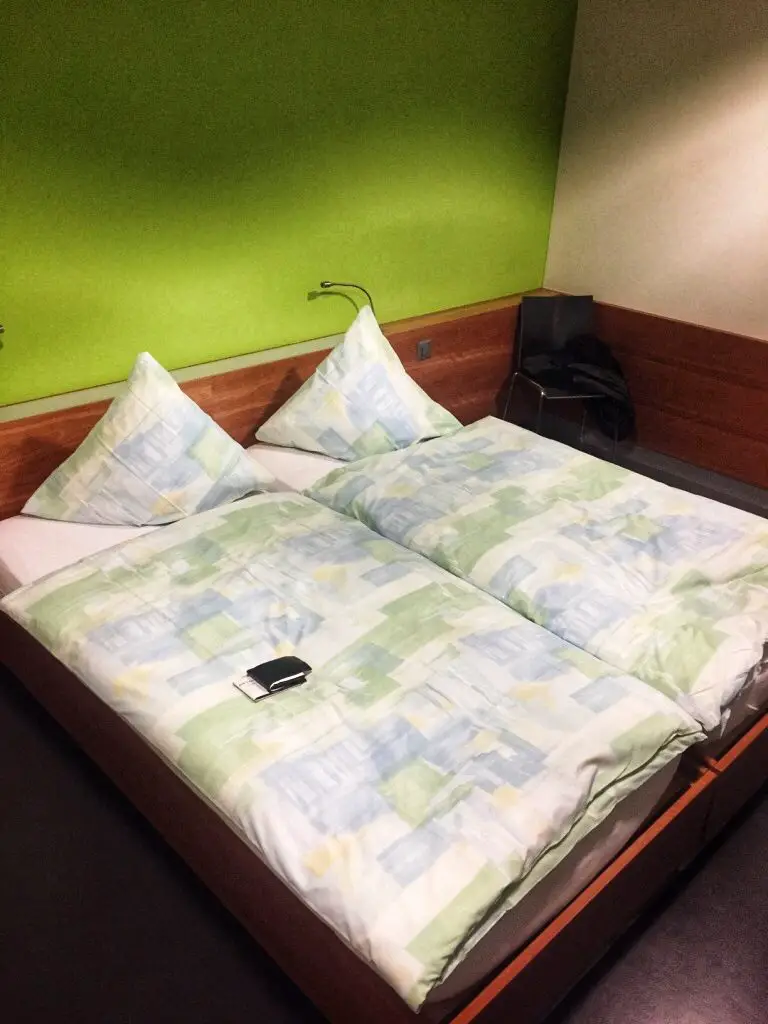 Zurich layover guide- a recap
Hopefully this guide has helped you plan your layover in Zurich, and unlike us you won't be walking around wondering what to do. And if all else fails just walk around and eat some Swiss chocolate. Don't forget to pin this Zurich layover guide for later!