A 4 day Iceland itinerary- everything you need to know if you are based in Reykjavik
It seems that everywhere you look on social media someone is posting a picture of Iceland. It is usually during an out of this world road trip. And there are usually travel tips on exploring the more remote parts of the country. But what happens if you are tight for time? And is it possible to visit Iceland in 4 days? Well, luckily we spent 4 days in Iceland and based ourselves in Reykjavik, which was perfect. There are so many tours you can take from Reykjavik and so much you can see and do. We have come up with a 4 day Iceland itinerary to help you plan your next trip to the land of fire and ice.
Admittedly we would have loved to have spent weeks here. We would have loved to explore every nook and cranny, and find hidden gems. Unfortunately due to our work commitments and budget this just wasn't possible. Plus we visited Iceland in winter so driving wasn't really something we wanted to do. So if you are short of time don't let that put you off. There is still so much to see and do. Here is how to spend 4 days in Iceland.
This post contains affiliate links, so if you use these links to buy something we may earn a commission, at no cost to you. Thank you for your support.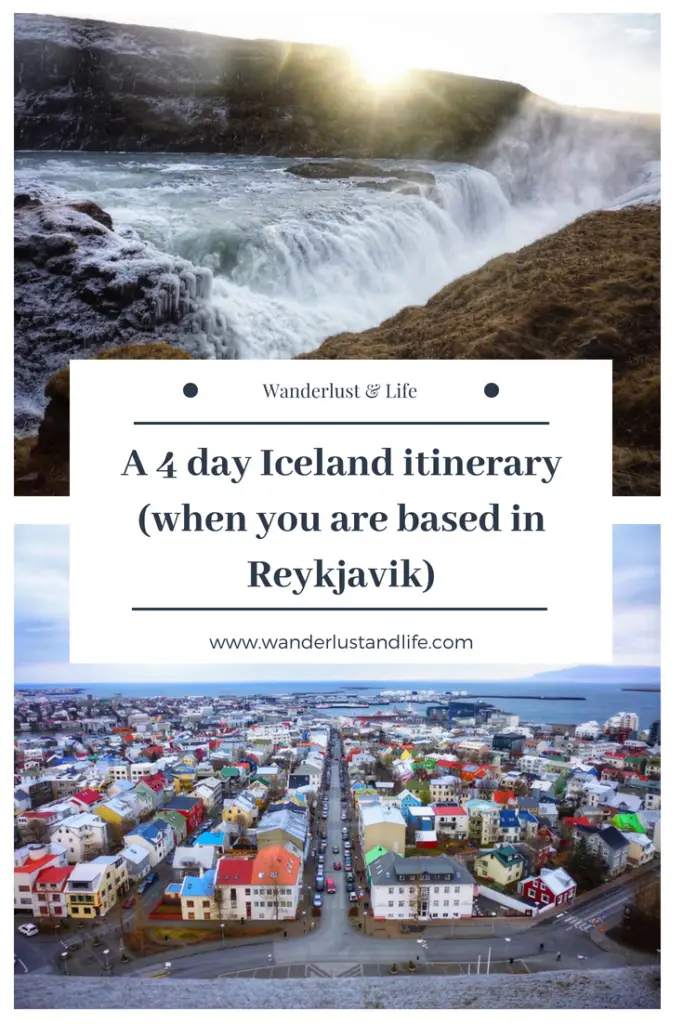 Iceland Itinerary Factsheet
Country: Iceland
Capital: Reykjavik
Currency: Icelandic króna
Known For: Rugged landscapes, incredible scenery, northern lights
Visit if you like: Really beautiful places
Also known as: The land of fire and ice
One of the really cool things about Iceland is that it is not hugely populated. You won't find massive skyscrapers penetrating the skyline, rather you will find glaciers, volcanoes and other extremities that aren't quite suitable for humans to live in. In fact Iceland averages at around 3 people per kilometre.
The population of Iceland is pretty small, and sits at around 300,000 people. When you think about it, it's really small. London has over 8 million inhabitants as does New York City. So, I think it is fair to say Iceland hasn't been completely overrun by humans. You also will not find a McDonalds here no matter how hard you try.
Wondering if Iceland is worth visiting? Here is a helpful guide.
Best time to plan your 4 days in Iceland
So you only have 4 days in Iceland and want to know the best time to plan your trip. Deciding when to visit Iceland all depends on what you want to do when you get there. We wanted to see the Northern Lights so we visited in November. Although it is possible to see them from September to mid-April. The winter months in Iceland are cold, and the days are short too. In November it didn't get bright until around 9.30am, which was a very odd feeling.
If you are there to experience nature and get the most out of the long days then visiting in Summer is ideal. You can do hikes or even better a road trip around Iceland. The landscape is a lot greener and the villages really come alive in the summer months. Temperatures are still pretty mild (somewhere between 10-25 degrees Celsius). In the peak of summer, typically June you will get 20-22 hours of sunlight per day. That's a lot of sunlight for 4 days in Iceland!
For more information on the best and worst time to visit Iceland here is a helpful guide.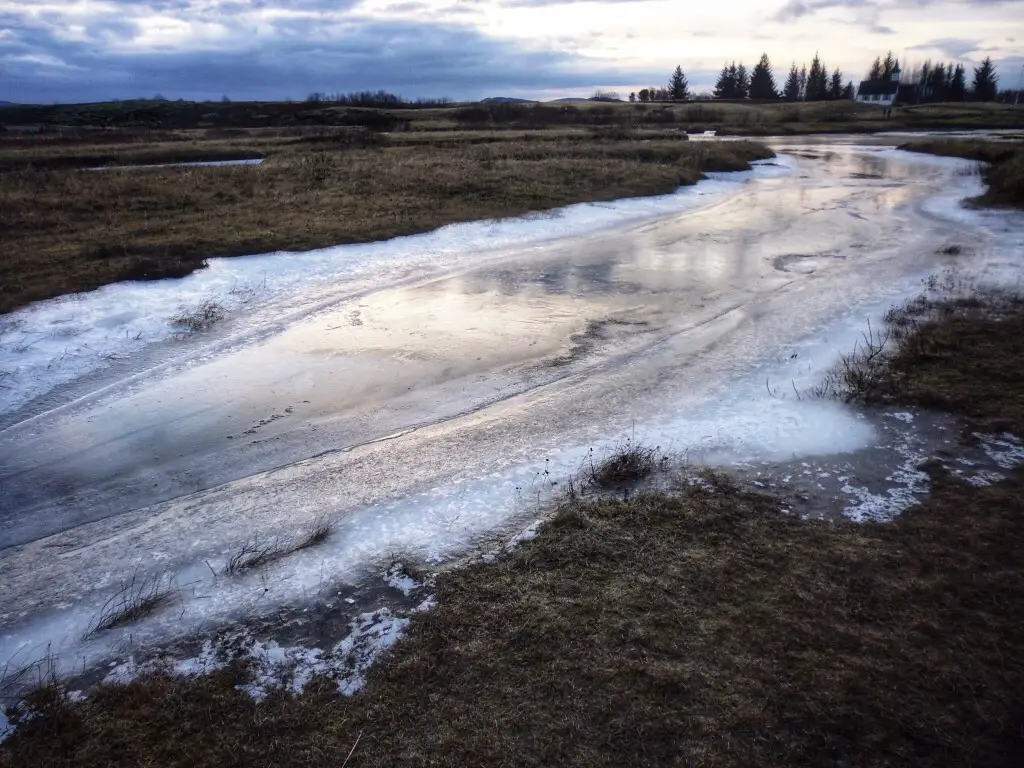 Getting to Iceland
Iceland is an island so your 4 day Iceland itinerary is going to start at Keflavík Airport. And the good news is that getting to Iceland is easier than ever. Apart from the flag carrier Icelandair there are a number of budget airlines extending their routes. We flew with Easyjet out of the UK. The main airport is Keflavik and from here you can get a bus transfer to Reykjavik which is of course the capital city. Or you can rent your car from the airport and start your epic road trip around the country.
Where to stay during your 4 days in Iceland
If you are only spending 4 days in Iceland then we recommend basing yourself in Reykjavik. We spent the 4 days in Reykjavik and it was perfect in terms of a base. It is a really fun city to explore with bright and colourful houses, and quirky coffee shops. You can also book a lot of day trips from here as well, and most companies will pick you up straight from your hotel door. We stayed at Rey Apartments, located in the heart of Reykjavik. Food can get expensive in Iceland so it was great having cooking facilities to save a bit of money, especially at breakfast.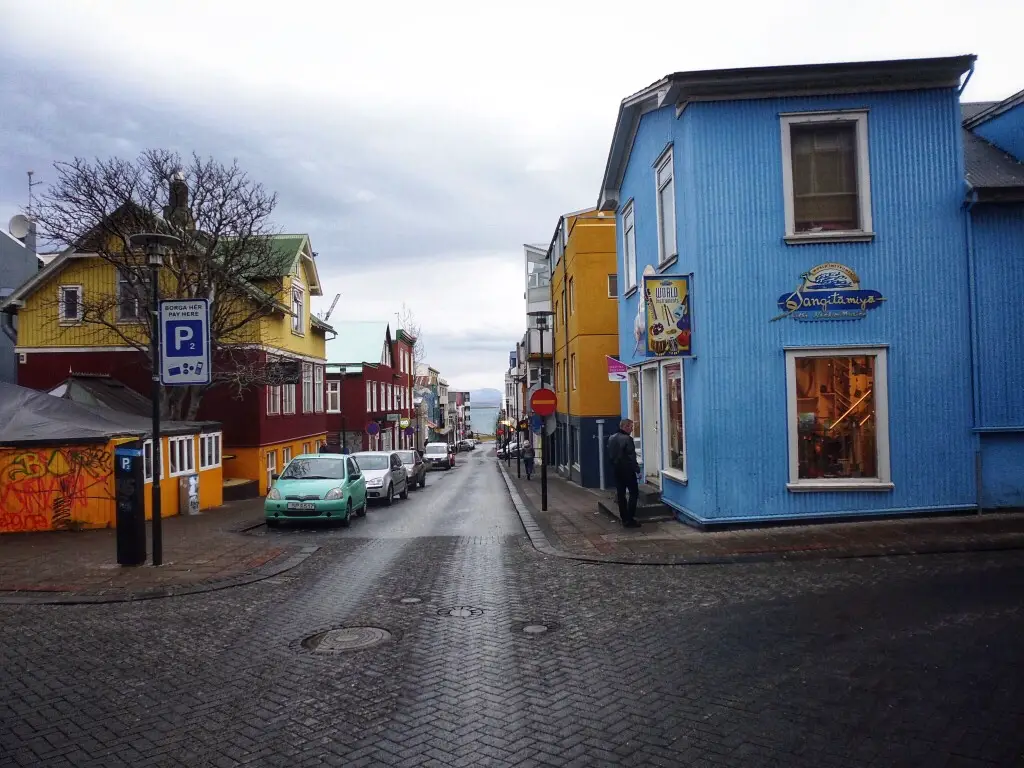 4 days in Iceland – The best things to do
Here is our list of the best things to do when spending 4 days in Iceland.
Explore Reykjavik
I know Iceland is huge, but do make sure that you reserve some time to explore Reykjavik when planning your 4 day Iceland itinerary. The city itself is beautiful, filled with colourful buildings, quirky shops, and some really good cafes.
Visit Hallgrimskirkja
When exploring Reykjavik make sure you visit Hallgrimskirkja. This Lutheran Church is hard to miss in Reykjavik. Even though it is only 74.5 metres tall (which isn't that high in North American standards) it is actually one of the tallest buildings in Iceland. Visiting the church itself is free but you do need to pay a fee of ISK 1000 to get to the top of the tower. Because Reykjavik isn't full of super tall buildings you get a fantastic view of the city, and also the mountains that surround it.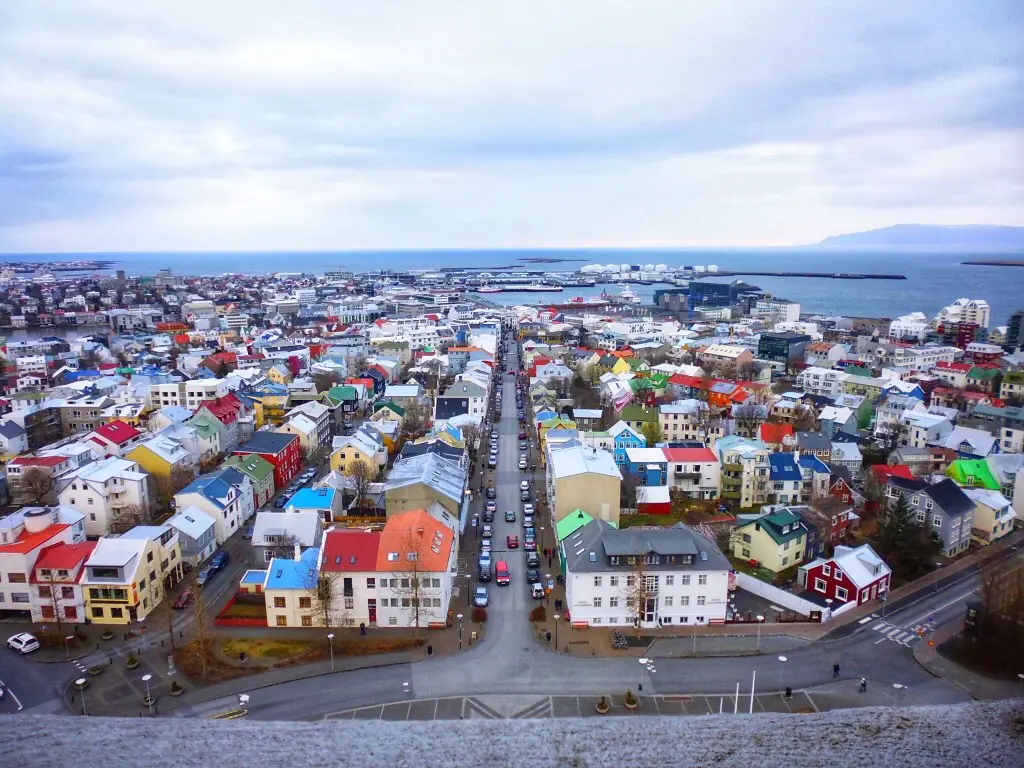 Visit the Sun Voyager
Another quirky thing to sea is The Sun Voyager. This is a sculpture located next to the water. It sort of looks like a viking ship although this was not intentional. Apparently it is a dream boat and an ode to the sun.
Go Bar Hopping in Reykjavik
Reykjavik has some really cool bars, and is known for its nightlife. Despite the fact that a night out can be expensive (especially if you are planning on sipping cocktails) it is a great experience, and something that you must add to your 4 day Iceland itinerary. There is a really fun Big Lebowski themed bar in Reykjavik that we highly recommend. It is a bit expensive, but all alcohol is in Iceland.
See the Northern Lights
If you are visiting Iceland in the winter months then do try and see the Northern Lights. You can book a tour from Reykjavik and a coach will pick you up and take you out away from all the city lights to try and catch this natural phenomenon. If you are planning to do this, make sure that you go when the weather is decent as too much cloud coverage for instance can scupper your chances of seeing the Northern Lights. There is of course no guarantee that you will see the Northern Lights but some tours allow you to rejoin the next night for free to give you the opportunity to see them. Below are some of the top Northern Lights tours you can book through Get Your Guide.
Do a Golden Circle Tour
This is another must for any 4 day Iceland itinerary. And if you are based in Reykjavik you can book a tour that will show you the highlights along the Golden Circle. This includes Thingvellir National Park, Geysir Geothermal Park and Gullfoss Waterfall. You get picked up from your accommodation and taken on a full day trip with time to explore all the sights. There are different tours you can choose from and the most popular are below. Alternatively you can also do the Golden Circle yourself by renting a car.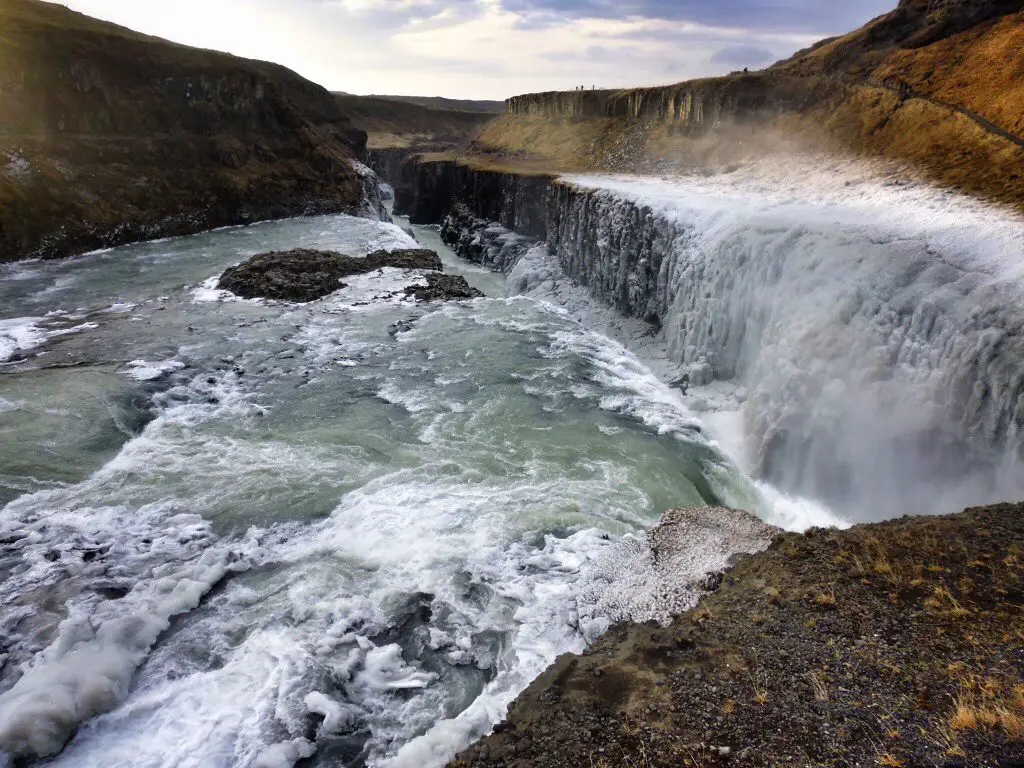 Go Whale Watching
Another highlight of our 4 days in Iceland has to be going on a Whale Watching tour. You get to see these incredible creatures in their natural habitat, and get to sip some hot chocolate whilst doing it. Get your guide do a few different what watching tours which you can book in advance, such as a standard cruise, whale watching on a RIB Boat or a luxury yacht. Whichever you decide it is worth it, and we recommend making sure that you book in advance.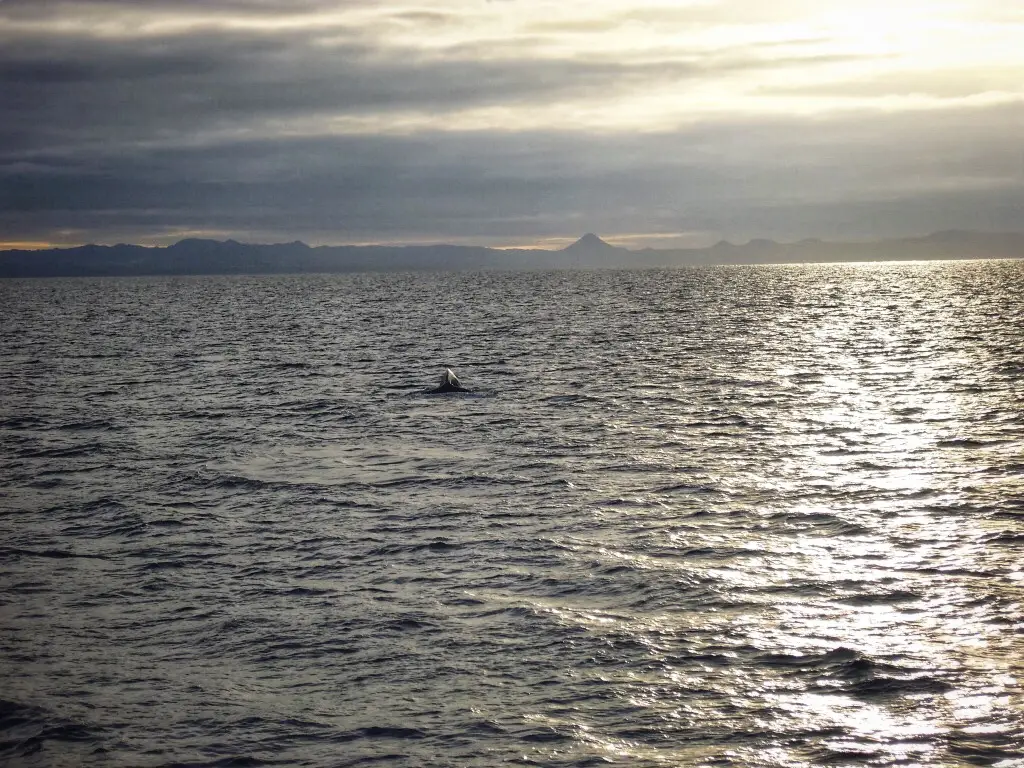 Do a glacier hike
When in Iceland why not do a glacier hike. The cool thing is you get to learn all about glaciers, as well as the effects of climate change on these natural wonders. One of the best tours takes you to Sólheimajökull Glacier from Reykjavik. You get a professional guide who will take you to some of the most photogenic spots too. Just make sure you book in advance as this does get really popular with tourists.
Enjoy the Blue Lagoon
The Blue Lagoon has been on our bucket list for years. So a trip here was an absolute must for us. You can spend the good part of a day here just relaxing, and sipping wine purchased from the lagoon bar. The Blue Lagoon is located a bit out of Reykjavik, so you can book a tour where a coach will pick you up from Reykjavik and drop you back off when you decide to return.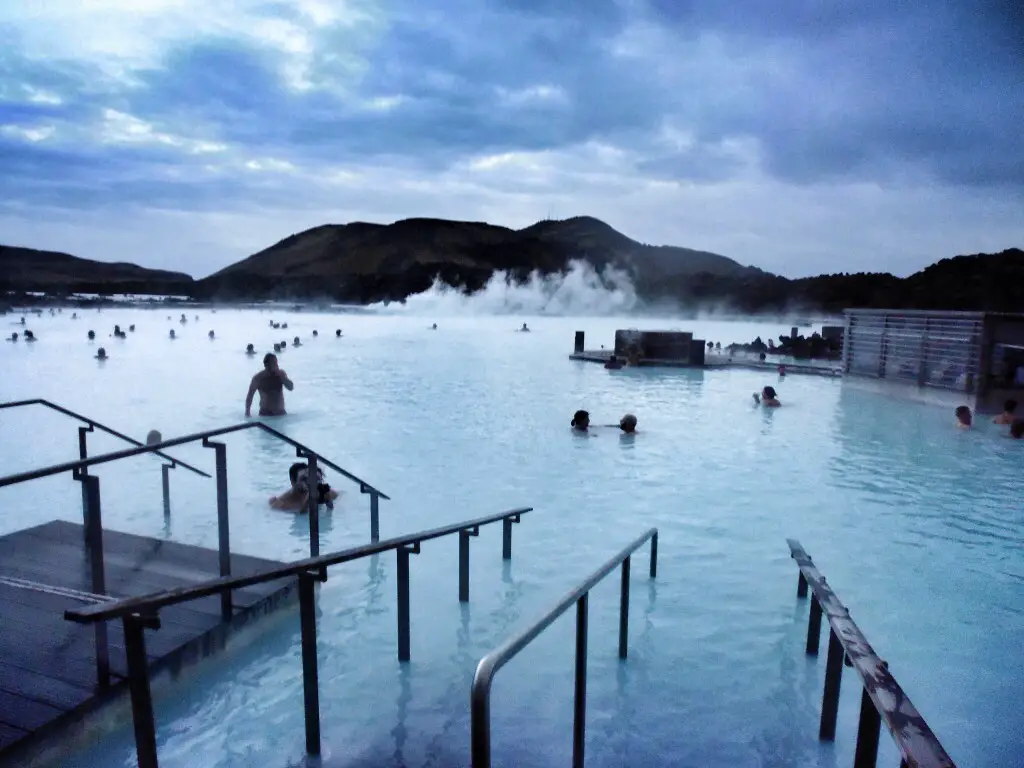 Do a helicopter tour
If you want to splash out during your 4 days in Iceland why not do a helicopter tour. One of the coolest ways to see Iceland has to be from up above. This one hour tour departs from Reykjavik domestic airport and allows you to see geothermal springs, lava fields and much more from the sky. You will also land and get 15 minutes to explore and take in the scenery before heading back to the airport.
4 day Iceland itinerary
Here is our detailed 4 day Iceland itinerary that will hopefully help you plan your own time when visiting.
4 day Iceland itinerary – Day 1
On day 1 of our 4 days in Iceland we ending up arriving on an early flight so we took the opportunity to spend our first day exploring Reykjavik. There are so many stores, and quirky restaurants and coffee shops to visit. There are also quite a few museums to visit. A highlight for us was visiting Hallgrimskirkja (no we don't know how to pronounce it either). It is a very architecturally unique church which is also the largest church in Iceland. The highlight for us was heading up to the observation tower on top. You get an amazing view of the city and the surrounding mountains.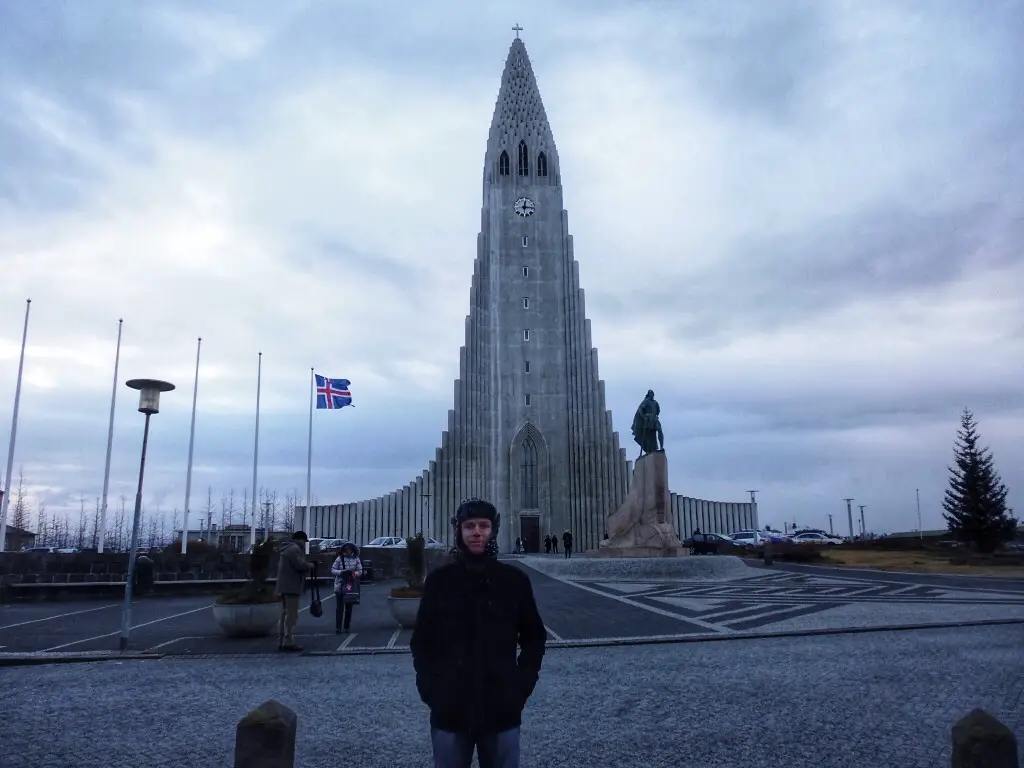 After visiting the church we decided to try and see the Sun Voyager and walk along the waterfront. Truthfully we didn't last all that long as it was really cold and windy so we headed for shelter and food.
As mentioned above when visiting Reykjavik you have to stop by some of the super trendy bars. Our favourite was the Big Lebowski themed bar. Although it was a one drink maximum for us once we saw the cocktail prices. We also happened to visit during the Iceland Airwaves festival. This is a music festival showcasing new music both local and international. We happened to be in a bar when Sindri Eldon who is Bjork's son came on stage and played a set. Seriously what could be a more stereotypical Icelandic experience? That is apart from Bjork herself.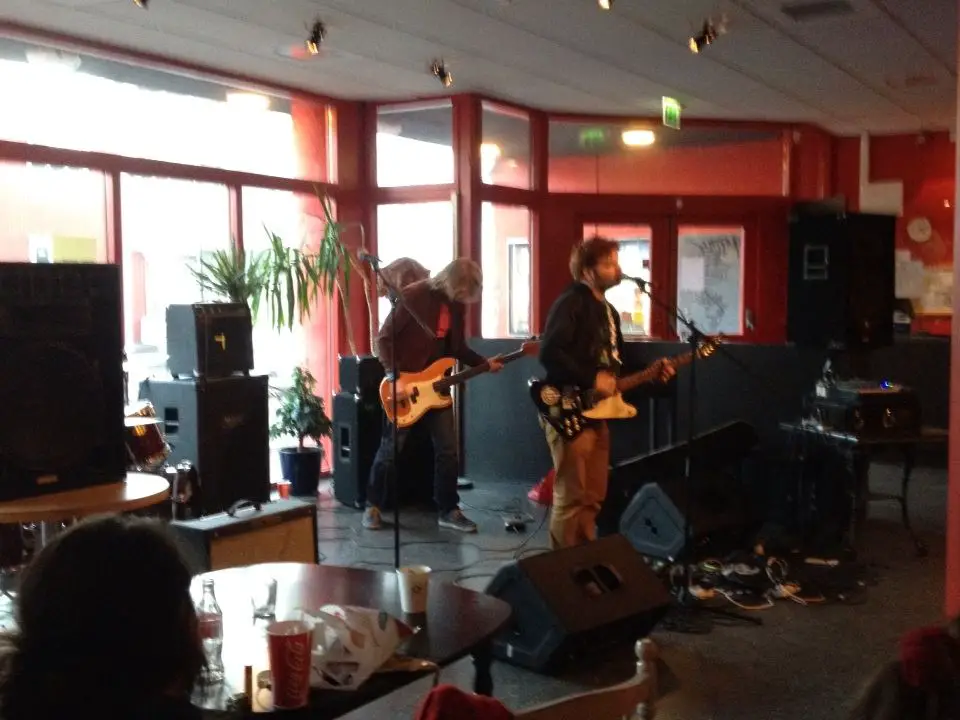 That evening we booked the Northern Lights tour. We boarded a coach and they took us to a remote nature reserve about 30 minutes out of Reykjavik. You do spend a lot of time waiting during this tour so be prepared. There is also no guarantee that you will see the lights. We got really lucky and managed to catch a glimpse which made all the waiting around, and frozen fingers worth it. If you want some tips on seeing the Northern Lights make sure you read this article.
4 day Iceland itinerary – Day 2
We decided to book the Golden Circle tour. This is a full day trip and takes around 8 hours. Our first stop was Thingvellir National Park. It was actually the site of Iceland's parliament from the 10th to the 18th century. Even cooler is the fact that it is the site of the mid-Altantic Ridge. This is where the North American and Eurasian tectonic plates meet. These plates are being pulled apart at a rate of about an inch per year which has created the Thingvellir Rift Valley.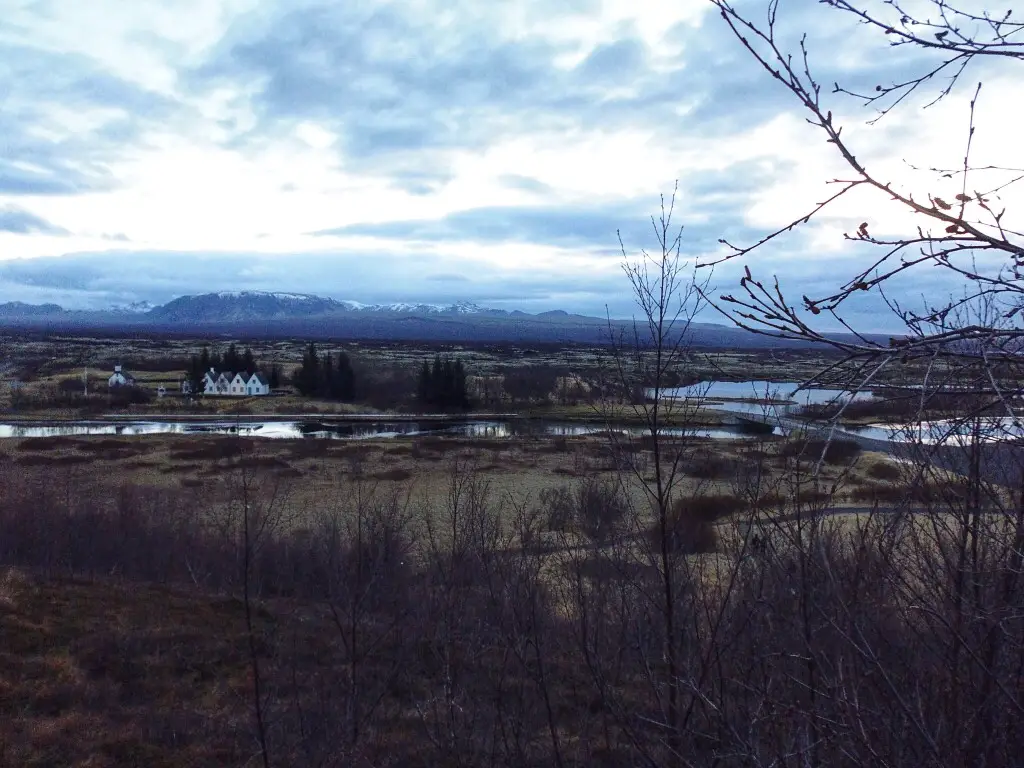 Our next stop on the trip was also our favourite, Gullfoss Waterfall. We got to spend quite a bit of time here which was perfect because it is so easy to become transfixed on this beauty. As it was winter a large part of the walk next to the waterfall was closed off. As it turns out though, a chain and a do not enter sign are not enough to deter busloads of tourists from getting up close to the waterfall. So we strolled down (trying not to slip on sheets of ice) and got our photographs. I suppose this is the point in the article that I advise you to do so at your own risk.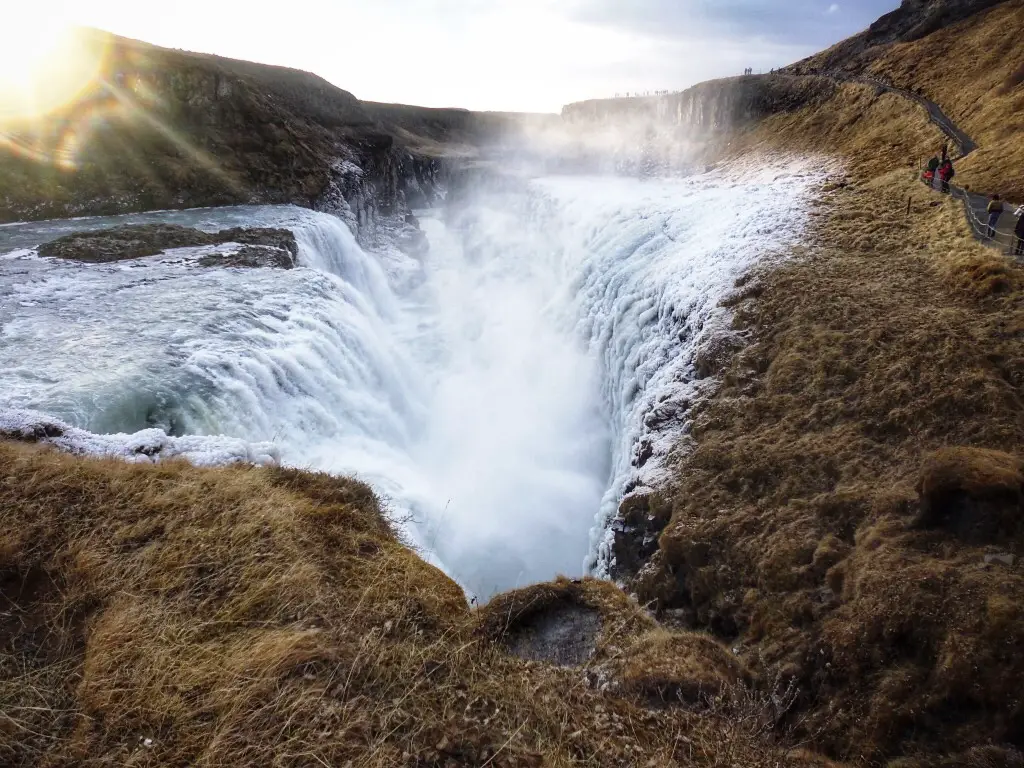 After a bit of soup to warm us up we were then driven to the Geysir Geothermal area. Here you can actually watch the Strokkur Geyser erupt. It does so every 10 minutes or so and is incredible to see.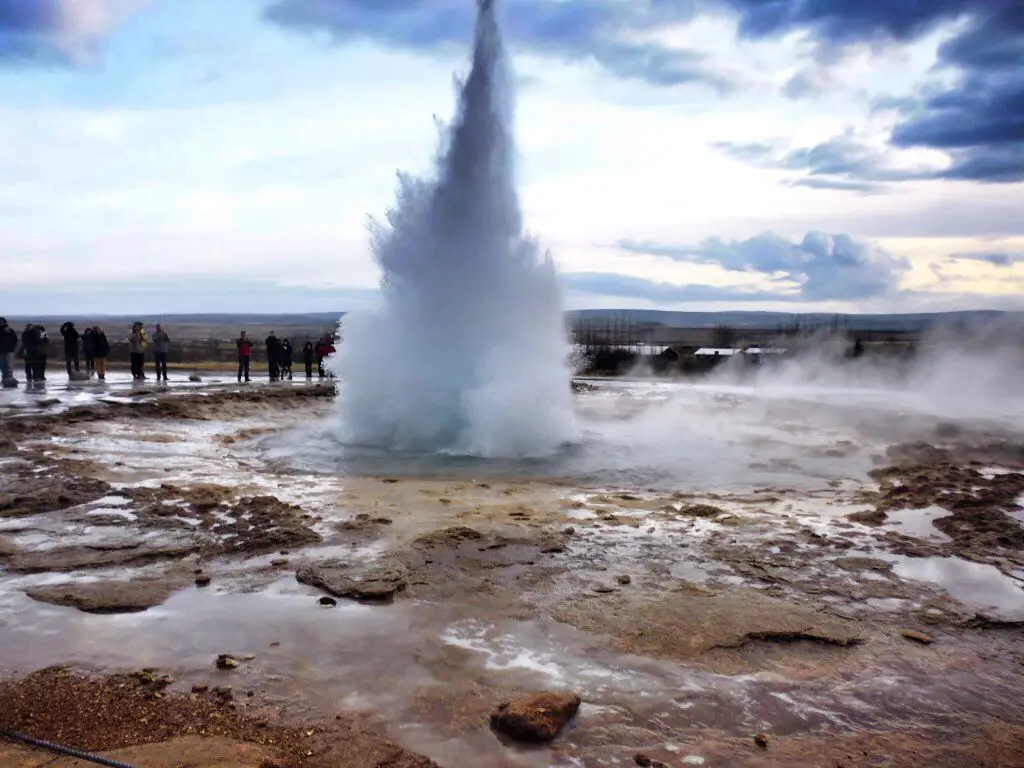 The whole tour is really worth it and it gives you a real taste of Iceland even if you are based in Reykjavik.
4 day Iceland itinerary – Day 3
When planning our trip to Iceland, I was really looking forward to going whale watching. We walked down to the harbour and hopped on one of the tour boats that takes you out to see some wildlife. It gets really cold in the winter so the tour provided us with thermal suits to be able to stand on the deck and look for whales. It is also worth noting that you are not guaranteed to see any whales or dolphins on your trip. They are of course wild animals and you cannot control when they will be around. We got lucky and got to observe two whales who were splashing about. I guess you could say they were having a whale of a time (I know I know I couldn't resist).
Terrible Dad jokes aside our tour operator assured us that they ran a responsible whale watching tour and the safety of the whales was paramount. It really is a wonderful experience getting to see these magnificent creatures where they should be, in their natural habitats. It was also lovely being out on the boat looking at the mountains in the background.
4 day Iceland itinerary – Day 4
The last of our 4 days in Iceland and we thought no trip here is complete without a visit to a geothermal spa. I have read so many blogs about why you shouldn't visit the Blue Lagoon. Why? Because there are much cooler, less touristy lagoons that only real travellers know about. We personally don't agree. Ok there may be more secluded places, but visiting the Blue Lagoon was one of our trip highlights.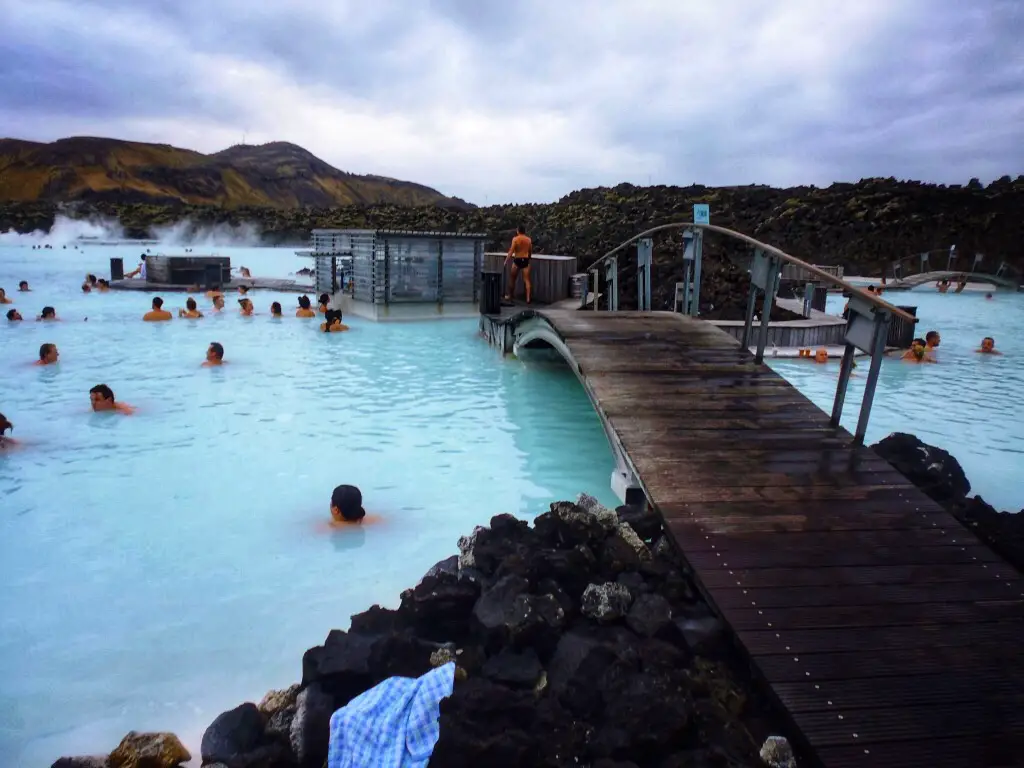 It does get busy and yes it is full of tourists, but we were so relaxed, sipping wine that we didn't care. We booked through a tour company and they arranged our pick up and entry fee. For everything you need to know about visiting the Blue Lagoon checkout this post. 
After a relaxing day floating around in the warmth of the Blue Lagoon. We got our bus back to Reykjavik and had our last evening exploring the city's restaurants and bars before our early flight back to the UK.
Travelling as a couple – Romantic things to add to your 4 days in Iceland
If you are lucky enough to visit Iceland with your significant other, here are some romantic things to add to your 4 day Iceland itinerary.
Get romantic under the northern lights
There are several tours you can do from Reykjavik that will take you out to see the Northern Lights (obviously there is no guarantee you will actually see them). Or you can book into a hotel that allows you to see the Northern Lights direct from your room.
Visit the Blue Lagoon
The Blue Lagoon is pretty romantic in itself, but if you really want to up the ante you can book a spa package including a couple's massage and other treatments.
Do a food tour
What's more romantic than good food and good company? Therefore if you are wanting to add a little romance to your time in Iceland why not book on an Icelandic food tour. Here you can taste tradition foods like lamb soup, errr and of course fermented shark.
How to get around during your 4 days in Iceland
In reality 4 days in Iceland isn't that long and the country is massive. That is why our recommendation is to stay in Reykjavik and get yourself booked on same amazing tours. You will be picked up directly from your hotel and taken to places like the Blue Lagoon or the Golden Circle. Public transport isn't really a thing in Iceland. For starters there are no trains so it's not like you can just hop on board one and end up smack bang in the middle of a glacier.
If you feel comfortable you can rent your own car and drive from place to place although we would only really recommend this in the summer months. The roads can be quite treacherous in the winter especially when you are not used to them.
How much money do I need for my 4 days in Iceland
There is no sugar coating it. Iceland is expensive. In fact one of the only other places we have been that had us spending money like no tomorrow was Oslo.
 Like I mentioned above public transport is not really a thing, so it's not like you can save money hopping on a metro. You either need to book onto some tours or hire a car. Both can be pricey. For a decent holiday, including food, drinks, and tours, you are probably looking at about $150 – $200 US dollars per person per day. Or if you are travelling from the UK £130 – £160 per person per day. This is not including accommodation.
Some things we did to try and bring down costs was to rent an apartment hotel. This meant that we could cook food at home as opposed to always eating out. We also made sure to book tours and accommodation in advance, hunting around for the best deals.
What to pack for your 4 days in Iceland
What you will need to pack for your 4 days in Iceland will of course depend on what time of year you are visiting. But here are some key things that you really shouldn't leave home without.
Proper footwear – Iceland is all about experiencing nature so make sure that you dress accordingly.
Swimming costume – no matter the time of year due to the thermal springs swimming in Iceland is always a good time.
Waterproof jacket – again no matter what time of year make sure that you have a waterproof jacket in case of rain.
Thick socks and windproof clothes
Things to know before planning your 4 day Iceland itinerary
Here are some things we think you should know before planning your 4 days in Iceland.
If you are visiting in winter, wrap up well, and plan your time accordingly. Daylight hours are limited so use your time wisely.
Book your tours well in advance as they can fill up.
Cash isn't a huge thing in Iceland either, so no need to take out a lot of cash before you arrive. Bank cards are pretty much accepted everywhere.
Bring a water bottle with you to Iceland – it has some of the purest water in the world so no need to spend a fortune on bottled stuff
So should I spend 4 days in Iceland?
Absolutely you should! Iceland is incredible, and 4 days is a really good amount of time to get to grips with the country without completely blowing your life savings. Of course you won't be able to see everything in this amount of time, but if you plan your itinerary in advance, and get booked onto the tours then you should still be able to see a lot. And hopefully our 4 day Iceland itinerary will help you make the most of your time.
4 days in Iceland a recap
We hope that this 4 day Iceland itinerary has inspired you to book your own trip to this amazing country. It really will be a memorable experience and even if you are only there for a short time, it doesn't mean you have to miss out on seeing some of the natural beauty the country is famous for. If you have found this article useful please pin it for later!