Growing up in Australia, Singapore has always been the ideal stop over destination to break up those long haul flights from Australia to the Northern Hemisphere. And it is the perfect layover destination, with so much to see and add to your Singapore itinerary. It's safe, it's clean, it's easy to get around, and it is beautiful. On top of that the airport alone will keep you entertained, even before you step foot into the tourist spots. But Singapore is a lot more too. We spent 2 days in Singapore to help you plan your own trip to this amazing country. We tell you everything you need to know, from visa requirements to some of the laws in the country, as well as the best things to see and do to add to your 2 days Singapore itinerary.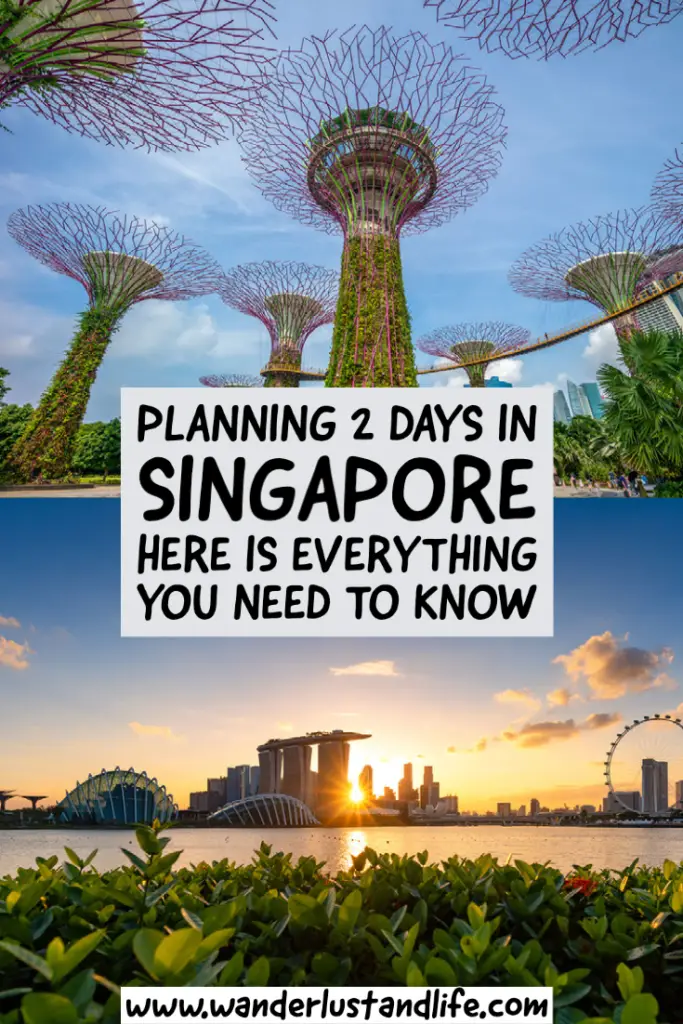 Singapore Itinerary Factsheet
Country: Singapore
Languages Spoken: English, Tamil, Malay, Mandarin and Singlish (did you know that around 27 Singlish words have made it to the Oxford Dictionary?)
Currency: Singapore Dollar (SGD)
Famous for: Strict laws but also being incredibly safe, good food, luxury travel, and one of the best airports in the world.
Visit if you like: Bustling cityscapes and a mixture of eastern and western culture
If you are new to visiting Asia Singapore is a great starter country to help you adjust to Asian culture. It is a real mix of east and west, and English is one of the languages spoken which helps when getting around.
Despite it being a small country, in fact it is one of the smallest in South East Asia, its GDP per capita more than makes up for it. Its economy is great, and it is one of the best countries in the world to do business.
When is the best time to plan your 2 days in Singapore
So one time in Dubai, we nearly passed out from heat exhaustion (ok slight exaggeration but it was over 40 degrees celsius and we really struggled). Ever since then we have become those people who research the weather in every destination they visit. Our 2 day Singapore itinerary was no different.
The temperature in Singapore is pretty consistent year round. Due to its close proximity to the equator it basically hot and humid all year round. This might be good news for some, for us not so much. We are definitely more suited to colder climates, and all I can say is thank goodness for air-conditioning. But I digress. Singapore sits around the 31 degrees celsius mark and goes down to about 25 degrees celsius. That's around 87 Fahrenheit and 77 Fahrenheit for all the Americans out there.
Despite the consistent temperatures in Singapore, there is a rainy season and a dry season in the country. So if you are planning to spend 2 days in Singapore you might want to factor this in. February – April is what is classed as the dry season with less rain and the lowest humidity.
The rest of the year tends to be more rainy. We ended up visiting at the end of May, and it rained a lot! As our plane descended into Singapore we flew in through thick grey clouds. Thinking the clouds would pass, I was sorely mistaken as we did a hop on hop off bus tour in the middle of a massive downpour. I've never seen anything quite like it. The stairs leading to the open top roof of the double decker bus, literally turned into a waterfall. Later during our 2 days in Singapore as we visited Gardens by the Bay, a thunderstorm passed through causing us to seek shelter very quickly.
That being said, if you have no choice but to visit during the rainy season, then don't worry. You will still enjoy Singapore. Just make sure you pack accordingly. Luckily if you keep reading this article we have included some packing suggestions!
Getting from the airport
Chances are if you are arriving in Singapore you will be doing so via Changi Airport. The airport is constantly winning awards for the 'world's best airport' and it really is easy to see why when you arrive here. For starters it is an easy airport to navigate, and there is also a lot to do especially if you have a long layover in Singapore.
In fact you could probably spend a day just exploring the airport itself. You can indulge in some shopping, visit the butterfly garden, watch a movie, enjoy the sunflower or orchid garden, honestly, the list goes on. It is almost an attraction in itself to add to your 2 day Singapore Itinerary.
You have a few choices to get from the airport to your hotel. You can take a taxi or public transport, or  simply get a shuttle bus to your hotel. We decided to go with the shuttle bus. For starters it is cheaper than a taxi, and more convenient than public transport as you don't have to lug your bags around. You just need to walk up to the desk at the airport and tell them the name of your hotel. Then you wait. It can take a little while for a shuttle bus to arrive but we really do think it is worth it. For us we waited about 10 minutes and we were on our way.
If you aren't as jet-lagged as us, the cheapest option for getting from Changi Airport to your hotel is by MRT. And when I say cheap I'm talking a few dollars. Signs are everywhere so you cannot miss the station. All you have to do is purchase a ticket from the machine, decide where you are going, and hop on the MRT. We do have more information on getting around Singapore below so keep reading.
Can you do a city tour if you are only stopping over in Singapore?
Please be aware that due to the Covid-19 pandemic these tours are suspended until further notice. But fingers crossed they will be back up and running again soon!
The cool thing is, if you have over 5 and a half hours until your flight you can sign up for a free city tour too. Yes you heard right the tour is completely free. Tours leave 7 times daily and take you to some of the key sights in Singapore. This link provides you with all the information you need to do this! So even if you don't have the luxury of 2 days in Singapore you can still see the city. How cool is that?!
Is 2 days is Singapore enough?
You might be wondering if 2 days in Singapore is enough? I've been going there since I was a kid so the 2 days in Singapore was a good amount of time for me to reacquaint myself with the country. But what about first time visitors?
If you really want to grips with Singapore, see all the sights, explore some awesome bars, and dine on incredible food, 2 days in Singapore might just be enough, but it will be a push. 3 days will give you more opportunity to see the sights, and delve in a bit deeper, but 5 days is probably best if you want to see it all and take things at a slower pace.
If time isn't on your side, like it wasn't for us, (I mean we only get so much annual leave and had to carry on to Australia afterwards), then 2 days still gives you a good chunk of time to see and do a lot. And who needs sleep when you are on holiday right?!
Where to stay during your 2 days in Singapore
A huge part of planning your 2 day Singapore itinerary will be spent deciding on accommodation. Particularly on such a short trip you want to make sure that you pick the right area to stay in. So let's start by looking at the different areas you can stay in when booking your 2 days in Singapore.
Chinatown
Chinatown is where we stayed which is why I'm popping it down first. It's a vibrant area, with a lot of food options, as well as thriving nightlife. Chinatown is also good value for money and close to public transport. A lot of the other areas in Singapore (in this guide anyway) focus on luxury travel, so if you aren't wanting to pay a fortune for your hotel room, Chinatown is a good shout.
We stayed at the Bliss Hotel a 3 star boutique hotel, that honestly we could not fault. The rooms were modern and clean, and staff were so accommodating. Also it is only about a minute walk to a MRT station.
There are still a few luxury hotels in the area, like the Parkroyal Collection Pickering or Maxwell Reserve so not all is lost if you are wanting to splash out for a bit of luxury.
The other good thing about the area as well is that you also get quite a few mid-range hotel options and even backpackers like the Wink Capsule Hostel. So basically there is something for everyone.
Orchard Road
If you are looking to enjoy a spot of shopping during your 2 days in Singapore then you will want to stay around Orchard Road. It is known for being an upmarket area full of designer stores like Gucci and Armani. Like the stores accommodation here isn't hugely budget friendly. Expect a lot of over the top 5 star hotels, which will of course be quite expensive.
If you do have the budget though there are a lot of really cool hotels like the Four Seasons or the Ascott Orchard Singapore.
Sentosa Island
Sentosa Island is like a completely different world. It is filled with resorts and theme parks as well as golden sandy beaches. If you want a unique resort like stay Sentosa is your go to. Again it's not the cheapest but it might just be the prettiest.
You've got a wide range of resort style accommodation here, and a whole lot of luxury. Some of the stand outs include the Shangri-La's Rasa Sentosa Resort and Spa, or the really cool TreeTop Lofts.
Marina
So even doing a tiny bit of research on 2 days in Singapore will inevitably lead you to the Marina Bay Sands. The incredibly famous hotel is an important part of the Singapore skyline, and the area itself is close to the river.
Again accommodation in this area can be pricey, and the most famous of course is the Marina Bay Sands. You've probably seen that incredibly infinity pool on TV, and if you stay you can see it in real life too. It's also an entertainment complex and you can go to a show, visit a nightclub, and much much more. It is also probably one of the most instagrammable spots in Singapore. So there is that too.
Things to do as part of your Singapore Itinerary
Now that the formalities are out of the way, here is the fun part, planning your 2 day Singapore itinerary. Here are some of the best things to do in Singapore.
Keong Saik Road
Keong Saik Road has gone from a one time hang out for criminals, as well as being a red light district, to a hip and trendy place. It is one of my favourite spots in Singapore because it is unbelievably colourful. It is also a fascinating mix of traditional style buildings with looming modern skyscrapers in the background.
Originally it was made up of grocers and coffee shops but it became an area rife with prostitution in the 60's. A lot of the three-story shophouses at this time were turned into brothels. Needless to say it attracted a lot of shady characters. These days though it attracts a different crowd, with tourists flocking to take pictures of the facades, and eat at some of the hip and happening restaurants.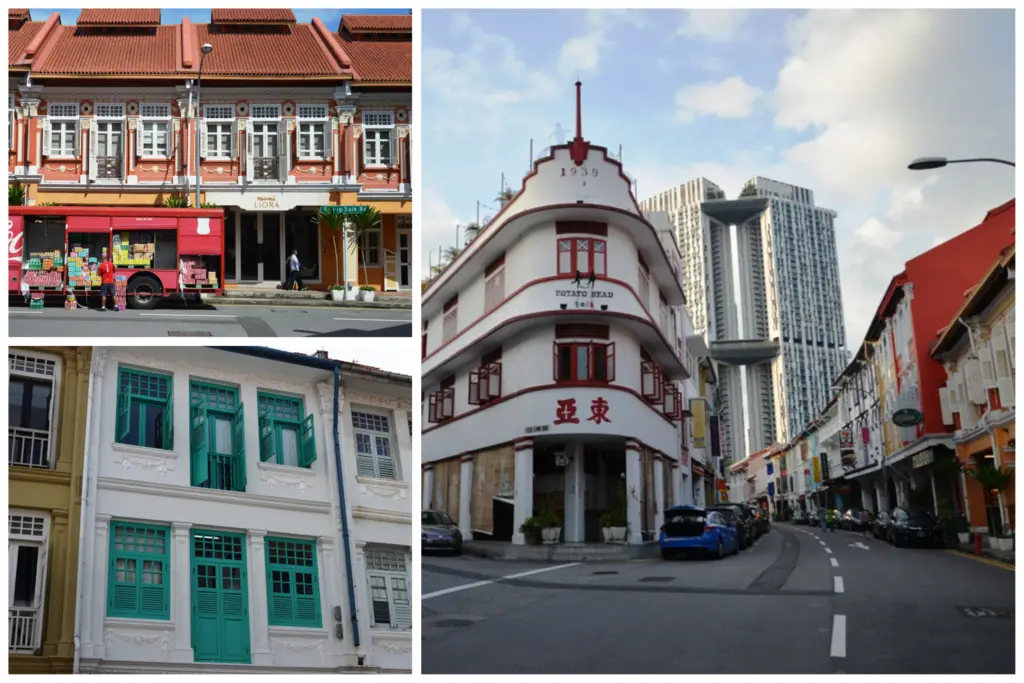 City Sightseeing's Hop On, Hop Off tour
We landed in Singapore relatively early in the morning. After getting a shuttle bus to our hotel we were too early to check in. So we decided to do the Hop On Hop Off tour. I know this is incredibly cliched and really touristy, but this tour is perfect for orientating yourself with a new city. It's especially great when you have walked off a plane after travelling for over 14 hours. Plus when you only have 2 days in Singapore this gives you the opportunity to get oriented with the city quickly.
The bus stops at all the main sights and you get an audio commentary as well. It is worth getting off to explore Orchard Road for a bit of shopping if your wallet allows for it. Tickets can be booked online in advance or purchased on the bus.
Orchard Road
Whilst we are on the subject of Orchard Road, we had to include it as part of our 2 day Singapore itinerary. Not only is is an exclusive shopping destination (think Gucci, and Louis Vuitton) but home to a number of cafe's and restaurants. Even if you can't afford to indulge at one of the luxury stores, you can still walk around and visit places like Ngee Ann City, the largest mall on the street, and home of the second largest book shop in Asia.
If shopping isn't your thing and we admit it probably isn't ours, the Singapore Botanical Gardens are nearby. These 163 year old tropical gardens are a UNESCO World Heritage Site, and are a nice reprieve from the hustle and bustle of the shopping district.
How to get here
It is super easy to get here you just hop on the MRT and get off at Orchard Station.
Raffles Hotel
I know this is another cliche but what stopover isn't filled with them? The hotel is a heritage listed site complete with stunning gardens and old school bars. It's easy to feel like you have gone back in time here. It is a colonial style hotel, which was established in 1887 by the Sarkies Brothers. The hotel has since undergone a lot of changes and has a turbulent history. In 1987 it was declared a National Monument by the Singapore Government.
It is also a great place to sit down and enjoy a Singapore Sling served by the world famous Raffles Butlers. The Singapore Sling was invented in the Long Bar of the hotel and despite its traditions within the hotel you can probably find this drink on most hotel menus in the country. Also admittedly there are better and probably cheaper places to go for the cocktail but for us it is worth it just to soak up the ambiance. I also really wanted to visit because one of my favourite writers Somerset Maugham was also said to have spent time here.
One of the reasons we think you need to add a visit to Raffles Hotel to your 2 day Singapore itinerary is because of its design. It's like walking into a tropical oasis with water fountains and airy outdoor bars. If you walk up to one of the hotel's balconies you get a great view of the hotel courtyard as well as a lovely shot of the Marina Bay Sands peeking through in the background.
How to get here
There are a few MRT stations that you can get off and easily walk to Raffles Hotel, including Esplanade, City Hall or Bras Basah. Raffles Hotel is then only a short walk from any of these stops.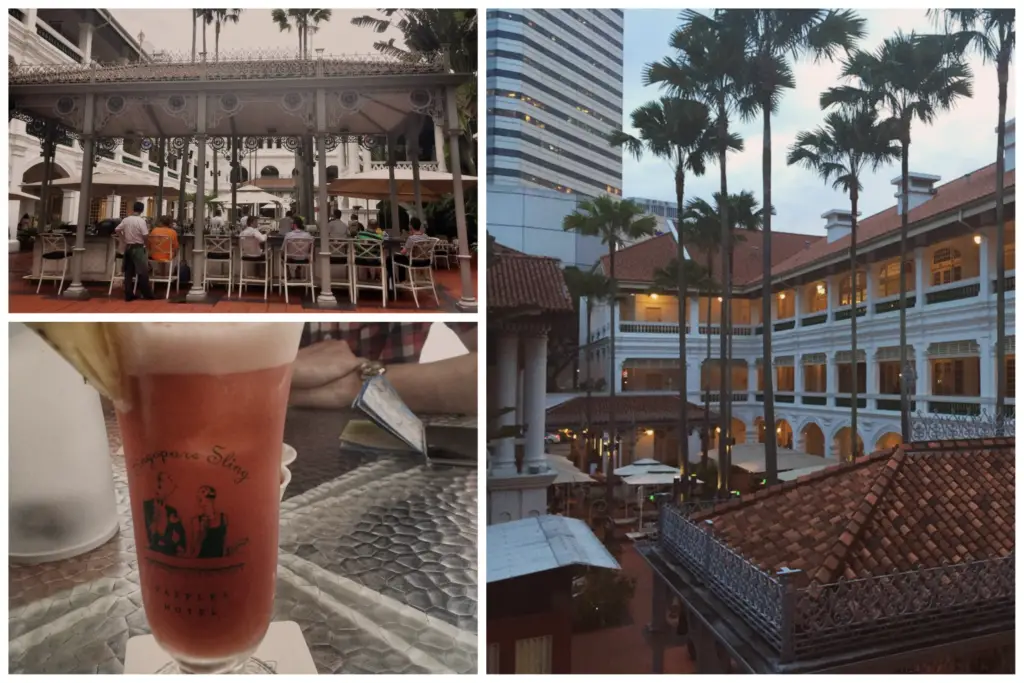 Singapore Zoo
We aren't really ones to promote visiting zoo's when travelling abroad, but the Singapore Zoo feels a bit different. The animals are well looked after and kept in some pretty impressive habitats. You will need about 2-3 hours to really experience the zoo so might not be top of your list of things to do during your 2 days in Singapore. But we definitely recommend it for longer trips.
There is also the popular night safari where you can see the animals at night. Electric trams whisky you around stopping at various places along the way. Make sure you book your tickets in advance.
How to get here
Getting here involves the MRT and a bus transfer, so have a look at the Singapore Zoo website for more information as this will depend on where you are coming from.
Singapore Flyer
Views in Singapore are all the range, and the skyline is stunning so take every opportunity you can to bask in it is what we say. The Singapore Flyer is the largest observation wheel in the world and not only gives you the chance to admire the Singapore skyline but also the Spice Islands of Indonesia and Straits of Johor in Malaysia.
You can book different packages but each package gives you the chance to engage in the multimedia exhibit documenting the history of the flyer. A full rotation takes about 30 minutes and you can do this throughout the day or into the evening. Make sure you book online in advance to skip the lines.
How to get here
If you get the MRT you will need to get off at Promenade Station and take Exit A. It is then about an 8 minute walk.
Gardens By The Bay
Another place you have to visit as part of your 2 day Singapore itinerary is Gardens by the Bay.  Not only is it home to one of the coolest attractions in Singapore, the Supertree Grove, but there is also a very impressive flower dome which has to be high on your to do list.
The gardens cover a 101 hectare area, and were part of a government initiative to transform Singapore into a 'City in a Garden'. It was also intended to raise the quality of life in the city by enhancing green spaces and flora. It certainly does that, and nature lovers will really enjoy exploring.
The gardens are a relatively new concept in Singapore and they were only created in 2012. They are free to access and usually stay open from 9am to 9pm. One of the most iconic sections of the gardens has to be the Supertree Grove. The steel framed, futuristic tree plantation would not look out of place in the movie Avatar. There are 12 'supertrees' located in the central grove whilst a further 6 are placed elsewhere in the gardens.
Whilst we are on the 'supertrees' there is also a Skyway connecting two of them. It is 22 meters high and not for the faint hearted. But if you can handle it the views are not to be missed. It is worth noting there is a fee to do this, although it is only around the $5 mark.
The cloud forest and flower dome are also well worth a visit. Essentially it is a giant greenhouse (in fact it is recognised as the largest greenhouse in the world by the Guinness Book of World records) with a range of floral delights. You do need to pay for entry, but again it is worth it because if we have learnt anything from Singapore, they certainly don't do things by halves!
How to get here
If you are getting the MRT then you will need to get off at Bayfront station. If you take exit B and follow the underground linkway you will come to the Dragonfly or Meadow Bridge which you will need to cross to get into Gardens by the Bay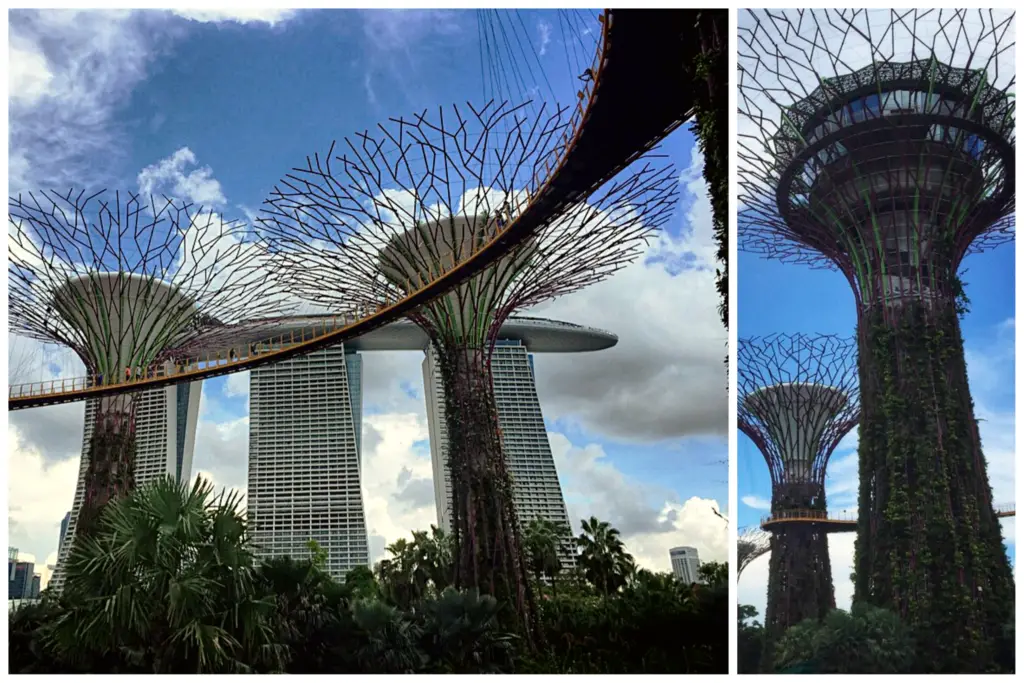 Chinatown
You could spend a full day alone just exploring Chinatown. For starters it is the perfect place for souvenir hunting. You can pick up that paper lantern, or that Chinese tea set or even that lucky cat you have always wanted.
Our favourite bits in Chinatown though were the temples. Both the Sri Mariamman Temple, and the Buddha Tooth Relic Temple are in the area and very much worth a visit.
Starting with the Buddha Tooth Relic Temple is a buddhist temple and museum. The exterior is intricately designed in the Tang Dynasty style (the Tang Dynasty ruled china in the medieval era) and you can also do a tour of the inside for free.
If you want to do a more comprehensive tour and see the replica of the ancient Buddhas tooth relic then you do need to pay for admission. The views inside though alone are pretty much worth the price of admission.
The Sir Mariamman temple is another incredible sight in Chinatown. It happens to be the oldest Hindu Temple in Singapore dating back to 1827. It is now a National Monument and throughout its history, has been a place of deep significance for the Hindu community. Not only was it a place of worship but was also somewhere for the community to go during Singapore's colonial era.
It certainly is a sight to behold especially when you see the elaborate sculptures of deities and mythological beasts. We were fascinated looking from the outside with the skyscrapers in the background and it serves as a juxtaposition of peace and spirituality against a chaotic city.
How to get here
All locations are accessible by MRT and then a short walk.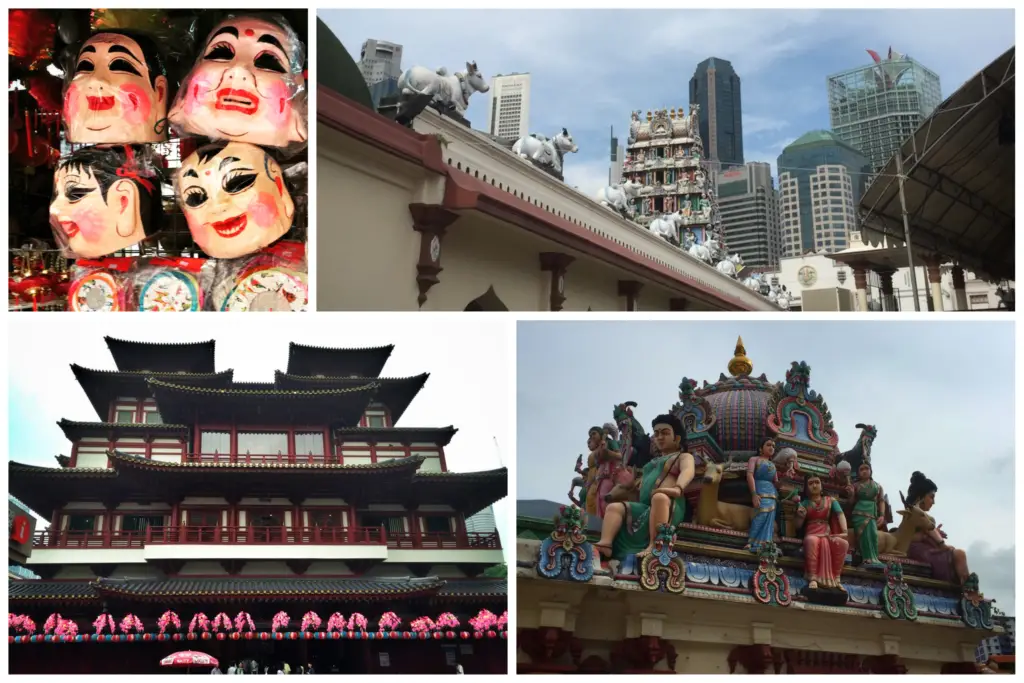 Sentosa Island
In all honestly Sentosa Island is probably a whole day affair, if not longer. It is the beachy/ theme park heavy part of Singapore perfect for families and couples. You can visit the Merlion, or do some watersports, or visit one of the theme parks. Probably not worth going to as part of a 2 day Singapore itinerary, but still beautiful if that is your thing.
Sample 2 day Singapore Itinerary
Here is our suggestion for a 2 day Singapore itinerary. This is ideal for first time visitors wanting to get to grips with the city, take some cool photos, and enjoy a bit of the nightlife.
2 day Singapore Itinerary – Day 1
Start with a hop on hop off bus tour, which will allow you to get to grips with the city. Get off at Orchid Road for some shopping and lunch, before making your way to the Botanical Gardens.
In the afternoon explore the business district including Raffles Hotel. Make sure you stay for a Singapore Sling. Then make your way to 1 Altitude for a late afternoon/ evening cocktail with a view, before exploring Southbank and having dinner around here. Head to Anh Siang Road for some evening drinks. Alternatively try and do the night safari at the zoo.
2 day Singapore Itinerary – Day 1
Start the day by exploring Gardens by the Bay. We ended up eating breakfast in the nearby Mall before exploring the gardens. Make sure you visit the Supertree Grove and the Flower Dome.
In the afternoon head to Level 33 where you can have a drink with a view, and then make your way to Chinatown. Here go to a Hawker market for lunch. From here visit the Buddha Tooth Relic Museum and the Sri Mariamman Temple, before visiting Keong Saik Road. Spend the evening enjoying the restaurants and bars.
Travelling as a couple- Romantic things to add to your Singapore itinerary
If you are looking for romantic things to add to your 2 day Singapore Itinerary, then here are some of our recommendations.
Gardens by the Bay
Gardens by the way is such a nice place to go for a stroll, and certainly a romantic thing to add to your Singapore itinerary. From walking through the magical supertree grove to admiring the flower dome it is perfect for a couples break.
Orchard Road
Fancy gifts are probably not our love language (weekend break in Paris? now you are talking), but if you love shopping with your significant other than Orchard Road is a must for your 2 days in Singapore.
Sentosa Island
Sentosa Island is actually quite perfect for a couples getaway. You can venture out to the beach and forget you are in a bustling country like Singapore, or book yourselves in for a romantic spa day at one of the elaborate hotels.
Singapore Flyer
Another romantic thing to add to your 2 day Singapore itinerary is the Singapore flyer. Who doesn't love admiring incredible views with their significant other.
Boat trip at night
If you love the idea of the city lights reflecting off the water, then a boat tour might just be for you. Make your way to Clarke Quay and hop aboard one of the traditional wooden barges called bumboats.
Eating and drinking during your 2 days in Singapore
Another thing that you will need to factor in when planning your 2 day Singapore Itinerary is of course where to eat and drink. Because of the fact that Singapore is a massive melting pot of culture this means that your food choices are endless.
Hawker Centre
No 2 day Singapore itinerary is complete without a visit to a Hawker Centre. The largest one is located in Chinatown and is home to hundreds of food stalls. This is the best place to get some cheap yet authentic asian food. Good luck finding somewhere to sit though as it can get really busy especially around lunch time. Food is freshly prepared and you can expect things like noodles, soups and dumplings.
Jumbo Seafood, Riverside Point
Asia is the home of some pretty fantastic food, and Singapore is no different. Strolling around the Singapore River area of the CBD there is no shortage of restaurants. If you get the chance I do highly recommend Jumbo Seafood. It is a chain, but the Riverside Point restaurant has some pretty amazing views. Make sure you try the Chilli Crab, it is honestly reason alone for me to want to revisit Singapore! Just don't forget to put on your bib.
Keong Saik Road
I know we mentioned Keong Saik Road earlier as part of our 2 day Singapore itinerary, but wanted to add it again, because it really is a hip place to eat and drink. The Old Man, is one of our favourites, named after Ernest Hemingway's the Old Man and the Sea. It's an award winning cocktail bar hidden in plain sight along the famous road. Potato Head is another must serving mouth watering burgers in a rooftop garden.
How to get here
The closest MRT station is Outram Park. Keong Saik Road is about a 5 minute walk from here.
If you are looking for some excellent drinking locations here are some suggestions.
Level 33
Sitting 33 stories above the Central Business District (CBD) in Singapore you will find Level 33. It is actually home to one of the highest micro breweries in the world, and a really good place to get a photo. The views from here are superb especially if you want to sit and admire the Marina Bay area. You want to make sure that you get a table outside so that whilst you sip on some ice cold beer you can take in the amazing view. It is probably best to visit at around 2 or 3 – after lunch but before it gets packed with after work drinks.
How to get here
If you are getting the MRT then you will need to get off at Downtown if travelling on the Downtown Line, otherwise Marina Bay is the stop for the Circle and North South Line. The Bar is located in the Marina Bay Financial Centre, Tower 1 and it is about a 15-20 minute walk from Gardens by the Bay.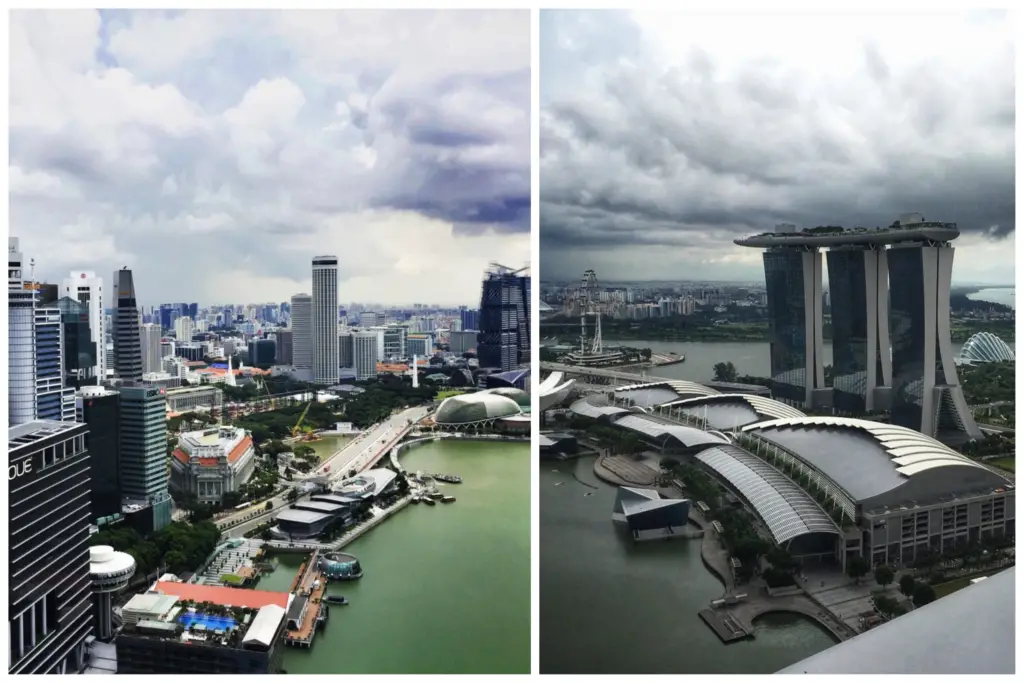 1 Altitude
2 days in Singapore is not complete without sipping a cocktail with a view. And 1 Altitude is a good place to do this. The bar is located on the 63rd floor and provides incredible 360 degree views of Singapore. There is an entrance fee of around $20 but this does include a drink and to be honest it is worth it for the spectacular views.
Anh Siang Road
Located in Chinatown this is the perfect drinking location which showcases Singapore's multi-cultural identity. You have Singaporeans mixing with Australians (who do tend to frequent these parts) as well as people from all over the world. There are quite a few quirky little bars as well as larger and louder clubs for us it was a lovely way to end the day.
How to get around during your 2 days in Singapore
Singapore has one of the easiest and most efficient public transport systems we have ever experienced. Which is good news when you only have 2 days in Singapore, because no one wants to be faffing around trying to negotiate a complicated public transport network. I'm looking at you Oslo!!!
The public transport in Singapore is also safe, and really clean. The easiest way to get around is via the MRT (Mass Rapid Transport), with subway routes operational all across the country. And more good news, most of the key tourist attractions are accessible by MRT.
You can get The Singapore Tourist Pass which allows unlimited travel on public transport for as long as it is valid. You have to pay a deposit for the card, but on average the cost is unlimited travel for one day (SG$10), two days (SG$16) or three days (SG$20). You can buy the pass at selected stations and yes you can purchase these at Changi Airport.
How much money do you need for 2 days in Singapore
So you have everything planned for your 2 days in Singapore, but you might be wondering how much money you actually need. Firstly the currency in Singapore is the Singapore Dollar (SG$). Obviously exchange rates vary so use this as a rough guide, and check the exchange rates at the time of travel. For now on average SG$1 is equivalent to about US$0.7. In terms of GBP that's about SG$1 equal to just under GB£0.6, or for Euros just under 0.7. Again this is very rough and you will need to do your own research and currency conversions before you go.
For a decent holiday for a couple I would probably say between you, you are looking at SG$250 – 300 per day. This is not including accommodation. Like anywhere though Singapore can be as cheap or as expensive as you want.
Alcohol is expensive, so if cocktails and rooftop bars are your thing you are going to want to bring a little more money with you. Same with food, there are a lot of cheap places to eat like Hawker Markets so if you are on a budget it is completely doable, but you can just as easily head to a fancy restaurant and spend a lot more.
Public transport is also pretty cheap. You can get the Singapore tourist pass that lets you ride public transport and unlimited amount for either 1,2, or 3 days, starting at $20. We spent 2 days in Singapore so we paid about $26 each for our pass.
What to pack for your 2 days in Singapore
I'm not going to get into the full nitty gritty of everything you need to pack for your 2 days in Singapore. I mean you hopefully know the basics of what you need to bring. These are just some additional bits that I wish we had of factored into our 2 day Singapore itinerary.
An umbrella – no one likes being drenched during a random torrential downpour.
A rain jacket, for the same reason above, you don't want to spend your 2 days in Singapore looking like a drowned rat.
Sunscreen – it's that hot
Cotton clothes – again the heat
A solid pair of walking shoes – chances are you will be doing a lot of walking so you want to be comfortable.
Masks and sanitiser – even without covid I always bring sanitiser on all my trips, but the mask is definitely important (check the rules before you go)
Things to know before visiting Singapore
f you are arriving in Singapore really early you might want to consider booking a hotel room for the night before you arrive. I know it is expensive but we arrived in Singapore at around 5am. We then had to wait until 3pm to be able to check into our hotel. It is not ideal when you are jet-lagged and sweaty.
Carry some water around with you when exploring, because it does get super hot – but don't eat or drink on public transport!
What are the rules in Singapore
I'm going to put this out there, this is by no means a comprehensive guide to some of the super strict rules in Singapore. Before you go make sure you do your own research on what you can and cannot do. That being said here are some of the more random things you shouldn't do during your 2 days in Singapore.
Chewing Gum
Yup, chewing gum in Singapore is a big no no. It has been banned in the country since 1992 after it was found to be causing a public nuisance. For example using it to block doors on the MRT. Don't even think about brining it into the country, if you are caught selling or importing gum you could end up facing a massive fine or even jail.
The only real exception to this is for medical purposes. You can actually buy gum from doctors for medical reasons like stopping smoking.
Vaping
Singapore has a tough stance on vaping, as it was seen as a gateway to actual smoking. It is even banned in private homes. So just don't.
Smoking
Obviously smoking in Singapore is also harshly regulated. Smoking is banned from most public places, if you are a smoker check where you can and cannot smoke, but the safest thing really is just don't.
Forget to flush the toilet
Apparently officials conduct checks in public bathrooms to make sure that you have indeed flushed after using the toilet. If you fail to do so you will be fined.
What are the visa requirements for Singapore
Obviously you will need to check the specific visa requirements depending on your nationality. Dave and I hold Irish and British passports and we did not need a visa. In fact Irish and British nationals don't need a visa for stays under 30 days.
Essentially it is up to the Immigration and Checkpoints authority in Singapore to grant you entry. Your passport is stamped when you enter Singapore and when you leave. You should also ensure your passport is valid for at least 6 months from your date of entry.
Something to keep in mind is that Singapore has been really strict regarding Covid 19 rules. And breaking these rules can lead to some hefty fines or a prison sentence. So make sure you do follow the rules at all times. You need to be aware of things like:
wearing masks inside and on public transport
being fully vaccinated to dine out and attend events
as well as testing and self-isolation rules.
Always check government websites and make sure you understand the rules before you travel.
So should I plan to spend 2 days in Singapore
If you are still wondering whether you should plan your own 2 day Singapore itinerary then the answer is yes! Absolutely. Despite its small size Singapore is an incredibly fascinating country. It is a melting pot of different cultures, and it is so safe and clean. And even if you can't spend a full 2 days in Singapore you should definitely take advantage of doing a city tour. We really hope you enjoy your trip. And don't forget to pin this post for later!