Anyone who has travelled between Europe and Australia knows only too well the hell that is a long haul flight. As we are frequent travellers between the two places we have come to rely on the God send known as the layover. Not only does it make you feel better but you also get to experience a new culture even if it is only for a short time. Our absolute favourite stopover destination has to be Singapore. It's safe, clean, and there is so much to do. We have put together this Singapore layover guide to help you plan your own trip.
And if you are wondering if Singapore is worth visiting here is some helpful info.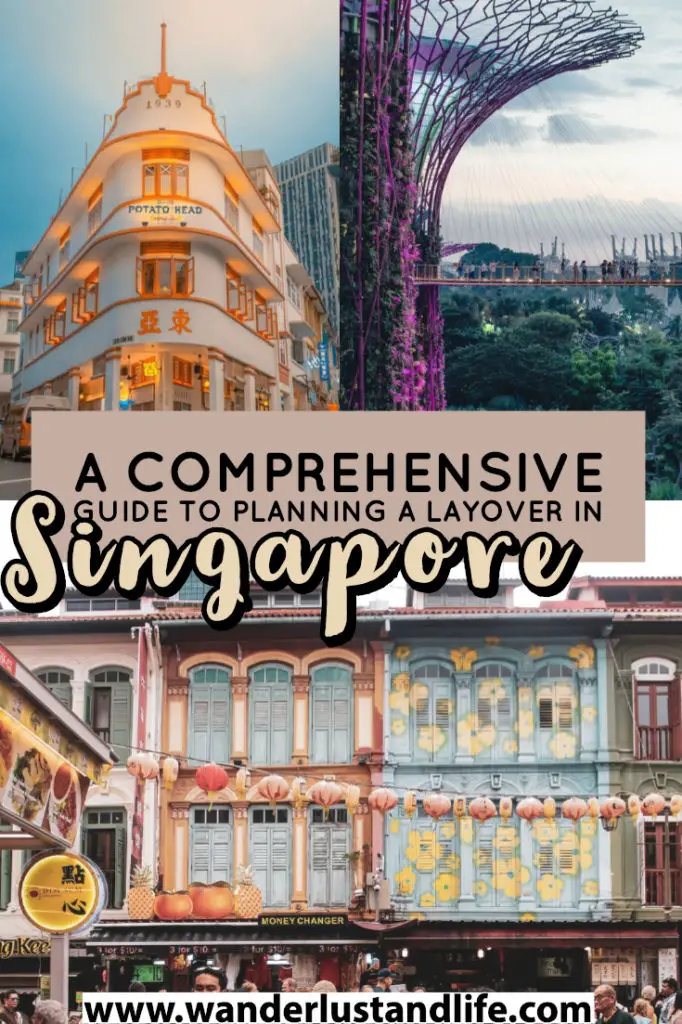 Basic Information
Country: Singapore
Languages Spoken: English, Tamil, Malay, Mandarin
Currency: Singapore Dollar (SGD)
Famous for: Strict laws, good food, and luxury travel
Visit if you like: Bustling cityscapes
Arriving in Singapore – Changi Airport
 Chances are if you are arriving in Singapore you will be doing so via Changi Airport. The airport is constantly winning awards for the 'world's best airport' and it really is easy to see why when you arrive here. For starters it is an easy airport to navigate, and there is also a lot to do especially if you have a long layover in Singapore. In fact you could probably spend a day just exploring the airport itself. You can indulge in some shopping, visit the butterfly garden, watch a movie, enjoy the sunflower or orchid garden, honestly, the list goes on.
The cool thing is, if you have over 5 and a half hours until your flight you can sign up for a free city tour too.  This link provides you with all the information you need to do this! If you have longer than 24 hours in Singapore like us though you will want to leave the airport, and this is where our 2 day Singapore itinerary kicks in so keep reading!
Visa requirements in Singapore
You will need to check the specific visa requirements depending on your nationality. Dave and I hold and Irish and British passport and we did not need a visa for stays under 30 days. Your passport is stamped when you enter Singapore and when you leave. You should also ensure your passport is valid for at least 6 months from your date of entry.
Best time to visit Singapore
In some ways Singapore is a year-round destination. It pretty much maintains a consistent humid temperature throughout the year. September – February tends to be more a wet season and more rain is experienced during these months than usual. We visited in May and we did get quite a bit of rainfall during our 2 days in Singapore. The skies were grey and gloomy and the first day in particular we were met with a really heavy downpour in the morning. In fact the rain was so heavy that when we were on the hop on hop off bus the stairs that lead you to the top deck actually turned into a waterfall.
Things to know before you visit Singapore
Singapore is hot and humid so make sure you bring appropriate clothing.
You cannot purchase or consume alcohol between 10.30pm and 7.00am. That is of course unless you are in a licensed bar.
Singapore is really safe city.
Chewing gum is banned so do not bring it into the country.
Most people in Singapore speak English.
Planning your overnight layover in Singapore – where to stay
When it comes to the layover accommodation is important. You want to choose a convenient location that enables you to get around with no fuss. That is why we chose the Bliss Hotel located just near Chinatown. The hotel itself is clean and the staff were fantastic. But the most important thing for us was the location. There was an MRT (Mass Rapid Transport) stop just across the road. We were close to bus stops, places to eat, and bars. This made it so easy to explore the city with our limited time.
Singapore layover guide – how much money do I need
Like anywhere Singapore can be as cheap or as expensive as you want. Alcohol is expensive, so if cocktails and rooftop bars are your thing you are going to want to bring a little more money with you. Sam with food, there are a lot of cheap places to eat like Hawker Markets so if you are on a budget it is completely doable. Public transport is also pretty cheap. You can get the Singapore tourist pass that lets you ride public transport and unlimited amount for either 1,2, or 3 days, starting at $20. We spent 2 days in Singapore so we paid $26 each for our pass.
Without accommodation we probably spent around £130 between us each day. We did have a few drinks in the city, which brought the cost up and we opted to get a taxi from our hotel back to the airport which was also a bit pricey.
Getting from the airport
You have a few choices to get from the airport to your hotel. You can take a taxi or public transport, or  simply get a shuttle bus to your hotel. We decided to go with the shuttle bus. For starters it is cheaper than a taxi, and more convenient than public transport as you don't have to lug your bags around. You just need to walk up to the desk at the airport and tell them the name of your hotel. Then you wait. It can take a little while for a shuttle bus to arrive but we really do think it is worth it. For us we waited about 10 minutes and we were on our way.
Getting around Singapore
Singapore is a really easy and safe city in terms of public transport. The easiest way to get around is via the MRT (Mass Rapid Transport). They operate bus and subway routes across the whole city. All of the attractions in this article are easily accessed by subway. You can get The Singapore Tourist Pass which is a pass that allows unlimited travel on public transport for as long as it is valid.
Singapore layover guide – things to do
City Sightseeing's Hop On, Hop Off tour
We landed in Singapore relatively early in the morning. After getting a shuttle bus to our hotel we were too early to check in. So we decided to do the Hop On Hop Off tour. I know this is incredibly cliched and really touristy, but this tour is perfect for orientating yourself with a new city. It's especially great when you have walked off a plane after travelling for over 14 hours. Plus when you only have 2 days in Singapore this gives you the opportunity to get oriented with the city quickly. The bus stops at all the main sights and you get an audio commentary as well. It is worth getting off to explore Orchard Road for a bit of shopping if your wallet allows for it. Tickets can be booked online in advance or purchased on the bus.
Hawker Centre
No trip to Singapore is complete without a visit to the Hawker Centre. The largest one is located in Chinatown and is home to hundreds of food stalls. This is the best place to get some cheap yet authentic asian food. Good luck finding somewhere to sit though as it can get really busy especially around lunch time.

Raffles Hotel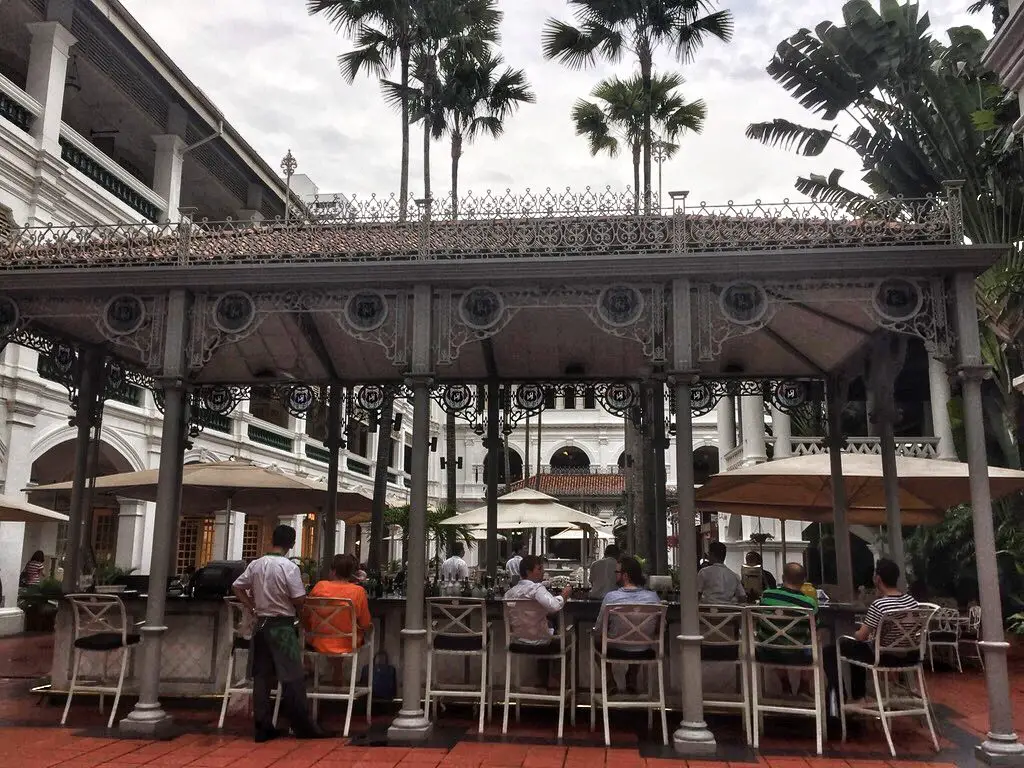 I know this is another cliche but what stopover isn't filled with them? The hotel is a heritage listed site complete with stunning gardens and old school bars. It's easy to feel like you have gone back in time here. It is also a great place to sit down and enjoy a Singapore Sling served by the world famous Raffles Butlers. There are better and probably cheaper places to go to in Singapore for the cocktail but for me it is worth it just to soak up the ambiance. I also really wanted to visit because one of my favourite writers Somerset Maugham was also said to have spent time here.
1 Altitude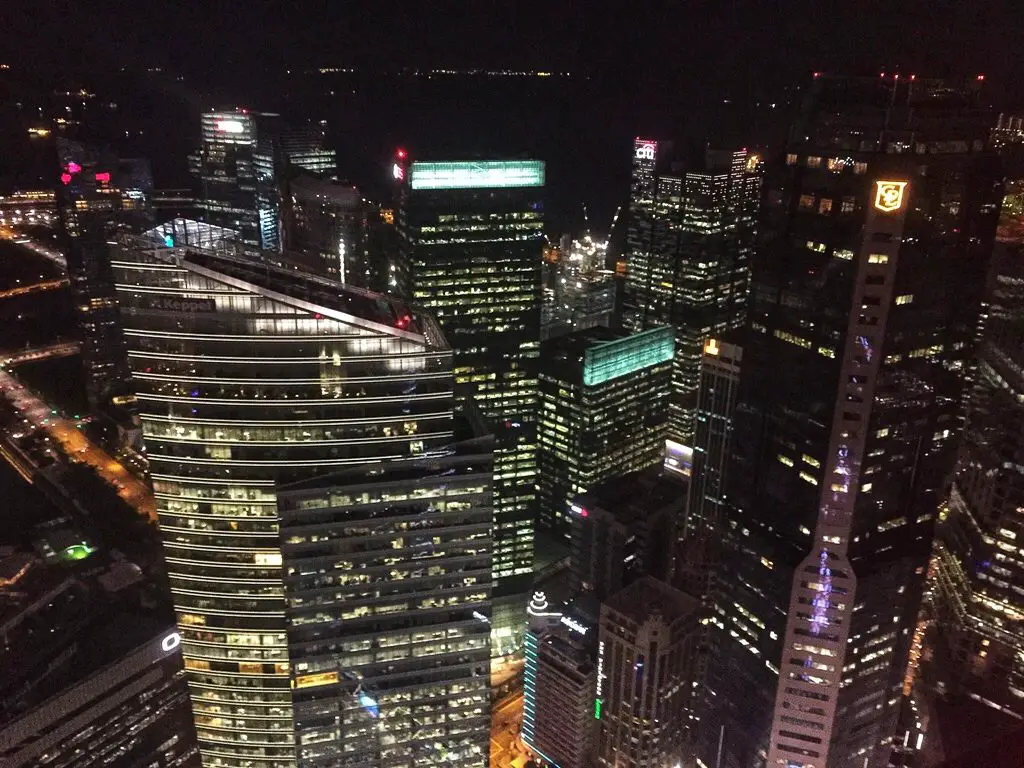 2 days in Singapore is not complete without sipping a cocktail with a view. And there is no better place to do this than 1 Altitude. The bar is located on the 63rd floor and provides incredible 360 degree views of Singapore. There is an entrance fee of around $20 but this does include a drink and to be honest it is worth it for the spectacular views. Especially living in the UK it is not often you get to sip drinks on the 63rd floor of a building.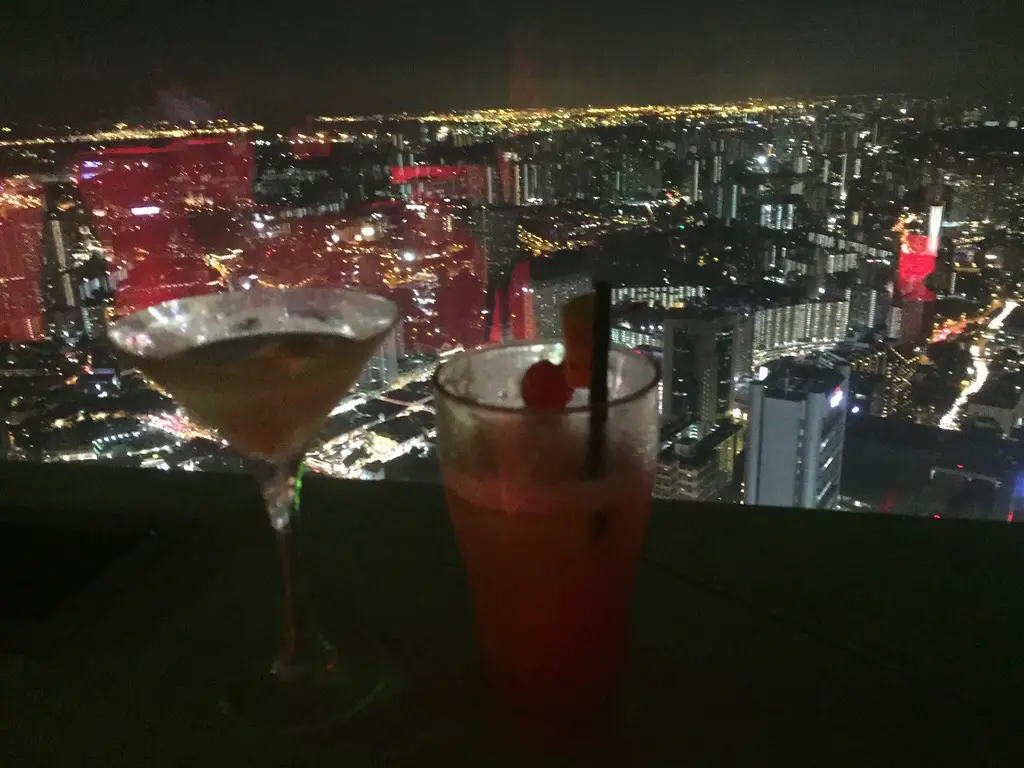 Jumbo Seafood, Riverside Point
Asia is the home of some pretty fantastic food, and Singapore is no different. Strolling around the Singapore River area of the CBD there is no shortage of restaurants. If you get the chance I do highly recommend Jumbo Seafood. It is a chain, however the Riverside Point restaurant has some pretty amazing views. Make sure you try the Chilli Crab, it is honestly reason alone for me to want to revisit Singapore! Just don't forget to put on your bib.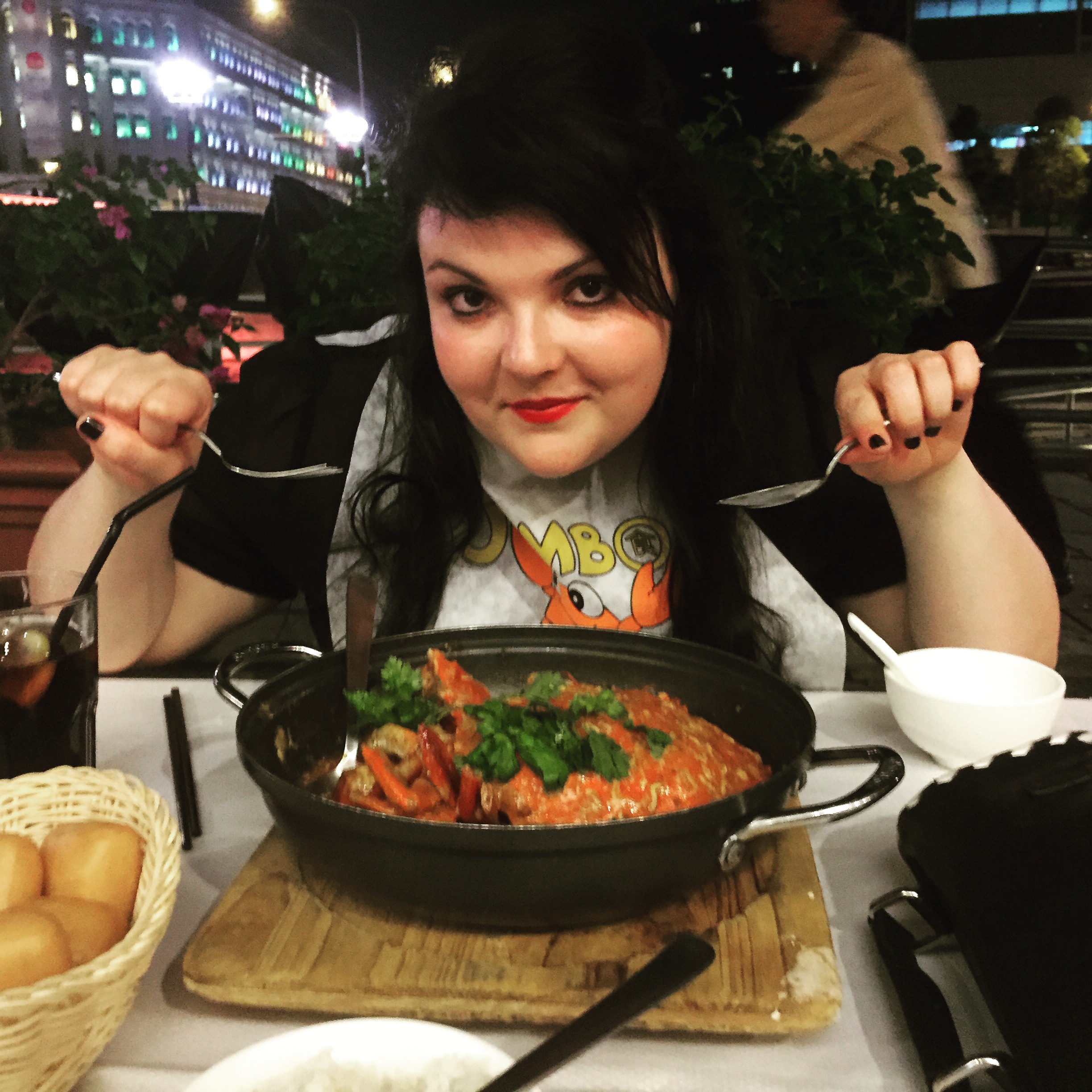 Drinks around Anh Siang Road
To end the evening we decided to go fro some drinks around Anh Siang Road. Located in Chinatown this was the perfect drinking location which perfectly showcases Singapore's multi-cultural identity. You have Singaporeans mixing with Australians (who do tend to frequent these parts) as well as people from all over the world. There are quite a few quirky little bars as well as larger and louder clubs. or us it was a lovely way to end the day.
Gardens By The Bay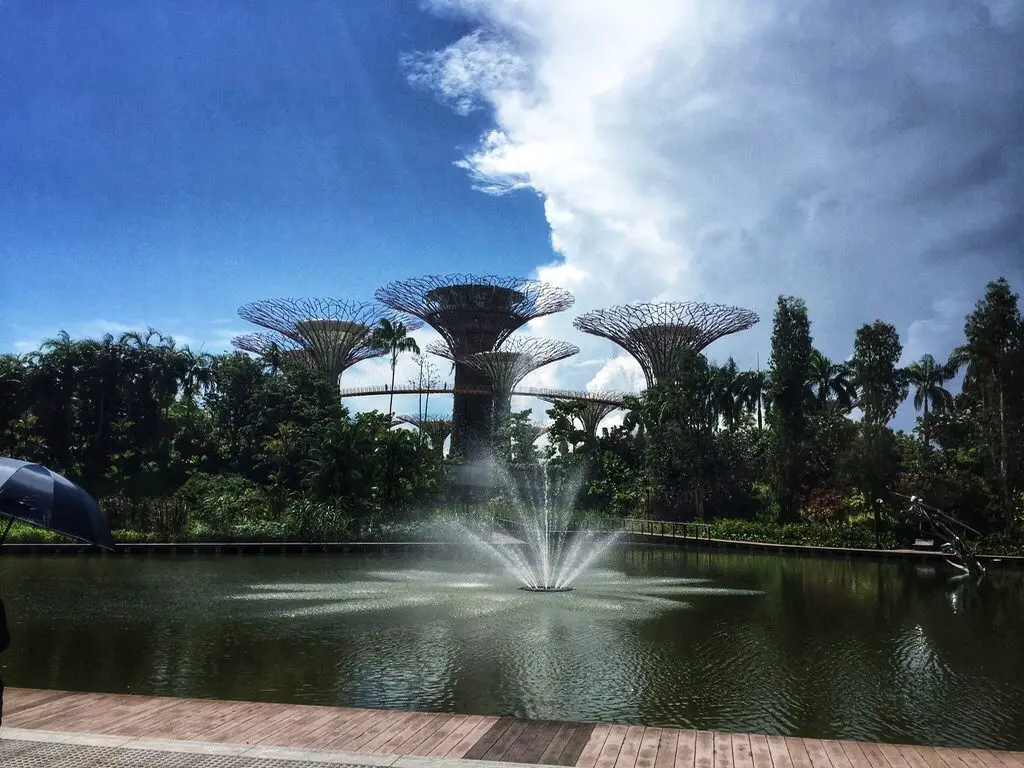 Another place you have to visit as part of your 2 day Singapore itinerary is Gardens by the Bay.  Which is home to probably one of the most photographed attractions in Singapore the Supertree Grove. Located in the 101 hectare gardens there are 18 artificial 'supertrees' which are very easy to spot. There is also a Skyway connecting two of the supertrees. It is 22 meters high and not for the faint hearted. The views however are not to be missed. That is of course if you can hold the camera steady to take a picture from such great heights!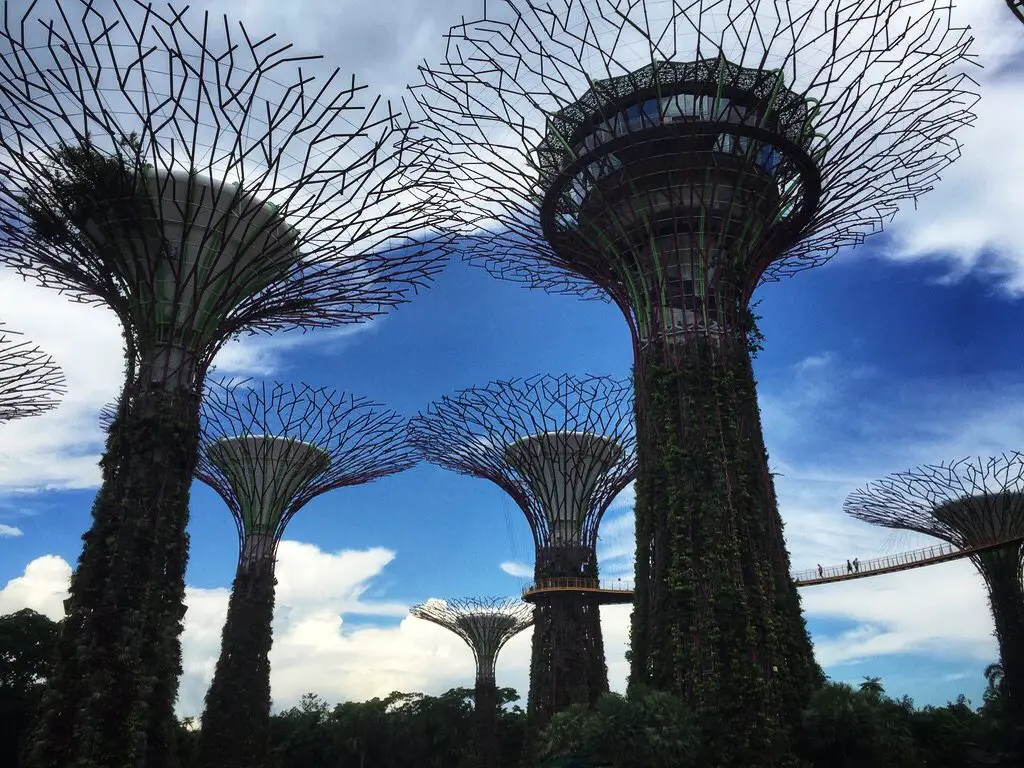 Level 33
Maybe it is because we live in the UK and tall buildings are not a common sight, but when visiting Singapore we really stuck with the height theme. Level 33 is a bar which as the name eludes is located on the 33rd floor of a building in the financial district. It is a great place to sit with a glass of wine and look out at the skyscrapers. You also get a pretty amazing view of Gardens by the Bay and the famous Marina Bay Sands Hotel.

Chinatown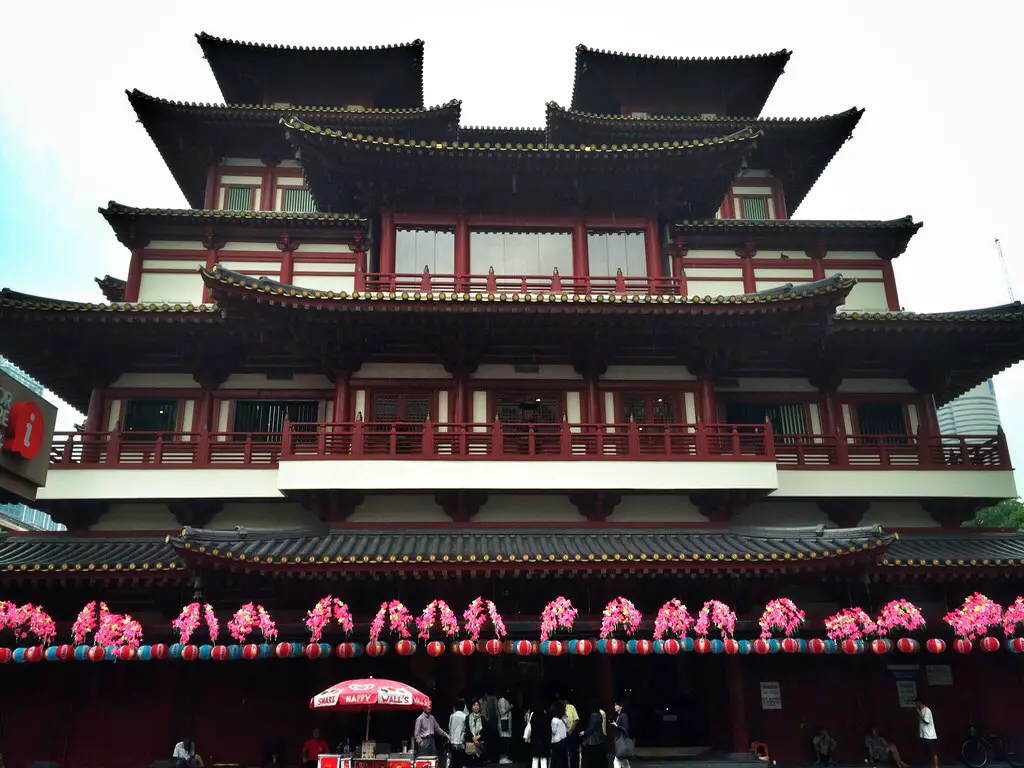 You could spend a full day alone just exploring Chinatown. For starters it is the perfect place for souvenir hunting. You can pick up that paper lantern, or that Chinese tea set or even that lucky cat you have always wanted. There are also some amazing temples like the Sri Mariamman Temple, or the Buddha Tooth Relic Temple which are worth a visit.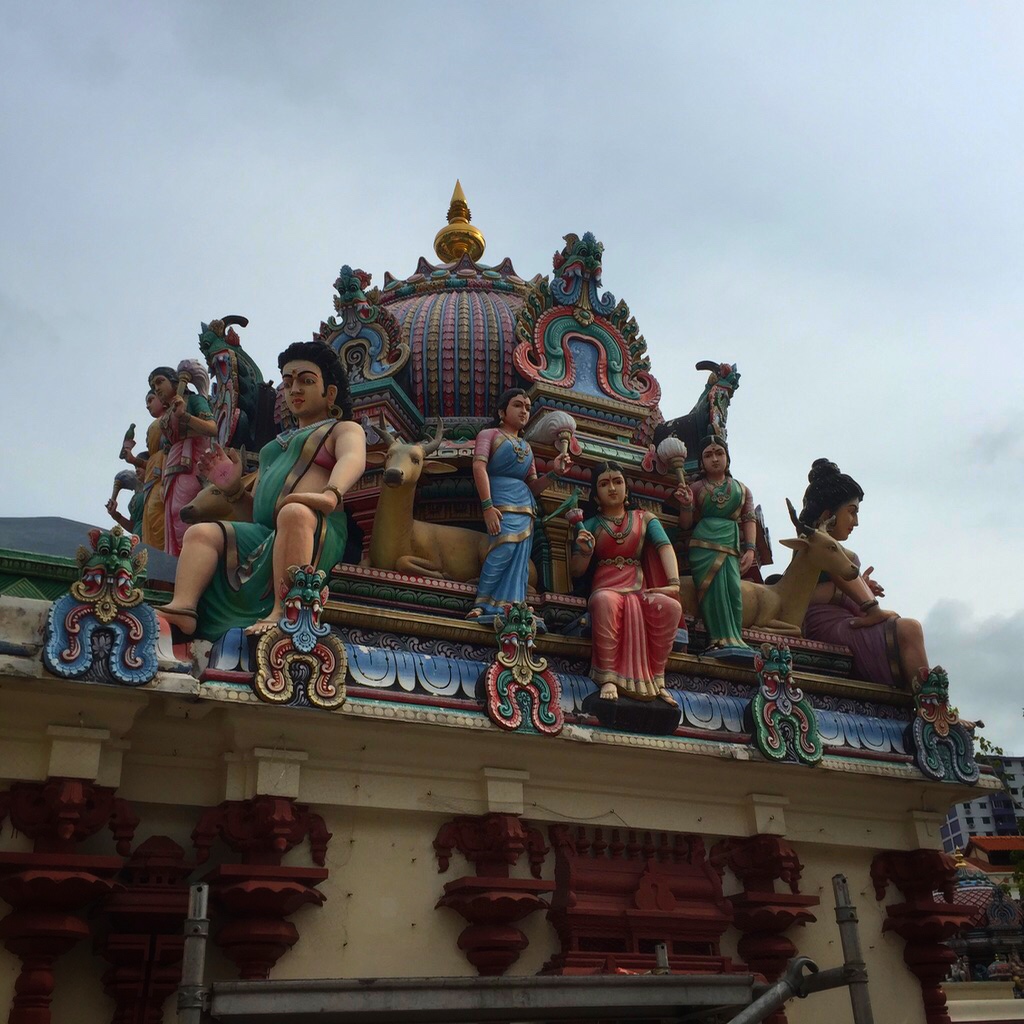 Another must see in Chinatown is Keong Saik Road. This has gone from a one time hang out for criminals, as well as being a red light district, to a hip and trendy place. It is an incredible colourful street with traditional architecture that stands out because of its bright shopfronts. Originally it was made up of grocers and coffee shops but it became an area rife with prostitution in the 60's.
A lot of the three-story shophouses at this time were turned into brothels. Needless to say it attracted a lot of shady characters.
These days walking through the criminal activity is a thing of the past. The Potato Head is one of the main buildings you will notice, and it is heritage listed. It is a great place to go for cocktails and food.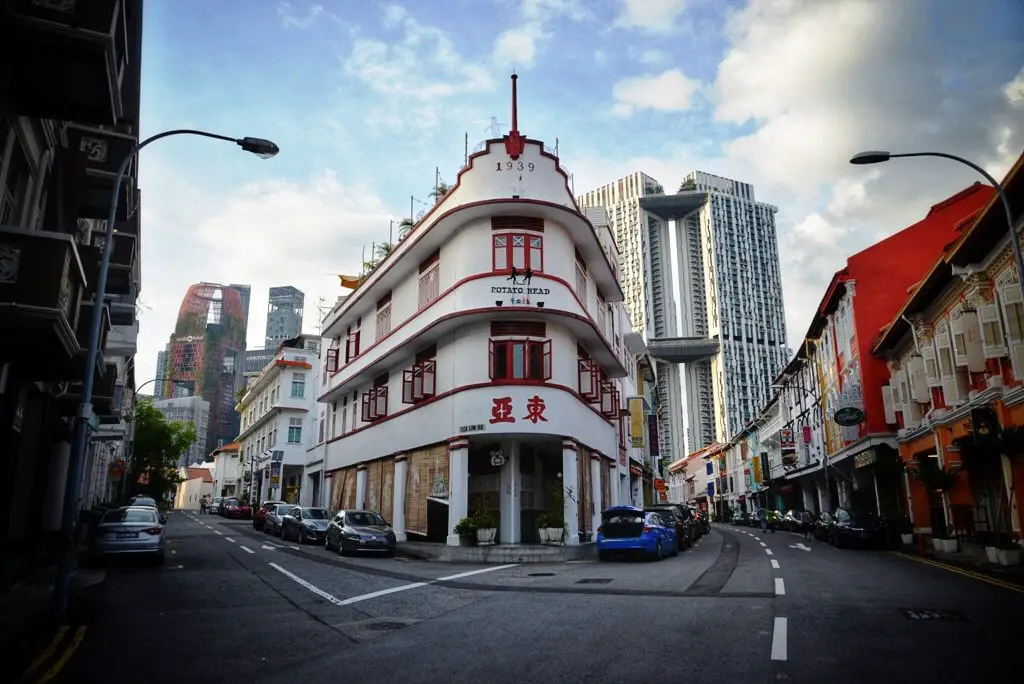 2 day Singapore itinerary
Here is our recommended 2 day Singapore itinerary to help you plan your next trip. We arrived really early in the morning and flew out really late the next night, so we did have almost a full 2 days in Singapore.
Day 1
In the morning do a hop on, hop off bus tour. It is a great way to get to grips with Singapore especially after a long flight. We recommend getting off at Orchard Road to have a look around before making your way to Chinatown and the Hawker Market for lunch.
In the afternoon explore the business district including Raffles Hotel. Make sure you stay for a Singapore Sling. Then make your way to 1 Altitude for a late afternoon/ evening cocktail with a view, before exploring Southbank and having dinner around here.
Head to Anh Siang Road for some late night drinks before calling it a day.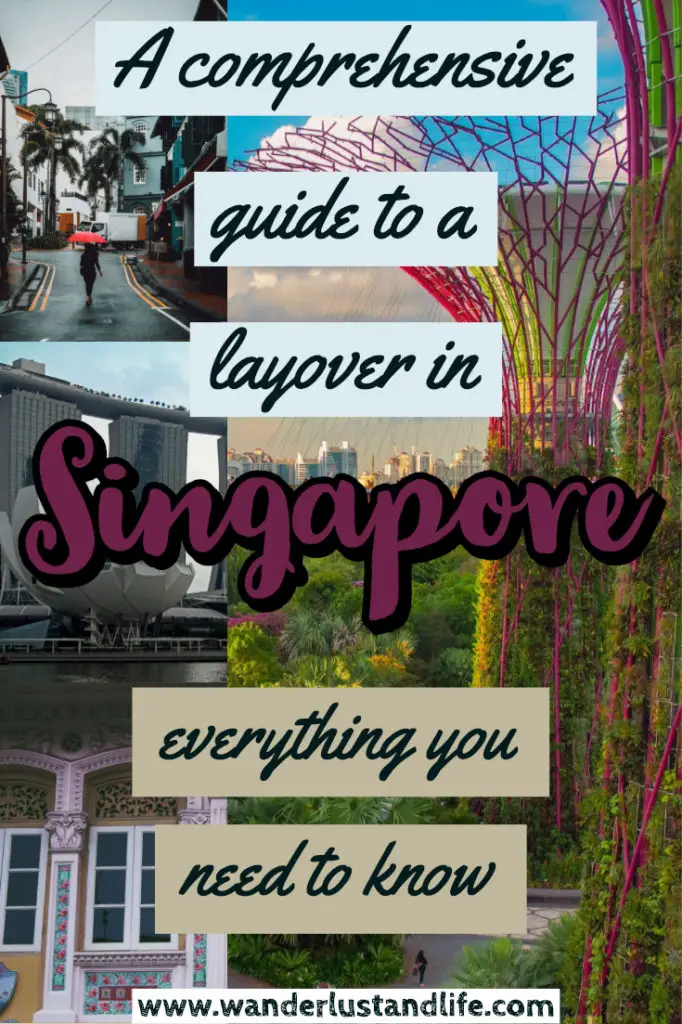 Day 2
Make your way to Gardens by the Bay. We ended up eating breakfast in the nearby Mall before exploring the gardens. Highlights include the Supertree Grove and the Flower Dome.
For lunch head to Level 33 where you can dine with a view, and then make your way to Chinatown. From here make sure you check out the Buddha Tooth Relic Museum and the Sri Mariamman Temple, before visiting Keong Saik Road. If you have time visit the Potato Head for some rooftop cocktails before picking up your souvenirs and heading to the airport.
Final tips for your layover in Singapore
Plan what you want to do I advance particularly if you only have a short layover.
If you are arriving in Singapore really early you might want to consider booking a hotel room for the night before you arrive as well. I know it is expensive but we arrived in Singapore at around 5am. We then had to wait until 3pm to be able to check into our hotel. It is not ideal when you are jetlagged and sweaty.
Don't be afraid to use public transport. It is super reliable and cheap too.
Singapore layover guide – a recap
We hope that this Singapore layover guide will help you play your own stopover in this beautiful place. Overall our experience in Singapore was fantastic, it is such a safe and clean city with so much to see and do. If there is anything you think we should add please let us know in the comments.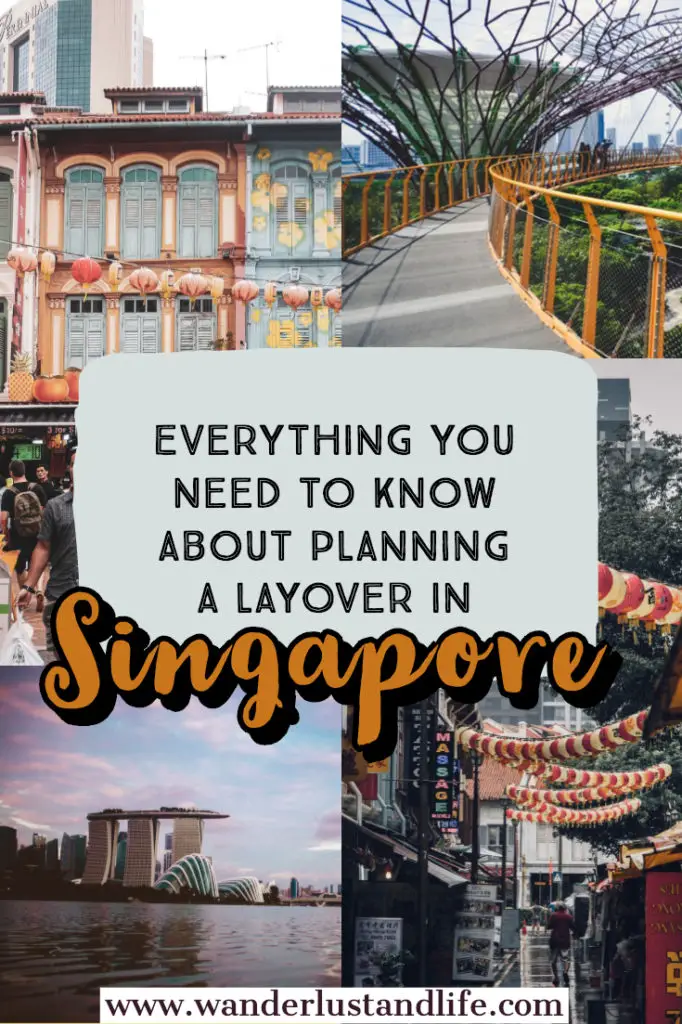 Another popular layover destination is Tokyo. For more information on planning your Tokyo itinerary checkout this guide.