I'm not going to lie, I love travel. It makes me feel alive and is something that I will shout about from the rooftops. I wanted to put this article together with some of the best wanderlust quotes to share that inspiration. If you are looking for travel motivation, or looking to add a little something to your Instagram page, this post will help. Here are my favourite wanderlust quotes for Instagram, Social Media and beyond.
Wanderlust Quotes – What is Wanderlust?
Before I share my favourite wanderlust quotes, I wanted to share what wanderlust actually means.
Wanderlust is a strong desire to travel the world. It was probably the only word that really captured our feelings towards travel, so much so that we named our blog after it.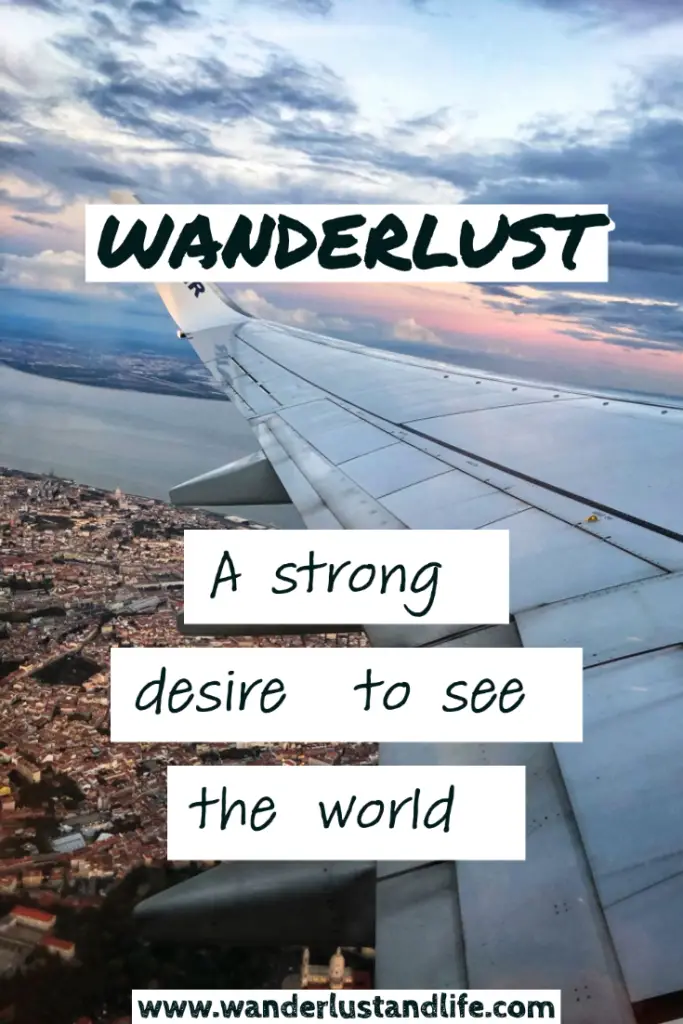 Wanderlust Quotes to inspire you to just go
If you are looking for a sign to book that trip and just go, this is it. Here are some of my favourite travel quotes that will hopefully motivate you to board that plane!
"Because In The End, You Won't Remember The Time You Spent Working In An Office Or Mowing Your Lawn. Climb That Damn Mountain."
Jack Kerouac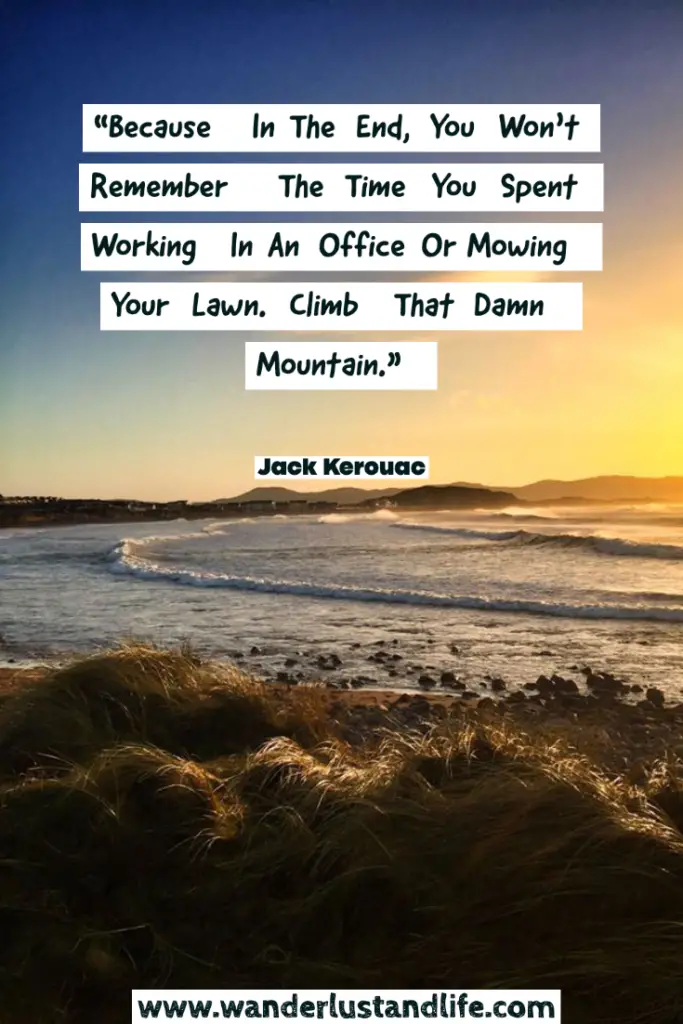 "A journey of a thousand miles must begin with a single step."
Lao Tzu
"The world is a book, and those who do not travel read only one page."
Saint Augustine
"Adventure is worthwhile."
 Aesop
"To awaken quite alone in a strange town is one of the pleasantest sensations in the world."
Dame Freya Madeline Stark
"Be fearless in the pursuit of what sets your soul on fire."
Jennifer Lee
"And then there is the most dangerous risk of all — the risk of spending your life not doing what you want on the bet you can buy yourself the freedom to do it later."
Randy Komisar
"The first condition of understanding a foreign country is to smell it."
Rudyard Kipling
"If you think adventure is dangerous, try routine. It's lethal."
Paulo Coelho
 "Live life with no excuses, travel with no regret"
Oscar Wilde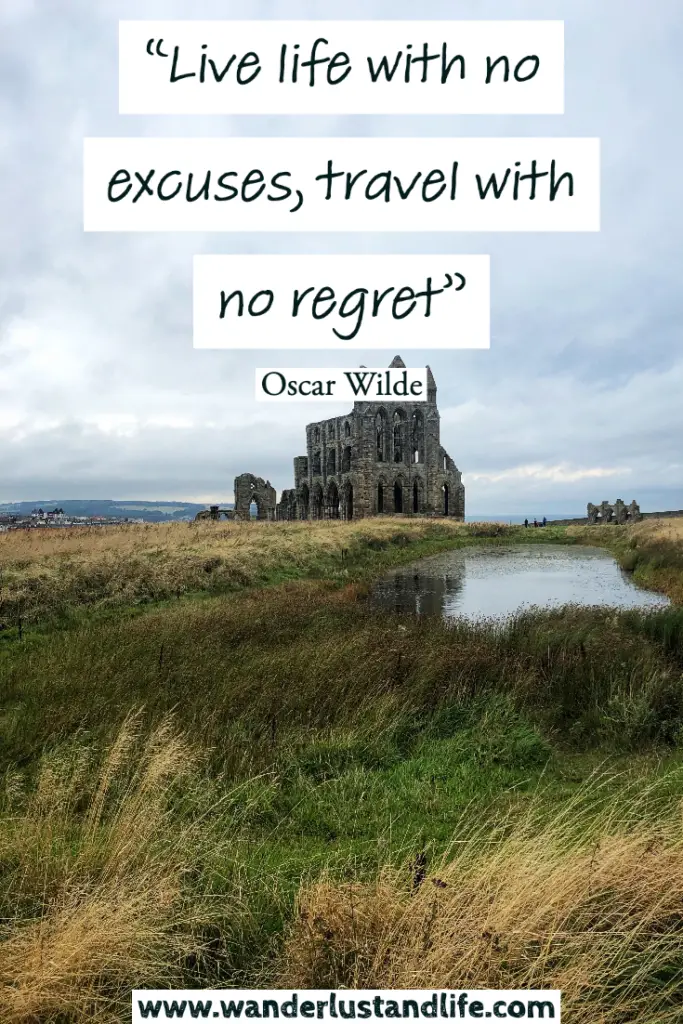 Wanderlust Quotes to make you think
I think one of the best things about travel is the fact that it opens up your mind and really makes you think about the world we live in. Here are some of my favourite thought provoking travel quotes.
 "Travel makes one modest. You see what a tiny place you occupy in the world."
Gustave Flaubert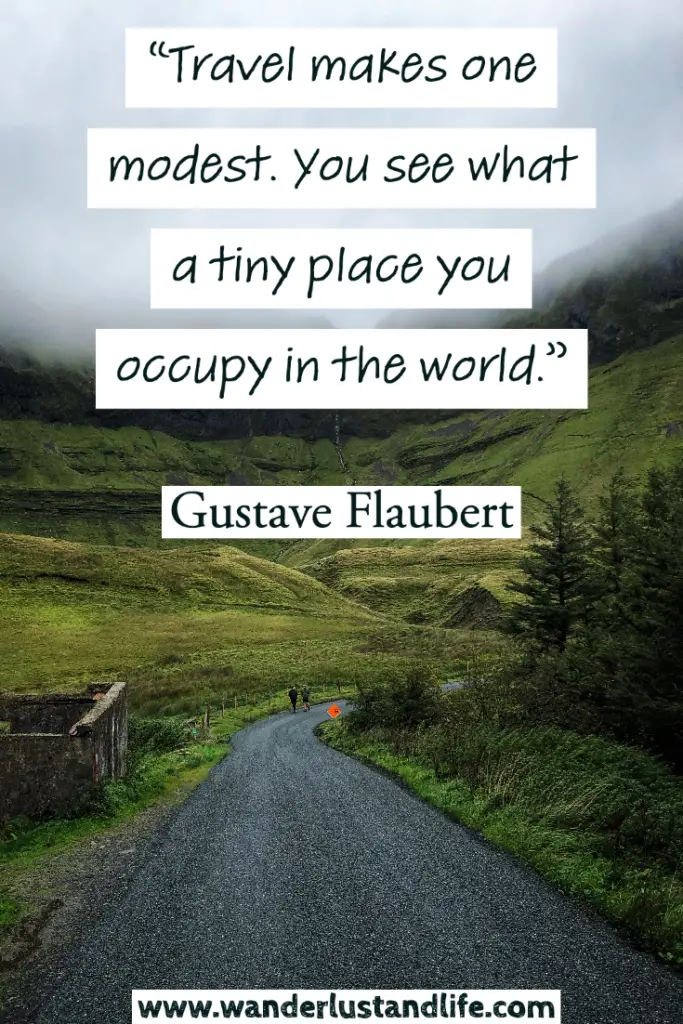 "Perhaps travel cannot prevent bigotry, but by demonstrating that all peoples cry, laugh, eat, worry and die, it can introduce the idea that if we try and understand each other, we may even become friends."
Maya Angelou
"If happiness is the goal – and it should be, then adventures should be top priority"
Richard Branson
"Tourists don't know where they've been, travellers don't know where they're going."
Paul Theroux
"People travel to faraway places to watch, in fascination, the kind of people they ignore at home."
Dagobert D. Runes
 "Travel far enough, you meet yourself." 
David Mitchell
"At its best, travel should challenge our preconceptions and most cherished views, cause us to rethink our assumptions, shake us a bit, make us broader minded and more understanding."
Arthur Frommer
"I am not the same, having seen the moon shine on the other side of the world."
Mary Anne Radmacher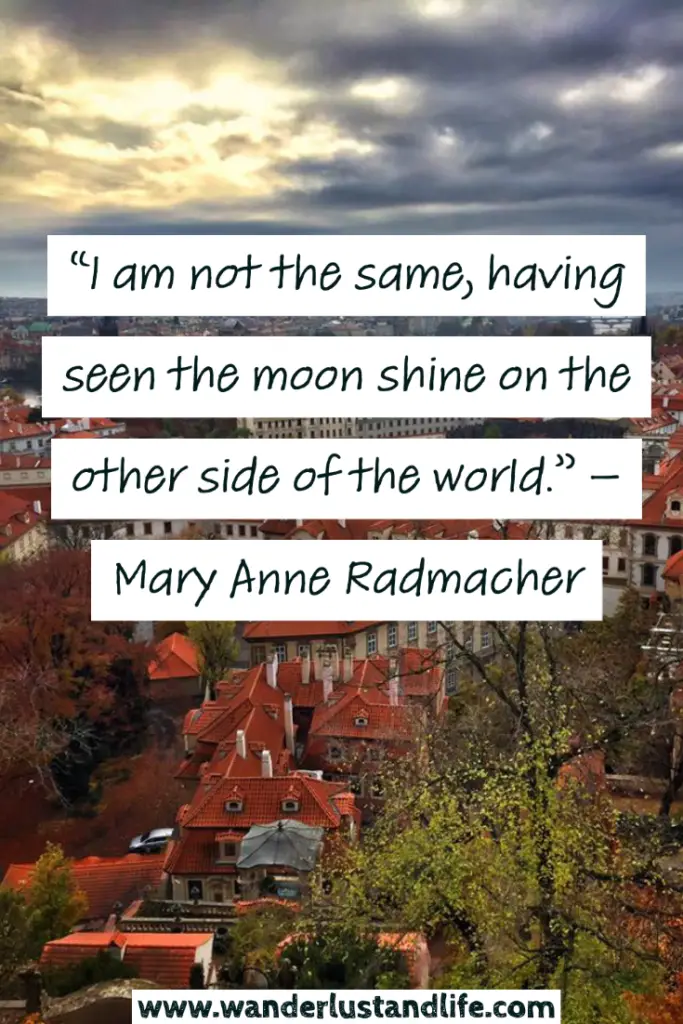 Wanderlust Quotes about love
Travel in love go hand in hand in my experience. These are some of my favourite travel quotes for Instagram, social media and beyond.
"Travel brings power and love back to your life."
Rumi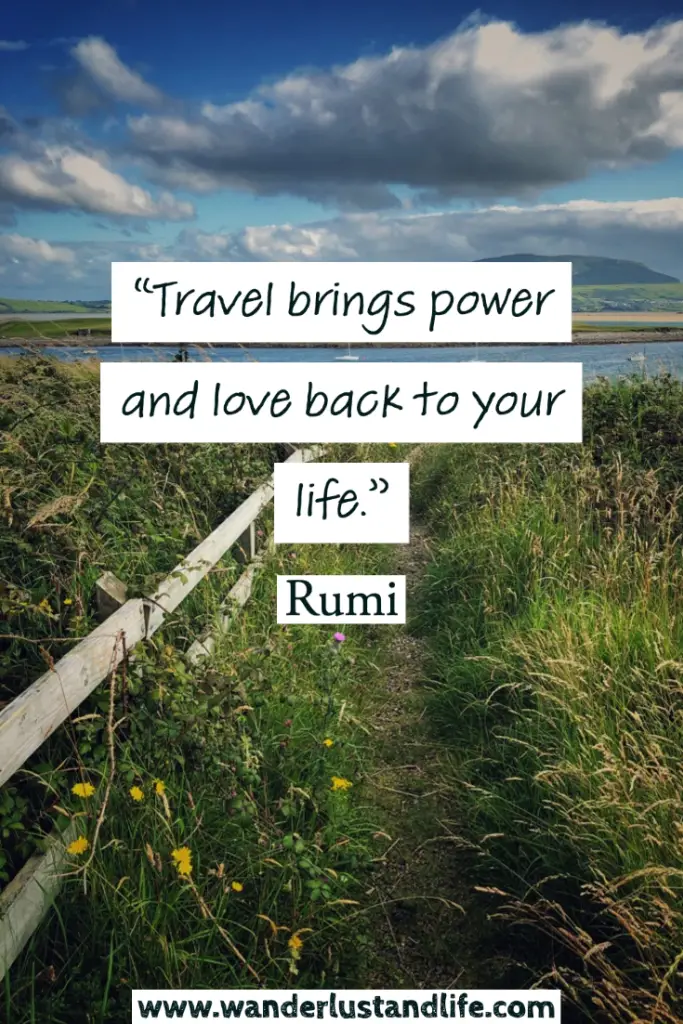 "Be careful who you make memories with. Those things can last a lifetime."
Ugo Eze
"In Life, it's Not Where You Go, it's Who You Travel With"
Charles Schulz
 "A journey is best measured in friends, rather than miles."
Tim Cahill
 "Never go on trips with anyone you do not love"
Ernest Hemingway
"And if travel is like love, it is, in the end, mostly because it's a heightened state of awareness, in which we are mindful, receptive, undimmed by familiarity and ready to be transformed. That is why the best trips, like the best love affairs, never really end."
Pico Iyer
"Travelling is like flirting with life. It's like saying, 'I would stay and love you, but I have to go; this is my station."
Lisa St. Aubin de Teran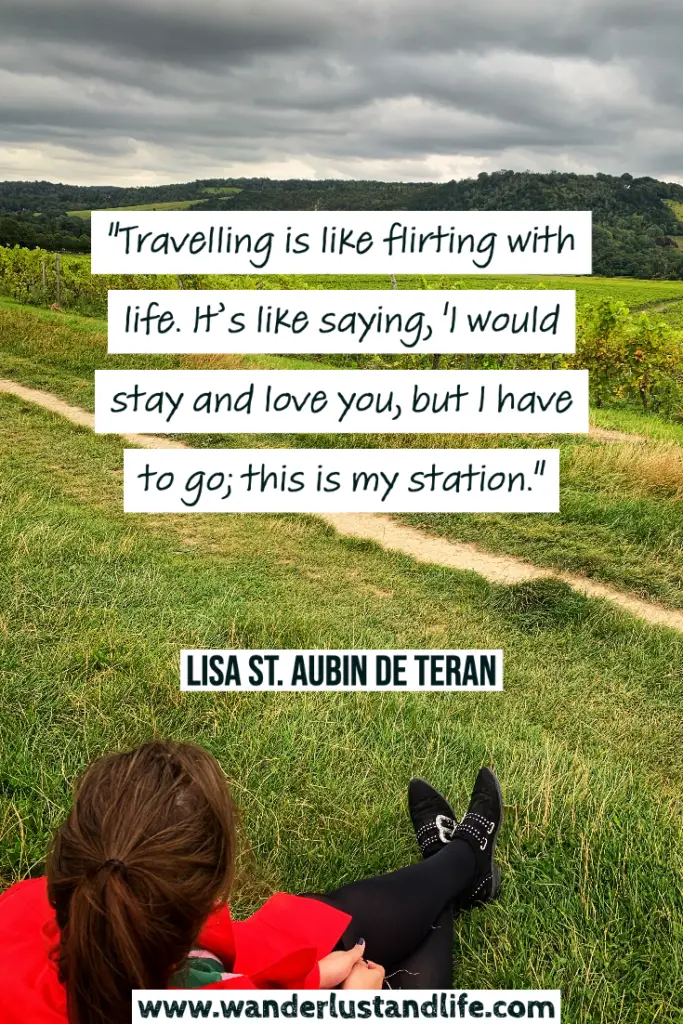 Wanderlust Quotes from famous people
"The purpose of life is to live it, to taste experience to the utmost, to reach out eagerly and without fear for newer and richer experience."
Eleanor Roosevelt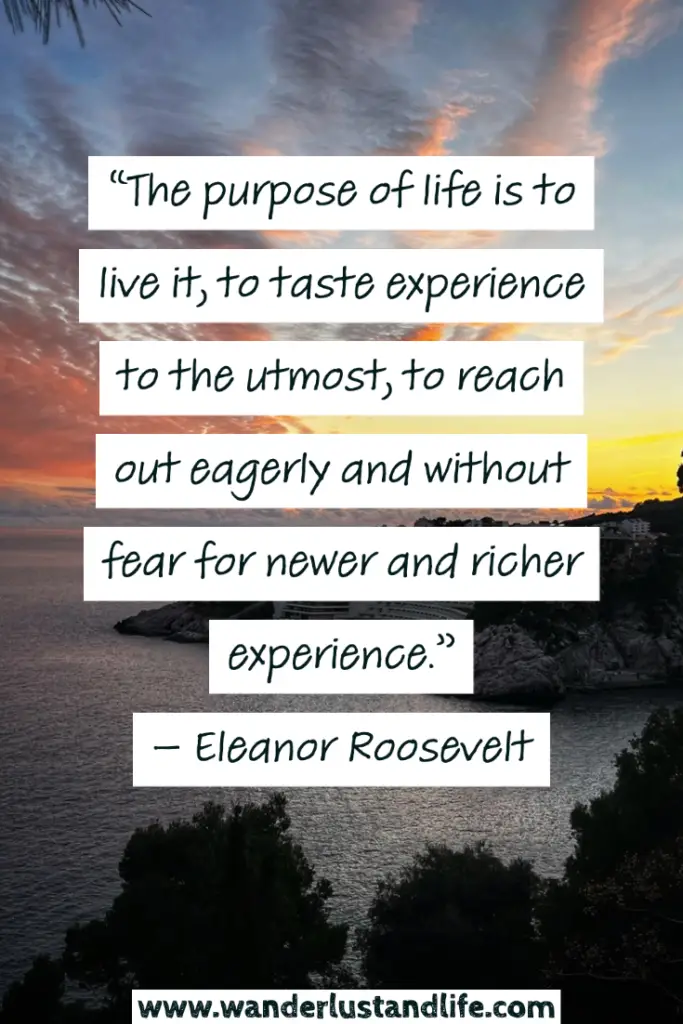 "Once a year go some place you've never been before."
Dalai Lama
"It is better to travel well than to arrive."
Buddha
"A man of ordinary talent will always be ordinary, whether he travels or not; but a man of superior talent will go to pieces if he remains forever in the same place."
Wolfgang Amadeus Mozart
"Twenty years from now you will be more disappointed by the things you didn't do than by the ones you did. So throw off the bowlines, sail away from the safe harbor. Catch the trade winds in your sails. Explore. Dream. Discover."
Mark Twain
"Wherever you go, go with all your heart."
Confucius
"It seems that the more places I see and experience, the bigger I realize the world to be. The more I become aware of, the more I realize how relatively little I know of it, how many places I have still to go, how much more there is to learn."
Anthony Bourdain
"Travel is never a matter of money but of courage."
Paul Coelho
"But that's the glory of foreign travel, as far as I am concerned. I don't want to know what people are talking about. I can't think of anything that excites a greater sense of childlike wonder than to be in a country where you are ignorant of almost everything. Suddenly you are five years old again. You can't read anything, you have only the most rudimentary sense of how things work, you can't even reliably cross a street without endangering your life. Your whole existence becomes a series of interesting guesses."
Bill Bryson
"Once the travel bug bites there is no known antidote, and I know that I shall be happily infected until the end of my life."
Michael Palin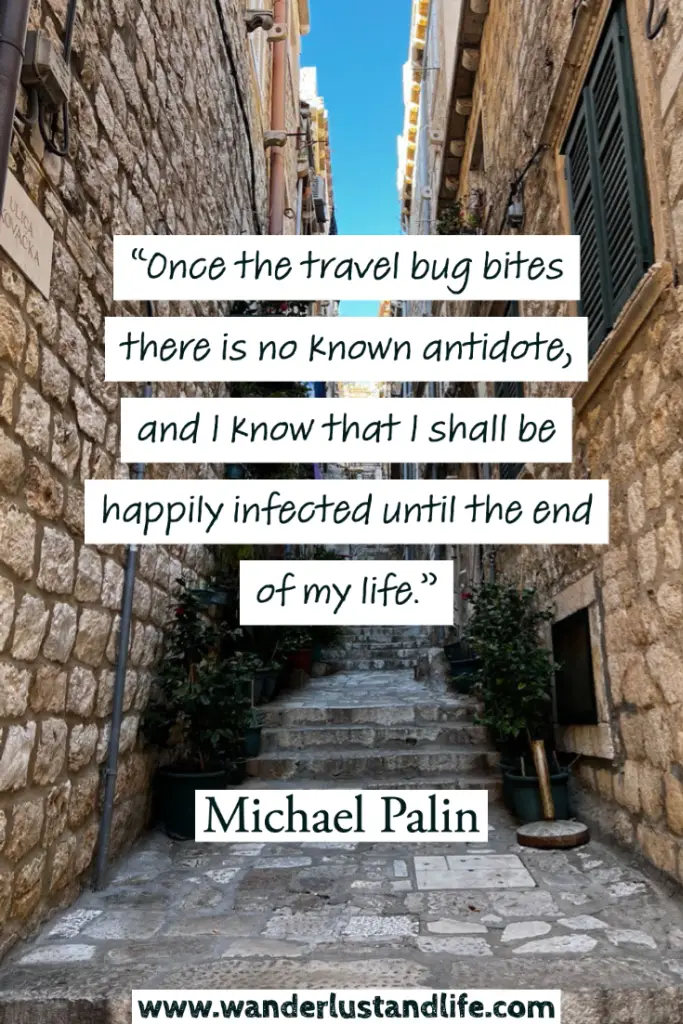 Wanderlust Quotes from books
Here are some of my favourite wanderlust quotes that come from books. I'm a huge book lover so I highly recommend you read some of these fabulous books, but in the meantime here are some quotes.
"All that is gold does not glitter, not all those who wander are lost"
J.R.R. Tolkien from the Fellowship of the Ring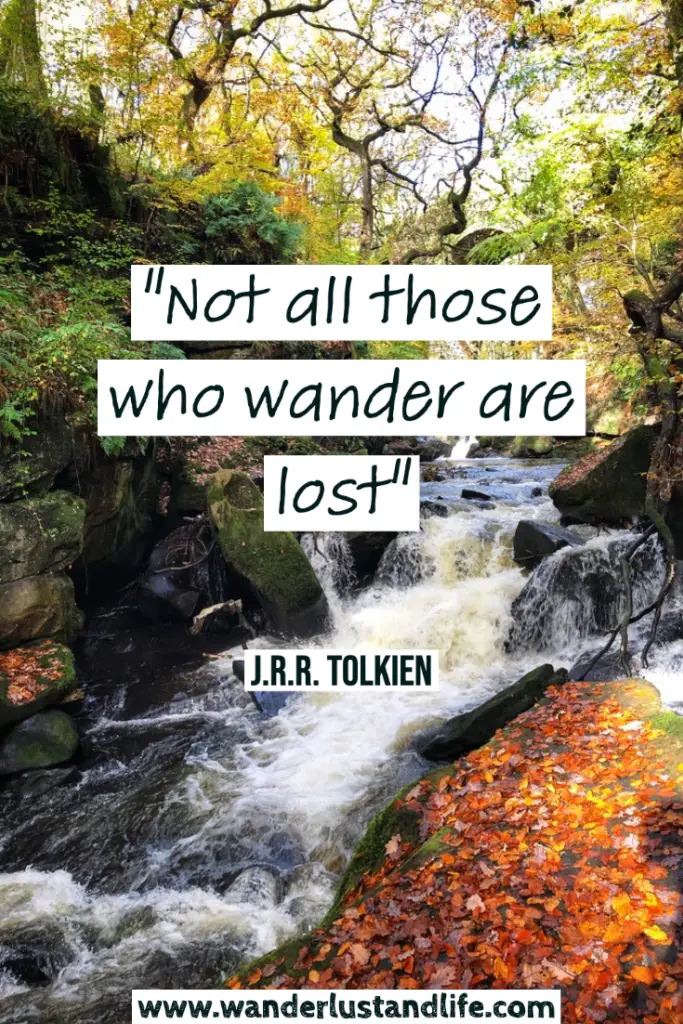 "You don't even know where I'm going. I don't care. I'd like to go anywhere."
John Steinbeck from Travels with Charley: In Search of America
"Travel is fatal to prejudice, bigotry, and narrow-mindedness, and many of our people need it sorely on these accounts. Broad, wholesome, charitable views of men and things cannot be acquired by vegetating in one little corner of the earth all one's lifetime."
Mark Twain, The Innocents Abroad/Roughing It
"There was something much greater she needed to feed her soul, and perhaps one day soon she would go…"
Danielle Steel, Wanderlust
"To move, to breathe, to fly, to float,
To gain all while you give,
To roam the roads of lands remote,
To travel is to live."
Hans Christian Andersen, The Fairy Tale of My Life: An Autobiography
"A map such as that one is worth many hundreds, and as luck will have it, thousands of dollars. But more than this, it is a remembrance of that time before our planet was so small. When this map was made, I thought, you could live without knowing where you were not living."
Jonathan Safran Foer, Everything Is Illuminated
"To think, she could have lived and died and never seen the sea."
V.E. Schwab, The Invisible Life of Addie LaRue
"I have always been consumed with one desire: to touch and see as much as possible of the earth and the sea before I die."
Nikos Kazantzakis, Zorba the Greek
"cabbage-beds would have been enough to tempt the lady, who only wanted to be going somewhere."
Jane Austen, Emma
"Oh the places you will go"
Dr Suess
"I travel not to go anywhere, but to go. I travel for travel's sake. The great affair is to move."
Robert Louis Stevenson, Travels with a Donkey in the Cevennes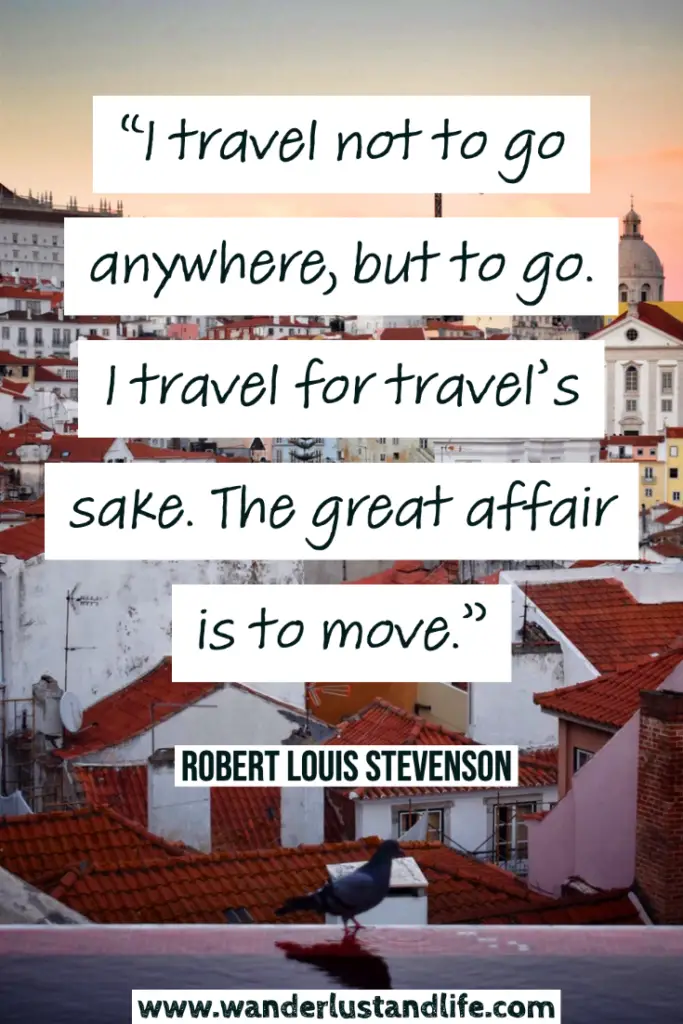 Wanderlust Quotes about nature
"And into the forest I go, to lose my mind and find my soul." 
John Muir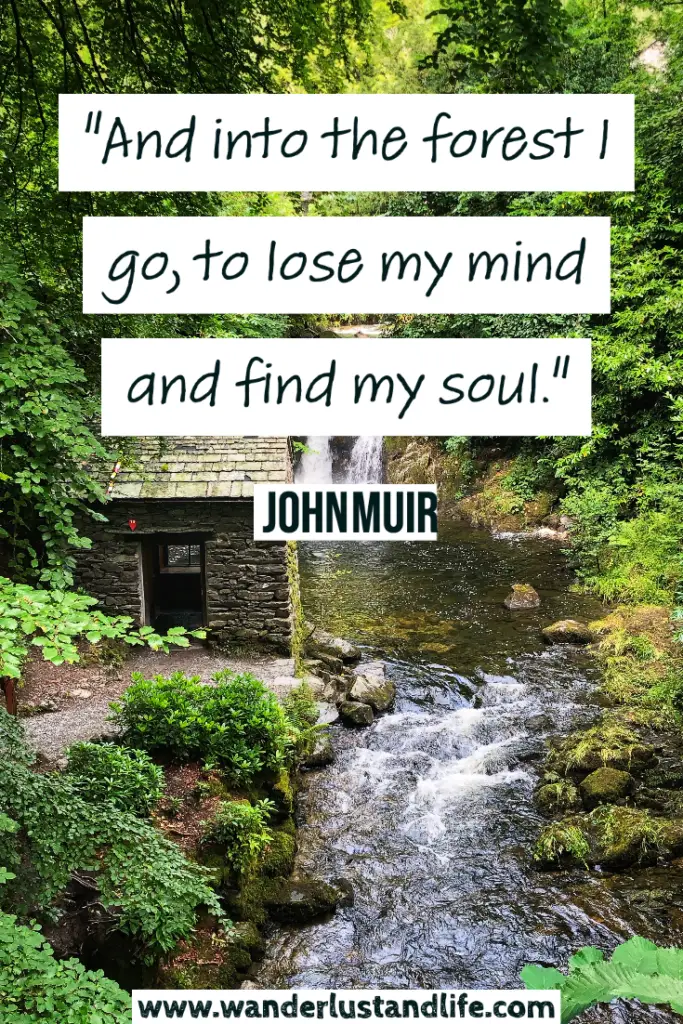 "Two roads diverged in a wood and I – I took the one less travelled by."  
Robert Lee Frost
"The very basic core of a man's living spirit is his passion for adventure. The joy of life comes from our encounters with new experiences, and hence there is no greater joy than to have an endlessly changing horizon, for each day to have a new and different sun."
Christopher McCandless
"Live in the sunshine, swim in the sea, drink the wild air." 
Ralph Waldo Emerson
"If we were meant to stay in one place, we'd have roots instead of feet"
Rachel Wolchin
"Do not follow where the path may lead. Go instead where there is no path and leave a trail."
Ralph Waldo Emerson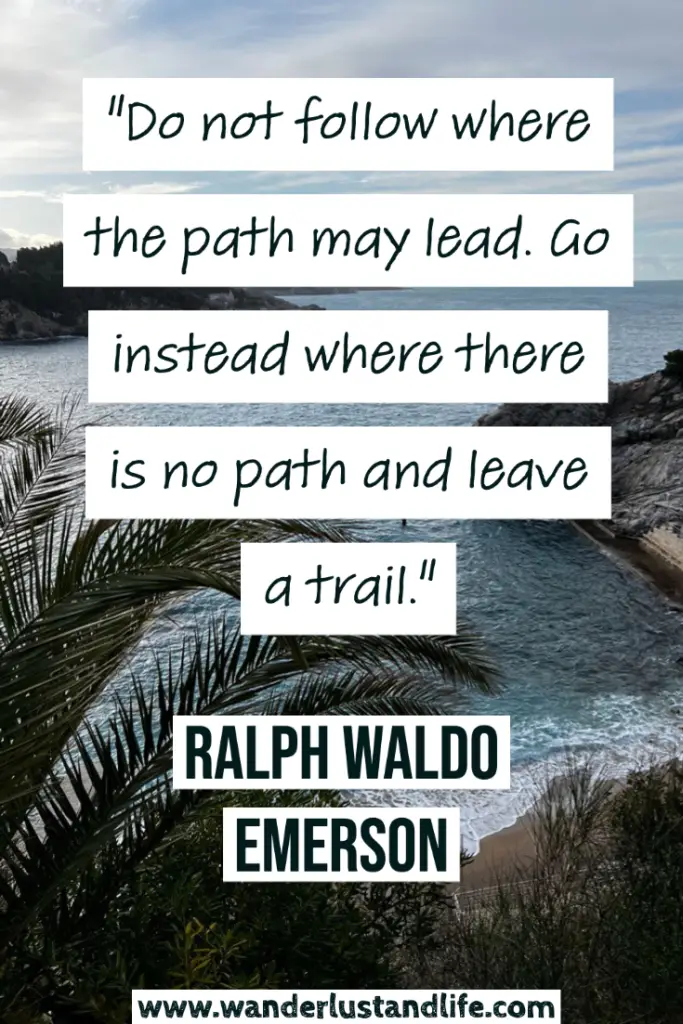 More Wanderlust and Inspiration
Whether you are looking for wanderlust quotes for Instagram or social media, or you just fancied a bit of inspiration, you can also check out these posts.
Adventure Quotes for Instagram