Whether we love it or hate it, you can't deny Instagram's ability to inspire. When I'm looking for a bit of escapism I scroll through travel Instagram accounts, looking at the incredible pictures, to help me plan my next trip. So if you are looking to spice up your own social media feed here are our favourite adventure quotes for Instagram.
Adventure quotes for Instagram – from movies
Ever since I watched Ferris Bueller's Day Off I've kept a note of some of my favourite quotes from movies. Here are some of the best adventure quotes from movies. Starting with of course the aforementioned.
"Life moves pretty fast. If you don't stop and look around once in a while, you could miss it."
Ferris Bueller's Day Off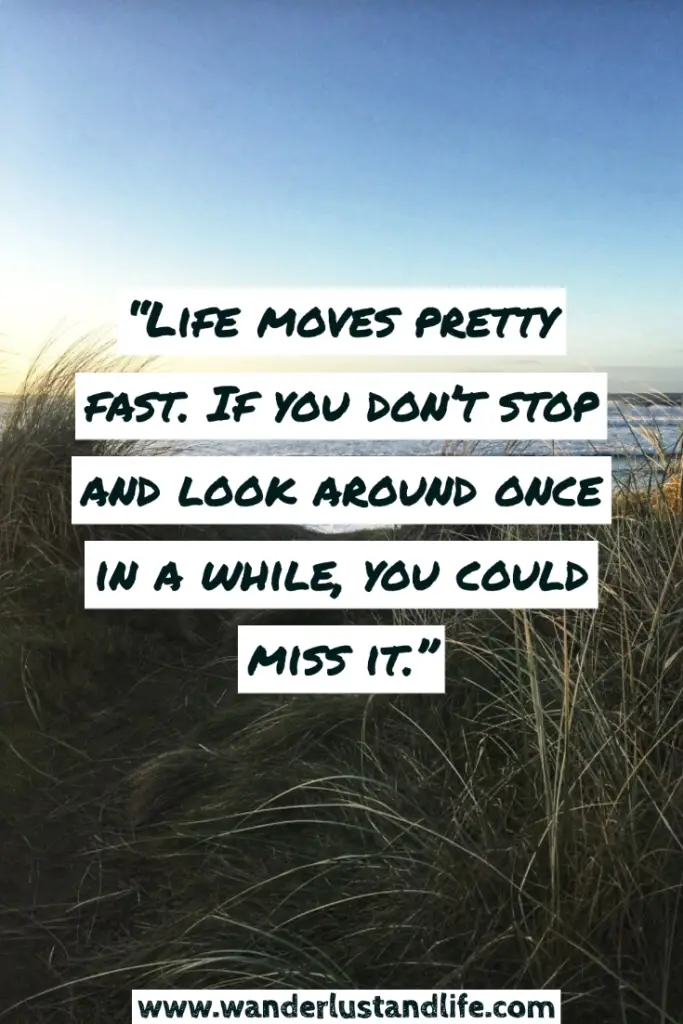 "The core of mans' spirit comes from new experiences."
Into the Wild
"There's the whole world at your feet."
Mary Poppins
"I want adventure in the great wide somewhere."
Beauty and the Beast
"Fifty years from now, when you're looking back at your life, don't you want to be able to say you had the guts to get in the car?"
Transformers
"Carpe diem. Seize the day, boys. Make your lives extraordinary".
Dead Poet's Society
"I mean, I love waking up in the morning not knowing what's gonna happen or, who I'm gonna meet, where I'm gonna wind up. Just the other night I was sleeping under a bridge and now here I am on the grandest ship in the world having champagne with you fine people. I figure life's a gift and I don't intend on wasting it".
Titanic
"The world is not in your books and maps. It's out there".
The Hobbit
"To see the world, things dangerous to come to, to see behind walls, draw closer, to find each other, and to feel. That is the purpose of life".
The Secret Life of Walter Mitty
Adventure quotes for Instagram – from books
I am such a book fan, and some of my favourite books are the ones that give you these gut wrenching, powerful quotes. Here are some of my favourite adventure quotes for Instagram from books.
 "Stuff your eyes with wonder,' he said, 'live as if you'd drop dead in ten seconds. See the world. It's more fantastic than any dream made or paid for in factories."
Ray Bradbury, Fahrenheit 451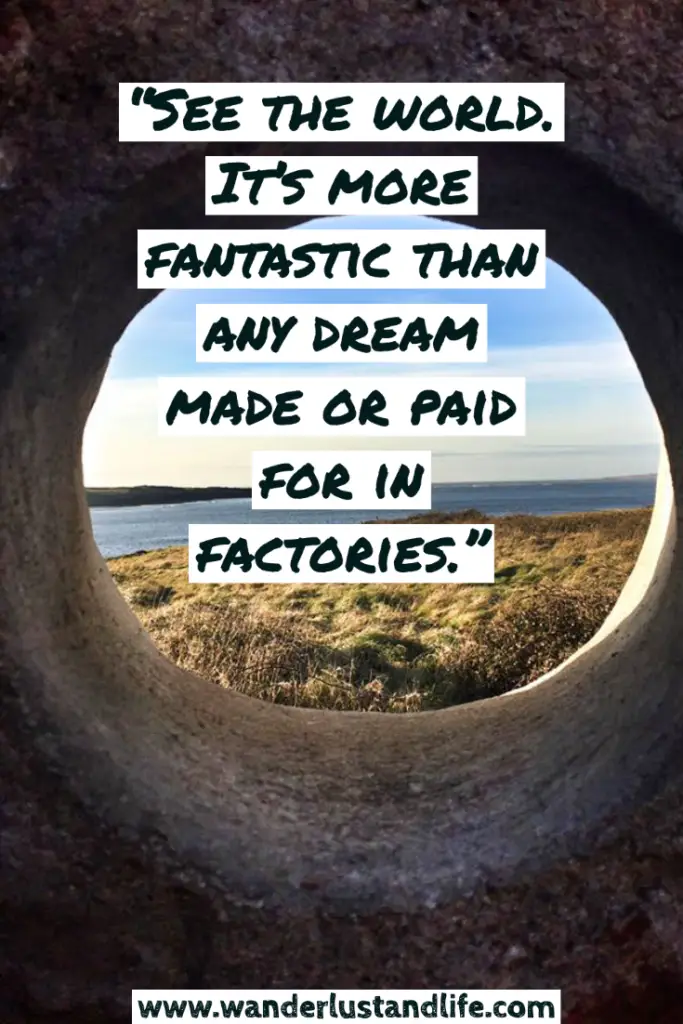 "Not I, nor anyone else can travel that road for you. You must travel it by yourself. It is not far. It is within reach. Perhaps you have been on it since you were born, and did not know. Perhaps it is everywhere – on water and land."
Walt Whitman, Leaves of Grass
"And above all, watch with glittering eyes the whole world around you because the greatest secrets are always hidden in the most unlikely places."
Roald Dahl, The Minpins
Life should not be a journey to the grave with the intention of arriving safely in a pretty and well preserved body, but rather to skid in broadside in a cloud of smoke, thoroughly used up, totally worn out, and loudly proclaiming "Wow! What a Ride!"
Hunter S. Thompson, The Proud Highway: Saga of a Desperate Southern Gentleman, 1955-1967
"Would you tell me, please, which way I ought to go from here?"
"That depends a good deal on where you want to get to."
"I don't much care where –"
"Then it doesn't matter which way you go."
Lewis Carroll, Alice in Wonderland
"Life never gives us what we want at the moment that we consider appropriate. Adventures do occur, but not punctually."
E.M. Forster, A Passage to India
"Not just beautiful, though-the stars are like the trees in the forest, alive and breathing. And they're watching me."
Haruki Murakami, Kafka on the Shore
"No, no! The adventures first, explanations take such a dreadful time."
 Lewis Carroll, Alice's Adventures in Wonderland / Through the Looking-Glass
"There was nowhere to go but everywhere, so just keep on rolling under the stars."
Jack Kerouac, On the Road
Adventure quotes for Instagram – from famous people
There are a lot of adventure quotes that I hear and I never know who said them, so here they are documented for everyone.
"The purpose of life, after all, is to live it, to taste experience to the utmost, to reach out eagerly and without fear for newer and richer experience." 
Eleanor Roosevelt
"Every man's life ends the same way. It is only the details of how he lived and how he died that distinguish one man from another."
Ernest Hemingway
"Life should not be a journey to the grave with the intention of arriving safely in a pretty and well-preserved body, but rather to skid in broadside in a cloud of smoke, thoroughly used up, totally worn out, and loudly proclaiming "Wow! What a Ride!"
Hunter S. Thompson
"Adventure is worthwhile"
Aristotle
 "The journey is part of the experience – an expression of the seriousness of one's intent. One doesn't take the A train to Mecca."  
Anthony Bourdain
"Your body is not a temple, it's an amusement park. Enjoy the ride."
Anthony Bourdain
"For In The True Nature Of Things, If We Rightly Consider, Every Green Tree Is Far More Glorious Than If It Were Made Of Gold And Silver."  
Martin Luther King Jr.
"My wish is to stay always like this, living quietly in a corner of nature."
Claude Monet
"If happiness is the goal – and it should be, then adventures should be top priority."
Richard Branson
"The biggest adventure you can ever take is to live the life of your dreams."
Oprah Winfrey
"The joy of life comes from our encounters with new experiences, and hence there is no greater joy than to have an endlessly changing horizon, for each day to have a new and different sun."
Christopher McCandless
"There are no foreign lands. It is the traveler only who is foreign."
Robert Louis Stevenson
Adventure quotes for Instagram- about nature
If you are looking for quotes for Instagram to compliment some of your nature shots. Here are some of my favourites.
"By discovering nature, you discover yourself."
Maxime Lagacé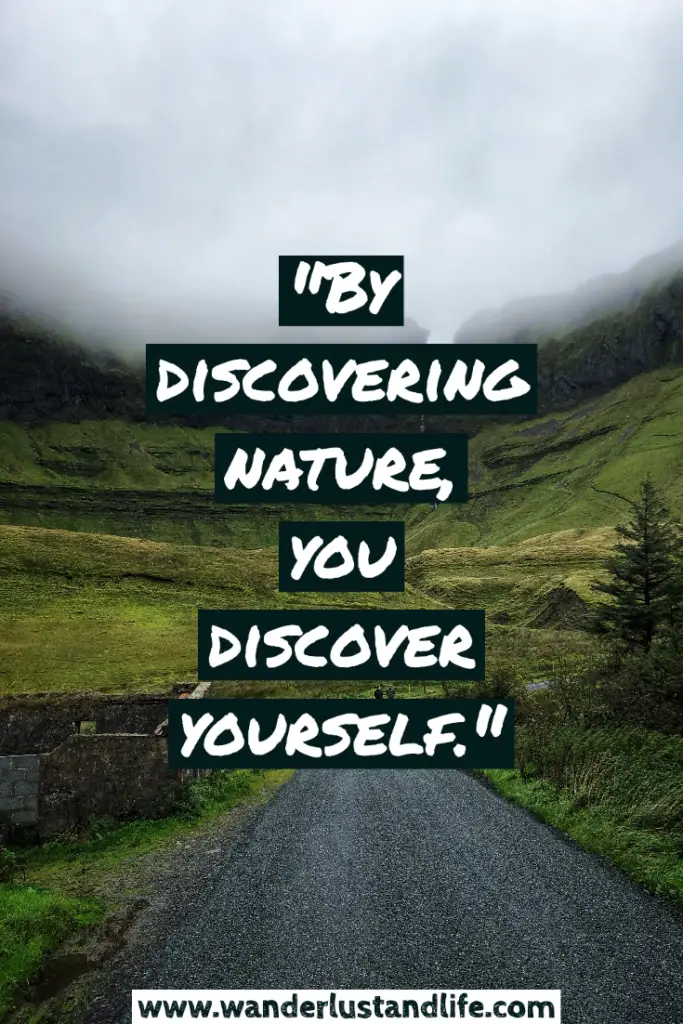 "I took a walk in the woods and came out taller than the trees."  
Henry David Thoreau
"It's not the mountain we conquer, but ourselves."
Sir Edmund Hillary
"Earth and sky, woods and fields, lakes and rivers, the mountain and the sea, are excellent schoolmasters, and teach of us more than we can ever learn from books."
John Lubbock
"Going to the mountains is like going home."  
John Muir
"People travel to wonder at the height of the mountains, at the huge waves of the seas, at the long course of the rivers, at the vast compass of the ocean, at the circular motion of the stars, and yet they pass by themselves without wondering."
St. Augustine
"The Three Great Elemental Sounds In Nature Are The Sound Of Rain, The Sound Of Wind In A Primeval Wood, And The Sound Of Outer Ocean On A Beach."
Henry Beston
"I felt my lungs inflate with the onrush of scenery—air, mountains, trees, people. I thought, 'This is what it is to be happy."
Syliva Plath
Adventure quotes for Instagram – Misc
Finally here are some miscellaneous adventure quotes for Instagram when you are just looking for that little bit of inspiration.
"It is not down in any map; true places never are."
Herman Melville
"A journey of a thousand miles must begin with a single step."
Lao Tzu
"As soon as I saw you, I knew a grand adventure was about to happen." 
Winnie The Pooh
"If you think adventure is dangerous, try routine: It's Lethal." 
Paul Coelho
"And then there is the most dangerous risk of all – the risk of spending your life not doing what you want, on the bet you can buy yourself the freedom to do it later."
Randy Komisar
 "The journey not the arrival matters."
T. S. Eliot
"Why do you go away? So that you can come back. So that you can see the place you came from with new eyes and extra colors. And the people there see you differently, too. Coming back to where you started is not the same as never leaving."
Terry Pratchet
MORE TRAVEL INSPIRATION AND TIPS
I hope that you found this article filled with adventure quotes for Instagram useful.
If you are looking for more quotes checkout my favourite wanderlust quotes.